10 Ways to Get Paid to Proofread (Both Online and Off)
We foster relationships with brands we use and trust. The testimonials on our site represent real experiences, but they don't guarantee you'll achieve similar results. When you make purchases through our links to our partners, we may earn a commission. Your support helps us continue this work. You can read our full disclosure here.
When I first started researching ways to make money from home, I had no idea it was possible to get paid to proofread. In hindsight, it makes total sense! There is written material everywhere–both online and in person. So unless companies want to publish typos, then they have to pay someone to proofread their work.
If you are someone who is a self-starter, accountable, and productive, there is no reason why you can't be successful at a work-from-home job as a proofreader. Even if you don't work in your living room or dedicated office space, having the freedom to work from wherever you want is the beauty of it.
Proofreaders can get paid to proofread online. It's all about finding the right opportunities that fit your lifestyle and deciding how you want to move forward with your career. If you can work from home and save money each year by not having to use expensive gas, then this is the right next step for you. Get paid to proofread so that you can start living instead of just surviving the daily grind.
How to Become a Proofreader
Becoming a proofreader does not require any specific schooling, certifications, or even experience. However, you must have a good handle on the English language in order to provide successful proofreading services to your clients. You need to be someone who can tolerate copious amounts of reading since this will be a major part of your job.
A proofreader is not the same as a copyeditor. Your job is to ensure proper spelling, grammar, and punctuation throughout the content, not rewrite content to make it flow better. It is an important role because businesses or individuals don't want to publish something that is riddled with errors.
To become a successful proofreader, follow in the footsteps of those who are successful now. Join Caitlin Pyle's Proofread Anywhere FREE webinar to understand what it takes to get paid to proofread. Caitlin teaches the ins and outs of proofreading, how to find clients, and how to run an actual proofreading business.
Start out with smaller, low-paying jobs to get those testimonials/reviews. These will help future clients feel confident in your services. As you gain more experience, you can increase your rate until you are making a comfortable income.
Related: Proofread Anywhere Review
10 Ways to Get Paid to Proofread
There are plenty of ways to get paid to proofread. You just need to find a way from the list below that fits your lifestyle and is aligned with the goals you have for your career.
1. Become a Freelance Proofreader for Virtual Businesses
The best way to begin your proofreading career is by starting as a freelancer. You get to call the shots in your business and work with virtual businesses everywhere. As a freelancer, you are your own boss which means you get to choose your own hours and rate.
Start by finding companies local to you and offering virtual proofreading services. They can send you their content for emails, blog posts, website copy, social media posts, and more. You simply need to look over the content to check for errors before it gets published.
Related: How to Start a Virtual Assistant Business
2. Offer Your Services to Authors
Authors are among the top clients that would need to have a proofreader check their work. As you can imagine, authors are busy being creative and trying to tell a story. They are also constantly tweaking their work making it easier for them to make a mistake. You could be just the person to save them from the embarrassment of publishing something with errors throughout.
Pitch your services to authors to be their proofreader. You can find authors to work with in different Facebook groups, social media postings, and ads, or partner with an agency that can connect you. There is always a new book to write so there will always be a need for a proofreader.
Related: How to Become a Beta Reader in 4 Simple Steps
3. Offer Proofreading Services to Teachers
Teachers spend their day preparing assignments, curriculum, and notes about the lessons they will be teaching. They are focused on delivering material to students in a manner that is easy to digest and comprehend. It is not always at the forefront of a teacher's mind to proofread their work, especially after working long hours in the classroom.
You can be a teacher's proofreader and help them with their assignment creations, worksheets, syllabi, and emails. Teachers help others gain knowledge and mastery; it's time for them to also get some help behind the scenes from a proofreader.
Related: Get Paid to Teach Online
4. Offer Your Services to Students
Students are among the list of clients you can take on to get paid to proofread. Whether they are in high school preparing their college admissions essay or are a college student taking a writing course, you could be just the proofreader they need.
Many students want to put their best foot forward and this means turning in a paper that is error-free. Give them that peace of mind that you have their back and can proofread for them.
5. Become a Proofreading Coach
You can become a lifestyle coach for nearly any aspect of life. This includes becoming a proofreading coach who helps others become proofreaders or who helps people learn how to proofread their own material. A proofreading coach can be classified as a business coach because of their ability to help others become more professional in their content.
You can start a one-on-one coaching business for proofreading or open it up to group coaching. It really depends on your preference. Advertise your coaching to others so that you can bring on more clients. Proofreading coaches can become very successful and get paid to proofread along the way.
Related: How to Get Paid to Read the News
More Ways to Get Paid to Proofread Online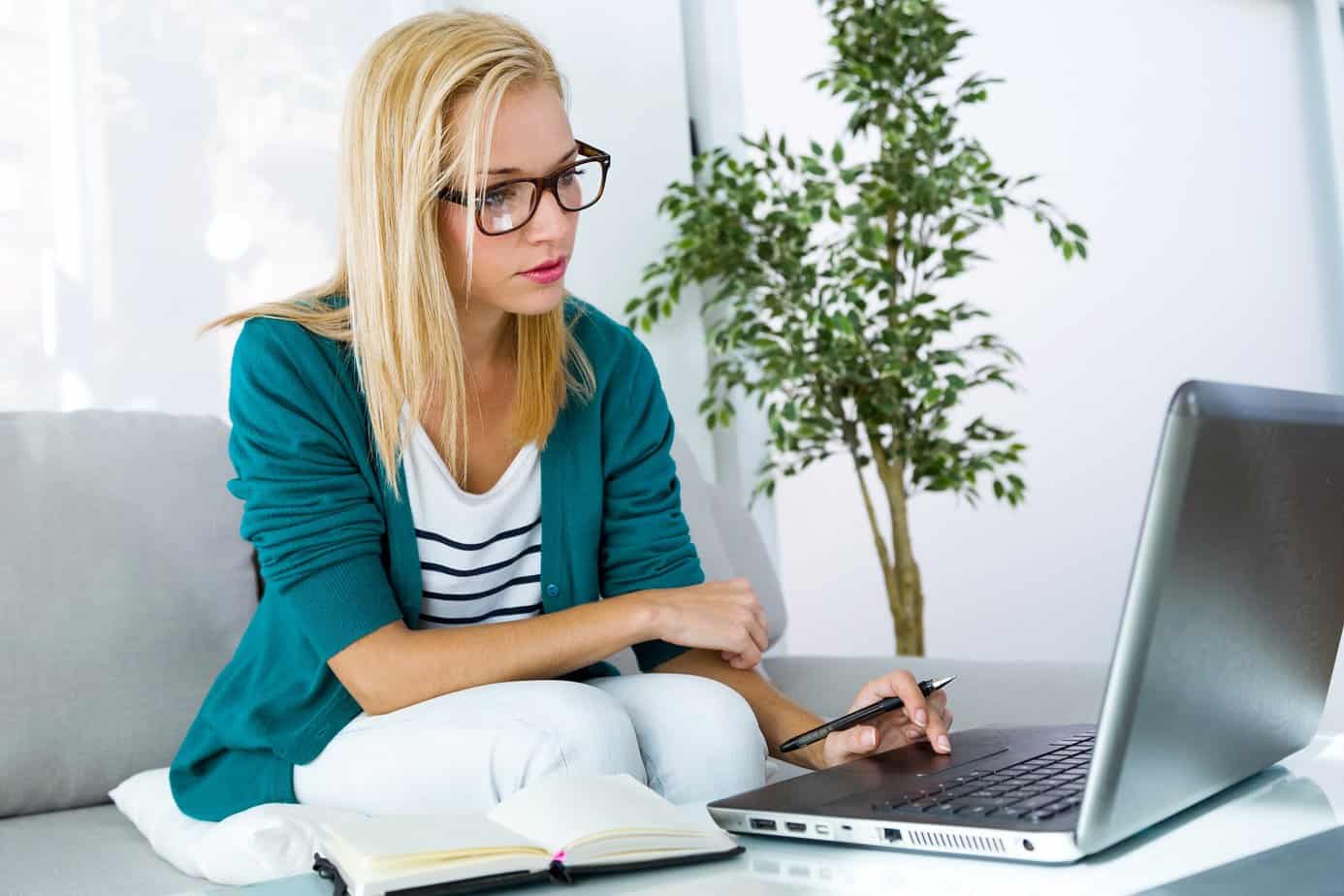 Don't limit yourself when you are considering all the proofreading jobs that are available. Add ways to get paid to proofread online to your list to increase your earning potential.
6. Sell Printable Proofreading Quizzes Online
Create fun printable proofreading quizzes to sell online. You can sell them on places like Etsy, Shopify, or SamCart. These printables can be used for students who are learning grammar or testing people's knowledge of their own grammar. This could be helpful for individuals wanting to pursue a proofreading career; if they can't get through your printable, then this might not be the best career choice for them.
Printables are a hot item to sell because they are generally inexpensive and easy to obtain. A buyer can print it out on whatever paper they have sitting around after purchasing from you. Get creative with your proofreading printable in order to attract more sales.
Related: How to Get Paid to Take Quizzes
7. Start a Blog Teaching Others to Proofread
Create your own blog site to get paid to proofread online. You can create blog posts around teaching others how they can become a proofreader. Give them tips and tricks on how to proofread successfully in a timely manner. You can also show them what kind of jobs they can get as a proofreader to entice them to keep coming back to your site for more helpful information.
Blogs that are designed as resources rather than just an online diary typically will be more successful in making money. You can get paid with ads and affiliates. Each time a viewer sees an ad on your site and clicks it, you get paid. Include affiliate links to make even more money with your blog.
8. Create a Course on Proofreading
Break down what it is to be a proofreader. Create your own online proofreading course and sell it to others. This allows you to get paid for your knowledge and experience as a proofreader while you are also helping out others.
Online courses can be uploaded to a variety of platforms that take care of the business side for you. Simply upload your content, set your price, and market your course. The platform will do the work to charge customers for the course and send you the money.
Related: SamCart Review
9. Start a Live Proofreading YouTube Channel
YouTube is a great source people flock to in order to obtain free help and/or entertainment. There are tens of millions of YouTube channels, many of which are making a tremendous amount of money with creative and entertaining content. Become a resource on your own YouTube channel by helping others learn proper techniques and tips on how to proofread.
You can go live on your channel to proofread an assignment in real time or upload content from a subscriber and proofread their work. Give them a glimpse of what it can be like for them to become proofreaders as well.
10. Begin a Paid Facebook Group to Proofread for Others
Start your own exclusive Facebook group for members to join and get help with their proofreading work. You could charge a fee for each member who joins your group. Inside of your group, offer live training sessions, critique submitted work from members, and overall help others learn how they can improve their proofreading skills.
Related: How to Become a Social Media Manager and Find Clients
Proofreading Can Be Enjoyable and Lucrative
Proofreading can be enjoyable if you are someone who likes to read while also being a form of income for you at the same time. The best part is being able to get paid to read anywhere you want while making your own schedule.
Join the movement to bring more happiness into your life. Create a better work/life balance that works with your lifestyle and get paid to proofread.
Related: Best Online Proofreading Courses
---
We appreciate the time you've spent reading this post and your interest is not lost on us. Your thoughts, questions, or experiences related to the topic are most welcome. Each comment adds strength to our community. We ensure every comment receives our attention, and we take the time to provide thoughtful responses. Once again, thank you for being a part of this conversation. Click here to leave a comment.