Masterworks.io Review: Is It Profitable to Flip or Invest in Artwork?
Update: I personally invested money in artwork using Masterworks.io. The initial experience was simple and promising. But after looking into liquidating my investment before the artwork sells, I realized that it's likely that I would need to take a loss on those shares (plus the fees Masterworks assesses). If you're looking for a more liquid investment opportunity, this is probably not for you.

I have memories of visiting an art gallery when I was younger. I remember looking at all the art pieces and trying to make sense of them. Some were very colorful, others dull, and then there were some that I just couldn't look at for too long.
The most puzzling thing to me was understanding how a piece of art could be worth so much money. I didn't understand how one piece of art was worth more than another and who would want to pay so much for art. Now that I've grown an appreciation for art, I can see why Masterworks makes it possible to invest in these lucrative pieces.
Back then (early 2000s), art flipping online wasn't common, and investing in art was for the wealthy. But today, you don't have to be rich or an art enthusiast to make money in a lucrative market.
Art is something that doesn't go out of style; there are artists from hundreds of years ago whose art pieces still sell today for thousands or millions of dollars. They are timeless. New artists who come about can also create masterpieces that are worth millions.
There are trends that come and go as well, but that doesn't negate art pieces. Styles will change and it is important to know where the trend is going, which is exactly what Masterworks does.
If you've considered flipping art or investing in art for the long term before, then this Masterworks review is for you. Learn all the ins and outs of how others make money investing in art without buying expensive artwork upfront.
Disclaimer: I am not a financial adviser. I am sharing my personal experience researching and investing in art with Masterworks. You must make your own investing decisions at your own risk.
Our Popular Money-Making Offers
Sign up with each of the following companies to maximize your earning potential.
$10 sign-up bonus
Pays to take surveys, complete offers, shop online, and much more
100s of other paid tasks
Awards cash and gift cards
$5 sign-up bonus
Pays to play games, watch videos, answer polls, and much more
100s of other paid tasks
Awards cash and gift cards
What is Masterworks?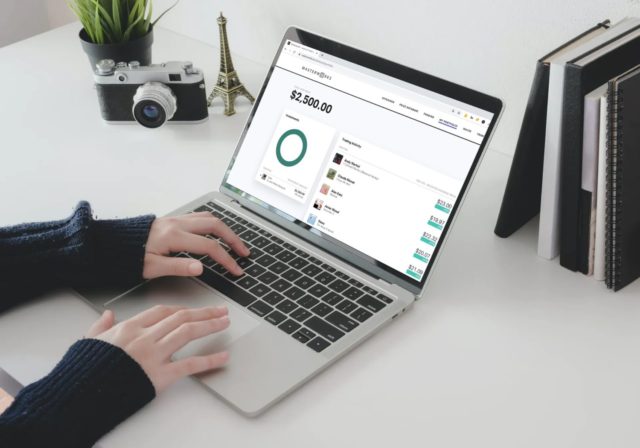 Masterworks was founded in 2017 and is currently run by a total of 17 employees. Headquartered in New York City, Masterworks is the first company to offer investors the opportunity to buy shares that represent their ownership of great masterpieces.
You can become a proud owner of shares in art pieces from Andy Warhol, Jean-Michel Basquiat, Zao Wou-Ki, and many more.
Masterworks is a complete platform for investing in or flipping art. The company prides itself in holding blue-chip art, which has exceeded the performance of the S&P 500 by 180% between 2000 and 2018. In the art world, blue-chip art means art that is of great value and expects to hold or increase its economic value regardless of economic trends.
While it has an innovative platform, my goal in this Masterworks.io review is to cover everything you can expect to encounter as an exclusive member, including any cons you should be aware of:
Pros of Investing With Masterworks:
Low investment starting at $20 in each art piece
Protected and insured artwork
Pre-vetted artist works
Provides a peer-to-peer secondary market for liquidity
Provides a unique opportunity to make passive money doing nothing
Cons of Investing With Masterworks:
Need an interview to create an account to start investing
New company; historical performance is limited
Shares may sell at a loss on the peer-to-peer secondary market
Annual fee of 1.5% plus a 20% fee on the profits of any artwork sold
As the company becomes more popular and gains experience, there can surely be changes to these pros and cons. Due to its young age, there have not been any designated Masterworks competitors yet. Other companies that use a similar method to Masterworks include real estate investments like Fundrise.
Related: How to Invest in Amazon and Earn Money Passively
How Does Masterworks Work?
The research team at Masterworks uses over 75 years of data to determine which artist markets have the most momentum and possibly the best risk-adjusted returns. The company targets the top 100 artists and art pieces that historically show the highest returns (similar to the strategy of the S&P 500 which targets the top 500 companies in the world).
From there, Masterworks locates the best option available at the best price and purchases the piece.
As of 2021, a current offering on Masterworks is Jean-Michel Basquiat's Loin (1982). Similar art pieces have appreciated in value by more than 20% since 1988. Historically, Basquiat has a very stable market, and only about 4% of investors have lost money while investing in his artwork (most of which were during the 2008 recession).
Masterworks then scrutinizes the piece by filing with the SEC, allowing anyone to invest.
Finally, the artwork is typically held for 3 to 10 years which allows Masterworks to make a wise and potentially profitable selling decision for its investors. In 2020, Masterworks sold a piece for more than 30% profit after holding it for just one year.
Investors can receive their pro rata proceeds after the artwork is sold and Masterworks collects their 20% fees on the profit.
The fees Masterworks collects are referred to as "Management fees." It takes care of professional storage, insurance, administrative costs, regulatory filings, and annual appraisals.
Start investing in real estate with as few as $500 on Fundrise.
How to Get Started With Masterworks (6 Simple Steps)
The signup process is quick and simple, and you can potentially schedule your interview within 24 hours (based on current openings).
1. Request an Invitation to Masterworks
To get started with Masterworks art investments, you need to request an invitation. Since it's (currently) a one-of-a-kind investment service, Masterworks reviews each investor and extends an exclusive invitation to those who are a good fit.
Related: How to Flip Money
2. Apply for Membership
If there are investor openings available, Masterworks will present an application for membership. You must fill out the application by providing your name, email address, phone number, and setting up a password for your account.
3. Estimate How Much You Will Invest in 12 Months
On the next step, you will be asked how much you plan to invest with Masterworks in a 12 month period. This will generate a 'hypothetical gross value in 7 years' spectrum.
Important note about Masterworks minimum investment requirements:
When I input $6,000 on this step, I was considering investing $500 per month over the next year. Be careful how much you estimate here. If the number is too low, you won't be a priority investor for the company to work with, and if the number is too high, it will lock you into a higher minimum investment.
To activate my account and start investing in art, my Masterworks minimum investment locked in at $2,500 which was 5 times more than I expected upfront! (Remember, I was planning to do $500 per month.)
Your minimum Masterworks investment will vary based on:
a) Your answer to the question of how much you would consider investing in the next 12 months
b) How much you tell Masterworks you already have in investments during your interview
Start investing in real estate with as few as $500 on Fundrise.
4. Schedule an Interview With a Masterworks Specialist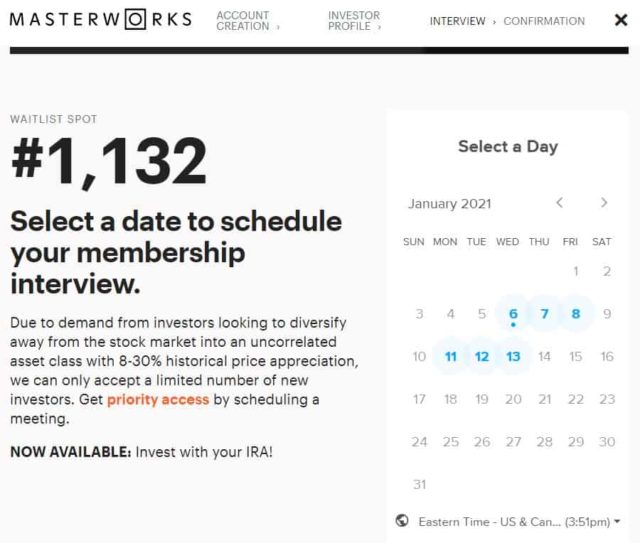 Next, you will see your waitlist number. There is a high demand to get in with Masterworks so the best thing to do is to pick a time and date that you can hop on a call with a representative. A calendar is provided for you to choose from the available times.
I'm sure there are some who despise the idea of setting up an interview. However, it's not that big of a deal to me. A phone interview with the company is a great way to learn if Masterworks is a good fit for you and you are a good fit for it.
It's easy to wonder, "Is Masterworks legit?" What better way to find out than to be there for the phone interview? Ask the questions you have to the person on the other end to make sure it is going to work for you.
5. Connect Your Bank Account
Following your application submission, you will be asked to connect your bank account information to see investment options. The service Masterworks uses for securely connecting your bank information is called Plaid.
I have personally used Plaid to work with contractors and it is extremely secure. Masterworks doesn't get access to your credentials; Plaid handles the connection.
Plaid requires you to verify your identity. The company will send a code to your email address which you will need to provide on the next screen to complete the connection of your bank.
6. Review the Investment Opportunities
After your application and bank connection are complete, you are taken to a confirmation page that shows you Masterworks has received your application. You are then shown current offerings on art pieces that are available. It is recommended to look these over prior to your scheduled interview.
Related: How to Start Flea Market Flipping
More Popular Money-Making Offers
Earn more money in your spare time with these reputable companies.
Free PayPal cash
Paid surveys and web searches
Earn easy cash back
Get paid directly to your PayPal
PayPal, Visa, Amazon, etc.
Pays you to do NOTHING (with SJ Pulse)
Simply install the software
Participate in paid surveys & studies
Masterworks Features
While researching how does Masterworks work, a list of features with a quick overview of what this company can offer you is beneficial before scheduling that interview.
These Masterworks features allow investors a better chance of making money off the art pieces:
No individual investor can hold more than 10% of the shares of any specific art piece
3–10 year investment length
Investors do not have to be accredited investors to participate
Historically surpasses the S&P 500
Price database to help you see the potential returns
Masterworks Insights, which is a hub for well-researched articles that provide valuable information to investors
Masterworks' goal is to make it possible for everyone to invest in blue-chip artwork, allowing you to invest and make money daily (a long-term strategy).
Masterworks Secondary Market: Can You Sell Your Art Share at Any Time?
The fast answer is 'yes;' it's possible to flip art on the Secondary Market. However, before you do this, you need to be aware that you are not guaranteed to sell your shares until Masterworks actually sells the piece(s) you've invested in–especially for a profit.
Masterworks currently offers a peer-to-peer secondary market where you can trade. This allows you to sell your shares to other investors through the Masterworks bulletin option.
If you need fast cash, you can typically sell your shares of art at any time
, especially if you list them at a price that is lower than the current value. Whether or not you can flip art shares for a profit always depends on the current market and demand for the artwork.
The Secondary Market is currently only available to US citizens with US bank accounts. It provides easy access to investors. Shares are available for transaction 90 days after the primary closing offer. There are lower minimum buy-ins and no transaction fees.
Taking this route, Masterworks cannot guarantee that the bulletin will actually contain any liquidity options.
Related: How to Make $500 in a Day
Diversified Investments With Masterworks Can Be a Smart Money Move
Throughout my Masterworks review, I've taken a look at several angles of the company. My personal experience coupled with the research prior to applying helped me become comfortable with diversifying my investments.
While investing with Masterworks alone is far from a diversified investment, adding artwork shares to my already well-diversified portfolio is a risk I'm willing to take.
There are no hidden schemes to investing with Masterworks. You are in control of the pieces you want to invest in. Use the site's tools to review historical returns, which will show you possible projections of your investment. Also, see which artists have sold recently and notice how much momentum any of the artists have.
Nothing in life is a guarantee and the same goes for investing with Masterworks. There is no guarantee that your investment will give you an exponential return. However, that's not to say that investing with Masterworks isn't a smart decision.
Take this Masterworks art investing review into consideration if you decide you would like to invest. Add fine art to your portfolio and gain an investing experience (that is quite literally) unlike any other.
Related: How to Set Up a Cash App Account
---