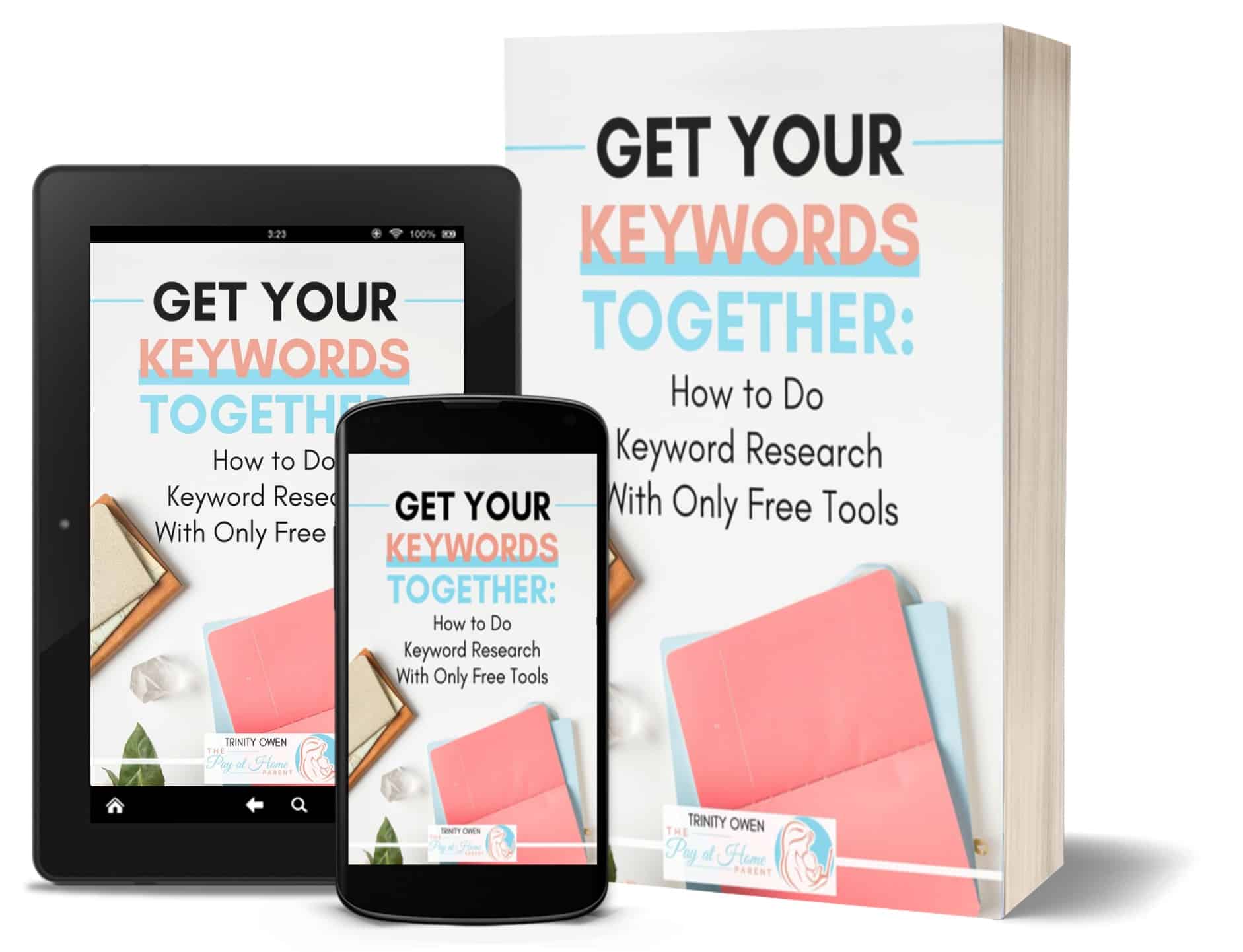 A total value of $295
for only $47!
You watch the cursor blinking on your screen, hoping against hope that inspiration for the next viral blog post will miraculously jump into your head.
But that doesn't happen.
Maybe because you have writer's block. Or you're distracted. Maybe your brain is just tired.
Whatever the reason, you're out of ideas.
Blink… Blink… Blink…
The next thing you know, you've lost half an hour and only have random notes and some doodles to show for it.
I've been there. In fact, I don't know a content creator who hasn't.
Wouldn't it be great if you could come up with a whole list of potential keywords to target in just a few minutes? And not just some random list of "the top 10 blog posts you need to write" (read: "top 10 blog posts that everyone else is writing").
You need some unique keyword ideas that tie into your existing website. I get that.
The truth is, writing about topics that hundreds (if not thousands) of other content creators cover is a great way to get lost in the shuffle. Even if you write epic content, your stuff won't get traffic when there are others with more experience or authority already published and holding a spot on the first page of Google results.
That's Why You Need to Know:
Exactly which steps to take to create lists of keywords that are tailored to your website.
And how to do your research to check

to see if you can actually rank for them

.
These will be the keywords that have the most potential to

bring your blog to page one

.
for only $47!
About Me
You may be wondering who I am and why you should trust me when I tell you which steps I take to find and research keywords.

I'm Trinity Owen, the blogger behind The Pay at Home Parent, and I'm probably a lot like you. Before I knew there was a method to keyword research and on-page SEO, I would just choose a word at random and plug it into an article over and over. And then I would choose that same keyword and stuff it into other articles. Ouch.
My first client, an e-commerce website owner, enlightened me to the fact that there is a method to the madness of SEO. I followed his instructions and educated myself on the basics of SEO. I soon began to consistently bump page after page into the top 10 search results on Google – but I still didn't understand why this method was working.
I knew there had to be more behind SEO than just blindly choosing keywords, so I started to read everything I could find on the topic. I worked with some bigger clients along the way and continued to increase organic traffic for each one. Through trial and error (and a lot of reading), I finally created an effective system for keyword research.
But Google's search algorithms get updated all the time. While this means that what worked five years ago doesn't work now, my ongoing work in SEO has helped me stay up-to-date on the latest changes.
One thing that stays consistent in SEO is that high-quality content almost always wins. That means if you're not willing to spend time writing great articles, then no matter how unique your keywords are and how great your on-page SEO skills may be, this strategy won't work for you.
If you do plan to put your all into your content, then use this simple five-step method to find keywords that you have the best chance to rank for.
Introducing… Get Your Keywords Together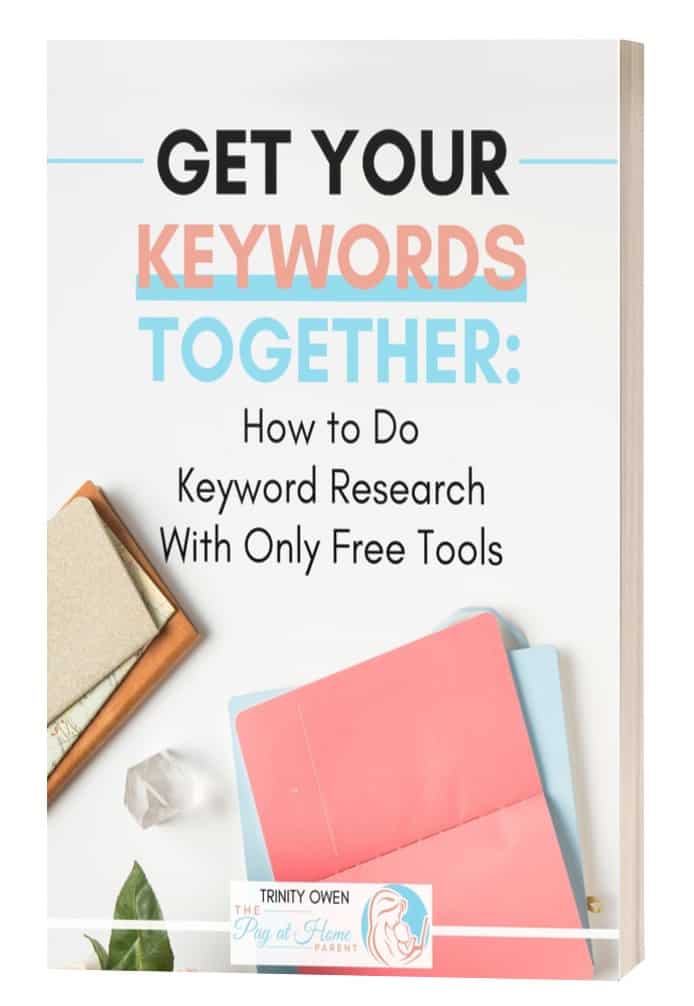 Inside, I am going to share five steps to kickstart your keyword research using only free tools – even if your blog is brand new and you don't think you have what it takes to rank on search engines. Why? So that you can finally get organic traffic that is actively searching for the answers you provide.
Get Your Keywords Together: How to Do Keyword Research with Only Free Tools
This action-packed guide will help you find and vet keywords using a simple, five-step formula. It will take the guesswork out of choosing keywords and give you confidence that your content can rank on the first page of Google without spending hundreds of dollars on expensive keyword research tools.
Here's What You'll Discover:
Five simple steps that every content creator should take when choosing new keywords to target.
Eight free websites and tools to find new keyword ideas that are worth investigating further.
Five free online tools to help with keyword research (and how to use them).
Seven crucial SEO mistakes that bloggers make when creating new content.
Here's Everything You Get
e-Book: Get Your Keywords Together: How to Do Keyword Research with Only Free Tools
… A serious, duplicatable, step-by-step process to find keywords and make sure they'll work for you before you put hours into content that may never rank (Value: $99).

Bonus #1: Access to my Private SEO-focused Facebook Group
Don't leave any question unanswered. Join my SEO-focused Facebook group for bloggers and get your questions answered quickly so that you can make this strategy work for you right away (Value: $99).

Bonus #2: A Copy of My SERP Test Spreadsheet
You don't have to just guess if your website has a chance to rank higher than a competitor's site. Get my intuitive spreadsheet to compile your research on the top SERPs (search engine results pages) and take your keywords through five critical thinking questions to determine your ranking potential (Value: $29).
Get Access to Two More Freebies!
Freebie #1: Join My 6-Day SEO Boot Camp
Don't just learn SEO; do it. In my free SEO Boot Camp, you can get the information and support you need to start implementing SEO on your website immediately. It's never too late to fix your site and attract organic, high-converting traffic (Value: $49).
Freebie #2: My 38-item (Quick) SEO Checklist
After you learn how to SEO during my six-day SEO Boot Camp, implement each step by following my handy, printable SEO checklist of 38 actionable items you can do on every piece of your content (Value: $19).
for only $47!
What People Are Saying
Don't take my word for it. I have happy clients and blogger friends who are willing to share their experiences after working with me.
Christen Grozelle from Best Money Mom says…
"I took your SEO email course last month and I got my first post on page 1 of Google this week!"
Crystal from Bullet Journal Addict says…
"Trinity has been my go to source for all things SEO. Her expertise is the reason why my one-year-old blog ranks on the front page for popular search terms in my niche. She's the reason 50% of my site's total traffic comes from search engine results, and it's only growing. Trinity is the ultimate in real, useful, and achievable, SEO knowledge that doesn't drive you insane or take up loads of your valuable time."
Ben from DollarSprout and Breaking The One Percent says…
"Trinity's SEO knowledge has been a huge asset to our team. She's helped guide our content strategy, teach some of our lesser-experienced team members the nuances of on-page and off-page SEO, and produce articles that outrank some of the biggest websites in our niche. Trinity is a well-rounded SEO — something that's difficult to find in today's landscape."

for only $47!

Please Share!