8 Best Work-From-Home Finance Jobs for the Money Minded
We foster relationships with brands we use and trust. The testimonials on our site represent real experiences, but they don't guarantee you'll achieve similar results. When you make purchases through our links to our partners, we may earn a commission. Your support helps us continue this work. You can read our full disclosure here.
Working from home can be one of the most comfortable ways to make money. As an introvert, the idea of having to go out, sit in traffic, and report to an office makes me tired and anxious just thinking about it. While I love counting cars on my commute as much as the next finance-minded person, I am grateful there are work from home finance jobs available.
Finance jobs are about more than just the counting. It's about solving the puzzle or explaining a problem because you get to see the progression of all the pieces coming together. When all the pieces fit together financially, it's easy to duplicate results with all the data. My heart just sings when everything flows together!
As a finance person, there are many ways to work remote finance jobs from the comfort of my home. In this guide, I share my secrets with you and show you just how easily you can do it too.
One of the best parts about it is there are entry level work from home finance jobs for those with little to no experience.
8 Entry Level Finance Jobs from Home
Take a look at the many ways finance people make money from home. You are sure to get inspired to find your own online finance jobs from home.
1. Become an Online Bookkeeper
Bookkeeping is a job for those who can help other businesses with their financial records. If you become a bookkeeper, you would be responsible for updating transactions, reporting any discrepancies, finding areas of concern, and other tasks as assigned.
Because of the sensitivity of records, be sure you understand just how valuable your job could be as a financial bookkeeper.
To get a better understanding of what it takes to be a successful bookkeeper, check out Ben Robinson's free workshop at Bookkeepers.com to start a successful work from anywhere bookkeeping business. In the workshop, you will learn if you have what it takes to succeed and learn the business of bookkeeping.
Related: Jobs that Pay Over $200k a Year
2. Personal Finance Blogger
Full or part time work from home finance jobs include becoming a personal finance blogger (or niche site creator). Share tips, tricks, and other advice about how your readers can get out of debt, save for a big purchase, and other financial-related topics.
As a blogger, you choose what content you want to share. The more you can set yourself up as an expert, the more readers will trust your content. This trust will continue to bring more readers to your site. Easily start your own blog and get inspired with these money blog name ideas to attract readers.
3. Sell Budgeting Printables & Digital Spreadsheets
Budgeting printables are a hot item for many households and new businesses. They are easy to follow and often provide an answer to questions many are already asking: "Where is the money going?"
With financial printables, you can create a spreadsheet for others to use to track their income, expenses, and where they can save. There is always room in life to reassess finances.
Start a Shopify store to sell your printables and make money while you sleep. It's simple to set up a one-stop shop for your target audiences' personal finance needs.
If you're worried about creativity, use this commercial use budgeting template bundle and rebrand them. Then turn around and sell them to others.
Related: Best Online Jobs for Introverts
4. Become a Finance Proofreader
Proofreaders have the responsibility of checking things over to make sure there are no mistakes. As a finance proofreader, you can proofread other business's budgeting reports, newsletters, articles, and more to help their business flourish in the financial world.
To get started as a proofreader, take Caitlin Pyle's free Proofread Anywhere workshop and learn how to attract your ideal clients. Then you can start your own proofreading business. Proofreading is a great entry level finance job from home.
5. Become a Finance Freelance Writer
Partner with finance businesses and become their freelance writer. Show those companies your expertise and knowledge in the field for a better chance of being hired with them.
Freelance writing is one of those remote entry-level finance jobs because you don't need to have experience beforehand. If you have a basic understanding of grammar, you have a decent shot at landing clients.
6. Create and Sell Finance Courses or eBooks
People look for answers to their financial questions in ebooks and courses. Topics like how to save for a house, how to pay off student loan debt, or how to live with a cash-only budget are all very popular topics.
Create your own courses or ebooks to sell to people looking for those types of answers. It is a great way to share your expertise and also has potential to turn into a lucrative business. Take a look at my guide on how to make money selling ebooks.
Related: Get Paid for Your Ideas
7. Become a Personal Finance Coach or Financial Planner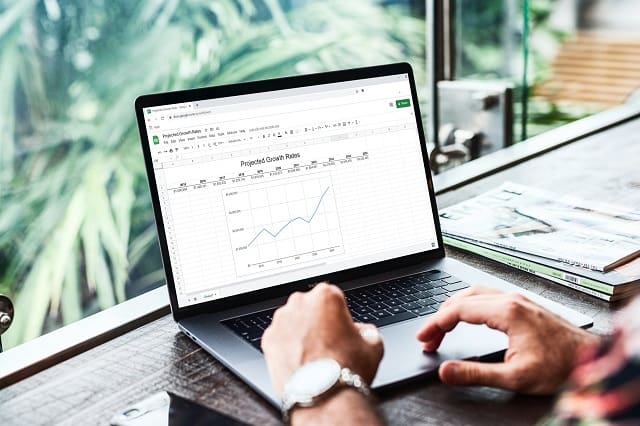 If you are someone people usually turn to for financial advice, consider becoming a personal finance coach or starting your own consulting firm. Offer financial consulting or planning as a service and bring on clients to give financial advice.
As a personal finance coach, you can do 1:1 coaching or group coaching. Offer a specific program for others to learn from in a group setting or provide more 1:1 tailored information.
8. Become a Remote Math Tutor
Math tutors are highly sought after in various educational settings. Find your math expertise and offer your knowledge for a price. Provide more learning opportunities for your clients or simply grade their homework. Either way, you can enhance their learning with your service.
Remote math tutor jobs can be found on various job boards. However, consider broadening your reach by advertising yourself to family and friends.
Related: VIPKID Review: What to Know Before Becoming a Tutor
Finance Work Doesn't Need to Be Done in a 9-to-5 Office
Online work from home finance jobs are not difficult to find. However, there needs to be some creativity on your part to determine which area you want to pursue and how you can make money from it.
Whether it's in the form of blogging, providing personal financial advice, or being a freelancer, there are many options a person in finance can consider to make money from the comfort of their home.
While the jobs listed here won't make you rich overnight, some of the items on this list have potential to blossom into an actual business. Take your time deciding which job is right for you and refer back to this guide for more inspiration.
Related: How to Make $5,000 Fast
---
We appreciate the time you've spent reading this post and your interest is not lost on us. Your thoughts, questions, or experiences related to the topic are most welcome. Each comment adds strength to our community. We ensure every comment receives our attention, and we take the time to provide thoughtful responses. Once again, thank you for being a part of this conversation. Click here to leave a comment.