Vindale Research Review: Can You Really Earn $50 Per Survey?
One of my favorite sites, KashKick, offers tons of ways to earn real cash online. If you're not already a member, give it a shot! Here are five things you can do to make easy money on the site:
Play games (up to $125 each)
Test apps (up to $125 each)
Buy lottery tickets (an easy $8)
Try popular brands (always changing)
Answer surveys (quick cash in minutes!)
UPDATE: Vindale Research shut down on November 1, 2021. Check out the highest-paying alternatives here.
I've heard it before, "Vindale Research pays $50 per survey! Sign up, quickly!" But is this really true?
Unless Vindale surveys each take two or three hours to complete, it doesn't seem possible that the company could afford to pay members $50 to complete a single survey. That's why I had to sign up for Vindale Research and see for myself.
Let's dig in and find out just how much you can expect to earn working with Vindale Research and whether it's one of the best paid survey sites or just another scam.
Our Popular Money-Making Offers
Sign up with each of the following companies to maximize your earning potential.
$10 sign-up bonus
Pays to take surveys, complete offers, shop online, and much more
100s of other paid tasks
Awards cash and gift cards
$5 sign-up bonus
Pays to play games, watch videos, answer polls, and much more
100s of other paid tasks
Awards cash and gift cards
Vindale Research Review Summary and Quick Facts
Upfront, I'd like to confirm that Vindale Research is legit and is not scamming members to use its platform. But the question of how much money can you actually earn still stands.
I'll cover all of your immediate questions and more in this in-depth Vindale Research review.
Vindale Pros
Completely free to join (as all survey sites should be)
Pays in cash, not points
Offers some of the highest paying surveys
Has a user-friendly app for taking surveys on the go
Offers reward codes throughout the week to increase earnings
Has a generous referral program ($5 per friend who joins using your unique link)
Offers a browser extension to help you see available surveys any time
Keeps a detailed list of your earning activity
Offers a $1 bonus to complete the initial short training
Vindale Cons
Requires a high minimum payout of $50
Can take a few tries to qualify for a survey
Sends numerous emails throughout the day to remind you of available surveys
BBB Rating
A- (carries a 3.1 out of 5-star rating from customer reviews)
Related: Surveys That Pay Cash With No Minimum Payout
What is Vindale Research and How Does It Work?
Vindale Research collects data for companies and brands from individuals like you and I. This data helps businesses better their product or service offers, and get glimpses of what may or may not succeed on the market.
Vindale surveys can range from financial to health to personal shopping habits and so much more. If you sign up for Vindale Research and get approved to participate in Vindale studies, you can help companies further their knowledge on the consumer level and earn money for your time.
Sign Up for Vindale Research
Vindale Research offers an easy signup bonus of $1 to give it a try. You can sign up using your email address or Facebook account.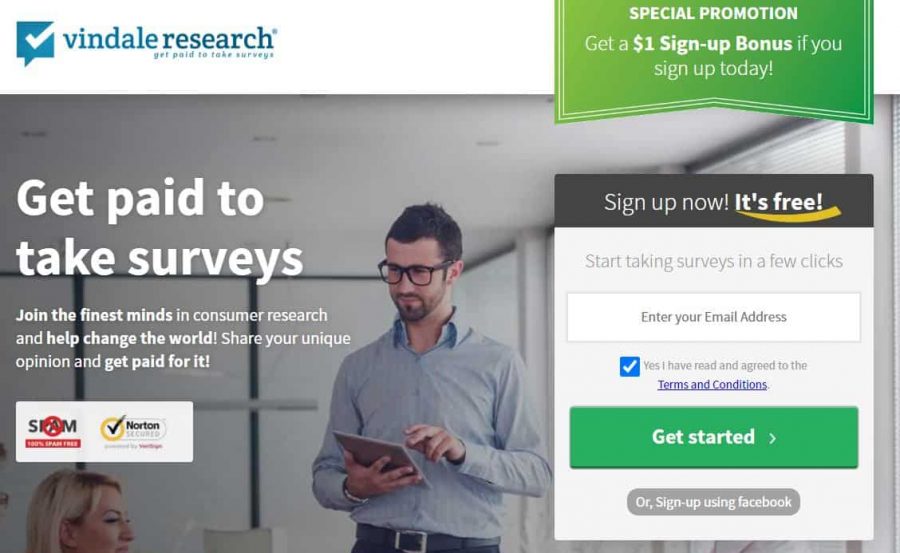 Becoming a respondent is straightforward whether you get started on your laptop or smartphone. Both the Vindale Research app and the browser version walk you through setting up your profile correctly so that you can start completing surveys immediately.
Make sure to provide your real email address when you sign up. You'll need to check your email and confirm it before you can start earning money.
Complete Your Profile
Once you've signed into Vindale Research for the first time, you'll need to set up your profile with some demographic information. It's imperative that you answer honestly and remain consistent throughout the platform.
Every time you start a new survey, Vindale will ask you to confirm some of your demographics during a screening test. If your answers vary from your profile, you won't be able to participate in any studies. Ultimately, you could get removed from the program altogether if Vindale feels you are being dishonest in your survey responses.
Related: 50 Survey Sites That Pay Worldwide
Vindale Surveys
When your profile is complete, you're ready to start taking surveys. As soon as I reached this screen, I was excited to see if any surveys paid $50 as the company says. Sadly, I saw nothing but a list of surveys that paid between $.40 and $2.00.
Now, that's not to say there will never be high-paying surveys in the future. But as I originally thought, it's fair to say that those surveys are few and far between. Plus, who knows which demographic a company looks for when it's willing to pay such a steep price for a single person's response!
Related: iSurveyWorld Review
Payment
Getting paid is one of the highlights of any paid survey site, and Vindale Research is no different. There are numerous reports of payment from happy customers, but inevitably, there are those who think the company is a sham.
Trustpilot holds a 4 out of 5-star rating with more than 4,000 customer reviews overall. It's understandable that some people do not want to put in the work to actually make money on the site or wait to get paid.
Payment Method
Currently, Vindale pays members via PayPal only. You can request payment after you've reached the minimum threshold of $50. If you're able to land some nice high-paying surveys, then reaching $50 shouldn't be an issue. However, it could take quite a bit longer to get there if you only qualify for $1 to $2 surveys.
Related: 10 Places to Take Surveys for Gift Cards
Time Value: How Much Can You Earn Per Hour?
In my experience, it would be hard to consistently earn a high hourly rate taking Vindale surveys. You could, however, do some of them in your spare time and average anywhere between $3 and $12 per hour.
For example, my first survey paid $1 for an estimated 10-minute completion time. It took about that long to complete, so I essentially earned $6 per hour during that time. Some surveys pay more and take less time, while others pay less and take more time.
To make sure you value your time wisely, you'll need to pay attention to the payment amount and the estimated time it takes to finish the survey. Also, take into account that you might run through and fail four qualifier surveys before landing one that pays.
Vindale Research Payment Calculator
Use our simple calculator to estimate how much money you can earn per hour spent completing surveys on Vindale Research (Example: $2.00 payment for a 10-minute survey = $12 per hour.) You can find your Vindale surveys list with the pay rate and estimated time to complete in your account after signing up.
Other Ways to Make Money on Vindale Research
Surveys are not the only way to make money on Vindale Research. You can rake in a little extra cash by doing some other simple tasks.
Collect Vindale Reward Codes
If you follow Vindale Research on Facebook and Twitter, you might be able to snag some extra cash when you find a reward code. It also posts the codes on its blog. Once you find a reward code, you can redeem it on your profile.

Send Referrals to the Company
Vindale offers a generous $5 bonus for every friend you refer using your unique referral link. If you have other friends or a network of people looking for ways to make some extra cash, referring them to Vindale Research is a win-win! You earn a bonus and they start earning money.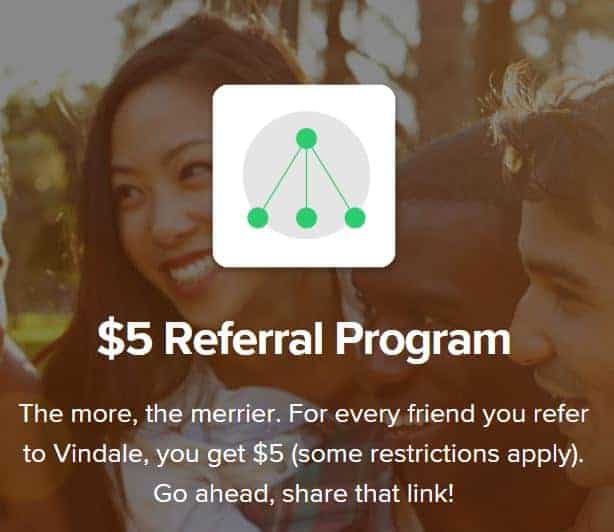 Open Reward Mail
If you don't have a problem with receiving lots of emails, you can opt into receiving reward mail. For every email you open, you earn a little extra cash. Keep in mind that these incentivized emails are not the same as the email notifications telling you there is a new survey for you to take.
Related: Get Paid to Read Emails
Watch Vindale Videos
On the Vindale Research sign-in page, it claims to pay you to watch commercials online. These consist of short advertisements that last for less than a minute and pay up to $.05 each. However, when you log into your profile, these videos are nowhere to be found.
We scoped it out and found its paid video landing page, but it looks like Vindale is still in the process of populating it with paid opportunities. Stay tuned!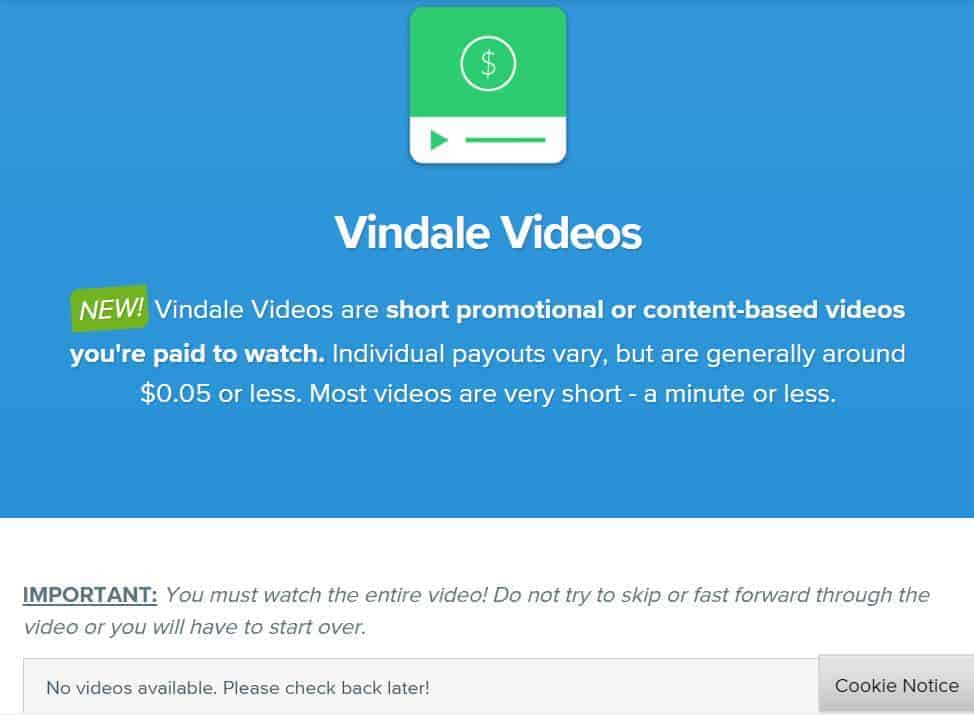 Complete Paid Offers
Vindale offers seems to be underway as of September 2019. When I visit the paid offers tab, nothing populates. Either the offers are available based on demographics or the company has yet to fill up its list. I'll have to come back with an update if Vindale decides to move forward in this area.
Related: Get Paid to Complete Offers
Search the Job Board
You can also visit the job board to see if there are other earning opportunities in your area. When I visit the job page, I can only see two job opportunities with Amazon. Perhaps this is also an area that Vindale is still developing. It's worth stopping by to take a look if you need more money in your pocket.
More Popular Money-Making Offers
Earn more money in your spare time with these reputable companies.
Free PayPal cash
Paid surveys and web searches
Earn easy cash back
Get paid directly to your PayPal
PayPal, Visa, Amazon, etc.
Pays you to do NOTHING (with SJ Pulse)
Simply install the software
Participate in paid surveys & studies
Vindale Research Hacks and Tips to Earn More
You can always find ways to earn more money while spending less time completing surveys. These Vindale hacks and tips should help you capitalize on your time.
You may not be the only survey taker trying these free money hacks. Stay on top of the opportunities when you have the time.
Hack 1: Don't Complete Every Survey That Comes Available
The number one Vindale Research hack to earning the most money is to be picky. Some people might say it's best to complete every survey that comes your way, but that's not realistic. Grab the ones that pay more and require less of your time. That way you can make more money per hour completing surveys.
Hack 2: Watch Your Email for High-Paying Surveys
The higher-paying surveys fill up fast. You're probably not the only person scoping out the good ones. You might have better luck grabbing those $50 surveys if you watch your email for new survey opportunities.
Hack 3: Install the Vindale Extension to Your Browser
Couple the Vindale extension with your email notifications and you shouldn't miss many high-paying opportunities. The browser extension lets you check survey availability at any time, even while you're browsing other websites.
Hack 4: Submit a Photo of Your Earnings
You can earn an easy $5 bonus when you submit a picture of yourself holding a sign saying "Vindale paid me." It's an easy win for you, and it helps assure new members that Vindale pays.
Related: Nielsen Computer & Mobile Panel Review
Vindale Research Q&A
There are always questions to be answered when a company claims to pay for your time and efforts. Here are some of the more common questions that people are asking about Vindale Research.
Why is the minimum payout so high?
Vindale's minimum payment threshold of $50 is significantly higher than most other paid survey sites. It does not explain why the minimum is this high, but it likely helps the business thrive by eliminating survey takers looking for a quick cashout opportunity. The company wants to cultivate relationships with people who are willing to stick to it.
Is there a Vindale research app?
Yes, Vindale Research offers an app for members to take surveys on the go. The app is simple, easy to use, and keeps you updated with the latest survey opportunities throughout the day.
Vindale Research Review Summary
Overall, Vindale Research is a great survey site to sign up for as long as you're willing to stick it out and earn at least $50 before quitting. Once you receive your first paycheck, you'll likely want to continue earning some extra money in your spare time.
While every survey site has its cons, Vindale Research continues to offer easy surveys to its members. You can sign up here to get your first $1 bonus and give it a try for yourself.
Related: Lucky Day Review
---