iSurveyWorld Review: Is It Legit or a Scam?
If you have some spare time and are looking for ways to make some extra money, consider joining the highest paying survey sites online.
While I was working part-time in college, I was always on the hunt for extra money; InboxDollars was the one I most frequently turned to. But I set out to test and review more sites, which is where this iSurveyWorld review comes in.
There are a ton of benefits with taking surveys, like flexibility, for example. Work when you want, access surveys 24/7, and get paid for your time. Not to mention, you can work from home. You get to take your income into your own hands and work as much or as little as you'd like, making extra money in your free time.
In this review, I'm going to share about iSurveyWorld. You will learn how this survey company works, how much they pay, how to get started with them, and more.
Our Popular Money-Making Offers
Sign up with each of the following companies to maximize your earning potential.
$10 sign-up bonus
Pays to take surveys, complete offers, shop online, and much more
100s of other paid tasks
Awards cash and gift cards
$5 sign-up bonus
Pays to play games, watch videos, answer polls, and much more
100s of other paid tasks
Awards cash and gift cards
iSurveyWorld Review: Summary and Quick Facts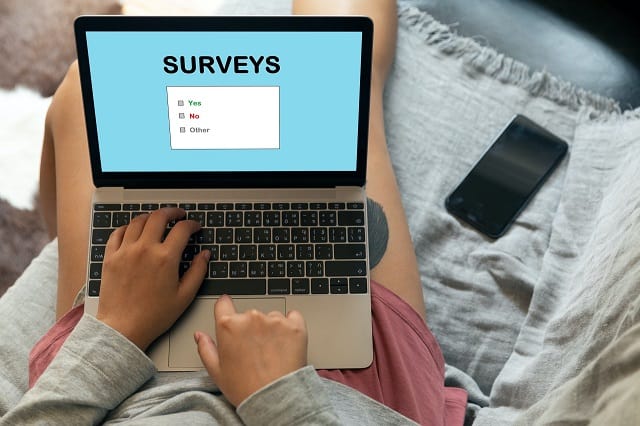 Here are some of the "benefits" and drawbacks of working with iSurveyWorld.
Pros:
Free to join
$5 sign up bonus*
Cons:
Poor reviews on Trustpilot
Not secure
Doesn't reliably pay
Surveys sent by invitation only
No referral program
Our Rating: 1 out of 5
*Don't be duped by the $5 sign-up bonus. After reviewing the site and the existing reviews from real users, it's safer to join a more reliable site like InboxDollars.
What is iSurveyWorld and How Does It Work?
iSurveyWorld claims that if you share your opinion, you'll get paid. There aren't many opportunities like surveys that pay you for your opinion, on your time.
Taking surveys is great for nine-to-five workers who want to make a little extra cash on the side. It's great for stay at home moms who want some spending money for the weekend. College students love this because they can make money and work around their busy, crazy schedules. Survey taking has been around for a long time and people really love it.
But it's companies like iSurveyWorld that tarnish the credibility of survey gigs. It starts out generally solid, pays a few members who rave and spread the good news, and then it leaves its members in the dust.
To be fair, companies don't necessarily set out to scam their members. Surely the founders of iSurveyWorld had good upon starting up. But when cash flow is tight, and their business model crumbles or members start to complain, it's hard to compete with the real winners like InboxDollars and Opinion Outpost.
If you're feeling brave, here's iSurveyWorld's signup process in a nutshell:
Join iSurveyWorld
Complete Your Profile
Take Surveys
Get Paid
Join iSurvey World
The first step is to sign up for iSurveyWorld.
You join the survey site for free right from your desktop computer or mobile device. The site is streamlined and well-designed. It's easy to navigate through and you'll be able to signup right from the homepage.
The signup process is quick and should take you no longer than a few minutes.
I do give iSurveyWorld a thumbs-up for its up-to-date website, but does that make up for its inability/refusal to pay members? Definitely not, in my opinion.
Complete Your Profile
Next, set up your profile.
This part is important, as it'll determine the kind of surveys you get matched with.
Make sure to answer all profile questions thoroughly and honestly.
Take Surveys
Take surveys that pay cash instantly (or claim to).
You can take as many or as few surveys as you'd like. Surveys take up to 15 to 20 minutes to complete, though there are times shorter and longer surveys will be available, too.
iSurveyWorld always tells you the expected time to complete each survey, upfront.
Not every survey company offers this feature and it's a great bonus for the survey participants because they know the estimated time commitment up front.
Once you start taking surveys, you'll want to keep going and going.
Keep in mind that the survey invitations you receive are tailored to your profile so, surveys are only available that are a match with your profile.
As your surveys are completed, they will appear in your account, though there may be a delay in some cases, as some surveys need to end before they show the credit in your account.
Related: PrizeGrab Review: Is It Legit?
Get Paid(?)
Here's where things get a bit sticky. The company claims that you'll get paid in cash via PayPal.
Some members claim that iSurveyWorld will never allow you to reach the $25 minimum payout threshold, while others claim that even if you do reach it, it'll disqualify your earnings for one reason or another.
If you're already knee-deep in surveys before reading my ISurveyWorld review, you may still want to try to get your earnings before you bail. When it's time for you to redeem your PayPal cash, head to Awards and click Redeem My Rewards so you can start the redemption process.
It takes up to 3 to 4 weeks for transactions to be processed, which can be a painful waiting period when you have no idea whether or not they'll approve your earnings.
Related: Lucky Day App Review
Is iSurvey World Worth It?
This will ultimately be your decision to make. While taking surveys from legitimate sites is a great way to make a little extra money on the side, iSurveyWorld seems to cap your earnings with its invitation structure. This may lead to the inability to request payment since you have to earn $25 to request the cash.
Most survey sites are set up this way so it's not unusual but, it certainly restricts how much money you can make. You're at the disposal of the survey company.
With other survey sites like InboxDollars that give you full access to all offers, your income potential is much greater.
So, this is the chief drawback of iSurveyWorld. At the same time, it's great that they offer a straightforward pay structure. Earning via PayPal is as close to earning cash as you can get, without actually getting a direct deposit into your bank account.
PayPal is accepted nearly everywhere. It's a great solution for shopping in person and online. You can also withdraw cash at ATMs and get other perks for being a PayPal member.
It's great that iSurveyWorld has this payment option and doesn't use a confusing points system that needs to be translated and broken down to convert to cash.
Related: How to Make the Most Money Taking Surveys
Best Alternatives to iSurveyWorld
Is iSurveyWorld worth your time? I vote "no."
If you're interested in trying some more reliable alternatives, here are some other legitimate sites to sign up with to help you amplify your earnings.
MyPoints
MyPoints lets you earn points by taking surveys and completing short tasks online. This is perfect for people who have some extra time in their day here and there. You can utilize that free time and make money sharing your opinion and doing easy tasks.
Free to join
$5 sign up bonus
Earn points that you redeem for rewards
Work from anywhere
User-friendly
MyPoints has an A+ BBB rating which is a great sign and it has a 30-year history in the data analysis industry.
You can redeem points for PayPal cash, airline miles, or gift cards.
Read my full review of MyPoints.
Nielsen Computer & Mobile Panel
Nielsen has been around for 90 years. It is another market leader in the data analysis space and it offers a unique opportunity to make money passively.
Install the Nielsen Computer and Mobile Panel app on your device(s) and earn up to $50 per year just continuing your normal routines.
The software is safe, tracks data anonymously, and it's non-invasive. The installation of Nielsen's app should not impact your device's performance.
The company learns from your habits as a consumer and uses the data to apply to business marketing tactics.
The process is super easy and most importantly, a way to make money for doing nothing.
Whatever survey companies you decide to pursue, you will want to consider adding Nielsen to the mix so you can make that even more money each month.
Read my Nielsen review to learn more about the company.
InboxDollars
You'll see my recommendation of InboxDollars laced throughout this iSurveyWorld review and my entire website because it actually pays up. I've received multiple payouts from this company without question or delay.
While you won't become a millionaire or even make a full-time income with InboxDollars, it's a good solution for making some extra cash. The company has paid out over $56 million dollars to its members since the year 2000.
There are a few different activities you can do with InboxDollars to make money. Aside from taking surveys, you can also:
After you join for free, you will have access to the tasks right away. Sort through the activities, pick which ones you want to do, and dive in. Once you reach $10 in your account balance, you can cash out via PayPal, gift cards, or a paper check mailed to your address.
Read my full review of InboxDollars to learn more earning hacks.
iSurvey World Q&A
Here are your burning questions answered.
How does iSurvey work?
In a nutshell, the company claims that you sign up for free then, take surveys. During the sign up process, you will create your profile and your unique profile is what will match you to survey offers.
How long does it take to complete a survey?
The time required to complete each survey varies, based on the survey. The company keeps most surveys at no longer than 20 minutes long, though some may be shorter or longer.
Can I participate in iSurvey world outside the U.S.?
Yes, you possibly can. Surveys are open to some international users.
iSurveyWorld Final Review
This wraps up my full review of iSurveyWorld. Personally, I won't be duped into spending my time taking surveys from iSurveyWorld only to find out that my earnings are disqualified.
Consider the other survey sites mentioned above to add to your income-earning arsenal.
---