How to Get Paid to Watch Sports Games Online and In Person
One of my favorite sites, KashKick, offers tons of ways to earn real cash online. If you're not already a member, give it a shot! Here are five things you can do to make easy money on the site:
Play games (up to $125 each)
Test apps (up to $125 each)
Buy lottery tickets (an easy $8)
Try popular brands (always changing)
Answer surveys (quick cash in minutes!)
No matter what kind of sports you are interested in, there is a multitude of ways to get paid to watch sports. Whether you enjoy attending sporting events in person or watching from the comfort of your home, you can find a way to make money the way you want to with sports.
Each season of the year is dedicated to specific sports. Many sports fans can't wait for their team's debut each year. If you are one of those big sports fans, it can feel like forever until your favorite franchise comes back for another season. Don't just wait around for the season to start up again; take action now and decide how you will get paid to watch sports.
Learning how to make money watching sports isn't difficult to do. As long as you have an open mind and some spare time, you will find the ways listed here are doable, fun, and will help add money to your monthly income. Figure out which one of these ideas is right for you.
Our Popular Money-Making Offers
Sign up with each of the following companies to maximize your earning potential.
$10 sign-up bonus
Pays to take surveys, complete offers, shop online, and much more
100s of other paid tasks
Awards cash and gift cards
$5 sign-up bonus
Pays to play games, watch videos, answer polls, and much more
100s of other paid tasks
Awards cash and gift cards
Best Ways to Get Paid to Watch Sports
If you enjoy being part of the action and witnessing all the greatness of a sport, then you will enjoy learning about the following ways to make money with sports.
1. Get Cash Back on Sports TV, Food, Jerseys, and More
For a true sports fan, watching the game is much more than just "watching the game." Think about the streaming service, snacks, drinks, meals, and sports paraphernalia that come together to complete the experience. Whether you're enjoying the game with friends and family in your living room or drinking beers together in the stadium, it's an experience worth putting your all into.
But not everyone can afford to drop hundreds of dollars at each event. That's why finding ways to get paid to watch sports can alleviate the burden of cost, and lead to a stress-free experience. One of the best ways to make money watching the game is to earn cash back on every eligible purchase you make in preparation for game day.
InboxDollars is a great place to check for cashback earning opportunities. For example, you can get $10 back on a new subscription to ESPN+, $15 back to watch the fight on DAZN, $45 back on Schwan's Home Delivery, or $7.50 back on your first DoorDash delivery. There are always new game-related cashback offers added to the list.
Related: How to Get Paid to Drink Beer
2. Become a Sports Photographer
If you are handy with a camera, then consider becoming a sports photographer and get paid to attend events like the Super Bowl, Stanley Cup, US Open, and many others. Capture all the action, the group huddles, the fans cheering, and all the excitement that comes with being at a sports event.
You can be a freelance or contracted photographer who comes for specific events. Additionally, you can get hired by companies to be an exclusive sports photographer. If you haven't started out getting paid for your photography skills yet, then use this opportunity to freelance and show the sports world what you can do. Get paid per event or set up package rates for your time as a photographer.
Related: How to Become a Photo Editor
3. Become a Referee
Another way to make money watching sports games is to become a referee. Every sport requires at least one. The referee's job is to ensure that all rules are followed by both teams or participants. You would have to have thick skin because you won't make everyone happy no matter what call you make as a referee.
Referees are needed for sports of all ages. Whether you are looking to ref in professional games or wanting to stick to college or youth leagues, you have the ability to choose how to get paid to watch sports.
Related: How to Get Paid to Exercise
4. Become a Sports Event Coordinator
Big sporting events happen yearly such as the Super Bowl for NFL fans, World Cup for futbol fans, or Stanley Cup Finals for hockey fans. Any of those events can be a good reason to put on a watch party. Be it a smaller gathering or a large conference-style event, you can become a sports event coordinator and make money with sports.
Bring people together who want to watch the big sporting event, coordinate fun games they can participate in, make sure they have enough food and drinks, and you're well on your way to coordinating a successful gathering. Map out some amazing parties and make yourself known as the top sports event coordinator in your area.
Related: How to Become a Marketing Coordinator
5. Become a Vendor at Sporting Events
At sports events, there is always a reason to have food trucks and other vendors available for the fans to buy from as they enjoy the live games. From tailgating to half-time and end-of-the-game fun, vendors have a huge role to play in the success of professional sports. Find the right way to support your local team and become the vendor it needs.
Related: How to Get Paid to Watch Netflix
6. Become a Coach
When you think about how you can get paid to watch sports, one of the most obvious ways to do so is by becoming a coach for the sport you love. This will not only give you a front-row seat to the action, but you will also directly influence play styles and strategies.
Paid coaching opportunities usually begin around the high school age group and up. There are some groups that will pay you to coach for younger teams, but those opportunities are more specialized. Find coaching vacancies in your area by checking local Facebook communities, checking ads in the newspapers, or visiting job boards in surrounding school districts.
Related: Get Paid to Eat
7. Become a Sports Broadcaster
Sports broadcasters have the fun job of reporting sports live to listeners on the radio or fans who are watching from a TV. They get to make commentary about the plays, educate listeners about the sport itself, and provide stats and live scores from other teams as the game progresses.
If you enjoy being an on-the-spot commentator and are knowledgeable in the sport, then consider becoming a sports broadcaster.
Related: How to Get Paid to Read Aloud
Legit Ways to Get Paid to Watch Sports Online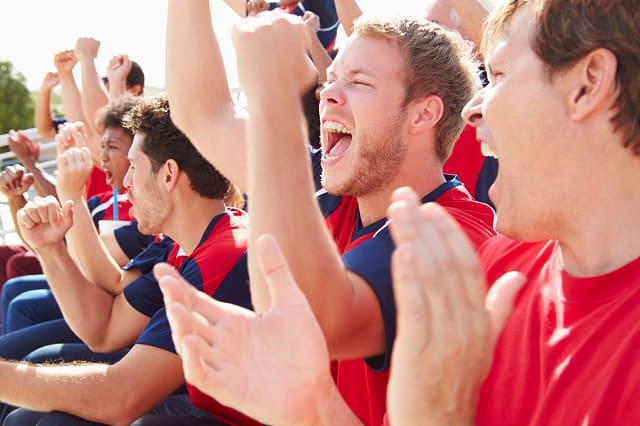 Everything is done online nowadays. Getting paid to watch sports online is no exception.
8. Start a Sports Blog
Create a blog or niche website that is all about sports. You can pick one specific sport that you enjoy or talk about sports in general. Discuss highlights from recent games, post about players, and break down the specifics of game strategies. There are many ways you can talk about sports in a blog. Think of what you would want to know about a sport as a reader and start writing.
To get paid for those blog posts, you can incorporate ads so that you get paid per view. Essentially, viewers who see your post will see the ad. You can get paid for those views and make even more if visitors click on those ads.
Related: Get Paid to Watch Disney Movies
More Popular Money-Making Offers
Earn more money in your spare time with these reputable companies.
Free PayPal cash
Paid surveys and web searches
Earn easy cash back
Get paid directly to your PayPal
PayPal, Visa, Amazon, etc.
Pays you to do NOTHING (with SJ Pulse)
Simply install the software
Participate in paid surveys & studies
9. Become a Journalist
Become a freelance journalist and get paid to write about the next big story. In the sporting world, the next big newsbreak can happen at any time. Players retire early, get traded, or get injured at a moment's notice and it would be your job to bring those stories to your readers.
As a journalist, you can be the one to bring those stories to fans. Write the reports, sell them to newspapers, and make money with sports. You can be a freelance journalist or become an employee of a newspaper to cover these stories.
Related: Get Paid to Watch the News
10. Start a Sports-Related YouTube Channel
People like to consume as much content as possible in the fastest way possible. This often leads to a trip to YouTube. Viewers can watch game highlights, view injury reports or trade rumors, and stay connected with their favorite teams.
Consider starting your own YouTube channel that is dedicated to bringing the viewers what they want. Take your viewers with you virtually to sporting events, watch games live from your home, or conduct a live broadcast. The choice is yours how you choose to run your channel.
Related: Get Paid to Watch YouTube Videos
11. Become a Sports Product Reviewer
Review products on social media and get paid for them. You can do this by becoming a social media influencer and showing your fans the latest products on the market. This can be sportswear, protein snacks and drinks, training materials, and more.
Ask your viewers to use your affiliate links or special discount code to purchase the products. This will earn you a commission for every buyer who purchases from your product reviews.
Related: How to Get Paid to Watch Star Wars
More Ways to Get Paid While Watching Sports
While you are enjoying your sports, consider how else you can get paid doing something you love.
12. Play Games During Commercials and Breaks
If you're watching sports from your TV, get paid to play games during the commercial breaks. It's a refreshing way to earn some extra cash while still enjoying the fun of gameday.
Download apps like Mistplay and choose from a variety of games you can play on your phone. Spending a couple of minutes at a time can generate some extra money.
You can also play games while at live sporting events during tv timeouts or at halftime. Take the games with you to your kids' sporting events and play during lulls in the action.
Related: Best Cash Game Apps for Money
13. Become an Event Security Personnel
While being a security guard might not always allow you to watch the game, you can still make money with sports by being at events and keeping the players and fans safe. Whether you're in charge of checking bags at the entrance or placed strategically among the fans, keeping the peace is an important job. Become part of the security team at sporting events.
14. Become a House Sitter
You can get paid to live in a house as a freelance house sitter and enjoy watching games in your spare time. Make sure to complete your duties in the home throughout the day like cleaning and caring for the pets, and then stream your favorite team's action in the evening. It's an easy way to earn good money while watching sports online.
Related: Best Places to Sell Baseball Cards
You Really Can Make Money Watching Sports Games
There really is no limit to the ways you can get paid to watch sports. The beauty of it is you get to choose the way that works best for you.
The first part is understanding the amount of time you have available. From there, you can decide which one of these jobs fits best with your lifestyle. Then you can take the steps needed to start making money with sports at your earliest convenience.
Related: How to Get Paid to Watch The Office
---