10 Places to Sell Baseball Cards On- and Offline
One of my favorite sites, KashKick, offers tons of ways to earn real cash online. If you're not already a member, give it a shot! Here are five things you can do to make easy money on the site:
Play games (up to $125 each)
Test apps (up to $125 each)
Buy lottery tickets (an easy $8)
Try popular brands (always changing)
Answer surveys (quick cash in minutes!)
Baseball cards have held value for generations. They are timeless pieces of history holding stats and biographical information for some of the greatest players to ever lace up their cleats. Each era brings about new generational talents whose names and pictures will forever be etched on printed card stock. Baseball cards generally increase in value over time, but when you are ready to sell your collection, you have to know where.
One of the biggest issues sellers have when looking where to sell baseball cards is that they either overvalue or undervalue their collections. Some believe they have thousands of dollars worth when it really could be hundreds (or even less). Others might try to sell their cards for pennies when they don't realize they are holding a dream list card in the palm of their hand.
It's your choice what price you want to sell the cards for, but it is important to do your research to know their value beforehand. If you are ready to sell your baseball cards, you have several options to consider both on- and offline.
Our Popular Money-Making Offers
Sign up with each of the following companies to maximize your earning potential.
$10 sign-up bonus
Pays to take surveys, complete offers, shop online, and much more
100s of other paid tasks
Awards cash and gift cards
$5 sign-up bonus
Pays to play games, watch videos, answer polls, and much more
100s of other paid tasks
Awards cash and gift cards
5 Places to Sell Baseball Cards Online
If you are wondering where to sell baseball cards online, the following ideas are just for you. These are the most common and popular online options for baseball cards.
1. Etsy
Etsy is an online marketplace that is a go-to for handmade and vintage items. If you have a collection of older baseball cards, your items qualify as "vintage". Set up your own free Etsy shop and begin uploading the cards you want to sell. Enter a detailed description so that people searching Etsy will find you easily.
There is a small fee that Etsy charges only when you sell an item. You can also create Etsy-sponsored ads to promote your shop. This helps get your shop in front of more eyes, especially as a new shop when sales start out low. Add Etsy to your list of where to sell baseball cards online.
Related: Things to Sell on Etsy
2. Shopify
Shopify is a relatively large ecommerce platform that allows business owners to sell in larger quantities. If you want to be a higher-volume seller, Shopify is a great option. You can sell your products all over the world through Shopify, giving you access to make more money than you may have realized with baseball cards.
You can use Shopify on- and offline. As your business grows, so does your Shopify account. The service allows you to upgrade when you need to as your business scales.
3. SamCart
Samcart is a popular platform used to sell digital products and services. But you can also use it to sell physical products like baseball cards. You can even combine its two uses and design your own baseball cards to sell on SamCart. Make them irresistible in design and housing all of the players' unique data. Your customers can choose to print the baseball cards after they have purchased them from you or they can just keep a digital online collection. Your unique baseball card designs could become the next "hot" items in baseball card trading.
4. eBay
eBay has been around for decades and has proven to be a trustworthy site for selling pre-owned items. Whether you want to sell clothes, videos, baseball cards, or anything in between, eBay can help you do it. If you want to sell baseball cards online, consider using eBay to make your sales.
Set up an eBay seller's account to start adding listings of the baseball cards you want to sell. You can create individual listings for cards or group them together. It is up to you how you want to sell them. Search other listings that are similar to yours and price accordingly. You want to make sure you are charging a competitive price for your unique collection. There are many avid baseball card collectors on eBay who are willing to pay the right prices for your collection.
Related: The Best Things to Flip for Cash Online or In Person
5. Amazon
Open your own Amazon FBA account to sell baseball cards online. FBA (Fulfilled by Amazon) is a great way to make money without having to hold a physical inventory in your home or office. When you begin your own FBA account, you get to list baseball cards for sale and then Amazon fulfills the order for you when a customer places the order.
The FBA program does nearly all of the work for you down to handling customer complaints. You just need to ensure your FBA shop gets seen by using marketing skills and getting in front of the right audience. There is a fee depending on the plan level you choose. Truthfully, the fee is minimal compared to how much you get as the business owner and how much time the program saves you in the long run.
Related: How to Flip Money Online or In Person
More Popular Money-Making Offers
Earn more money in your spare time with these reputable companies.
Free PayPal cash
Paid surveys and web searches
Earn easy cash back
Get paid directly to your PayPal
PayPal, Visa, Amazon, etc.
Pays you to do NOTHING (with SJ Pulse)
Simply install the software
Participate in paid surveys & studies
Local Places to Sell Baseball Cards
Searching "where to sell baseball cards near me?" on Google can get frustrating if you don't find the answer you need right away. Consider the following ideas to sell baseball cards offline.
6. Visit Local Sports Consignment Shops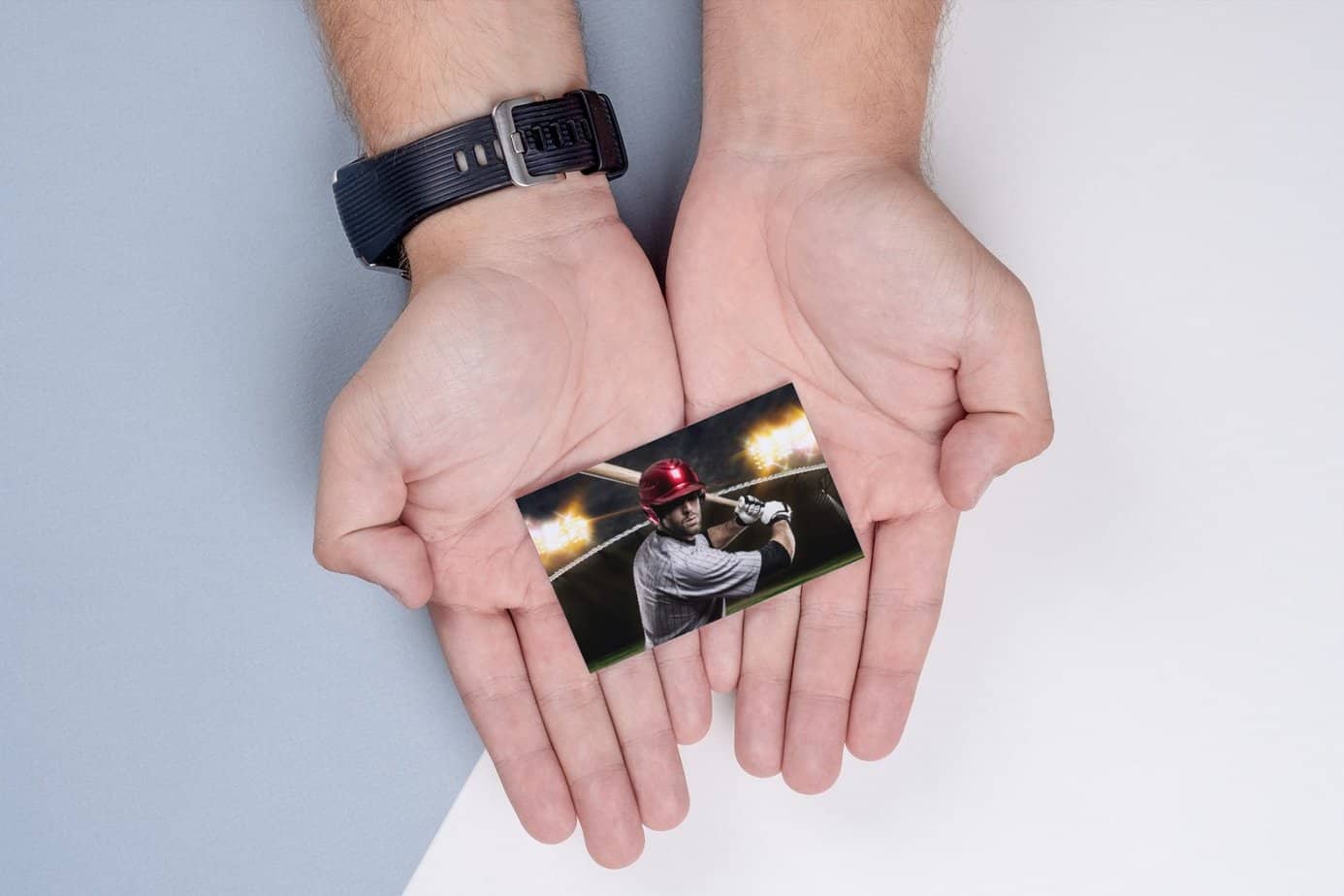 Consignment shops help people make money by selling items for them. Granted, there is a fee to do this. However, the fee may seem minimal to you because it takes the hassle out of having to sell them yourself. Find a local sports consignment center that will sell your baseball cards for you.
Sports consignment shops are specific to housing sports memorabilia from dated equipment to autographed items and even baseball cards. Your chances of selling are greater at a sports-specific consignment center.
Related: How to Sell Digital Products Online
7. Craigslist
Craigslist can be a hit-or-miss option for some people. But for you selling baseball cards, it could be the perfect place to make money. Keep in mind, many individuals look to Craigslist for cheap listing options. If you just need to get rid of the cards for some quick cash, then try Craigslist.
Create a new listing for your baseball cards and begin selling. You will want to add as much detail as possible to help potential customers find you when they are searching for baseball cards on the Craigslist engine. Be smart and stay alert to avoid any scams that may come through from your listing.
8. Facebook Marketplace
Facebook Marketplace is like an online garage sale. People post their items for sale (some items are free) for other Facebook users to purchase. You can take advantage of this additional feature on Facebook at no cost. Post your listings, name your price, and wait for interested customers to contact you.
There is an option to boost your listings by creating a paid ad. If you are in a hurry to sell your cards, this could be a helpful feature. Additionally, you can share your listings on your personal page and in other Facebook groups to get more eyes on them.
Related: How to Start a Shoe Flipping Business From Home
9. OfferUp
Use OfferUp as a solution to where to sell baseball cards near you. Simply upload the cards you have for sale and name your price. Compare prices other baseball card dealers are asking so that you can stay competitive. Make yourself stand out by giving your description a unique flair or taking pictures of your cards with stellar background designs.
OfferUp allows people to buy from you and then meet up to complete the sale in person. Sell locally using OfferUp. You may even find a fellow fanatic to talk baseball with.
10. Pawn Shop
Take your baseball cards to a local pawn shop to make money quickly. Pawn shops have the ability to purchase your cards from you, but it will be at a lesser price than if you were to find a buyer yourself. You can also use your baseball cards to receive a loan from the pawn shop if it agrees to partner with you. Keep in mind, you will likely pay a heavy interest rate. Your cards will be held as collateral until your loan is paid in full.
Related: How to Sell Plants from Home Online or Locally
Tips for Selling Baseball Cards
Selling baseball cards isn't as easy as uploading them online and getting a sale within minutes. There are some tips to think about to help you have success with your sales. The first tip is if you are selling locally to people from online listings, you should meet in a safe location to close your deal. If you can, take an additional person with you for the meet up.
Also, consider how you are going to accept payments from others so that you don't get scammed. Use payment apps like Cash App to facilitate the transaction. Do your due diligence with your research on the value of your cards. This will be the greatest asset.
Finally, when posting online, use the description sections to fill with SEO strategies to help your listings get discovered quicker. The more keywords you can implement, the better your chances are of being seen. Not all baseball cards are rare, but if you can get them to surface high in search results, they will sell quicker than competing listings.
Related: How to Get Paid to Watch Sports Games
Baseball Cards Can Make a Difference in Your Income
Baseball cards are still popular, even with the younger generation. It has become more than a hobby and more like a lifestyle to many. Holding a piece of history in your hand can feel exhilarating. Finding ways to make money with it just doubles the fun.
If baseball cards are something special to you, selling them can come with mixed feelings. Whether you are doing this for a quick payday or you want to do this as a more permanent way to make money, there are clearly several options to consider. Find the right option where to sell baseball cards that fits your needs and lifestyle.
Related: 10 Things for Kids to Sell at School for Extra Cash
---