How to Flip Furniture: Your Furniture-Flipping Business Guide
We foster relationships with brands we use and trust. The testimonials on our site represent real experiences, but they don't guarantee you'll achieve similar results. When you make purchases through our links to our partners, we may earn a commission. Your support helps us continue this work. You can read our full disclosure here.
One person's trash is another person's treasure. The sheer number of discarded furniture pieces that could be repaired and brought back to life would make even the most extravagant spender cringe. If you can visualize the transformation of an old or used piece of furniture, consider flipping furniture to create treasure from discarded trash.
Flipping furniture is a lucrative way to make an income. It's easy to find inexpensive – or free – furniture to flip for huge profits. If you are willing to get your hands dirty to clean and refurbish furniture, then this would be a great business option to consider for a full-time job or side hustle.
Whatever reason you have for wanting to learn how to flip furniture, remember that it takes time to transform each piece. As a furniture flipper, your patience and dedication can pay off handsomely. Learn more about how you can start your own furniture-flipping business in a few easy steps.
What is a Furniture-Flipping Business?
A furniture flipper finds old and/or used furniture pieces to refurbish. This could be as simple as repainting the items or just changing out the hardware. Some furniture pieces require a little more TLC. Regardless of the changes made, when the pieces are restored, they can be flipped for a nice profit.
When you are dedicated to revamping and reselling furniture, you make it your business to bring dying pieces back to life.
Related: How to Flip Money
Do You Need a License to Run a Furniture-Flipping Business?
Furniture flippers don't technically need a license, but do take the time to read up on your own state's rules and regulations that pertain to your endeavors. Check your local licensing office to see if you will need a seller's license.
Whether or not it is required in your state, it would be a good idea for you to apply for a free EIN with the IRS, for tax purposes and to help you in opening a business bank account. Keep your personal and business expenses separate using different accounts.
Other Furniture Flipping Requirements and Qualifications
There are no education requirements to become a furniture flipper. You just need to do your research and understand current trends. You must have patience, dedication, and a creative brain to help you turn boring, outdated furniture into beautiful masterpieces.
Bring out your artistic side as a furniture flipper and experiment with color combinations, hardware choices, and a variety of DIY materials. You will be able to stretch your creativity using many different types of mediums while learning something new from each experience.
Related: How to Get Paid to Color
Salary or Pay Expectations for a Furniture Flipping Business
Depending on how much time you have to dedicate to this business, you could make anywhere from an extra hundred dollars here and there to thousands of dollars per month. There is no set salary, because only you are in control of how much you will charge for each piece.
Take into account how much you paid for the furniture, the cost of the materials you used to spruce it up, and the time you spent transforming it. You want to do more than break even, but this is a good starting point to determine the minimum you will accept for a piece.
Related: Cash App Flip: Is It Real or A Scam?
How to Start a Furniture-Flipping Business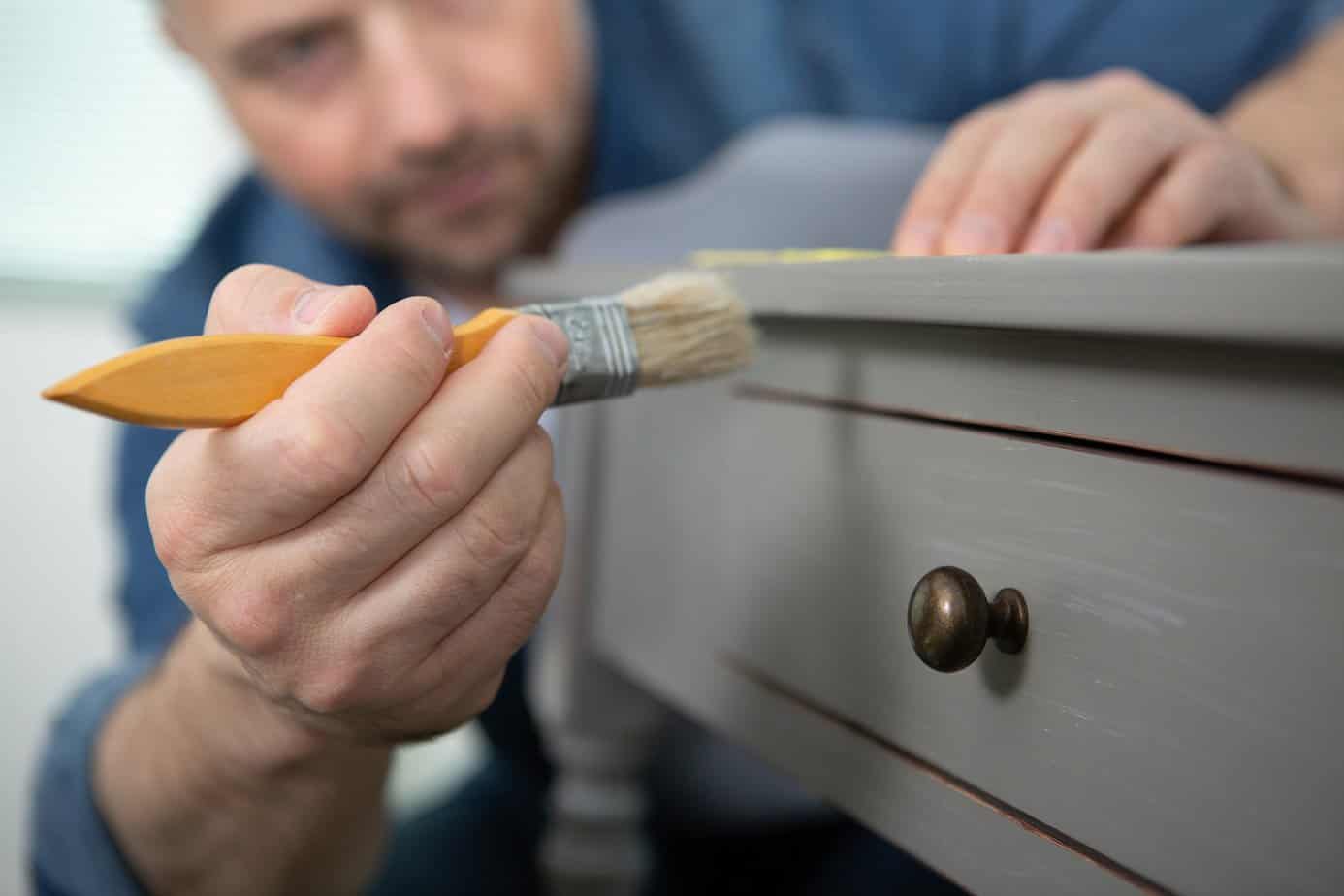 If you are feeling inspired and want to know how to flip furniture for a profit, the following steps will help you start your business. Anyone can become a furniture flipper, but only a dedicated few can turn this into a business.
1. Furniture-Flipping Business Plan
When starting any new enterprise, it's important to come up with a business plan. If you want to specialize exclusively in dressers, your business plan will look different from that of a person who only specializes in kids' furniture.
Determine how much time you have to dedicate to this business, and budget the money you can invest up front and how much cash you hope to make. Think about any insurances you might need for incidentals, and how you will transport the furniture if you don't have a truck or a trailer. The work you put in ahead of time can help guide you as you start earning money.
2. Take a Furniture-Flipping Course
Enroll in a furniture-flipping course like Rob and Melissa's Furniture Flipper Pro Pack to learn the ins and outs of becoming a successful furniture flipper. Rob and Melissa teach others how to successfully flip pieces found at flea markets and thrift stores, locations in which you will probably find yourself as you search for upcycling candidates. Rob and Melissa have helped hundreds of happy customers flip their finds and make thousands of dollars in a short period of time.
The Furniture Flipper Pro Pack gives you access to lessons, guides, and resources to help you start your business. Rob and Melissa's Flea Market Flipper brand, which has been featured in Forbes, The Penny Hoarder, The Hustle, and more, is popular for many who are looking to earn extra money or want to completely change their career course.
3. Invest in Tools
You will need some tools on hand for your business to run smoothly. Invest in an inventory made up of paint brushes, hand sanders, hammers, screwdrivers, etc. to aid your craft. Once you start taking on projects, you may find yourself expanding your collection of tools.
To start, invest in the basics. You can find used supplies online at discounted prices so you don't have to break the bank right off the bat.
4. Find Furniture
The best part about the furniture-flipping process is the thrill of the hunt. It's exciting (some would say even thrilling) to search for pieces that are just begging to be upcycled. Tables, barstools, chairs, and side tables are some of the best things to buy to make money as a furniture flipper.
Shop at your local thrift stores and flea markets, or stay home and look through Facebook Marketplace, Craigslist, OfferUp, and more for inexpensive or free furniture. Many of these options will give you the chance to negotiate pricing if you don't want to pay the listed price. Because sellers just want the pieces gone from their homes or businesses, you could get an even better deal through negotiating.
Related: How to Start a Flea Market Flipping Business
5. Refurbish Furniture
Make a plan before refurbishing the furniture. Research the furniture styles that are trending, so you can create a piece that has a high likelihood of selling. Carefully choose modern color combinations that will help pieces sell quickly.
While some buyers like bold colors, others might prefer more neutral tones. Painting wood isn't difficult, but transforming a piece from dark to light can be time consuming. Determine the end result ahead of time before beginning any flip. Get creative and implement ideas that you don't often see to add that unique touch.
6. Sell Your Furniture
It's exciting to sell refurbished furniture and see your hard work pay off, knowing that your customer will have a piece of art in their home that you created. But to start selling these items, you will first need to know where to post them.
You can list your furniture for sale on Etsy, Facebook Marketplace, OfferUp, Craigslist, and eBay, where many people are actively looking for furniture options for their spaces. Your furniture is unique, and buyers are willing to pay for abstract pieces, especially when they know there is nothing else like them.
Do your research on current furniture prices so you don't list your pieces too low and keep yourself from making top dollar. Be competitive with the market so that you stay in business.
Related: How to Become a Woodworker
Questions New Furniture Flippers Are Asking
Learn even more about how to flip furniture with these frequently asked questions posed by other new flippers. In this way, you will become comfortable with your decision to flip furniture for a profit.
Is flipping furniture profitable?
You can definitely turn a profit if you know what you're doing. Furniture flipping is more than just slapping on a new coat of paint and trying to sell a piece as "vintage" or "antique." There are many other aspects of the business to consider, like saving up for newer equipment or budgeting correctly for each project.
Your profits will also be based on the time you dedicate to the business. If you sell only one piece per month, you obviously won't make as much as you would if you sold a piece every week. You are the only one who can determine if this is a profitable venture for you.
Related: How to Start a Shoe-Flipping Business From Home
What furniture is best for flipping?
The best furniture to flip for profit will vary, especially as the seasons change. While people are looking for outdoor furniture to buy during the summer, buyers are probably searching for tables and chairs to use when hosting holiday events in the winter. The time you take to research the current trends will pay off.
In addition, you will need to choose your color schemes wisely. Even if a furniture piece isn't specifically in season, some people may still consider purchasing it if it is visually appealing.
Can furniture flipping be a full-time job?
Depending on your availability, this could turn into a full-time job, whether or not you choose to work a full 40 hours. Some flippers make a full-time income while only working part time. The full-time answer will depending on the money you personally need to bring in each month and how many furniture pieces you need to sell to meet that goal.
Related: How to Start a Shopify Store
Who Should Start a Furniture Flipping Business?
Furniture flipping doesn't discriminate. Anyone who is willing to put in the time and effort to flip furniture can do it. Many paths lead to success. You would be wise to follow the steps listed in this guide to make furniture flipping a sustainable and profitable business. But any new endeavor needs a plan.
If you are creative, willing to put in the work, and enjoy experimenting with DIY materials, you could become a highly successful furniture flipper. The key is dedication and patience. Having a plan, investing in the right tools, and using your time wisely will pay off in the end. Learning how to flip furniture could be your ticket to a better, more satisfying life.
Related: The Best Things to Flip for Cash Online or In Person
---
We appreciate the time you've spent reading this post and your interest is not lost on us. Your thoughts, questions, or experiences related to the topic are most welcome. Each comment adds strength to our community. We ensure every comment receives our attention, and we take the time to provide thoughtful responses. Once again, thank you for being a part of this conversation. Click here to leave a comment.