PINCHme Review: How to Get Free Samples to Review and Keep
We foster relationships with brands we use and trust. The testimonials on our site represent real experiences, but they don't guarantee you'll achieve similar results. When you make purchases through our links to our partners, we may earn a commission. Your support helps us continue this work. You can read our full disclosure here.
Trying a new product can be risky. You'll either love it or hate it. If you hate it the inconvenience of taking it back might deter you.
Instead, that product might just end up collecting dust in a drawer or it'll get thrown into the trash. Either of those options means you've lost out on money and time trying products that didn't work out for you.
Most of us are looking for ways to save money, not waste it. Wouldn't it be nice to have options to "try before you buy"?
Thankfully, there is a way to try out new products before you buy them. With a membership through PINCHme, you can get free samples from leading brands.
For someone like I who usually shies away from trying new things, this is the perfect solution.
What is PINCHme and is it Legit?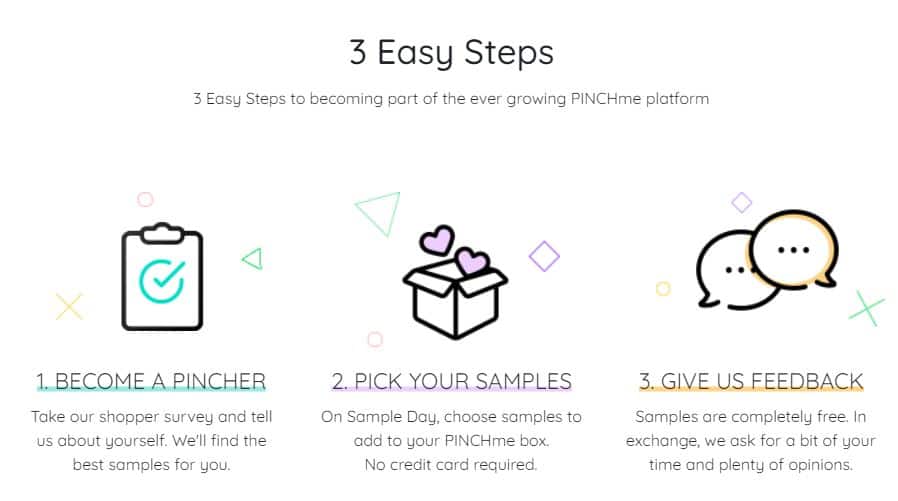 PINCHme was created in 2013 and is a U.S. based company operating out of New York. They partner with brands to get new product samples into consumers' hands.
People who sign up for the membership will try the samples and then give feedback to PINCHme about the products they try. The feedback is then sent to the brand to help shape and improve the product. It's a win-win for everyone!
Pros:
Free samples
Members can choose which products they want to try
No more wasting money on trying products that don't work
Cons:
No monetary compensation
Members must find the time to fill out the feedback for the samples they accept
Related: Prizegrab Review
How Does PINCHme Work?
Sign up for an account with PINCHme, choose your samples and provide feedback. If you like the samples, you can also choose to purchase the full size product.
1. Sign up for a free account
Signing up for PINCHme is a simple process. You decide whether you want to sign up with an email address or through Facebook. If you choose email, you will have to verify your email address. PINCHme will send you an email to verify you entered the correct address.
2. Complete your profile questions
Following your signup, PINCHme will ask you various questions about your household and shopping habits. These questions build your member profile to tailor the sample selections to your liking.
This step is important in order for you to have the best experience possible. PINCHme wants to make sure they are sending you samples that are relevant to your lifestyle.
Additionally, make sure you update your mailing address in the event that you relocate so that you can still receive your free samples.
Related: How to Get Paid to Answer Questions
3. Answer any additional bonus questions
In some cases, there will be additional questions emailed to you. Responding to those emails will qualify you for even more samples.
If a new brand or product was added to the samples selections, PINCHme would want to ensure you aren't missing out on new opportunities.
4. RSVP for Sample Tuesday
Sample Tuesday is hosted once per month. You will have to RSVP to Sample Tuesday Facebook events for your chance at getting more samples.
Related: Free Heart Templates for Crafting and Sewing
5. Build your box of free samples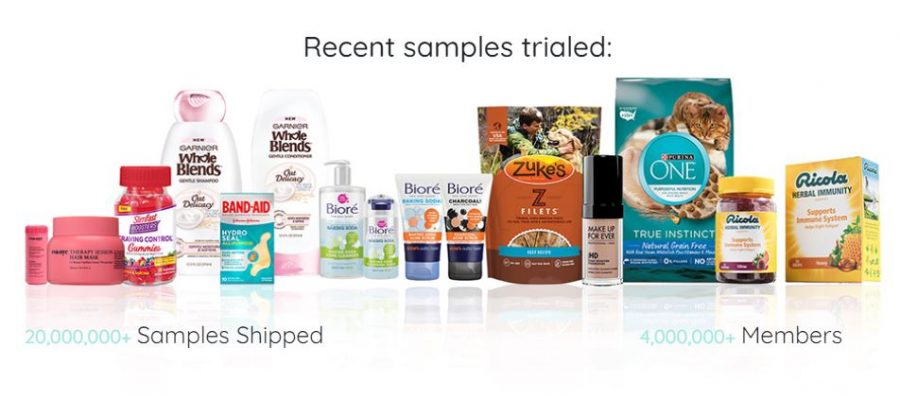 After receiving the recommendations from PINCHme about which products you would be interested in, build your own box of samples and have them shipped directly to you for free.
6. Review the products
Allowing for some time to try the samples, log back into your profile to provide feedback about the products. PINCHme is looking for honest feedback to communicate back to the brands. This relationship helps brands understand what consumers like or don't like about their products, thus creating an opportunity to improve.
Additionally, you can conveniently enter your feedback on the PINCHme app. Afterward, consider choosing more samples to review.
Related: How to Become a Product Reviewer and Get Paid
7. Use coupons and discounts (optional)
If there is a sample you loved, you can use a coupon or discount code from PINCHme to buy the full size version from the brand.
8. Take surveys and complete offers
PINCHme also offers more ways to engage on their platform. While you wait for the samples to arrive, take some time to complete offers and fill out some surveys about different brands and products.
9. Follow PINCHme on social media
There are many ways you can connect with PINCHme such as Facebook, Instagram and YouTube. On those channels, you can watch live unboxings, learn about giveaways and competitions, see what other members think of their products and get some exclusive behind the scenes knowledge.
Related: FutureFuel.Io Review: How It Saves You Money On School Loans
How do I know if PINCHme is right for me?
Due to the large market of brands PINCHme is connected with, the site needs consumers from many demographics for the variety of samples. There will be different times of the year when certain products are more valuable and feedback is needed. There will also be times when you find that a sample doesn't meet your needs or maybe it's not something you can use at that time.
The trick to this is that you'll never know unless you try! While human nature is comfortable keeping things as-is, it's not a bad thing to step out of our comfort zone once in a while by trying something new. PINCHme can introduce you to a myriad of new products! Don't wait any longer to try them out.
Have you experienced PINCHme? What kind of samples do you look forward to trying?
Related: How to Become a Test Subject and Get Paid
We appreciate the time you've spent reading this post and your interest is not lost on us. Your thoughts, questions, or experiences related to the topic are most welcome. Each comment adds strength to our community. We ensure every comment receives our attention, and we take the time to provide thoughtful responses. Once again, thank you for being a part of this conversation. Click here to leave a comment.