10 Things for Kids to Sell at School for Extra Cash
One of my favorite sites, KashKick, offers tons of ways to earn real cash online. If you're not already a member, give it a shot! Here are five things you can do to make easy money on the site:
Play games (up to $125 each)
Test apps (up to $125 each)
Buy lottery tickets (an easy $8)
Try popular brands (always changing)
Answer surveys (quick cash in minutes!)
Kids are expensive, no matter what age they are. There is always something to pay for, unique things to experience, and new clothes and shoes to buy. (Let's be honest, kids grow like weeds.)
If you are like any other average parent, it can be tempting to want to have your kid go out and get a job to help pay for things. But don't go sending them off yet when there are actually things to sell at school.
Your child spends a good seven or more hours per day at school. What better way to take advantage of the time they are already spending there than by having them explore things to sell at school other than food. They have their friends there and word of mouth spreads quickly in a school setting. They could quickly gain traction on this new business venture.
Encourage your kid to start selling things at school so that they can make their own money. This money can be used to buy those new shoes, a phone, or make money to go out with friends. It is also a great experience to show them the entrepreneur world and teach them how to manage their money. Real-life learning experiences are perfect opportunities to learn about the real world.
Our Popular Money-Making Offers
Sign up with each of the following companies to maximize your earning potential.
$10 sign-up bonus
Pays to take surveys, complete offers, shop online, and much more
100s of other paid tasks
Awards cash and gift cards
$5 sign-up bonus
Pays to play games, watch videos, answer polls, and much more
100s of other paid tasks
Awards cash and gift cards
10 Unique Things to Sell at School
The following thing to sell to make money can work for kids who are in elementary, middle, or high school. These include ideas for DIY things to sell at school that could make some real money.
1. Coloring Pages
Coloring is a stress-relieving activity that people of all ages can benefit from doing. Your kid can create their own designs for coloring pages and sell them to their classmates. There is also the opportunity to sell coloring page templates, but your teen would have to make a small investment first to get access to ready-to-go pages.
Be authentic and encourage your teen to draw up some fun images that others can use to color. These coloring pages could be a nice break from all the homework, extracurriculars, and stress of being a teen. The coloring pages can be used during lunch periods or at home between studying sessions. Charge a reasonable fee for your kid's unique coloring page designs.
Related: How to Get Paid to Color
2. Study Guide Printables
Students who are in upper grades can create study guide printables for classes they took the previous year to help the current students. Your kid likely still has some of the materials left over from the last year or two in school. Pull them out and start making study guides.
Some of the guides can be as simple as practice questions. Your kid can even go as far as making flashcard study guides to help others memorize new concepts. This can be something your kid sells each year and they can increase their inventory with each class they complete. Sell the guides for a fee and help other students succeed in their studies to earn the best grades.
Related: How to Sell Digital Products Online
3. Periodic Table Study Aid
The periodic table is a difficult thing to memorize. If your teen can create study aids that help other students learn the periodic table, this could possibly be a gold mine for them. Encourage your teen to create some kind of song or phrase mashing the elements of the table together to help students remember what they are.
Your kid can also make other study aids. Think of flashcards, worksheets, and fun activity sheets to help with periodic table memorization. Consider how much time your kid puts into these study aids and their value before setting a price on them to sell.
Related: How to Get $10 Fast for Free
4. Mathematics Study Aid
Some popular things to sell at school include anything mathematics-related. Math can be a difficult subject for many and there are several levels of math to learn. Your teen can become the math guru who helps students with their math studies by making study aids.
These study aids can be practice equations, pictures of graphs with their correct names, or a drawing of terminology examples to help students associate terms with actual representation. Studying from these aids could make more sense to a kid rather than listening to a teacher trying to keep the topic interesting through lectures.
Related: Best Work-From-Home Finance Jobs
5. Host Paid Study Group/Tutoring Sessions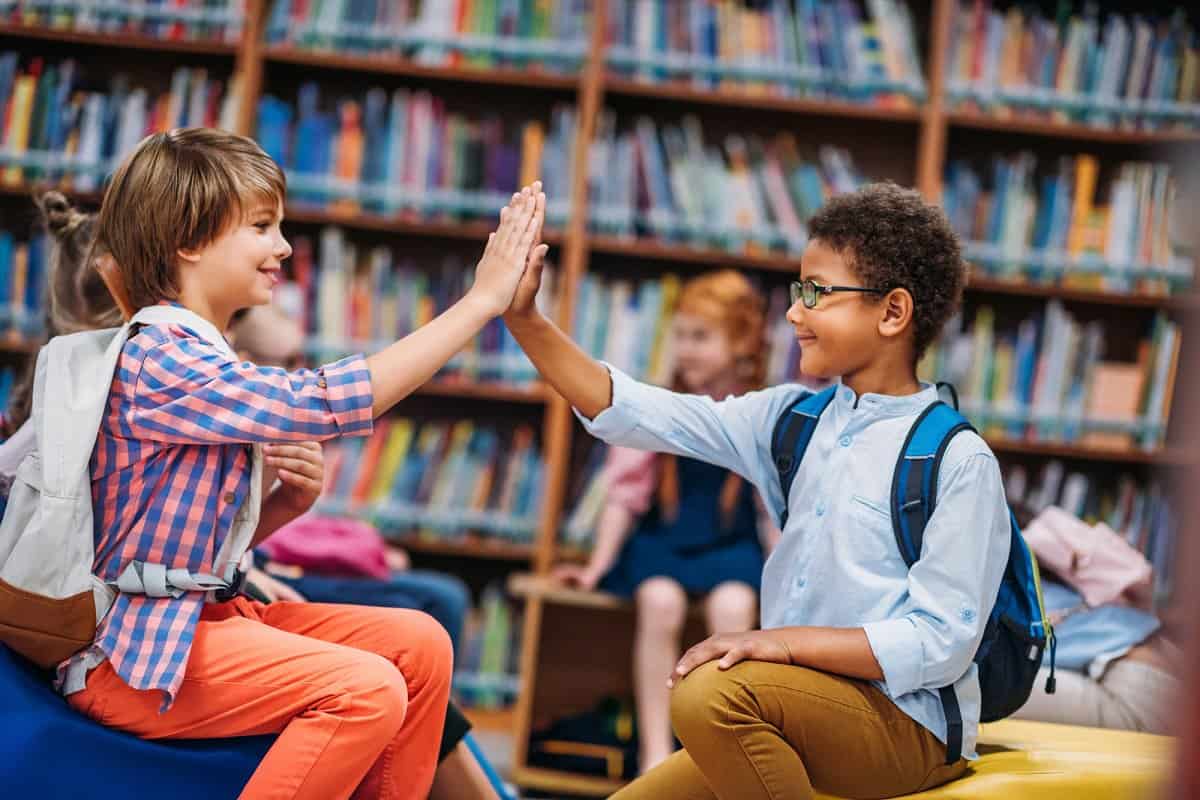 Encourage your kid to provide an above-board service. They can host paid study groups or become a tutor on a subject they are most comfortable with. Whether this is a small group of only a couple of students or a larger gathering, your teen can help these students be successful in the subject they are struggling with. Your kid's expertise will be needed, especially if there is a big exam upcoming.
This study group can take place once per week for an hour. Additionally, they can host this group for a few hours the week leading up to an exam to help others with their final prep. Either way your kid wants to offer this service, they can charge per hour per student who joins. This could easily turn into a $50+ session for one hour depending on how many students show up.
This real-world experience could easily turn into a real talent as an adult. For example, there are companies that pay young adults to tutor English online.
6. Proofreading Services
High school and middle school are full of assignments, many of which include writing assignments. Whether it's for an English class or a history class, having good writing and reading skills could be a money-making opportunity. Include proofreading services for your kid on the list of things to sell at school.
This isn't doing the assignment for other students, but giving actual help by reading over assignments before they get turned in. There are many grammar and spelling errors that go unnoticed in essays. Your teen can be the one who spots these mistakes before the teacher grades them. This service can be the difference between a passing or a failing grade.
More Popular Money-Making Offers
Earn more money in your spare time with these reputable companies.
Free PayPal cash
Paid surveys and web searches
Earn easy cash back
Get paid directly to your PayPal
PayPal, Visa, Amazon, etc.
Pays you to do NOTHING (with SJ Pulse)
Simply install the software
Participate in paid surveys & studies
7. Outgrown Clothes and Shoes
Kids are always growing and that means they are going through their clothes and shoes constantly. Instead of getting rid of those clothes and shoes, consider flipping them for extra cash instead. Things like designer shoes, jackets, pants, and even previously worn prom dresses could be a hit.
Clean up the clothes and shoes to make them look as close to new as possible so that your kid can get top dollar for the items. Your kid can post available items online and then deliver them in person at school. Some items could be simple $10 transactions while other items could be $100 profits.
Related: How to Get Free Nike Shoes
8. School Supplies
It's inevitable that someone will forget to grab a pen or notebook from home and not realize it until they get to school. They are then left without the supplies they need for a full day of learning. Your kid can be the source for those students who need extra pens, pencils, markers, notebooks, or folders.
Help your kid stock up on school supplies and sell them at school. Rummage through the $5 or less school supplies section at the stores. Simple access to these supplies while at school can be helpful for those students who need them.
9. Homemade Stickers
Stickers are a fun way to express yourself. As a kid, stickers can be used to decorate lockers, binders, notebooks, cars (for those who drive), etc. Talk to your kid about making and selling stickers at school to their friends and classmates.
Stickers are inexpensive and easy to sell. Your kid can even get paid to make stickers to help promote class elections, prom king/queen voting, or help advertise events that are coming up on campus. Stickers are unique things to sell at school that could become very lucrative.
Related: Where to Sell Baseball Cards
10. Accessories
Making accessories can be a great way to relieve stress and challenge the brain to become creative in a different way. If your kid is into crafts, they could start making accessories to sell at school like earrings, bracelets, necklaces, anklets, and more.
If you buy craft items or materials in bulk, this will help increase your kid's profit. They can advertise their creations around special times of the year to sell for holidays, dances, prom, or end-of-the-year specialty items.
Related: Best Things to Sell on Etsy
Kids Can Make Money Without Hustling at a Job
There are plenty of opportunities for kids to make money without having to tote them to and from a job destination. This opportunity can be a confidence booster for kids and a money management learning opportunity. And for you as the parent, it will help you with expenses for your kid since they are making their own money and can help pay for things they need/want.
Kids will have plenty of time later on in their life to have to report to a job and make money to live. Starting them at a young age in the workforce might sound like a good idea at times, but their youth is fleeting. Encourage them to do something they actually enjoy and sell their DIY creations at school.
Try out this list of things to sell at school with your kid and see which option they find most interesting. The best part is they don't have to choose just one option. Your kid can try out multiple choices from this list to really maximize their earning potential.
Related: Jobs that Hire at 15
---