How to Move Out at 18 and Afford It (When Odds are Against You)
Try Bingo Cash, the ultimate bingo app for turning your skills into extra cash while enjoying colorful and engaging head-to-head matches. Win up to $83 per game and experience the classic bingo thrill in the comfort of your own home. Test your daubing skills and become a big winner today!
Bingo Cash™ is FREE to download and play! However, cash tournaments are not available in the following states: AZ, IA, LA, SC & WA.
There are many reasons you might feel pressured to move out at 18. Whether you live with strict parents or you think you're ready to make it on your own, there are a few things to consider before making the move.
It can be hard to move out when you have no money, no credit history, no parental consent, and you just don't know how to move out at 18. At times, it might even feel impossible.
As an 18-year-old, you are considered an adult. However, the world might seem like it's against you from the get-go.
Thankfully, there are many options you can look into to help you move out at 18 with no money. Take a look at these tips that will help make a solid plan to move out.
One of my favorite sites, Swagbucks, offers tons of ways to earn real cash online. If you're not already a member, give it a shot! Here are five things you can do to make easy money on the site:
Play games (up to $322 each)
Test apps (up to $150 each)
Submit receipts (easy cash)
Shop at your favorite stores (up to 10% back)
Answer surveys and polls (quick cash in minutes!)
Our Popular Free Guides
How to Start a Permanent Jewelry Business - If you are patient, have social skills, and love interacting with others, then a permanent jewelry business may be for you.
How to Become a Sleep Consultant - Help parents and babies, and be the difference for families worldwide who are desperate for more Zzzs in their life as a sleep consultant.
How to Become a Proofreader - There are five basic steps to working from home as a proofreader. As long as you're willing to put in the work, you can become a proofreader!
10+ Things That Will Help You Afford to Move Out at 18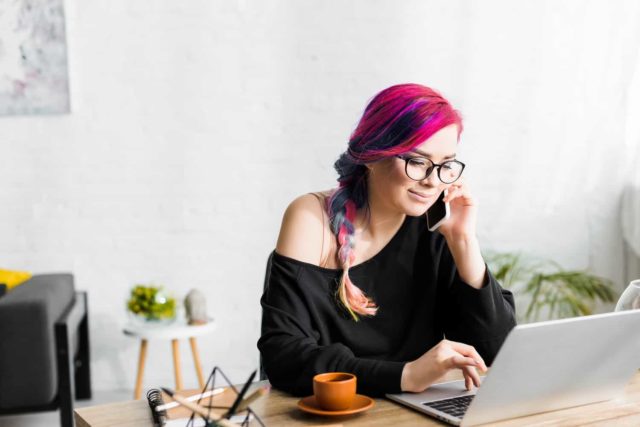 Being 18 can be challenging when you're entering the world of adulthood, but don't know how to start being independent. This list will show you all the things to consider while researching how to move out at 18 with nothing.
1. Switch Your Bills to Your Own Name
If you're ready to move out, then that means you need to pay your own bills. That includes things like your smartphone, car insurance, and internet provider. There are affordable options for these.
If you're on a family plan, consider switching to a cheap yet reliable phone service on your own. Republic Wireless has some of the best phone plans starting at just $15 per month. I used this service when I was young because I had to pay for my cell phone while living on a low income. It was a great service for the price!
Next, check for the lowest insurance rate for your car. Car insurance is a requirement, and if you're moving out of your parents' house and planning to pay your own bills, this is one that you can't ignore.
Finally, check with local internet providers after you move into your new place. Most companies have a new member discount which can help you afford the payments until you've established a stable income.
2. Earn Extra Money In Your Spare Time
Between work and/or going to school, look into making extra money in your spare time. There are plenty of options available for you to legitimately make an extra $1,000 per month.
Become a respondent – As a respondent, you can earn money answering questions on your smartphone in your spare time. You won't earn a ton of money, but it's flexible, easy, and requires no previous experience to get started.
Become a food delivery driver – Instead of partying all weekend, consider picking up some flexible delivery jobs. You can check in to the app of your choice during your free hours and pick up local deliveries.
Become a blogger – If you really like the idea of flexibility, starting a blog just might be your best bet. You can choose a topic that you enjoy and write helpful guides and reviews on the products and services you use and love.
Offer services online or in-person – One of the best ways to earn extra money is to work for someone else on an as-needed basis. You can get paid to write, proofread, or tutor online, or you can babysit, care for the elderly, or walk dogs in your neighborhood.
3. Make a Budget
The hardest part about being an adult is learning how to properly budget yourself so that you are not spending more than you are earning. Make a list of all the bills you have to pay, how much they are, their due dates, and you will see where your money is going each month.
After you pay each bill, make a checkmark next to it each month that it gets paid so you can stay on top of what bills are coming due, how much you can save, or how much you have left over for a night out.
It's important to make a budget no matter how few bills and expenses you have. You won't know whether or not you can afford to move out without knowing exactly how much money is coming in and where each dollar is going.
You can use an app like Trim to help you lower your bills and get your budget started.
4. Get a Part- or Full-Time Job
Getting a job can be intimidating and maybe even a little challenging. However, it is not difficult to do. If you are already 18, you have a higher chance of getting a job over a minor.
If you are still a minor and are planning to move out when you turn 18, take a look at places that hire at 15+. These will help you save up your money and start you off on the right foot.
Looking for a job and not having a degree can also have its challenges. There are many fun jobs that pay well without a degree. Be sure to research all of your options so you can have the best chance of making the most money.
Related: Immediate Hire Work From Home Jobs
5. Find Permanent Housing
Whether you're planning to go to college or live with a friend, permanent housing is one of the most important things to consider. There are plenty of cheap ways to live, whether you plan to rent or own a small living space.
Many housing communities offer housing for low income residents. This means you cannot make more than their monthly income limit. If you can join with a friend and split the rent, that will make your housing more affordable as well. There are multiple ways to alleviate your housing costs by getting paid to live in a house.
If you move out at 18 and go to college, apply for grants or scholarships that will help you secure a living space. Grants and scholarships do not have to be paid back. Apply for as many as you can to keep a roof over your head.
Related: How to Get Free Airbnb Stays
6. Find Reliable Transportation
To move out at 18 with no money means you have to have a job to pay for your living expenses. In order to be successful in finding a job, you have to find reliable transportation. This can be a car, bus pass, train, bicycle, or carpooling with a friend.
Whichever method you choose to use, it must be reliable above everything. Having a car seems great, but you have to keep up with the maintenance in order for it to continue working for you.
Not having reliable transportation could be the end of your job or could hurt your attendance at school.
Related: Best Places to Buy Discount Tires Online
7. Start An Emergency Fund
No matter how much you plan things out, the universe can sometimes throw a wrench in your plans. That's why it is best to start an emergency savings fund for those unexpected expenses.
Things like car maintenance, sickness, dental procedures, and all sorts of other unexpected bills can be detrimental to your livelihood if you don't have the money to cover them.
Related: How to Get Free Money Right Now
8. Learn to Save Money on Everything
With hundreds of companies out there helping consumers save their money, you can easily find ways to save money on everything you have.
You can save on grocery purchases, get money back on everyday shopping, or find lower costs for the same services you already receive. There are countless ways to save money fast when you're making a plan to move out at 18.
KashKick is a great find for gig workers, offering many ways to make extra money doing what you enjoy. Try it out - it's free! Here are five easy ways to start earning money on the site:
Play games (up to $125 each)
Test apps (up to $125 each)
Buy lottery tickets (an easy $8)
Try popular brands (always changing)
Answer surveys (quick cash in minutes!)
9. Get Free Stuff Nearby
Furnishing an apartment or home quickly adds up. If you're not set up with your own furniture or houseware already, consider getting free stuff nearby. Additionally, you can find free clothes and other necessities as well.
People are always getting rid of things they no longer need and that can be a huge money saver for you. Some of the free items you find might even be new or gently used.
10. Learn to Grocery Shop and Cook
For the benefit of your wallet and your health, learn how to grocery shop and cook instead of constantly eating out. Using groceries to make meals for the week will help you save money and improve your health overall.
Use apps like Ibotta or Rakuten to find the best deals or coupons before you shop. This will add even more savings and balance to your life.
Related: Get Paid to Print Coupons Online
11. Get Your Priorities Straight
It's a hard truth, but if you want to move out at 18 and afford it, you're going to have to make some sacrifices. Things that are costing you too much to maintain every month will have to be given up to help you in the long run.
Take a look at every aspect of your life and see where you can trim in order to save. This will set you up for success. You can reassess after a few months and see if you can afford to bring back any of those luxuries.
5 Things NOT to Do When Moving Out at 18
It can be an exciting time when you consider how to move out at 18. However, there are some things you should be mindful of that you do not want to do when you move.
1. Move Out on a Whim (Without a Plan)
Always have a plan when you move. You should never make such a life changing decision on a whim no matter what it is. Plan out the steps it will take to make the move before you do it.
2. Keep Your Decision a Secret from Friends and Family
Unless you're in a dangerous situation, having the support of friends and family can be a huge help along the way. They may be able to help you with your research, put in a good word for you at a job, or donate things you might need for your new home.
Additionally, being able to move out at 18 without credit can make finding a place to live challenging. You might need your parents to co-sign on a lease for you. Let family and friends be there for you in this journey.
3. Move In With a Stranger
Do your homework and make sure you're not moving into a dangerous situation. There are plenty of people offering rooms to rent which can be a great choice.
However, you need to be sure this person isn't going to harm you in any way before you move in. Research as much as you can about the person and meet them in public with someone you trust beforehand.
4. Burn Bridges
If things don't work out, you may need to move back in with your parents for a while. This might not be ideal, but sometimes it happens. When possible, make sure your separation is done cleanly and on a positive note.
If you are trying to move out at 18 without parental consent, still strive for an amicable separation. There are ways you can disagree with your parents and still be respectful.
5. Take Things That Don't Belong to You
To successfully move out on your own, you need to start fresh. Don't raid your parents' supplies on the way out the door. If they allow you to take things from their house to help get you on your feet, then that is okay to do. However, don't try to sneakily take things that are not yours to take.
Related: FutureFuel Review: How to Save Money on School Loans
It's Not Easy to Move Out at 18 With Nothing (But It's Possible)
Making this life-changing decision can be exciting and a big step for you. However, all the best things in life come when you make a plan.
If you are looking into how to move out at 18 and afford it, you have to plan ahead of time and start saving well before your move out date. Look for an income, save as much as you can, and stick to your budget. Getting this system down will not only help you move out at 18, it will help you long term in adulthood.
Try to connect with others who were once in your shoes. Learn from others' mistakes, stick to your plan, and you will have a better shot at making this a successful move.
---