100 of the Best Names for a Finance Blog (Under $9 Per Year)
Try Bingo Cash, the ultimate bingo app for turning your skills into extra cash while enjoying colorful and engaging head-to-head matches. Win up to $83 per game and experience the classic bingo thrill in the comfort of your own home. Test your daubing skills and become a big winner today!
Bingo Cash™ is FREE to download and play! However, cash tournaments are not available in the following states: AZ, IA, LA, SC & WA.
Deciding to launch a finance blog is an exciting feeling that not many people understand. When you decide to share your passions with the world and work hard on those blog posts, it seems like nothing can stand in your way.
Except, there might be one huge thing holding you back from finally making your site go live; your domain name!
Choosing a domain name sounds like a simple task. However, many bloggers struggle to find that perfect name for what they want to represent on their blog. Sometimes the domain name is what keeps bloggers from continuing with their launch.
Thankfully, there are resources like this post that can help you choose your personal finance blog name. With 100 finance blog name ideas on this list, you are sure to find your perfect name or at least be inspired by one of them.
One of my favorite sites, Swagbucks, offers tons of ways to earn real cash online. If you're not already a member, give it a shot! Here are five things you can do to make easy money on the site:
Play games (up to $322 each)
Test apps (up to $150 each)
Submit receipts (easy cash)
Shop at your favorite stores (up to 10% back)
Answer surveys and polls (quick cash in minutes!)
Our Popular Free Guides
How to Start a Permanent Jewelry Business - If you are patient, have social skills, and love interacting with others, then a permanent jewelry business may be for you.
How to Become a Sleep Consultant - Help parents and babies, and be the difference for families worldwide who are desperate for more Zzzs in their life as a sleep consultant.
How to Become a Proofreader - There are five basic steps to working from home as a proofreader. As long as you're willing to put in the work, you can become a proofreader!
100 of the Best Names for a Finance Blog (Under $9 Per Year)
At the time of this post, all of the names listed here were available for purchase on Namecheap.com for under $9 per year. Whether you're looking for personal finance or work-from-home domain names, there is an option for anyone.
Taking Care of Finance
You Had Me at Cha-Ching
Virtual Office Mommy
Money Buys Chaos
Financial Fiasco
No Bills Family
Budgeting Instead of Wondering
Spend After Saving
Plant the Seed for Tomorrow
Money Buys Financial Freedom
Penny Saved Penny Earned
Invest in the Known
Financially Fit Mommy
Moms Who Budget
WFH Mommys
Daddy Earns Baby Learns
Truth Creates Money
The Balancing Checkbook
Working for Success
Money from Home Parents
Penny Pinching (Your Last Name)s
Budgeting with Diapers
Always Working from Home
Cash Flotation
Humbly Wealthy
Peace Through Budgeting
Never Go Over Budget
Money Maker at Home
New Money New Ways
The Wage Lane Shift
Earning While Raising
How to Finance Life
Living Financial Freedom
Welcome to Moneytown
Gym Tan Money
Working From My Couch
Remotely Remote
Sweatpants and Button Ups
The Money is On
Keep Calm and Save
Fabulous Cha-Ching
Fragile Piggy Bank
Money Truths by Mom
Pocket Full of Shiny
Clink for Coins
No Commute Here
Just Rolled Outta Bed
Saving Money First
Legendary Savings
Legendary Earnings
The At Home Advisor
Give Money A Purpose
Keeping Your Pennies
Mindset of a Billionaire
Live Long and Save
Nip It In the Checkbook
Two Dollars Up
Meetings Through Emails
Taking Pajamas to Work
Micromanaging Myself
Living at Work from Home
Commuting to the Couch
My Couch Office
Forgetting It Is Payday
A Step Closer to Financial Freedom
Educate Your Finances
Road Map to Budgeting
Keeping My Change
Fruits of Financial Success
Wherever Work Takes Me
Motherhood While Working
(Your Name) Financial Advice
Money Talks Advice
Savings Motivation
Motivating Pennies
I Dream of Pennies
The Frugal Household
Frugal Living Structure
Pour Some Millions On Me
Wake Me Up Before A Deposit
Counting Benjamins at Home
Saving With a Budget
The Non-Spender
Hoarding Dollar Bills
Having Common Cents
Doctor of Budgets
I Work From My Bed
Learn to Make Cents
Well Balanced Checkbook
Arrest Your Loans
Show Me the Millions
Financial Feline
Yabba Dabba Dollars
Love the Smell of Money
Franklins, My Dear
Salute the Loot
Yippee Ki Yay Money Lover
Release the Dividends
Profiting Portfolio
Related: Best Resources for New Bloggers
KashKick is a great find for gig workers, offering many ways to make extra money doing what you enjoy. Try it out - it's free! Here are five easy ways to start earning money on the site:
Play games (up to $125 each)
Test apps (up to $125 each)
Buy lottery tickets (an easy $8)
Try popular brands (always changing)
Answer surveys (quick cash in minutes!)
4 Tips to Choose a Blog Name for Finance Topics
If you didn't find the perfect finance blog name on this list, consider using the following tips to help you create one. Tailoring a name just for you can be more meaningful and hold truer to your blog's mission.
1. Research The Best Keywords
When you start a new blog, you have the opportunity to start speaking to an audience from a blank slate. However, you'll need to paint a picture for your readers and bring them the information they want to read.
Doing keyword research will help you find out what your future readers will be searching for online. You can use a combination of keywords as part of your travel blog's name to let them know exactly what your content is all about.
To learn how to do keyword research, check out my eBook called Get Your Keywords Together. In it, I walk bloggers through the process of research keywords using only free SEO tools.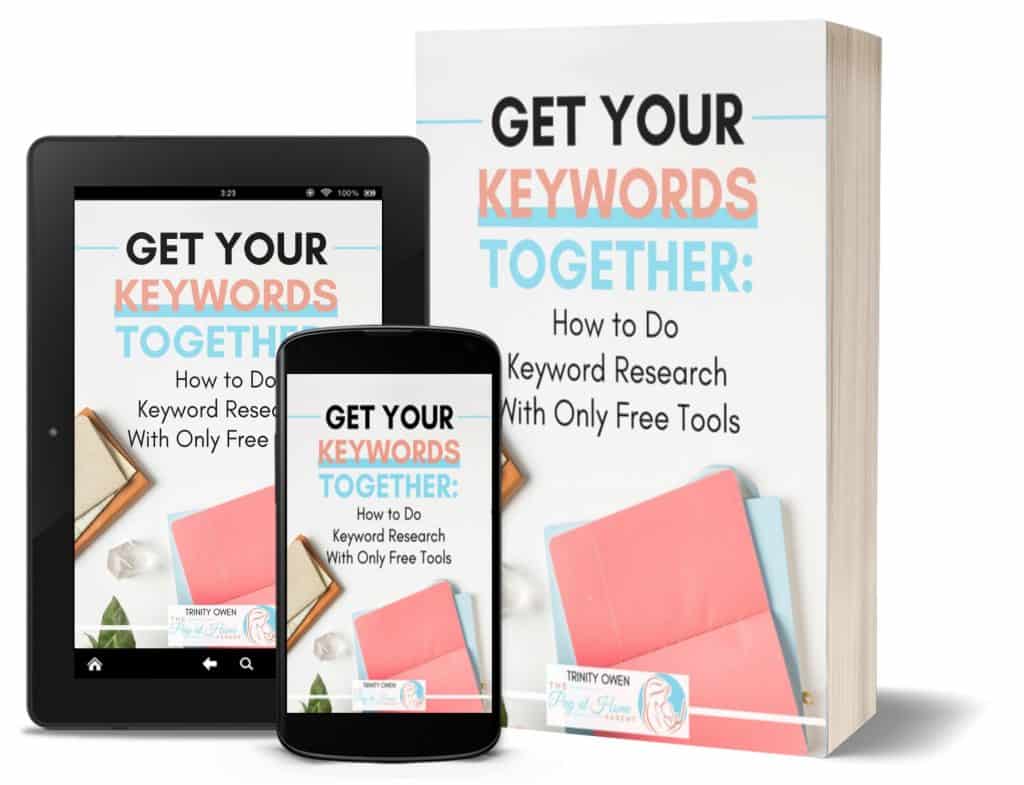 Related: Stupid Simple SEO Course Review: Is It Worth It?
2. Rearrange Words
It's not enough to just add an 'S' at the end of a domain name that may already be taken. For example, JennySmithCheckbook may be taken, but using JennySmithCheckbooks can be a little confusing to your audience.
The difference is not drastic enough and could potentially lead your viewers away from your page. This is not something you want to happen as a blogger.
Instead, consider rearranging those words completely to avoid such close confusion. Using the same example above, consider the name CheckbooksbyJennySmith.
This will also help you avoid any legal issues that might come up due to having too similar of a name if it is trademarked.
2. Consult a Domain Name Generator
There are times when a blogger simply cannot put a name together that isn't already a claimed domain name. That is when it is best to consult a domain name generator.
Using a generator like on Namecheap.com, you can supply the tool with some parts of a name that you want and it can generate options that are available based on that.
The generator could inspire a whole new finance blog name idea than what you imagined.
Related: 100 Food Blog Name Ideas
3. Add Your Own Name
If you don't plan on selling your blog, consider adding your name to the domain. For example, FinanceWithJohnSmith could be an option. It tells your audience what the blog will be about and who it is written by. It is classy, simple, and to the point.
Have fun with it and play around with various blog name ideas that include your name as well.
4. Look at More Options than a .Com
The .com (Commercial) URL ending was originally intended for use by non-profits, schools, and other organizations. It was used so much among the commercial industry that it gained popularity because it was easy to remember and most everyone was using it.
However, it is not the only option to use when considering your personal finance blog name. If you venture into the .net, .org, .blog, or even .finance options, you can open many doors for your blog name.
Don't follow the crowd; venture out further and pick a unique name with a unique URL ending so that people will remember your blog among the others.
Related: 100 Health And Wellness Or Fitness Blog Name Ideas For Under $9
Choose a Name and Launch Your Blog Now
Purchasing that perfect domain name is an awesome feeling. Now, you are ready to launch your blog! The faster you can get your content in front of your audience, the better your chances are of making money from blogging and ranking in Google search.
Partner up with other finance specific vendors and become an affiliate for their budgeting worksheets, finance workbooks, or financial freedom courses. Start earning sooner than later.