Proofread Anywhere Review: What Is It and Is It Worth It?
Being a proofreader for over three years was one of the most enjoyable seasons of my life. Before doing it as a profession, I had no idea it was possible to earn $3,000+ per month searching for errors–but that was my exciting reality (until my own blog consumed all of my time)!
I am often asked by others if I get bored reading article after article. I can understand why others might find proofreading to be monotonous.
However, I look at it as a way to continue enhancing my English and grammar skills while simultaneously meeting my daily reading quota. Additionally, proofreading pays well and it's something that I can do from home!
Yes, I bought the General Proofread Anywhere course! I was SO excited to purchase it. It is one of the most in-depth courses I have ever purchased during my work-from-home journey. I highly recommend it to aspiring proofreaders.

If you are like me, a person who loves to read and has basic proofreading skills, then you'll be interested to know whether or not you should purchase the online course, Proofread Anywhere. The course is a popular one that thousands of avid and aspiring proofreaders have taken.
While proofreading might seem easy to get into, there are some ins and outs you should know first. This Proofread Anywhere review will help you determine if it's worth buying the course to enhance your proofreading career.
Our Popular Money-Making Offers
Sign up with each of the following companies to maximize your earning potential.
$10 sign-up bonus
Pays to take surveys, complete offers, shop online, and much more
100s of other paid tasks
Awards cash and gift cards
$5 sign-up bonus
Pays to play games, watch videos, answer polls, and much more
100s of other paid tasks
Awards cash and gift cards
What is Proofread Anywhere?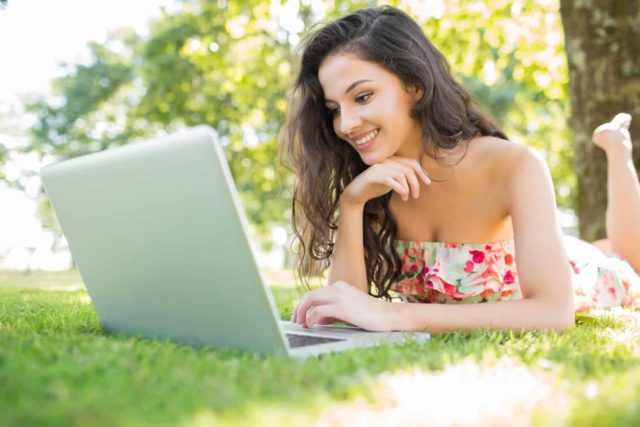 Proofread Anywhere is an in-depth proofreading course created by Caitlin Pyle. She is a professional proofreader who helps both new and experienced proofreaders hone their skills and become confident proofreaders.
Her course is developed for proofreaders of any level, even if you are starting from scratch. Her passion for proofreading came when she was proofreading essays in college by other students and helping them turn their writing into masterpieces.
Since then, she has gained knowledge and experience over the years to now offer a course to share the secrets she wished she had known when she first started.
Related: Best Stay at Home Jobs for Moms
The Proofread Anywhere Controversy: Is It Truly Legit?
Click the button ⬆️ to subscribe to my YouTube channel where I share real ways to earn money.
Proofread Anywhere is a legit course. It is understandable why others would think it might be a scam because of how many people claim to be experts out there. However, based on my personal experience reviewing the course, it is safe to say Proofread Anywhere is legit.
Just like anything else in life, you get what you put into it. If you are serious about growing as a proofreader and will do the work, then this course will teach you how to get paid to proofread.
Follow the steps Caitlin outlines in Proofread Anywhere and there will be no reason why you can't make proofreading a successful career for yourself.
How Does It Work?
If you're unsure where to start, you can try out the course before buying it. Caitlin generously offers a free version of the course so that you can feel confident that you are getting something of great value.
With General Proofreading, you can take the free intro workshop to Proofread Anywhere. Learn the five signs that proofreading is a great fit for you, how proofreading can become your freedom and security, and how you can easily attract clients. This workshop is delivered in 76 minutes.
Proofread Anywhere Sale / Coupon Code
I've admired Caitlin during my 4+ years of knowing her because she truly cares about people and helping them succeed. Often that comes down to helping them afford to get started.
While creating this Proofread Anywhere review, I noticed that the course goes on sale at different times of the year. In fact, I bought it while it was on sale! If you're not ready to dive into the course now at full price, make sure to join Caitlin's free webinar for Proofread Anywhere and stay on her email list so that you know the moment she runs another sale.
If you've already taken the free webinar, I recommend signing up for and attending it again. You just might be given a limited-time offer you can't access any other way!
How Much Does Proofread Anywhere Cost?
There are different levels of cost for the Proofread Anywhere course. Depending on what you are looking for, you can choose a course option that is best for you.
General Proofreading Cost:
Proofread Anywhere Ignite: $497
Proofread Anywhere Ignite Plus: $597
Transcript Proofreading Cost:
What People Are Saying About Proofread Anywhere
Many of the people who have taken this course have left their Proofread Anywhere review to share with others. Whether good or bad, it's beneficial to learn from all types of reviews, both good and bad. Here you'll find Proofread Anywhere success stories as well as Proofread Anywhere complaints, including my own.
In the Facebook group of 10,000+ students, one proofreader says, "I just sent in my final exam and completed essays! It feels so good to complete this step, and I encourage fellow proofreaders to keep going even when life gets tough."
Proofread Anywhere Pros
Many Proofread Anywhere success stories are published online. Real students have rated the course 5 stars on Trustpilot making comments like, "This course is changing my life," "Exactly what I needed to change my career!" and "Thorough training."
Some additional benefits of the course include:
Provides actionable steps to becoming a proofreader
Different price points and monthly payment options available to fit student financial needs
Easily earn back the money spent on the course by following the steps
Real-life samples are given to test your skills at various checkpoints
Learn how to find and land clients while taking the course
Thoroughly covers the topic in written lectures, webinars, worksheets, and practice exercises
Not only do you learn about proofreading, but you also learn how to start your business
Proofread Anywhere Cons
Among the many positive things real students have to say when reviewing Proofread Anywhere, you'll also read some potential negative statements.
Some cons of the course include:
The course is presented in mostly text format and lacks media like video and audio training
It's possible to round up much of the course information online for free
Refunds will not be granted once you log into the course
Related: How to Become a Marketing Coordinator from Home
What Does the Course Include and Teach?
The Proofread Anywhere course has two different options to choose from. Depending on which area you want to specialize in, you can choose the option that is best for you.
General Proofreading Course
Caitlin's general course was developed for you to learn how to start your proofreading career, how to market yourself to find clients, and learn the mechanics of what it takes to be a successful proofreader.
If you enroll in the Proofread Anywhere Ignite Plus option, there is an exam you can take after completing the course. Those who pass with at least a 90% score will receive a Certificate of Completion and access to the Self-Publishing School Preferred Outsourcer Rolodex, leading to solid client leads.
In this course, there are more than 40 lessons spread out across 9 modules.
Module 1
Learn exactly what proofreading is and what it is not. This module includes an overview of what skills you need to be a proofreader as well as the differences between editing/copyediting and proofreading.
Module 2
Learn the mindset needed for a successful proofreading business and how to develop it with the Professional Proofreader's Mindset workshop. You'll also learn the markets you can plug yourself into.
Module 3
Understand the common types of errors you need to watch out for when proofreading. Practice and test your knowledge in this module.
Module 4
Learn the four different proofreading methods. Apply what you learn in this module with sample practice jobs.
Module 5
Become educated on how to create a business. Start with your resume and work your way through the module to learn how to build a website, how to set your rates, and how to build your credibility.
Module 6
This module will help you learn how to find clients. Use proven strategies to find and approach clients. Additional tips and tricks are included to show you how to set yourself up for success.
Module 7
Learn what to do once you've landed your clients from billing for services to delivering on your promises to clients.
Module 8
Make the most of your dream to be a freelancer in this module by learning how to structure your day and build your confidence. Within this module is also a lesson on project management.
Module 9
This wrap-up module shows you everything you have learned and the skills you've developed throughout the course.
Additionally, there are four bonus materials which include:
A tax guide;
Handbook of commonly misused words;
A mindset guide; and
Mindset shift guide to help with goal crushing confidence.
Bonus Module 1
You gain access to the first level of the Transcript Proofreading option. Additionally, you gain lifetime access to the private Facebook group community specifically for the students of Proofread Anywhere.
I am part of the exclusive Facebook group and I've witnessed many students saying that this alone makes the cost of the course worth it. It is super active and well-moderated with paid staff.
One of the major benefits of the group is that it allows students to ask questions about the course along the way. Instead of buying the course and being left to figure it out on your own, you will have as much interactive support as needed. It's also extremely motivating to be a part of a community that is working through the same course and jumping the same hurdles!
Bonus Module 2
Receive Money Mindset Transformation workshop and workbook. This goes into detail about the seven concepts that will change your thinking about money. I believe this is an extremely relevant and helpful place to start and will help you build confidence as you pursue your passion as a proofreader.
Related: How to Become a Bookkeeper
Transcript Proofreading Course
Narrowing down into a niche, such as transcript proofreading, can really be a marketable asset. In this second option of Proofread Anywhere, you can learn about the world of court reporters and their transcripts.
This course is one of the best proofreading courses because it is the only one of its kind. It is specifically designed to train proofreaders in the art of transcript proofreading. You can also receive a Certificate of Completion following a passing score on the cumulative exam of a 90% or above.
There are four levels in the transcript proofreading course:
Level 1
Level 1 includes module 1. Within this module, there are seven units to complete. Together, these units help proofreaders learn what it takes to become a transcript proofreader. Learn the anatomy of a transcript, the difference between depositions and EUOs, and additional introductory resources.
This course is presented to be completed in seven days. After completion, you can move on to Level 2.
Level 2
Level 2 houses module 2. It is designed to take 30 days to complete. Within this module, there are nine units to complete. Proofreaders will learn to spot the typical errors that occur within transcripts. Additionally, you'll become familiar with the vocabulary and transcript-specific punctuation.
Following the completion of these units, there is a 100 question test to take to confirm your skills. This will help you know your strengths and weaknesses to understand if you want to proceed with the next lessons.
Related: Proofreading Jobs
Level 3
Within Level 3, you will find modules 3, 4, and 5. You are given 60 days to complete all the modules within this level. In that time, you will learn the four methods to properly mark up transcripts using iOS technology.
Throughout these modules, you will practice marking up transcripts at various levels to confirm your skills. If you need longer than 60 days to complete these, you can invest in Level 4 to receive lifetime access to all the levels, modules, and units.
Level 4
This final level includes modules 6, 7, 8, and 9. These will give you the ability to build business foundations for preparing to work with court reporters.
Additionally, you'll learn how to market yourself, set your mindset for success, and receive your certificate of completion.
Related: Get Paid to Read
Is Proofread Anywhere Worth It?
Many people will question whether Proofread Anywhere is worth it or not. If you are someone who enjoys reading, wants to sharpen your English and grammar skills, and needs an additional source of income, then Proofread Anywhere is worth it.
Based on the success statements from the Proofread Anywhere Pros section of this post, the course has had positive impacts on people's lives. Knowing how much you have access to when you enroll should excite you if that isn't inspiring enough.
Most importantly, students need to apply themselves while taking this in-depth course. It will not make students better proofreaders unless they are willing to apply themselves and work hard.
Caitlin Pyle has dedicated years to perfecting her proofreading methods. Take a chance on yourself and learn to work from anywhere with Proofread Anywhere.