How to Get Paid to Shop Online and in Person
Try Bingo Cash, the ultimate bingo app for turning your skills into extra cash while enjoying colorful and engaging head-to-head matches. Win up to $83 per game and experience the classic bingo thrill in the comfort of your own home. Test your daubing skills and become a big winner today!
Bingo Cash™ is FREE to download and play! However, cash tournaments are not available in the following states: AZ, IA, LA, SC & WA.
It makes me really happy to know that I can actually get paid to shop online. As a parent, much of my income is already spent shopping online or in-store for my family's needs. Trust me, it can get expensive quickly. I found that if I have a solid strategy on how I can make some of that money back, it's more than worth it for me.
Even for those who aren't parents, it's still nice to make money to save for a rainy day or just to simply have that extra income. While shopping online won't make you a millionaire, it can most likely pay for some important needs or desires in your life.
If you are intrigued by the concept of being able to get paid to shop online or in-person for others and yourself, then this guide will show you ways you can make it happen. From cashback sites to actual jobs that pay for this, you are bound to be inspired by one of these options.
One of my favorite sites, Swagbucks, offers tons of ways to earn real cash online. If you're not already a member, give it a shot! Here are five things you can do to make easy money on the site:
Play games (up to $322 each)
Test apps (up to $150 each)
Submit receipts (easy cash)
Shop at your favorite stores (up to 10% back)
Answer surveys and polls (quick cash in minutes!)
Our Popular Free Guides
How to Start a Permanent Jewelry Business - If you are patient, have social skills, and love interacting with others, then a permanent jewelry business may be for you.
How to Become a Sleep Consultant - Help parents and babies, and be the difference for families worldwide who are desperate for more Zzzs in their life as a sleep consultant.
How to Become a Proofreader - There are five basic steps to working from home as a proofreader. As long as you're willing to put in the work, you can become a proofreader!
Apps That Pay You to Shop Online or In Person
These top apps that pay you to shop offer perfect money-making opportunities. They are free, easy to use, and oftentimes do the work for you.
1. Cash App
Cash App is a money management app that includes a free Cash Card for everyday shopping. You can fund the app by connecting your bank account, setting up a direct deposit, or handing cash to nearby participating locations. The funds can be drawn from using the Cash Card at any online or local store that accepts Visa.
Take advantage of cashback opportunities and get paid to shop with your Cash App account. Simply download the app and order the free Cash Card to get started.
Each time you use your card to shop, you get an instant cash Boost back into your Cash App account of up to 15% of your purchase amount. Use this on purchases for groceries, coffee, restaurant orders, clothing, and more.
Get FREE Cash Bonuses with a Cash App Account
Copy the referral code:



Open Cash App settings
Swap $5 with a bestie*
Invite friends to join**
Set up a direct deposit***
*Ask a friend or family member to swap $5 with you through Cash App to activate the $5 sign up bonus.
**Get up to $15 for every friend who joins using your referral code.
***Deposits must equal $300+ within a 30 day period to activate the $100 cash Boost.
Related: Best Cash App Card Design Ideas
2. Swagbucks
Swagbucks is a reputable site that is dedicated to giving money to members for completing tasks on the site, such as using the Swagbucks browser extension while shopping. Not only can you earn SBs (Swagbucks) for using the extension, but you'll also save money on the purchases you make.
Download the Swagbutton and coupons will automatically be added to your purchases to give you instant savings. For each SB you earn, you can cash out on the Swagbucks platform through gift cards to places like Amazon, Starbucks, Target, or PayPal deposit. In addition, you can get a $10 sign up bonus just for creating an account.
Related: How to Get Paid to Eat
3. InboxDollars
InboxDollars is a well-known site that is popular for giving members money for completing tasks. It offers a cashback opportunity as well. Scroll through the list of featured stores on InboxDollars and select the ones you want to shop with.
InboxDollars gets paid a commission for your purchase through those featured stores and shares the commission with members. Collect enough cash back to redeem for InboxDollars rewards like gift cards to Amazon or a deposit into your PayPal. InboxDollars also gives you a $5 bonus when you create an account with it.
4. Rakuten
Rakuten offers cashback rewards to members who do their shopping online using its app or the browser extension. When you shop with either, Rakuten finds coupons and deals for you as well as activates any cashback opportunities. Not only will you earn cash back, but you will also save money on your purchases with automatic deals.
Watch your earnings grow in your account and request a payout through PayPal or a check. You can also earn a $40 welcome bonus when you spend at least $40 using Rakuten.
Related: Rakuten Review: Is It Legit?
5. Ibotta
Ibotta is a widely known app that is easy to use to get paid to shop online. Simply download the free app, sign up for an account, and start shopping. You can even link your other shopping apps to your account from places like Walmart or Target.
Ibotta offers cashback on select products. You have to go through the available products to see if your shopping items are on the list of offers. If you find an offer you like, add it to your list. Once you are finished shopping, you can choose to manually upload a picture of your receipt for cash. Otherwise, if you link your shopping apps to Ibotta, it will do the work for you and confirm your purchases.
Once you hit the $20 minimum threshold amount, you can request a payout from Ibotta through a direct deposit to your bank account.
Related: Ibotta Review: How Much Can You Save?
6. MyPoints
MyPoints gives you instant deals on things like travel arrangements and cash back on purchases you make at select stores. Browse the featured list of participating retailers and find the deals you want to take advantage of.
Earn a variety of points for every dollar you spend with these select retailers. Redeem your points for rewards on the InboxDollars platform for things like gift cards, travel miles, or PayPal cash. Get a $5 bonus for getting started.
KashKick is a great find for gig workers, offering many ways to make extra money doing what you enjoy. Try it out - it's free! Here are five easy ways to start earning money on the site:
Play games (up to $125 each)
Test apps (up to $125 each)
Buy lottery tickets (an easy $8)
Try popular brands (always changing)
Answer surveys (quick cash in minutes!)
7. Dosh
Dosh is a popular choice when it comes to cash-back apps. Spend a few minutes getting your free account set up and then everything else is automated afterward.
Simply link your credit and/or debit card to the app on your phone. Each time you shop using that credit or debit card, Dosh finds cash back opportunities and gives those funds back to you. Watch as your Dosh wallet fills up. Once you get to $25 in your account, you can request a payout through Venmo, PayPal, or direct deposit to your bank.
Related: Venmo vs Cash App
More Ways to Get Paid to Shop Online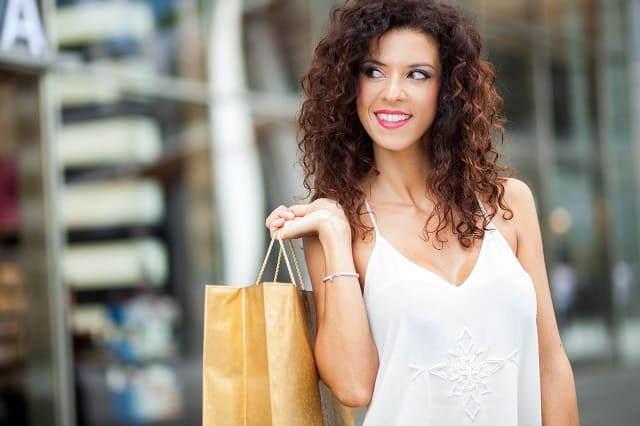 Using apps isn't the only way to get paid to shop online or in person. Consider even more possibilities with the ways listed here to increase your income.
8. Become an Instacart Shopper
Instacart Shoppers make real money by shopping for others. An order comes in online and the Instacart shopper picks all the items in the order and delivers them to the address associated with the order.
In some states, you would be considered an employee of Instacart, but you still have the flexibility to work a schedule that is right for you and your lifestyle. Sign up with Instacart and get paid to shop for and deliver groceries to others.
Related: Best Delivery Driver Jobs
9. Start a Blog
It's not enough to just start a blog and talk about random topics. Create a blog with a purpose so that you can increase your monthly income. Start a blog that is based on fashion or other shopping categories to generate the most lucrative traffic to your site.
With a blog about fashion, you can get paid to shop online by sharing different items you purchase and review. Get the latest seasonal looks and inspire your readers to visit your blog for inspiration on how they can look fashionable this season. Display ads on your site and get paid for the traffic you get. You can also get paid for any clicks that take place on those ads and generate a passive income.
10. Join Affiliate Programs
Affiliate marketing is a great way to get paid to shop online. Order your own products that you need for your lifestyle and share your experiences on your social media accounts. Include your special link that viewers can click on and buy the products, too.
As an affiliate, you get paid for any purchases made using your special link. The more you share your links online, the more you increase your chances of making money. Find affiliate programs all over, especially on platforms like FlexOffers, CJ.com, and ShareASale.
Related: How to Get Paid to Drive Cars Across the Country
11. Become a Social Media Influencer
Social media influencers make the most money by promoting products from brands and businesses. As a social media influencer, you can enter into partnerships with brands to create paid sponsorships and promote their products. This is especially helpful for newer brands who need to get their logo in front of a large audience quickly.
Shop online with the company you partner with and share details about the items so that followers can see you wearing the clothes or learn what kind of experience you had with any of the products. Create fun videos and reels on Instagram to grow your social media following. Be transparent in the way you feel about the products you advertise. Post on all of your platforms for maximum results and maximum earnings.
Related: Best Side Hustles for Men to Make Money
You Can Truly Make Money by Spending Money
It's hard not to get excited over the fact that you can get paid to shop online. Making money by spending money is a mind-blowing concept to many. It sure was for me when I first learned about it.
The best part about it is that it doesn't typically require too much of your time to complete. You can become successful just by using legit paying apps. Additionally, you can become even more successful by making this an actual job for you through blogging, affiliate marketing, social media, etc.
Find the best ways here for you to get paid to shop online. There is no limit to how many of these you can sign up with. Get the most earnings by double-dipping in several of these examples above.
If you end up not liking one of the apps or other ways to earn listed here, try a different one. You can always change your mind. The key is to find the best way to get paid to shop online so that your monthly income can grow.
Related: Get Paid to Test Clothes
---