P&G Good Everyday Rewards Review: Is It Worth It?
We foster relationships with brands we use and trust. The testimonials on our site represent real experiences, but they don't guarantee you'll achieve similar results. When you make purchases through our links to our partners, we may earn a commission. Your support helps us continue this work. You can read our full disclosure here.
Tide laundry detergent, Crest toothpaste, Pampers diapers, Gillette razors, Puffs facial tissue–you buy them all the time.
What do these brands (and 60 others) have in common? They fall under the well-known wing of Procter & Gamble.
Over the course of more than 181 years, P&G products have made homes cleaner and self-care easier for everyone.
Since the company already spreads comfort around the globe through its top-selling brands, what more can it offer consumers?
Learn how P&G Good Everyday Rewards puts money back into its members' pockets while donating to charitable causes every day.
What is P&G Good Everyday Rewards and How Does It Work?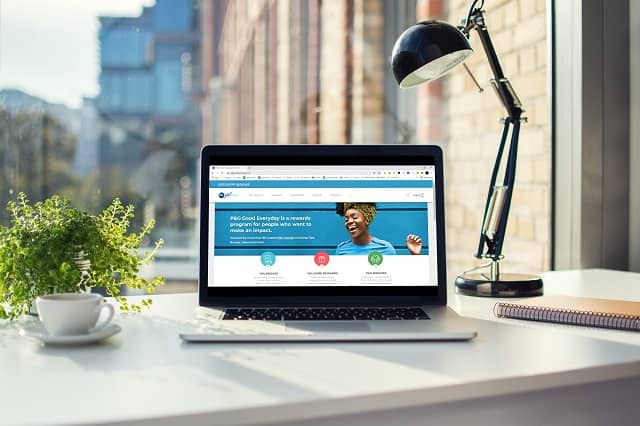 P&G Good Everyday Rewards is a worldwide free program offered by Procter & Gamble that awards its members in points to upload their receipts. But not just any receipts–just those with P&G purchases on them.
The company rewards members with a generous 50 points per P&G product on an uploaded receipt. Additionally, each time you participate, whether by uploading a receipt, completing a product review, or taking a quiz, you'll automatically be contributing to a charitable cause.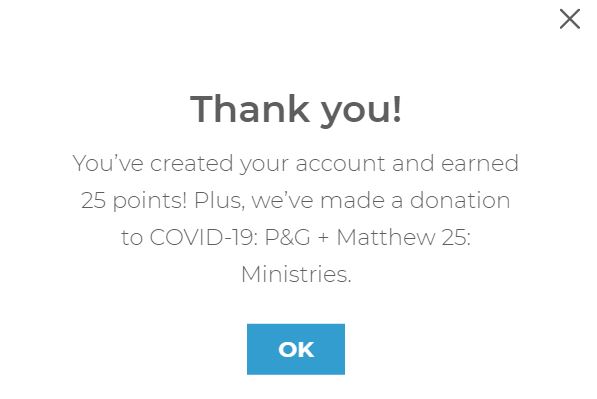 Members can cash out their earnings for free gift cards and P&G product sweepstakes entries, or contribute even more to a charitable cause.
So before trashing your receipt on the way out of Walmart, Target, Dollar General, and so many other stores you shop at, make sure to snap a picture of it and upload it to P&G Rewards.
The Pros
Earning points on your purchases may sound like a great deal in itself, but that's not the only way to benefit from this legit company:
Awards a 25-point new member bonus.
Awards 50 points for each P&G product purchased (65 brands to choose from).
Awards 50 points for referring up to five friends.
Gives the option to cash out in gift cards, P&G sweepstakes entries, digital subscriptions, local experiences, or additional charity donations.
Automatically donates to the charity of your choice with each simple activity completed.
Occasionally offers rebates, coupons, and promo codes on P&G products.
The Cons
As its name suggests, P&G Good Everyday sets out to do just that–good every day. But for those who are joining just for the rewards, there are other things to consider:
P&G brands may cost more than the brands you're already buying–even with the points offered.
Offers rewards on P&G brands only.
Requires a minimum of 750 points to cash out for a gift card.
Limited gift card options are available.
Surveys pay just 25 points each.
There is no guarantee you will ever win sweepstakes.
Related: Is Prizegrab Legit?
My Take on P&G Good Everyday Rewards: Is It Legit?
If you feel led to support a good cause and you want to earn points on your P&G purchases, this rewards program is a great option.
And if you have some receipts without P&G products on them, there are still other ways to get paid to upload receipts.
I like that P&G doesn't just give pennies to charities. Instead, the company makes a physical difference by donating its products to various causes. Other donations include clean drinking water, meals, medicine, and other important resources to those in need.
Unlike most cashback apps like Rakuten and Ibotta, P&G Good Everyday Rewards stands out because it both incentivizes people to participate and it makes an impact on those who need extra support.
Free P&G Rewards Alternatives
Since P&G only offers points on its own brands, there are plenty of opportunities to earn additional rewards with these cashback apps and websites.
Drop App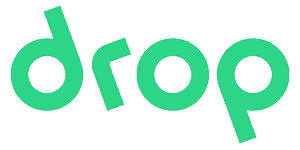 The Drop app does things differently. Whenever you use your app to shop, you earn points regardless of what you buy.
The points you accumulate from coffee shop purchases, reservations at travel agencies, clothing purchases, and everything else can be redeemed for gift cards from Netflix, Amazon, Sephora, and others.
Related: Drop App Review
Ibotta

Ibotta is a cashback app that requires a bit of planning before each shopping trip. To receive credit, members must preselect offers on the app. The app is user-friendly and somewhat intuitive, which means it strives to place relevant brands in front of the right shoppers.
Upon uploading a receipt with select offers, Ibotta calculates all earnings in cash, not points. Members can cash out after earning at least $20 for gift cards, PayPal cash, or via direct deposit to a bank account.
Learn more about Ibotta in my full review.
Rakuten

Rakuten, formerly known as Ebates, is a company that incentivizes online and in-store shopping with hundreds of cash back opportunities.
It's easy to start earning, and new members can get a $20 sign-up bonus for joining and spending at least $20 through one of its many popular retailers.
Read my full Rakuten review for more details.
Dosh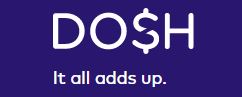 Dosh offers cashback for dining, shopping, and travel purchases, and presents its members with large cash back opportunities.
Disney+, Instacart, and Walmart Grocery Pickup are just a few of its many participating partners.
Dosh is an automated cashback solution. After you sign up and connect your credit cards, Dosh awards cash for each qualifying swipe. There's no need to visit the app every day just to try to catch awards. Instead, just shop as you normally would.
Related: Get Paid to Drink Coffee
Fetch Rewards
Fetch Rewards helps its members save money on groceries, shoes, and other everyday products. Coupon clipping and shopping at specific stores are not a requirement for cashing in on rewards.
Reward points will be credited to your account if you scan any grocery receipts bearing a participating brand.
The Best Features of P&G's Rewards Program (In Detail)
A closer look at P&G Good Everyday Rewards may help you determine if it's the right program for you.
1. Sign Up and Start Earning (and Donating) in Seconds
Unlike other high paying survey companies (legit or not), P&G makes the signup process fast and easy. There's no need to provide tons of personal information, and you don't have to share your demographics just to get started.
On its user-friendly website, new members can easily join, confirm their email, and start earning points in just a few minutes. Plus, there's a nice 25-point signup bonus that automatically applies to your point balance.
2. Awards Members for Purchasing Any of Its Brands
P&G doesn't mess around with expired offers and offer limitations. Instead, members get rewarded for submitting a receipt with any of its 65 brands. You may even learn that you've been buying P&G products all along without even realizing it.
3. Doesn't Require Members to Preselect Offers
Unlike cashback sites like Ibotta, P&G Rewards accepts receipts and awards points without requiring any preplanning. That means members don't need to spend time preselecting offers before heading to the checkout.
4. Offers Coupons, Rebates, and Promo Codes
Points are just part of the perks that P&G offers. There are also opportunities to get paid to print coupons, use promo codes, and submit for rebates on select brands. These additional offers come and go, but they can help consumers save even more money on P&G brands.
5. Makes a Difference on Autopilot
P&G doesn't wait for members to donate their points toward charitable causes. Instead, the company continuously furthers different causes with each activity a member completes. Staying active in the rewards program actually makes a difference where it's truly needed.
6. Uses Feedback from Real Customers to Make its Brands Better
Contributing to P&G Good Everyday Rewards helps brands improve and make a difference. P&G collects both good and bad feedback and uses it to offer high-quality products that meet the needs of consumers worldwide. Rewards members can help shape how brands manufacture, market, and deliver their final products.
Related: How to Make $500 Fast
P&G's Accepted Retailers
P&G accepts receipts from five online and 42 local retailers. Before shopping for P&G brands, make sure the retailer you choose is on the list.
In-Store Retailers
9 Elements
Albertsons
BJ's Wholesale Club
Cala Foods
City Market
Copps
Costco Wholesale
CVS
Dillons Food Stores
Dollar General
Food 4 Less
Food Lion
Foods Co.
Fred Meyer
Fry's Food Stores
Giant Food Stores
Hannaford
Harris Teeter
King Soopers
Kroger
Lumi
Mariano's
Meijer
Metro Market
My Black is Beautiful
NBD
Nervive
Pick 'n Save
Publix
Quality Food Centers
Ralphs
Rite Aid
Safeway
Sam's Club
ShopRite
Smith's Food and Drug
Spark
Stop & Shop
Target
Walgreens
Walmart
Online Retailers
Amazon.com
Crestwhitesmile.com
Firstaidbeauty.com
Seemebeauty.com
Tideonewashmiracle.com
Related: Free Money Hacks that Work
Using P&G Rewards Can Make a Difference in Your Finances and The World
If you purchase Tide, Crest, Dawn, Bounty, and any of the other popular brands by P&G, then it's easy to make a noticeable difference at no extra cost to you. Since P&G makes automatic donations based on your simple activities, it can be worth it just to sign up and poke around the site in your spare time.
I've never been a member of a company that strives to make such a huge difference in this world until now. Despite donating to charities of my own choice for many years, I truly appreciate how easy P&G has made it to do even more good.
We appreciate the time you've spent reading this post and your interest is not lost on us. Your thoughts, questions, or experiences related to the topic are most welcome. Each comment adds strength to our community. We ensure every comment receives our attention, and we take the time to provide thoughtful responses. Once again, thank you for being a part of this conversation. Click here to leave a comment.