How to Get Paid to Recycle (More Than Just Pop Cans)
One of my favorite sites, KashKick, offers tons of ways to earn real cash online. If you're not already a member, give it a shot! Here are five things you can do to make easy money on the site:
Play games (up to $125 each)
Test apps (up to $125 each)
Buy lottery tickets (an easy $8)
Try popular brands (always changing)
Answer surveys (quick cash in minutes!)
Aside from the recycling of bottles and cans every few months, I try to do a deeper purge of other items in my home that I can recycle. This usually includes clothes my children have grown out of, which happens quite often.
When I think about all the money my family spent on buying those clothes, it crushes me to think of getting rid of them when they are no longer needed. Thankfully, I can get paid to recycle these clothes.
Recycling doesn't have to just be about the typical plastic, glass, and aluminum containers. There are many other things like clothes, furniture, shoes, jewelry, and other household items we can recycle to be less wasteful. Just taking a drive down the highway will show you how often people litter their unwanted items. There are so many ways we can all pitch in to keep our planet cleaner.
If you're curious how you can get paid to recycle, start thinking now about all the unused items in your home. After you've come up with a list, follow this guide to maximize your earning potential with recycling.
Our Popular Money-Making Offers
Sign up with each of the following companies to maximize your earning potential.
$10 sign-up bonus
Pays to take surveys, complete offers, shop online, and much more
100s of other paid tasks
Awards cash and gift cards
$5 sign-up bonus
Pays to play games, watch videos, answer polls, and much more
100s of other paid tasks
Awards cash and gift cards
How to Get Paid to Recycle Cans and Bottles (and Where to Find Them)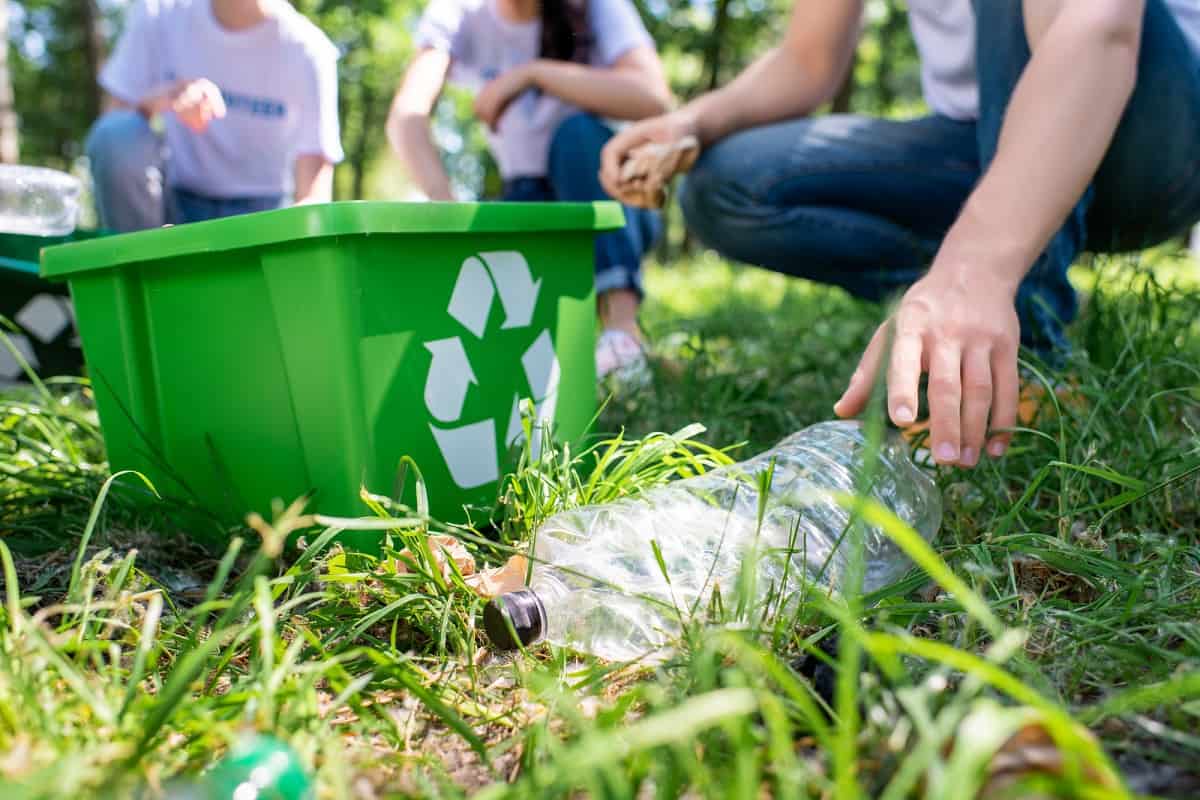 Since cans and bottles are often the first things that come to mind when considering recycling for money, I'll share this solution first.
If you have been collecting drink containers like cans and bottles, you can take them to the nearest recycling center. According to the National Conference of State Legislatures, many states have a container deposit law, meaning you pay a container deposit per container you purchase (aluminum, glass, plastic, etc.) You will receive a refund on that deposit when you take that empty container to a recycling center.
This means that the soda or Gatorade you purchased came with a container deposit you might not have been aware of. Multiply the deposit by the number of cans and bottles you cycle through in a week, and the number can quickly get out of hand.
Some states retain as much as $0.15 per container while others retain as low as $0.05. Each state will vary so check with your local recycling center to see how much your cans are worth. You can also check your receipts upon purchase of recyclable items to note how much you were charged for your container deposit.
To get paid to recycle cans, go through your home and empty expired drinks from their containers. You could also spend a day picking up trash safely along roads or at parks and collect the cans and bottles. Ask your friends and co-workers if they have any cans you can get rid of for them (many people don't recycle and would be glad for you to take their recyclables). Also, consider partnering with local businesses to take their cans to the recycling to help them stay clear of trash at their establishments.
Related: How to Get Paid to Hunt Deer
Sites That Pay You to Recycle Used Items
Get paid to recycle other items using the following sites. While it won't be a way to get rich quickly, it can be enough to put something extra into savings or help pay for that upcoming vacation.
1. Recycle Used Phones, Tablets, and Laptops
Sites like BuyBack Boss pay you to recycle used devices like smartphones, tablets, and laptops. If you're like I am, you've probably held onto a handful of old devices for no reason. Instead of letting those devices collect dust and get older by the day, consider recycling them for cash.
BuyBack Boss takes pride in being one of the highest-paying buyback companies. It also offers great customer service and a streamlined process. You can get an instant quote on almost any device, accept or reject it, ship it to the company, and have cash in hand within a few days.
If you're interested in recycling old mobile devices, you can also search for cheap devices on places like Facebook Marketplace and Craigslist and potentially earn a profit for selling them back to a site like BuyBack Boss.
Related: Buyback Boss Review
2. Recycle Used Books on Amazon
If you have old novels, textbooks, or children's books sitting around collecting dust, consider recycling them back out into the world. Sell them on Amazon and get paid to recycle your books. Amazon started out as an online book store and it keeps true to its roots by offering business opportunities to sellers looking to make money on used books.
Go through your garage, check bookshelves throughout your home, and find the books that are no longer needed. The best way to recycle is by giving life back into those books by selling them to someone else instead of throwing them away.
Amazon makes it easy to start selling your books on the platform. Create your seller account, list your books, price them accordingly, and you'll soon be on your way to selling those dust collectors to an excited customer.
Related: How to Make Money with Amazon FBA
More Popular Money-Making Offers
Earn more money in your spare time with these reputable companies.
Free PayPal cash
Paid surveys and web searches
Earn easy cash back
Get paid directly to your PayPal
PayPal, Visa, Amazon, etc.
Pays you to do NOTHING (with SJ Pulse)
Simply install the software
Participate in paid surveys & studies
3. Sell Recyclables on Facebook Marketplace
Take to the popular social media platform that is Facebook to sell your recyclables. Yes, you can post recycling cans for money on the Facebook Marketplace.
Not only that, but you can list other recyclable items as well like clothes, footwear, books, cars, and so much more. Basically, if you don't need it anymore, you can recycle it into someone else's hands.
4. Recycle Items on Craigslist
Craigslist is a familiar online site that people use to post items for sale. You can get paid to recycle on Craigslist by listing recyclables like car tires, aluminum, metal, and just about any household item.
The amount you can earn on Craigslist will vary depending on the items you sell. The site is known as more of a bargain site. You can count on the fact that people visiting the site will be looking to pay less.
5. Recycle Items on eBay
eBay is a large online reselling platform that has been around for decades and is a reputable site. People with an eBay account can list items for sale, such as clothing, used books, aluminum cans, and more. You can even sell used wine corks, pop can tabs, and bottle caps.
Simply set up your account to get paid to recycle. One person's trash is another person's treasure. All items you sell should have detailed pictures and accurate descriptions to speed up the sale.
Related: Where to Sell Clothes Online
Get Paid While You Recycle Items
Standing in line to recycle cans and bottles is inevitable. What most people don't realize is that they can be earning some extra cash on their phone during those moments instead of scrolling social media for the 10th time that day.
6. InboxDollars
InboxDollars is an online rewards platform that is used by many members to make extra money. It offers a wide variety of tasks you can complete to earn real cash deposited to your account. Those tasks include watching videos, shopping online, reading emails, and more.
When you go to a recycling center or pawn shop, there can often be a line to wait in until you can exchange your collection. While you wait in line, consider using your InboxDollars account to make money while recycling. Pass the time by completing as many tasks as you can with InboxDollars.
Just for signing up for a free account on InboxDollars, your account is credited with a $5 bonus. Collect enough money and cash out all of your earnings with PayPal cash, Amazon gift cards, and more.
Related: InboxDollars Review
7. Branded Surveys
Branded Surveys is a well-known site that has a reputation for paying users to take surveys. After each survey is completed, you are rewarded with points added to your account that you can later cash out for free gift cards to places like Amazon, Walmart, Target, or with a Visa gift card.
To get started recycling cans for money, simply log into your Branded Surveys account from your phone and complete surveys while you wait in line at the recycling center. Whether it's in your car as you wait to unload your collection or waiting in line to get your money, you can double your earnings that day by completing surveys at the same time.
Related: Branded Surveys Review
More Ways to Get Paid to Recycle
Don't stop at just the sites listed above. Continue to find more ways to get paid to recycle with these additional opportunities.
8. Start a Shoe Flipping Business
Recycle old shoes by starting a shoe flipping business. We all have shoes in our closets that haven't been worn in some time. Give them new life again and sell them to others.
Recycle your shoes by sprucing them up a bit to reveal their hidden beauty. Talk to your friends and family to see if they have any old shoes they would be willing to donate to your shoe recycling business.
9. Start a Niche Site
Niche sites are among the top-visited sites on the internet today because of the value they bring to readers. For readers who are looking for recycling opportunities, you can offer the perfect website for them. Create your own niche site about recycling.
Your site can be dedicated to teaching others how to make the world a better place with recycling suggestions. Your site could also be an online resource that promotes recycled items for sale such as clothing, shoes, cars, etc. There is no limit to what a recycling niche site can look like.
Get paid to recycle by adding ads to your articles that pay you for views and/or clicks. You can also partner with other companies and create sponsored posts, meaning you get paid to post and advertise for them.
10. Create a YouTube Channel
The best content out there comes in the form of videos. Viewers are constantly searching for quick ways to consume content and with a YouTube channel, you can help them do just that.
Create your own YouTube channel and make content around ways to recycle, how to recycle, how to find the highest paying recycle centers, and what recycling means for our planet. The ideas are endless!
11. Become a Social Media Influencer
Using social media can sometimes be the fastest way to get paid to recycle clothing, shoes, equipment, tools, cars, etc. Take advantage of this resource and become a social media influencer to sell your items faster and make money. Set up an Instagram account that is dedicated to showing others how to recycle or show others the items you are wanting to recycle to them.
Consider also becoming an affiliate for recycling companies that sell recycled products. This way you get paid for any purchase made when your viewers click on your special link or use your unique code.
12. Garage Sale
The classic way to get paid to recycle is to have a garage sale. Your unused items can be exactly what other people are seeking. Make some money off those goods you have sitting around.
You can put out discounted recycling cans in your garage sale as well. There are many people who look for that kind of thing in garage sales to help them with their crafts and projects.
Related: How to Start a Flipping Business
Recycling for Cash Includes More Than Just Cans and Bottles
Make the world a better and happier place with the endless opportunities of recycling. Recycling doesn't just have to be about glass, plastic, and aluminum. Save someone money by selling your used items to them, thus creating a happy customer. You also saved space in the landfill by not just throwing that item away.
We all need to do our part to recycle, so thinking outside of the typical recycling mindset can get us all further in our efforts to make our environment cleaner and more livable. Find your calling in the recycling world and get paid to recycle using one or many of the ways listed in this guide.
---