6 Steps to SEO Like a Pro and Get Organic Traffic That Converts
We foster relationships with brands we use and trust. The testimonials on our site represent real experiences, but they don't guarantee you'll achieve similar results. When you make purchases through our links to our partners, we may earn a commission. Your support helps us continue this work. You can read our full disclosure here.
Whether you've been blogging for 3 weeks or 3+ years, you're never too late (or early) to learn how to SEO like a pro!
There are two types of website traffic: paid (PPC) and organic ("free").
I am going to tell you a little secret. Organic traffic is not free. Gaining steady, organic traffic by implementing the best SEO practices takes time and effort on your part (both of which are valuable!).
In this tutorial, I explain exactly how to SEO your own blog or business website using these easy, step-by-step instructions.
But here is the catch. Learning how to find your own keywords can be daunting at first. If you struggle to find keywords that other bigger bloggers don't already cover, you're not alone.
I have an easy 5-step method that can help you find long-tail keywords that have never been properly covered in an online publication. That means you can easily sweep up organic traffic from these keywords, as long as you write great content that covers the subject well.
If you want to know how it's possible to find keywords that even brand new blogs can rank for, check out my eBook, Get Your Keywords Together.
What is SEO (Search Engine Optimization)
To SEO like a professional, you need to understand what search engine optimization is. SEO is the method used to optimize your content so that search engines can categorize and show your blog posts to those who are searching for your topic online.
All too often bloggers forget to follow even the most basic SEO steps. This is a huge problem! Unless you're relying entirely on social media sharing, then it's important to set up your blog's content the right way from the start.
SEO, in a nutshell, is all about making your site visitor's experience better. When your visitors are reading more content (staying on your pages longer) and visiting more pages (lowering your bounce rate), they are telling Google that your site is worth visiting!
So always keep user experience in mind when optimizing your blog posts.
Related: Stupid Simple SEO Review: Is The Course Worth Buying?
Organic Traffic
Organic traffic is composed of the visitors that click over to your website using a free method. You can get organic traffic from search engines like Google, Bing, Pinterest, and even social media sites like Facebook and Twitter. Organic, in this context, simply means "unpaid."
SEO and organic traffic go hand-in-hand. If you follow the easy SEO steps that I am about to explain, then you will be well on your way to building your blog's organic traffic.
SEO Checklist
As a bonus, I also have a free SEO checklist PDF that you can download and use as a guide to SEO your blog posts! The checklist goes hand in hand with my FREE 6-day Boot Camp.
If you put the work in now, this SEO checklist could help you rank for high volume keywords you never thought possible. It takes patience to get there!
Also, the checklist may not make sense as a standalone solution, so make sure to use it in conjunction with my free 6-day SEO Boot Camp.
Keep in mind that SEO has a high focus on user experience. In other words, search engines like Google gather data from your site's visitors and compile it into ranking numbers such as total pageviews, unique pageviews, time on page, and bounce rate. Every one of these numbers is determined by your visitors' behavior! Ensuring that user experience is top-notch is incredibly important to SEO.
It is said that Google uses more than 200 ranking factors. It's nearly impossible to know or follow all SEO best practices, but it's certainly possible to rank on the first page of Google by following a much smaller handful of steps.
My SEO checklist breaks down these broad steps:
Choose and maintain blog categories (structure your website)
Choose a topic that falls into one of your categories
Choose a blog title that is clickworthy, clear, concise, and answers a question
Draft your content
Publish your content
After publishing
My checklist covers the most important steps to take when creating new blog posts, web pages, or fixing old pages. But it is important to read through the full detailed tutorial that goes hand-in-hand with this checklist.
SEO Example
Before I dive into the step-by-step SEO tutorial that will get you organic traffic, I would like to share an example blog post that ranks high in search engine results.
The blog post example that I will use is about Disney. Did you know it is possible to rank on the first page of Google when talking about a subject as popular as Disney?
My example of a post that ranks on the first page of Google for various search terms related to Disney is titled: Disney Movies List That You Can Download For Free!
Here is the trick when learning how to rank for a keyword relating to a very popular subject:
What Are Long Tail Keywords?
Long tail keywords are longer, detailed phrases that drive more specific organic traffic. The visitor that finds your site by typing a long tail keyword is much more likely to signup for your newsletter (sales funnel), click on your affiliate links, or buy your products/services because it is more specific to the reader's original question.
Related: Best Sales Funnel Builders
Long Tail Keyword Examples
Back to our Disney example. If someone searches the ambiguous term "Disney" on Google, we have no idea what they really expect to find. Do they want more information about Disneyland? How to plan for a trip? Directions to Disneyland? Or are they searching for Disney characters? Paraphernalia? Movies? Or the original Walt Disney himself?
Trying to rank for a generic keyword is like trying to guess what your significant other is thinking as he/she stares off into the abyss. In other words, it's nearly impossible.
Phrases like, "best Disney quotes about friendship" or "best Disney quotes about family" are examples of long tail keywords. The more specific your long tail keywords, the more likely your organic traffic will be exactly the right audience that will convert.
Related: How to Make Money with SEO
How To SEO Like a Pro (Step by Step)
Now that we've cleared up some popular background questions about SEO and keywords, let's dive into the steps that I use to rank on the first page of Google.
Because there is much to be said about SEO, this step-by-step, how to SEO tutorial is going to focus on the "how" of SEO rather than the "why" of each step. My goal is to make your task of getting organic traffic easier and more attainable.
Let's get started!
Step 1: Structure Your Website for SEO
The structure, or navigation, of your website is so important. Structuring your site the right way affects your visitors, which affects your SEO!
Header Navigation
Bloggers should start with two to four main categories.
If you have too many confusing menu options, combine similar categories into one. Remove (or nestle) categories that you don't contribute to at least monthly.
Use subcategories! If you do not want to cut any of your categories, consider nesting it beneath another.
Internal Links
Within each blog post, link to at least three similar posts of your own to encourage visitors to browse.
Keep internal links pointing to blogs within the same category. Think of this as an opportunity to tell Google what each blog post is about by linking to relevant content only.
External Links
Try to include at least one external link to an authoritative source in each post. Google will follow external links and use them to help categorize your post and to verify that you have researched your topic thoroughly.
Even if your work is 100% your own, it doesn't hurt to have the support of authoritative sources. But don't link to sources that are competing for the same search terms and topics that you hope to rank for!
Backlinks
Make sure your posts provide value. Your goal is to be the authoritative source that other bloggers link to. But let's be honest, this takes time to build a large store of valuable content.
If you're tired of waiting for others to link to your posts, there are several ways to get quality backlinks to speed up the process!
You can search your target keyword phrase on Google and open the first 10 to 30 results. If there is a comment section, add a meaningful comment to the thread and link back to your related blog post in the "website" field (not your home page).
I also like to answer related questions on Quora and link back to my blog post within the detailed answer.
These backlinks are nofollow, but they can still bring targeted traffic to your post.
Related: Get Paid to Share Links
Step 2: Research Keywords for Every Post and Page
Remember we talked about the importance of using long tailed keywords to rank high on Google's results? This step will teach you how to do keyword research so that you are choosing words that real people actually search for on Google.
You don't want to select a keyword and then stuff it into a post 50 times. Instead, make a list of related keyword phrases about a specific topic to use naturally throughout your post.
For keyword ideas, you can use a free tool like Ubersuggest. Type in a broad keyword (like "Disney") and filter out the specific phrases that support your topic the best. Don't focus too heavily on the keyword volume or competition because many of the statistics are incorrect. Instead, just use the tool to give you ideas to research manually.
Go the extra mile and simulate searches on Google using the keyword phrases that you find! You need to research these top results to see if you can compete with the content that already ranks for your chosen keyword phrase. Is your DA comparable or within 10 to 20 points? Can you write better, longer, and more informative content?
I like to target one main keyword phrase and anywhere from three to 10 supporting keyword phrases in one blog post (sometimes more phrases depending on the subject and length of the article).
Sometimes I use the Chrome add-on Keywordseverywhere.com to see the actual search volumes as I Google my keywords. It's a paid (but cheap) tool and makes it easy to find multiple versions of long tail keywords while you're actively researching your topic.
How To Do Keyword Research
Keyword research is important because you want to make sure you are writing answers for queries that people are actually searching for. If you write about an obscure term, then you may rank on Google's 1st page; but it doesn't mean much if no one is searching for that term.
Keyword research tools can be expensive. I wrote an ebook called Get Your Keywords Together that walks you through my keyword research strategy using only free tools.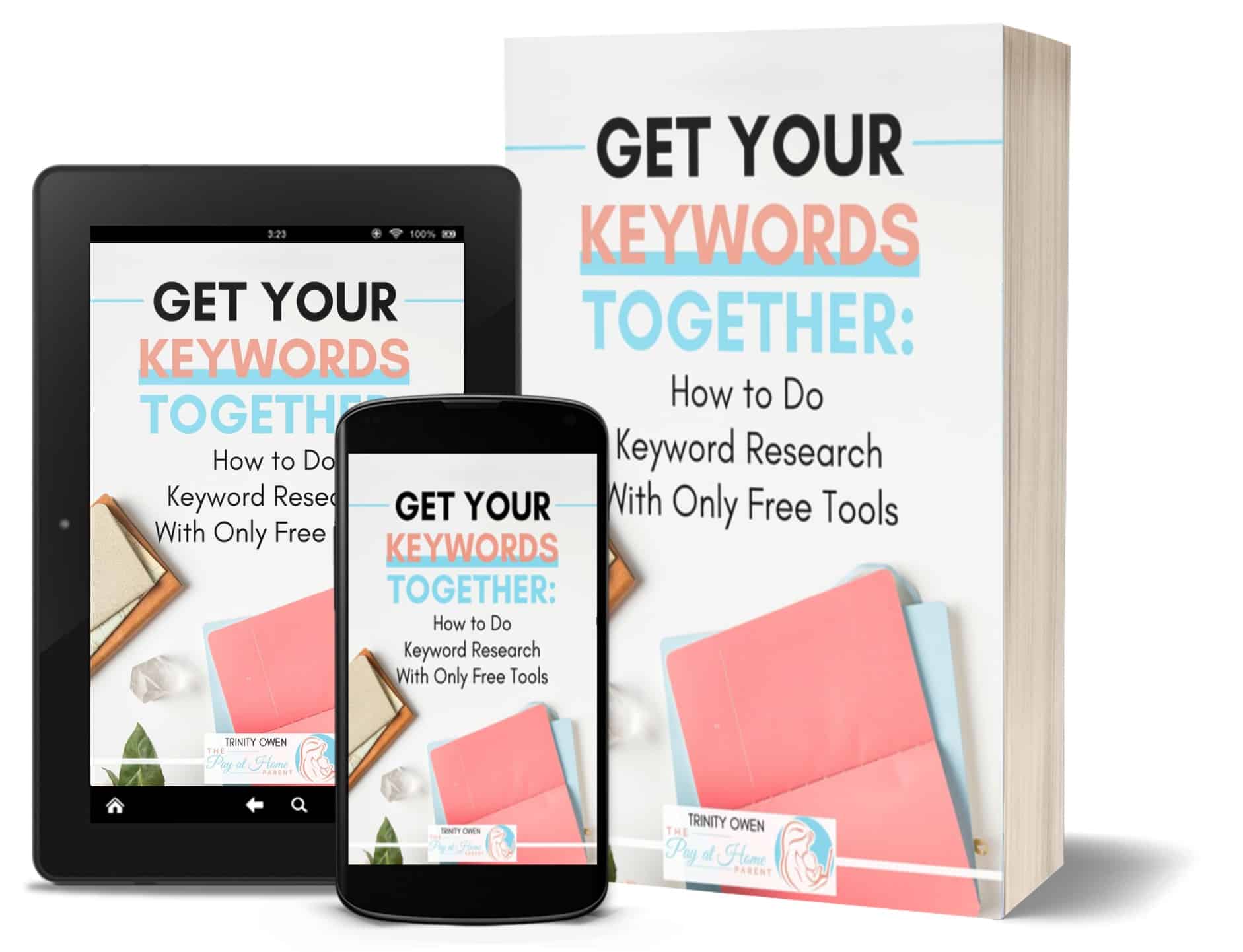 So here are the steps you can take to research keywords using Keywords Everywhere (a paid search tool):
Install the browser extension "Keywords Everywhere".
Buy credits.
Search your topic on Google (maybe you want to write about "fishing for trout" which is searched 33,100 times per month according to Keywords Everywhere).
Look at the first three to four search results, search the domains in Moz's DA checker (use the Moz chrome extension), and then skim its article to see if the content is solid. Maybe you can say, "hey, this site with a low DA is ranking for the term and its content sucks. I CAN BEAT THAT." Or maybe you'll say, "nope, can't beat Wikipedia", so you look for another long tail keyword.
Keywords Everywhere provides "related keywords" every time you do a live Google search. So instead, you search the term "trout fishing lures" (as suggested by Keywords Everywhere after you initially searched "fishing for trout"). This long tail keyword is searched 2,400/month (not bad!).
You say, "BINGO!" The top three search results are blog posts (not product listings or Walmart) and you say, "I CAN DO BETTER!" So, you choose "trout fishing lures" as your main keyword.
When you again search "trout fishing lures" on Google, Keywords Everywhere gives you a list of "related keywords" again. A few for this example are "best trout lures for lakes", "best trout lures for streams", and "best trout trolling lures". You can either a) niche down further and choose one of those instead as your keyword, OR decide to include ALL of these in your blog post to SUPPORT your main keyword ("trout fishing lures"). You can even stack your content and write a blog post on each of these long tail keywords and link back to a roundup of all of them.
List your keywords and plug them into your content AS YOU WRITE. It's much easier to have natural keyword placement when you don't come back later to plug them in.
Rinse and repeat.
Listen.
Don't let the steps of keyword researching scare you. If you learn these steps correctly, you will come out ahead of your competition.
Step 3: Brainstorm a Topic and Choose a Clickable Title
You can brainstorm for topics before doing keyword research, but I prefer to do it after. Having the list of keywords in front of you is half the battle of brainstorming a specific topic!
The topic and title of a blog post go hand in hand so we'll discuss both of these in this step.
Topic Brainstorming
To choose a topic, open your list of keywords and review the search phrases that your audience is searching for.
If people are searching for phrases with words like "how", "ways", or "what", highlight these. They are worth researching further.
Remember, when people search Google, they're asking a question and expect an answer. Choosing a topic that answers that question could land your blog post at the top of search results.
Title Selection
Google search each of the keyword phrases you noted above and analyze the top results. Do the titles include the exact keyword phrase? Do they have "clickable" titles?
Review the top paid results closely because they are often well tested and work.
Don't copy another author's title word for word, but use the results to craft your own title. Remember to make your title clear and avoid too many distracting filler words.
I like to use Coschedule's free Headline Analyzer tool to help with this step.
SEO Title Best Practices
Place your keyword phrase as far left in the title as possible.
Keep your title length close to 55 characters and between six and nine words.
Be sure your title tells people exactly what they will learn.
Avoid filler words and ambiguous terminology.
Once you've drafted your title, you've naturally solidified your topic! That's why I like to do these two steps together.
Step 4: Structure Your Content For The Reader
As you learn how to SEO your blog posts, remember that Google queries are questions. Even if the person searching does not add a question mark or type a long, exact phrase, they are still searching for an answer, not a story.
When writing your blogs posts, follow this structure:
I use this blog writing format to grow my organic traffic.
Introduce a Problem
Visitors arrive at your site because they have a problem. They need a recipe, idea, how-to guide, or other information. Make sure you are clear from the start what "problem" your blog solves.
Introduce a Solution
Briefly introduce the solution. Explain to your reader what the solution is and why they should believe you.
Explain the Solution with Examples
Body: Who, What, When, Where, Why, or How
Answer the question in detail in the body of your blog post. List posts, step-by-step instructions, tips, and examples perform well.
Conclude with a Sale
If you're monetizing your site, each post should "sell" something in your conclusion. A "pre" sale might offer a freebie to join your email list or links to affiliate freebies. A "final" sale might include a direct invitation to purchase a service or product (yours or an affiliate's).
Make sure your sale relates to the problem that brought your visitor to you in the first place!
Remember, you want Google to see visitors stay longer and return to your blog. Email subscriptions bring readers back so they are very important too.
SEO "Do's" for Blog Posts
Use your keyword in your main blog title (H1).
Use your keyword in at least one other title within your post (H2).
Use your keyword naturally throughout your post.
Use your keyword in your first sentence when possible or at least in your first paragraph.
Use your keyword in your URL
Use your keyword in the alt text of at least one image.
Use your keyword toward the beginning of your meta description.
Use supporting keywords one to three times each. Always ensure natural placement.
Keep your content "skimmable" using bullet points, titles, and short sentences.
Publish at least 500 words, but longer than that is better.
SEO "Don'ts" for Blog Posts
Do not place your keyword frequently throughout the text in unnatural locations. This is called keyword stuffing.
Do not optimize a post for a misspelled word just because people search for it that way.
Do not pay for backlinks.
Do not extend a blog post for word count purposes only (avoid fluff).
If your keyword is "Why activities for kids are great," do not repeat words like "why" over and over to increase your keyword count. Google wants you to answer the question, not state it over and over.
Step 5: Improve SEO of Existing Posts
Don't be afraid to go back and optimize existing blog posts using the keywords that Google already attributes to them.
When optimizing an existing post, it's important to know what NOT to do (I've tried them all, they kill rankings):
Do not change URLs without setting up redirects.
Do not remove important keywords or big chunks of text from a blog that is already ranking high in search results.
Do not make changes over and over. Optimize a post and move on.
If you do any of the above, the blog post will probably be knocked down in rankings – but – will probably resurface again down the road as soon as Google figures out you've improved it.
What CAN we change? The goal is not to take away from or replace existing content. The goal is to enhance or add to the content.
(Note: start by optimizing posts that have a lead capture or sale in place to maximize income).
Quick Definitions for Terms Found in Google Analytics
Clicks – how many times someone has clicked your URL.
CTR – how many clicks on your URL per impression. The higher the better!
Average Position – where your listing ranks when a user searches a phrase. The lower the better!
Session – the number of hits to the URL.
Bounce Rate – Page interaction. The lower the better!
Pages / Session – Average number of pages each reader visits in a session. The higher the better!
If you're not sure which of your pages are already ranking well, log into Google Analytics and find your page search results.
On the left side panel -> Acquisition -> Search Console -> Landing Pages.
How to SEO Like a Pro with these results
Sort the Impressions from highest to lowest to see which of your pages are already the most popular.
An excellent page would be in the #1-3 position with high impressions, clicks, CTR, and sessions.
Always keep a record of your updated posts. Try to do all optimizing in one session, publish the changes, and leave it alone. Over optimizing or republishing can cause the page to fall in rank.
A good page to optimize is one that is receiving high impressions but few clicks. Either your title isn't grabbing or your meta description isn't answering the query.
Find what keywords your posts are ranking for
In Google Analytics -> On the left side panel -> Acquisition -> Search Console -> Queries.
How to SEO with these results
Sort the Impressions high to low to see which of your keyword phrases are most popular. If you have keywords with a high number of impressions but few clicks and CTR, then you'll want to optimize those.
This is where I think Google falls short. You cannot click on a keyword to see which page is ranking for that phrase.
So instead, search the keyword on Google using this search format:
site:www.[yoursite].com search term
Your results will show your top blog posts that rank for that search term. Optimize those pages for the search term!
Follow steps one through four above to improve your post's SEO. The main concern here is that we are adding value to the post to include the new keywords and NOT removing or replacing words that the post is already ranking for.
If a post is ranking well for a keyword but you want to optimize for additional keywords, add an H2 title and a paragraph or two using the new keyword. Do not over optimize and take away from what is ranking well already.
Reasons to change/replace existing keywords
They are not bringing in your target audience
They are not ranking
There is little to no search volume for them on Google
They are not bringing in traffic
Step 6: Ensure Your Site is Indexed and Monetize Your Posts!
You made it to the last important SEO step! You should be proud if you made it this far!
This step is easy. After publishing your blog, it's time to get seen on Google!
Submitting URLs to Search Engines
When you publish or update a blog post, submit the URL to Google. It's quick and easy and it helps your post rank fast.
Only do this two to three times per week at the most and only newer blogs will benefit from this. Once your blog is established and you are posting to it regularly, search engines will typically crawl to your new posts on their own.
Using these exact SEO methods, I've ranked my e-commerce and blog clients on the first page of Google. And not for any keywords, but for competitive, tight niche, short keywords!
Learning how to SEO takes time, but in the end, you'll receive consistent, highly targeted traffic!
Making Sales / Monetizing
At this point you've learned how to SEO each new and old blog post to make your way to the first page of Google! It is invaluable to commit these practices to your daily blogging routine!
But right now I would like to talk to you about monetizing your blog and making a sustainable income.
When your SEO efforts increase your traffic, how will you capture your leads and close sales?
Without an affiliate marketing plan, your income will suffer (not reach its maximum potential).
Ready to SEO Like a Pro?
Be sure to use my SEO Checklist (in Chronological Order). This free SEO checklist will make your efforts a breeze! All you need to do is print or save the checklist and check off each step as you create new blog posts.
See you on the first page of Google!
We appreciate the time you've spent reading this post and your interest is not lost on us. Your thoughts, questions, or experiences related to the topic are most welcome. Each comment adds strength to our community. We ensure every comment receives our attention, and we take the time to provide thoughtful responses. Once again, thank you for being a part of this conversation. Click here to leave a comment.