31 of the Best Resources for Bloggers to Help You Make More Money
Certain necessary blogging resources come before earning your first bit of blogging income.
And these expenditures are investments.
You spend money on a blogging product or service with the understanding that it should help you make you more money in the future.
When I first started The Pay At Home Parent, my frugal self swore to spend as little money as possible.
While there is nothing particularly wrong with this frugal mentality, it typically results in slowing down your blog's progress and income potential.
In early 2020 I decided to actually invest money (not just my sporadic time) into great resources for blogging. I chose to write and launch an eBook on keyword research (since I have extensive experience working with clients in this area).
I set out to write my eBook and published it within 3 weeks. I invested in an editor, technical help setting up an affiliate program, and graphics. Overall I spent between $500 and $750 on my book before I even knew if it would bring in a dime.
That may sound scary to you, and I understand that not all bloggers can invest that much money upfront, but let me tell you; that monetary investment was paid off within one week of launching my eBook, Get Your Keywords Together: How to Do Keyword Research With Only Free Tools.
Listen.
It took me two full years to spend money on blogging resources that cost anything more than $50. Had I purchased some of these courses or eBooks sooner, my own eBook could have become successful quicker. So, you live and learn!
If you're blogging as a hobby, then perhaps some of these resources are not necessary. However, for those who wish to earn significant money blogging, it goes without saying that you will need to spend money to make money.
Can you make money from a blog without first spending money? Sure. But the income will likely be low/non-existent and the growth rate will be slow.
Consider some of the following resources for bloggers that when put to good use are sure to grow your income, traffic, and overall progress.
One of my favorite sites, Swagbucks, offers tons of ways to earn real cash online. If you're not already a member, give it a shot! Here are five things you can do to make easy money on the site:
Play games (up to $322 each)
Test apps (up to $150 each)
Submit receipts (easy cash)
Shop at your favorite stores (up to 10% back)
Answer surveys and polls (quick cash in minutes!)
Our Popular Free Guides
How to Start a Permanent Jewelry Business - If you are patient, have social skills, and love interacting with others, then a permanent jewelry business may be for you.
How to Become a Sleep Consultant - Help parents and babies, and be the difference for families worldwide who are desperate for more Zzzs in their life as a sleep consultant.
How to Become a Proofreader - There are five basic steps to working from home as a proofreader. As long as you're willing to put in the work, you can become a proofreader!
The Best Resources for Bloggers
I've asked my blogging friends to share a short review of the one blog resource that has aided his/her blog growth. Each blogging essential, course, ebook, and tool suggested has its own benefits and use. Be sure to read more on each recommendation that sounds beneficial to your blog.
Blogging Startup Essentials
If you have yet to launch your blog, these blogging resources are essential to your success. There are very few purchases that you absolutely need to make, and these are it.
Hosting
If your blog is not self-hosted, then you do not own it. If you do not own your blog, then you do not have full control over it. If you do not have control of your blog, you cannot properly monetize it.
In a nutshell, a hosting service offers a piece of rental space on the world wide web. You cannot park a blog or website on the web without paying a fee. If you choose a "free" website platform and choose not to pay this fee, then the platform owns your website and you do not.
With that said, consider hosting your blog with SiteGround. The price is minimal (equivalent to a Starbucks coffee each month), the customer service is amazing (24/7), and the process of launching (or migrating) your existing blog is simple.
Related: How To Start A Blog On WordPress (Step-By-Step Tutorial)
Domain Name
Every blog has a unique domain name (website address) that leads readers to its site. Just as I chose thepayathomeparent.com, you also can choose a unique name for your blog. Most importantly, your domain name should be memorable, easy to spell, and relate in some way to your niche or audience.
Start searching for your domain name on Namecheap. You can purchase one for as low as $8.99 per year.
Related: 100 Food Blog Name Ideas You Can Snag For Under $9
Legal
Thomas with Parents Plus Kids:
"One of the best resources for my blog was the purchase of custom legal templates: privacy policy, disclaimer, terms of use, and so forth.
It was a relief to not have to worry about the legality of my blog anymore. I also wanted something that would grow along with my site.
If you know you're going to end up doing a lot of things on your site such as affiliate marketing or selling digital products, investing in legal support is something you should consider. I know it's not the same as actually meeting with an attorney, but working with a professional online is the next best thing. Proper legal templates are also far more comprehensive than free ones (which I've tried before)."
Amira Irfan, Esq. with A Self Guru:
"At the bare minimum, you need all three legal pages: Privacy Policy because it's legally required; a Disclaimer to limit your legal liability; and Terms and Conditions to outline your website rules and protect your intellectual property.
But if you can't get all three right away then you should definitely post a proper Privacy Policy that ensures compliance with all the different laws. Since a privacy policy is a legally required document, this is something you can't skip.
When it comes to a Disclaimer, this page is important for limiting your liability and informing readers of any risks involved in using your website or service. As such, it's best to include this as soon as possible. It's not always legally required but can help protect you and your business if used correctly.
Finally, Terms and Conditions are a must-have for any website or service. This document outlines the rules of use and other important details such as payment terms, refunds and cancellations, etc. It's also important to note that Terms and Conditions are legally binding documents so it's best to get them right.
I know putting together all three legal documents on your own can be challenging, time consuming and even frustrating, which is why I recommend grabbing my done-for-you legal bundles here to make your life easy and get done with all these documents in minutes!"
Make sure your website is legally covered with the statements you need
Blogging Courses & eBooks
Sometimes the next best thing to the previously mentioned blogging essentials is blogging literature. Courses, ebooks, and online communities exist to help you become a successful blogger. Why try to guess what works when there are professionals who share the exact steps to take to succeed? Consider the following blog resources that are designed to help grow your blog traffic and income.
Related: SamCart Review
SEO Strategies & Traffic
SEO is a strategy that, when applied properly to your blog, brings organic traffic from Google searches to your content. When someone types a search query on Google, 10 out of millions (even billions) of results land on the very first page of Google. By implementing SEO, your blog can land on page one and earn free visits to your blog all day long.
Trinity's Get Your Keywords Together eBook
Remember that eBook I talked about writing? Well, this is it! It's called Get Your Keywords Together and is one of the most detailed keyword research strategies out there. And one thing that separates my strategy from the masses is that I only use FREE tools. You can do on- and off-page SEO perfectly but still never rank your pages. This book includes the piece that you're missing: finding keywords that your blog can actually rank for.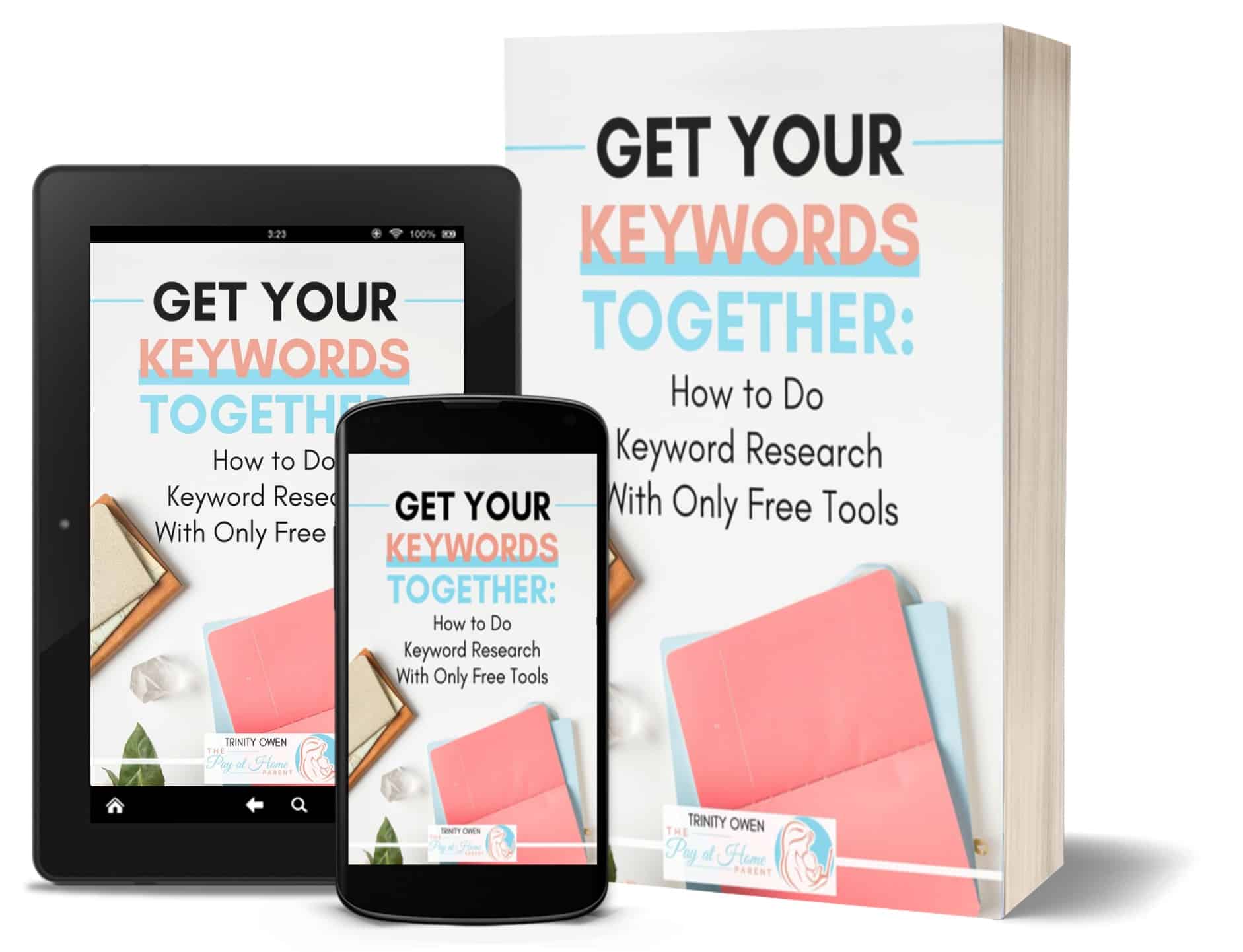 If you're struggling to get traffic to your blog, then read my eBook, Get Your Keywords Together!
Debbie Gartner's SEO eBooks
Debbie Gartner is a successful blogger over at The Flooring Girl. She built her traffic, most of which comes from Google, to over 500,000 pageviews per month. Debbie shares her strategies in her eBooks, Easy On Page SEO and Easy Backlinks for SEO.
Here's what some of her loyal buyers have to say:
Tracy Lynn with Simple Living Country Gal:
"Debbie Gartner's book on Easy Backlinks for SEO is changing everything for me. I have not learned this much since my EBA days years ago. This ebook is a game-changer for SEO that really opened up my eyes to how important it is to do things right from day one.
Easy Backlinks for SEO is an easy read that is laid out in small to digest sections using simple-to-understand terms. Debbie is honest and forthcoming with her information and doesn't waste time with fluff, which is a nice change. If you are ready to dive into the world of SEO and really grow your blog and take it to new heights, then I highly recommend this ebook."
Marie with Ladies Make Money:
"The best blogging resource I ever invested in was a coaching session with Debbie Gartner, author of Easy Backlinks for SEO. I think taking the time to talk to a coach or just someone else once in a while will open your mind to things you might not have known.
Debbie is extremely knowledgeable and to be able to ask questions, get answers, and discuss new ideas is really helpful.
I followed her advice and implemented it after getting my hands on her Easy Backlinks for SEO book which is really helping me take my brand and business to the next level."
Russell and Maleah Barbour with Unconventional Prosperity:
"I invested in a fantastic eBook called Easy Backlinks for SEO by Debbie Gartner. I had decided to take SEO more seriously and build more backlinks to my sites, so I purchased the eBook for $47. It has been worth 1000 times that price to me.
My domain authority has increased five points in just a few months and my articles are ranking much higher in Google searches. Implementing Debbie's strategies has dramatically increased my blog income! If you are looking to increase your Google search rankings, I highly recommend this book."
Esther Mbabazi with Stashing Coins:
"I am so glad I came across Debbie Gartner. I had a few SEO advising sessions with her before her Easy Backlinks for SEO ebook came out. Her ebook is precise and you can read it in one go."
Related: How To Make Money Selling Ebooks
Mike Pearson's Stupid Simple SEO Course
Frances Farac Vidakovic with Inspiring Life Dreams:
"My best blogging resource so far has to be Stupid Simple SEO by Mike Pearson. This is hands-down the most game-changing course for me so far. I felt like I had struck gold when I enrolled in it
I have read plenty of material and taken numerous courses on SEO in the past, but not one was as simple yet comprehensive + immediately actionable as this STUPID SIMPLE SEO course. The name of the course was actually spot on, but more importantly it delivered high-end, valuable content in a simple way – NOT basic, you-can-find-this-stuff-everywhere-on-the-Internet material.
This course offers next level stuff! These are SEO strategies anyone can confidently apply and understand. I finally felt confident that I could master this SEO thing! The results within just a few months were nothing short of amazing!"
Audrey Marshall with Mommy Enlightened:
"I am also happy that I invested in Stupid Simple SEO from Mike. I purchased it somewhat on a whim, as I needed an SEO course and heard good things about it. I think the stuff taught in his course includes information that you can't learn anywhere else (the same can't be said about most other courses) and it was well worth the cost.
Mike goes in depth about how to research your competitors in a unique way that really works. It's very thorough, easy to understand, and actionable. If you want to learn the correct way to do SEO, I definitely recommend it. I was seeing organic growth and getting hits from Google within a few months of implementing what he taught. I'm still a fairly new blogger so it's very exciting."
Related: Stupid Simple SEO Review: Is It Worth Buying?
Pinterest Strategies & Traffic
If you're looking for quick traffic to your brand new blog, then Pinterest is the place to start. But as with anything else, establishing a strong Pinterest account takes time and strategy. If you're new to Pinterest or you've just not seen amazing results using it, consider enrolling in any one of these online courses to learn more.
Pinteresting Strategies Course
Myrtle Marie with DIY with My Guy:
"Pinteresting Strategies by Carly was the blogging resource I purchased for my blog, other than taking the leap to buy my host and domain. I am very frugal, so I shied away from all the expensive courses that promise to make a blog successful quickly.
When I started blogging, I already knew it could never be an overnight success. Blogging is like a marathon; it takes hard work and time to reap the rewards.
Carly's Pinterest course was very affordable, and it had high reviews. She has gone above and beyond for her Pinterest Strategies students, and she is always HONEST! Not once has she ever exuded "salesy" behavior. I respect that, so I bought the course.
She explains Pinterest in a way that people can relate to. Using Carly's strategies is what helped my traffic go from hundreds to thousands of visitors to my blog from Pinterest alone."
Mandy Green with Motherhood Maniac:
"The best blogging resource I've purchased was Carly's Pinteresting Strategies Course. I had read so many reviews on other courses but since Carly was in the same niche as I am, I felt it was the best fit. Plus, it was so much more affordable than other courses I was looking at.
In fewer than three weeks my blog traffic increased 250% consistently since implementing the strategy. It's now been fewer than three months since I launched and have received 15,000 page views a month and I now am able to apply to a premium ad service.
I would tell anyone who is looking to grow their blog traffic and get a handle on Pinterest to buy this course! The price is so affordable and the concepts are easy to follow."
Stormy Stevenson with Fun Thrifty Mom:
"One of the best purchases I've ever made was Carly's Pinteresting Strategies course. It was THE product that made my traffic go from nonexistent to skyrocketing. I was able to get onto Mediavine (a high-paying ad network) within three weeks! I used the same strategy to get two additional blogs onto Mediavine each within a month or two."
Pinterest Traffic Avalanche
Toya Clercent with Meraadi:
"One of my favorite resources for blogging is the course Pinterest Traffic Avalanche. Although I hesitated for quite a while before buying this course, I finally did and it has helped me a lot.
I was able to drive a ton of traffic to my blog in fewer than three months and joined Mediavine by my 4th month blogging with more than 300,000 page views. Since then, I've had very steady traffic from Pinterest. The information in the course is awesome if you're trying to drive traffic from Pinterest."
Pin for Profits course
Mariam Tsaturyan with Freelance and Marketing:
"One of the best resource purchases I made was the Pin for Profits course by McKizie Bean. This Pinterest course was simply phenomenal. It taught me very actionable steps in a clear and concise manner.
I was able to follow along and increase my monthly views in fewer than 45 days from 234 to 46,000. You get a lot of information in one course and can put the material to use right away. I loved it and definitely recommend this to anyone who wants to learn how to use Pinterest to help their blog or website."
Related: 100 Personal Finance Blog Name Ideas
Pinterest Launchplan
Virginia Nakitari with Earn Smart Online Class:
"I purchased The Pinterest Launchplan course in December 2018. I mean, my page views have been rising the past few months but this one blew me away. I had 90,000 page views that December but after implementing a few of the strategies mentioned, I have 140,000 page views in January. I moved from 3,000 page views per day to 7,000+ per day with The Pinterest Launchplan."
All-Inclusive Strategies
If you're looking for an online course that covers all aspects of blogging, then these courses are for you. They are also complete with interactive blogging communities to help you through your journey as a new (or seasoned) blogger.
Dare To Conquer
Shannon with Natural Baby Mama:
"The biggest blog investment I made was Dare to Conquer. Prior to this, I hadn't invested money in an e-course and I'm sorry I waited so long. There were multiple recommendations for the program online and I just decided to take a leap of faith and jump in!
I'm still in the process of taking all of the courses, but the knowledge I am gaining is tremendous. There is also great support for any questions that come up. I know that my numbers will increase as I implement all these changes.
If you feel like your overall blogging knowledge, content, Pinterest, and SEO are not at the top of their game, then you should invest this money in the course. It will pay for itself shortly!"
EBA
Carly with Mommy on Purpose:
"It is SO HARD to pick just one recommendation. MANY of the courses I have taken have been very worth it. I'm going to say that EBA was my best blogging resource since it's the first course I bought and the thing that I credit overall with my success.
What "convinced" me to purchase it was honestly Amy Lynn Andrews' pretty tough review on it. She said it wasn't for beginners. I said – well, that's what I want because I am NOT going to let this blogging journey take me four years to learn. So bring on "not for beginners!"
To anyone else considering buying it, I would just say that it is truly a lot of work and it is not the end all be all course. But it IS a very very excellent course. IF you do the things it teaches, you WILL see growth."
Monetization
No amount of traffic is worthwhile if your blog is not properly monetized. Consider an ebook that teaches how to monetize your blog posts and create passive income for life.
Affiliate Marketing For Bloggers
Trinity with The Pay At Home Parent (that's me!):
I purchased Carly's Affiliate Marketing for Bloggers course and was immediately impressed with her teaching style and examples. Instead of using the oversaturated "blogging about blogging" examples that so many bloggers teach with, Carly crafts her course around the "mom blog" niche and her personal examples that have helped her earn more than $10,000 per month.
Why is her teaching style and marketing strategy so important? Because she's teaching a technique that stands true outside of the "blogging about blogging" niche. New bloggers get entrapped in the idea that blogging about blogging is the only way to make money online, but that can't be further from the truth.
Consider learning a strategy that works apart from blogging about blogging and give Carly's amazing course a try!
Niche Post Conversion Strategies
Debbie Gartner with The Flooring Girl:
"The smartest blogging resource I bought was Jennifer Ledbetter's ebook Niche Post Conversion Strategies for Amazon Affiliates. Absolutely amazing. It made a HUGE difference for me and paid for itself within two weeks. I currently earn $3,500 per month as an Amazon affiliate and this book is one of the key reasons. It is a must read in my opinion.
Jennifer's sales page convinced me to purchase the ebook as it had real results for just one post. That post reminded me of a similar post I had written where I was making $100 per month. Then, a month or so later, that became $300. And only a month after that, $400. I've since replicated this strategy on several other posts.
The results speak for themselves and it's very reasonably priced so you really have nothing to lose."
Related: 100 Travel Blog Name Ideas
Social Networking
"One of the best resources for bloggers you can benefit from is a paid mastermind group/private coaching. While discussions in Facebook groups are helpful, it can be more beneficial to connect with others at the same place you are at. You give and you get. The moderator helps everyone stay focused and provides their expert help as well.
If someone wants to join one, do your research. Make sure the person has enough longevity and social proof for you to know they will be helpful. Someone with a year or two of experience may work okay, but when you can connect with someone who has done this for longer than that, you will get the benefit of their experience."
Email Marketing
It's important to grow and nurture an email list if you hope to build, brand, and retain your readership. These email marketing courses can help you build a successful email list.
Jennifer Maker Marx's List Love Course
Jen Koellmann with Hairs Out of Place:
"I have many amazing courses in my blogging library I haven't worked through yet, but the #1 resource that's had the biggest impact for me recently is Jennifer Maker Marx's List Love Course.
Since implementing some of her strategies in the last week of 2018, my email list has been growing by more than 200 new subscribers per week. It has seriously blown me away.
What convinced me to buy it was other reviews of it showing results. Additionally, I love that Jennifer's main focus is her craft business and not the blogging niche. I believe that alone makes it more relatable.
If you're struggling with creating opt-ins, writing email sequences, and developing a connection with your readers, I highly recommend investing in List Love!"
The One Funnel Away Challenge through Clickfunnels
Deja Cronley with Blogging Enthusiast:
"The One Funnel Away Challenge through Clickfunnels is my most valuable blogging resource.
I happened to see a new book by Russel Brunson (the founder of Clickfunnels) about what people who have earned more than $1,000,000 in their businesses would do in the first 30 days if they lost all their money. The challenge was an upsell and I'm so glad I invested in it.
The course goes through everything you need to do to start and build a business like brainstorming, researching, building a storyline, list building, audience engagement, gaining traffic, and so much more.
I could've saved myself a lot of time and money by just taking this course to learn 90% of what is needed to grow a blog and business."
Blog Automating Tools
By investing in blogging tools, you can spend more time doing what makes you money and less time on the things that should be put on autopilot.
ConvertKit
Keyona Grant with Professional Momma:
"I originally started building my email list with MailChimp. It was nice in the beginning but extremely slow. As I started visiting other blogs I realized that the bloggers who were able to get me to sign up for their lists were all using ConvertKit.
I loved the forms they were using and their ability to customize them. I wasn't able to do that with MailChimp. I'm serious about my business and knew it was time to take my email list building to the next level.
When you're just starting out in the blogging world, it's hard to know where to actually invest your money. Free funnel builders are attractive but sometimes you truly get what you pay for. My list has grown tremendously while using ConvertKit and my engagement with my subscribers has increased substantially.
Its customer service is outstanding and the company wants you to succeed. It is always conducting webinars teaching you what works and what doesn't while providing you with additional tools to succeed. My only regret is not switching sooner."
Try ConvertKit for FREE and see if you love it, too
Tailwind
Sharon McCaskill with TheHelpfulGF:
"One of the monetary investments I made in my blog was paying for an annual subscription to Tailwind giving me unlimited daily pins! A few fellow bloggers who get great Pinterest traffic assured me it would be worthwhile.
It worked! Once I started queueing around 45 pins a day (instead of 15-20) my blog traffic from Pinterest more than doubled!
As a beginner blogger who wasn't earning income consistently, I was hesitant to spend the annual subscription to Tailwind. However, it was well worth it for my blog. Plus, it will save me money overall!"
Saranya Ramanathan with One Fine Wallet:
"Tailwind! An underestimated and often questioned blogging tool that has contributed a lot to my blog's success. It's one blogging resource I don't regret paying for and never will.
Tailwind has way more features than just scheduling pins in automation. It's also given me more time to create blog content."
Interact
"The best blogging resource I use is Interact. I love using quizzes to generate leads so much that I'm writing an academic paper on the topic.
I was drawn to quizzes because of their powerful conversion rate. Interact is the best platform for that with plenty of integrations. If BuzzFeed could do it, so could I. I read some articles on the topic first and then dove right in.
I find that quizzes convert extraordinarily well if done right. It also helps with learning the different segments within your audience and can even help with content creation ideas. Interact as super valuable insights and analytics as well!"
Post Gopher
Tonia Kendrick with Solopreneur Diaries:
"One of the best resources for bloggers is the Post Gopher plugin. Post Gopher puts a button on your blog posts that allows people to download the post as a PDF by opting into your email list.
Essentially, Post Gopher turns every blog post into a content upgrade. I saw it being used on a couple of other sites and I was intrigued. It's inexpensive, so I decided to try it out. I have been BLOWN AWAY by how many people opt-in to my email list in order to receive a PDF of the blog post.
25% of my email subscribers have opted in via this button. If you are struggling to grow your email list, or even if you just want a quick and easy way to add new content upgrades, then you should definitely check out Post Gopher."
WP Rocket
Emilia Lewis with Grow Blog Grow:
"One blog purchase I made recently that has made a world of difference was the caching plugin WP Rocket. Site speed is really important for SEO and user experience. In fact, one study even found that up to 40% of your potential audience would leave if your site took longer than 3 seconds to load.
Before WP Rocket, I was struggling with managing multiple plugins trying to address different issues identified by Google's PageSpeed Insights. With WP Rocket, I fixed all the issues with a single plugin. I now have a perfect score on Desktop and a nearly perfect score for Mobile (which is really hard to achieve)."
Bluchic Landing Pages
Dale with Blogging Her Way:
"Landing page templates from Bluchic have proven to be some of the best blog resources. I was able to set up flawless landing pages for my opt-ins, tripwire pages, and sales pages for my products in just a few hours and they convert so well!
I was frustrated because the sales page for my ebook was not converting that well and I wanted something more professional. I now have an over 5% conversion rate on my sales pages and an even higher conversion rates for my opt-in landing pages!
If you're at the stage in your blogging business where you have multiple opt-ins and you're launching products, then you need these templates to save you time and create beautiful, professional looking landing pages!"
Related: 100 Fitness Blog Name Ideas
Blog Aesthetics
There is nothing more offputting than visiting a blog that looks unprofessional or hard to read. Make sure to invest in your blog's aesthetics so that your readers will be excited to come back for more.
Theme
Natalie with Full Green Life:
"The very best investment I have made for my blog has been the purchase of my Restored 316 WordPress theme. I wasn't sure about spending money on my blog before I was earning much money, but I really began to notice that many of the bloggers that I followed used Restored316 themes, so I took the plunge.
As soon as I invested in a theme for my blog, my subscribers and traffic took off. I think having a beautiful, customized theme is important if you want to monetize. Also, the support provided by the owner, Lauren Gaige, and her team is incredible. I can't recommend their themes enough!"
Stock Images
McKinzie Bean with Moms Make Cents:
"One of the first purchases that I ever made for my blog was premium stock photos. This helped my brand look more established and professional even when I was brand new.
I got compliments from some "bigger" bloggers on my Pinterest graphics and the quality and they went along to share my posts. This gave me a huge boost in traffic when I first started.
I would recommend that new bloggers bite the bullet and grab some paid stock photos. Sites like Deposit Photos, The Styled Stock Society, and Ivory Mix have great purchase options even if you have a small budget!"
Bryn Connor with I Should Have Said:
"One of the best blogging resources is quality photos from Shutterstock and Deposit Photos. The amazing pictures really leveled up the look of my blog and helped me stand out on Pinterest. Having great pictures for Pinterest attracted more people to my blog, and I now get around 30 followers a day."
Logo
Building a brand goes hand in hand with building your blog. In order to gain traction in your niche and become an authoritative source, it all starts with branding your business. Recently I invested in a professionally designed logo from Correy Connects.

Sure, I had my website set up, my colors chosen (or so I thought) and a DIY logo slapped together; but it wasn't good enough. Building a brand starts with choosing a memorable logo that stands out in an ocean of others.
Thrive Architect
Sathya Narayana Singh. J. with Live Osumly:
"In my case, the best blog resource would be the Thrive Architect. It helped me to build my posts as I wish. I would recommend Thrive Architect to people who focus on mobile-friendly posts (it's a must now for a site to be mobile-friendly as an average of more than 80 percent of any site traffic is bound to mobiles)."
Blogging Services
Perhaps you've learned all you need to know but simply don't have enough time to implement it all yourself. As a blog grows, it's common to hire service providers to help you keep up with everyday tasks.
Freelance
As a successful blogger, you'll soon find yourself in a position where doing everything yourself is nearly impossible. As one person, you can only exert so much time and effort into your business. Perhaps hiring freelance writers, social media marketers, or VAs is your next step.
This is where networking becomes imperative. Either pay the price and hire freelancers through a trusted platform like Upwork or Fivver (noting each freelancer's experience and reviews) or build relationships with freelancers in blogging Facebook groups.
Upon finding freelancers who understand your niche and your blog's mission, your income can break the ceiling once set and take you to the next level of blogging success.
Related: Best Jobs for Stay at Home Moms
SEO
Thomas Blake with This Online World:
"The best investment I have made into my blog is to hire a Fiverr WordPress speed and SEO specialist to help improve my website speed and performance.
For about $50, this specialist helped remove a lot of bloat from my blog, install useful plugins, fix Javascript errors, and more. The end result was a 10-15 point increase across most website metrics on Google Page Speed for both desktop and mobile.
I was convinced to purchase this service when I realized that it would take me several hours to learn everything I needed to do to somewhat improve my website speed. I realized that those hours could be better served by writing content or marketing my blog.
I would recommend that other bloggers take a 'work smart, not hard' approach and outsource tasks that will be too time-consuming so they can focus on the fundamentals of their blog!"
Helpful Blogging Products
It doesn't take much more than a laptop and reliable internet connection to run a successful blog. But these blogging products are the next step to making your life as a blogger easier.
Xiaomi A2 Phone
Laura-Lee Bowers with LaLee Lifestyle:
"Everyone knows that their visuals (which rep their brand) need to be stellar. Given that my blog is more geared toward being a personal brand than a conglomerate of informative articles, I need to be taking and creating stellar visuals myself. I also need to be constantly posting high-quality content to social media on the go.
My absolute best purchase was the Xiaomi A2 phone. It's a Chinese company that is taking on Apple. For around $200 I have a mobile device running Google's latest operating system (with the best editing suite I've seen), that takes 20-megapixel photos on both front and back cameras, and shoots video in 4k. Add to this that it takes these wonderful, DSLR look-alike photos, with this dual camera "portrait mode" style option.
We just recently bought the Gimbal Stabilizer by Xiaomi and have leveled up our videos to look like they were taken with a $10,000 camera.
If buying a $3-10,000 camera is not in the budget, and you need a good mobile device to run around with, check out Xiaomi. After a life, and 8+ devices, of dedicated to Apple, I've jumped ship and could not be happier! Give it a go!"
Laptop Add-ons
Kay with Paws and Pines:
"I invested in the Apple Magic Trackpad and the Apple Magic Keyboard. I have the new Macbook and its keys are so frustrating. If any little speck of dirt gets under the key, the key feels jammed and makes for a lot of spelling errors.
I was putting off purchasing them because they seemed so redundant to the built-in ones, but the horrible typing experience was making for a horrible blogging experience. I'd say if the Apple built-in keyboard is frustrating you too, make the purchase! Since getting the keyboard I've written a lot more efficiently."
Sometimes You Need to Spend Money to Make Money
It may be tiring reading about all of the blogging resources you could possibly buy. But know that blogging is a process and not an overnight success venture. If you take the time to invest in your blog and learn all you can as you go, blogging will become far easier as time goes on.
If you're in a bind for money, then blogging for money alone is not the way to go. Consider offering a service alongside your blog in order to earn money quicker.
When it comes to blogging, don't feel overwhelmed and think you need to purchase everything on this list. Instead, choose one area that your blog needs help with and start there. You can always come back and invest more money into your blog once you've earned money to pay for the last blog resource you purchased.
Do you agree that you need to spend money to make money on your blog?
Related: Best Side Hustles for Men