How to Get Paid to Drink Wine and Test Alcohol
The best vacation spot I can imagine is lounging in the sun with a glass of wine in hand just listening to the peace and stillness of nature. Wine brings enjoyment and has a flavor that is unique in every bottle. I've often wondered if there is a way I can get paid to drink wine.
When I can't get to that vacation spot, wine at home is the next best thing. Usually, I like to enjoy it after the kids have gone to bed. On other occasions, I like to visit new wineries around and try their wines. The whole wine tasting experience is fun, and I like to learn about different wines in the process.
If you are someone like me who enjoys wine, then keep reading to find out how to become a wine taster. Wine can get expensive at times. So it's always nice to find ways to get paid to drink wine at home or even get a discount on wine products.
Our Popular Money-Making Offers
Sign up with each of the following companies to maximize your earning potential.
$10 sign-up bonus
Pays to take surveys, complete offers, shop online, and much more
100s of other paid tasks
Awards cash and gift cards
$5 sign-up bonus
Pays to play games, watch videos, answer polls, and much more
100s of other paid tasks
Awards cash and gift cards
8 Ways to Get Paid to Drink Wine
There are numerous ways to get paid to test alcohol. Check out these wine taster jobs that feel like vacation and start earning money doing something you love.
1. Get Cash Back on Your Wine Purchases
Cash back opportunities work in a way where you get money back on a purchase you've already made. Essentially, you receive back part of the money you used to purchase that product in the first place.
Ibotta is a top cash back app that many use to get money back on their groceries. Wine is sold at grocery stores, and Ibotta offers cash back on many of those wine purchases. Currently, you can get up to $8 cash back on wine.
Rakuten is an online platform that offers cash back on everyday purchases. Wine and other wine products are available for up to 10% cash back and even $44+ back on wine subscriptions.
Learn about Ibotta vs Rakuten and how to make the most money.
2. Become a Wine Review Blogger
Become a blogger and publish posts about wines that you review. You can get paid to blog about whatever you want. As long as there is an audience for it, you can write about it.
Easily start your own blog and dedicate it to being all about wine. The content you create can be in the form of reviews for wines, experiences with different wineries, and how others can incorporate wine into their lives.
Make money from your wine blog as an affiliate for wine products, or get sponsored by wineries.
Related: How to Get Paid to Drink Beer
3. Get a Wine Tasting Job
There are companies out there that post opportunities for wine taster jobs. Companies like Pinecone Research and Opinion Outpost pay members to review products such as wine.
Pinecone Research is a members-only site that pays for testing and reviewing products. You'll need to apply to this site to see if a wine tasting opportunity is available.
Opinion Outpost is another product testing company that pays its members to provide reviews of various products, including drinks and food. Opportunities to join become available regularly.
There is no guarantee that a wine tasting job will be available. However, you can still sign up to watch for those opportunities. Here is more information on how you can become a product reviewer.
4. Publish Wine Recipes
When people need some inspiration on dinner recipes or special holiday recipes, they flock to the internet to search for the latest recipes. If you've noticed, there aren't quite as many recipes dedicated solely to wine.
This is a huge opportunity for you to publish wine recipes and monetize your own site. Experiment with different flavors and come up with some great recipes. Here is how you can start a business website.
Related: Get Paid for Your Ideas
5. Become a Wine Influencer on Instagram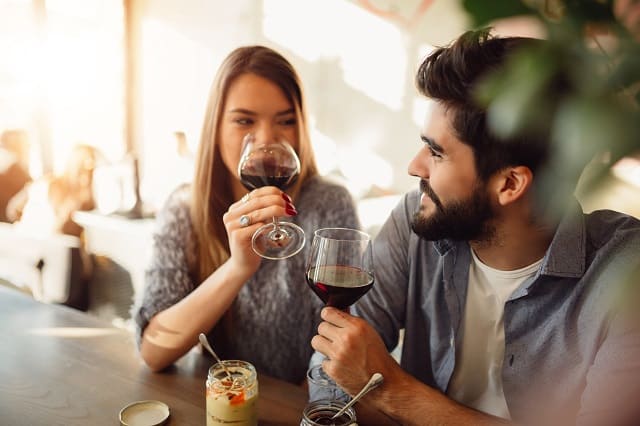 Instagram is a social platform that users visit for visual searching. It is similar to blogging, but you don't have to have the full website. Upload your pictures, write descriptive information about them, and build a following.
Your content can be about wine tasting, visiting wineries, and new wine products that you try. While Instagram doesn't allow direct linking to wine companies in your posts, you can get paid brand sponsorships.
If you grow your following to a higher level, Instagram does offer a feature to use in your "stories" where viewers can swipe up and see the links to the products you feature.
Related: Get Paid to Test Clothes
6. Start a YouTube Channel for Wine Lovers
Pop that cork and record your review on camera to share with a YouTube audience. Start your own YouTube channel specifically for all things wine-related and monetize it with ads, affiliate links, or paid sponsorships. What better way to make money wine tasting than on video for others to see?
Related: How to Get Paid to Share Links
7. Become a Wine and Liquor Store Auditor
Similar to mystery shopping, a liquor store auditor goes into gas stations, grocery stores, and liquor stores to ensure that the employees are requesting I.D. when purchasing wine. Find auditor positions with companies like BestMark and get paid to test alcohol retailers.
8. Become a Wine Guide with Traveling Vineyard
Traveling Vineyard offers wine guide positions that share about the wine business. The business offers virtual wine tastings that bring together customers and guides to sit and taste wine together. The wine guide hosts the event educating customers about the different flavors and then places orders for customers.
Related: How to Get Paid to Read Books
5 Wine Affiliate Programs You Can Join for Free
If you find a product that you like and refer someone else to buy it, that is affiliate marketing. The best part about affiliate marketing is that you can actually make a commission on the sales you refer others to buy.
These programs pay you to recommend their wine products online:
Tips to Make The Most Money by Testing Wine
All of the methods listed here are great ways to get paid to drink wine. However, there are some things to consider in order to make the most money and be successful in the wine tasting industry.
1. Taste Before You Recommend (and Be Honest)
There is nothing worse than recommending a wine or wine product that you've never tried just to make a commission. Your followers will know the difference and eventually catch on, especially if the products you refer to them are terrible.
Get that first-hand experience before telling others about it and you will have much better success getting paid to drink wine at home.
2. Create Gift Lists of Your Favorite Wines
Wine makes a great gift for nearly any occasion. Make gift lists of your favorites that others can use when they are looking for that special gift for others. Write the wine brand along with a detailed description so your audience knows which one to choose.
Related: The Best Gifts for Working Moms
3. Write In-Depth Reviews
It's all in the details! Write out every part of your experience with the wine or wine product. From the flavors to the bottle design down to the glass charms, every detail matters in your reviews.
You want to sell the product to your audience and keep them coming back to you for more. Don't lose them with a small, unhelpful review. Make it knowledgeable and from first-hand experience.
Additionally, it's okay to write negative reviews, too. These reviews are honest and helpful to your readers. Plus, they present the opportunity for you to share your favorite alternatives for a commission.
4. Don't Be Afraid to Try New Wines
New wines, wineries, and wine products pop up frequently. Don't be afraid to try them out and experience something new. Your audience will be thankful for refreshing information and you might even find the next big hit just for exploring outside of your comfort zone.
Related: Get Paid to Visit Theme Parks
Get Your Wine Paid for as an Alcohol Tester
With wine being such a fun hobby, it's no wonder others try to think of how to make money drinking wine. It's refreshing, flavorful, and a whole experience to indulge in. Why not get paid to drink wine?
From blogging to Instagram influencing to affiliate marketing, there are plenty of ways you can get paid to drink wine at home. Invite friends over and taste wine together for even more fun.
Tasting wine might not replace your full-time income right away, but you can definitely build a small business from it. Try out multiple ways from this list to get paid to drink wine and increase your income stream.
Related: Best Jobs for Lazy People
---