How to Make Money Online for Free (Zero Startup Costs)
You've probably seen countless ads telling you how easy it is to make money online for free. However, what they don't tell you about is some of the hidden start-up costs that come with it. Then you really start to wonder if there is a possibility to make money online without paying anything first.
Regardless of your reason for wanting to learn how to make money online for free, there are several options to consider. For me, it was about bringing in the extra cash to support my family. It doesn't hurt that some of the ways listed here also pad my savings account.
Learn how you can truly make money online for free. It takes work, but if you are serious about it, then you can be successful. Starting out means you are going to have to do much of the heavy lifting yourself before you can invest in your business.
When I first started my business, I chose to do it for free. So I've decided to teach you how to get started, too. Take a look at these tried and true ways to make money online with zero investment.
Our Popular Money-Making Offers
Sign up with each of the following companies to maximize your earning potential.
$10 sign-up bonus
Pays to take surveys, complete offers, shop online, and much more
100s of other paid tasks
Awards cash and gift cards
$5 sign-up bonus
Pays to play games, watch videos, answer polls, and much more
100s of other paid tasks
Awards cash and gift cards
15+ Real Ways to Make Money from Home for Free
This guide will show you what kind of jobs are out there that actually do allow you to make money online for free. Some jobs will require more work than others, but they all promise a payout with no investment.
1. Take Online Surveys
Taking high paying surveys is a great way to fill the extra time in your day with some free money-making opportunities. Sign up online to various survey companies and start answering the questions in the surveys.
Join Opinion Outpost and start taking surveys for money. It's one of the most well-known, highest paying sites that offers plenty of opportunties to earn money for free.
Each completed survey will profit a certain amount and will vary from survey to survey. Here is a guide to starting your account and making the most money with surveys.
Related: Opinion Outpost Review
2. Upload Receipts
Getting paid to upload receipts is as simple as taking a picture of your receipt after making a trip to the grocery store. You can make money off of the money you spent on necessities.
There are many free platforms available that pay you to shop. Some can pay up to a dollar back on a gallon of milk while others might pay $2 for purchasing bread. Many sites pay based on a percentage of your entire shopping trip. To get started, set up a free account with Ibotta and start earning money in exchange for your receipts.
Related: Ibotta Review
3. Answer Phone Calls
From answering telemarketing calls to customer service and even virtual sales, answering phone calls is a free way to make money online. The pay for phone answering jobs will vary, but there is potential to make a full-time income with zero investment upfront as long as you already own a phone.
One interesting way that real people are earning money for free is by tracking down companies that make illegal robocalls. There are strict laws on which companies can call your cell phone using an automatic dialer, and you could be owed up to $1,500 per illegal call you receive if you are on the National Do Not Call Registry.
Once you've received an illegal call and identified the company, you can then send a robocall demand letter for money.
4. Sell Your Pictures on Stock Photography Sites
Taking your own pictures and then selling them on various stock photo websites is a great way to earn money online for free. From wildlife and landscape pictures to family pictures to food photos and more, stock photos are needed for just about every business.
You can start with platforms like EyeEm and the Foap App, and then later move your images to higher paying sites like Shutterstock once you've gained more experience. Different sites will offer varying payment amounts for your photos.
5. Review Products
Use products you love and get paid to provide your feedback about them. Some businesses can pay up to $25 for a single feedback form while others simply pay in free product.
Ipsos iSay offers consumers the opportunity to earn money for free by taking surveys about the products they use. You can earn rewards like free gift cards or PayPal cash by sharing your opinion on the platform.
Ipsos i-Say conducts online surveys to learn about your experiences with certain products and services. Participation in some surveys may even qualify you to be a product tester!
Related: How to Become a Secret Shopper
6. Watch Commercials
Watch commercials and ads from your phone and easily make money online for free. From a few cents up to a few dollars per commercial, watching commercials can add up quickly. There are various ways you can get paid by watching commercials.
InboxDollars is one such company that offers paid ad opportunities. You can set your phone up to stream commercials while you fold laundry or put the dishes away and earn some easy cash. Or you can peruse the paid offers section and earn much more free money for taking action on the offers that look appealing to you.
Related: How to Get Paid to Post Ads
7. Read Emails
Reading emails is a simple way to make money because it involves doing what you already do each day, which is checking your inbox. Spend a few minutes reading emails daily and accumulate more money.
Kashkick emails have been appealing these days. Each email presents an offer (many of which are free) that pays you to take action. If you don't like the offer, just skip it. But if the free offer looks intriguing, consider completing it to get free money now.
8. Play Games
Test out new games on the market with a free account to platforms that pay real money for playing games. Earn points that can be turned into cash after each game you play. Accumulate enough credit in your account and then request PayPal cash or a Visa gift card.
Mistplay is a popular rewards app for smartphone gamers. There are hundreds of games that can be downloaded for free, and you can earn units toward free Visa gift cards for the time you spend playing. Since the app works only on Android devices, iOS users will need to consider other apps like Mistplay in order to start earning money for free.
Related: How to Exchange Visa Gift Cards for Cash
Services You Can Offer to Make Money Online for Free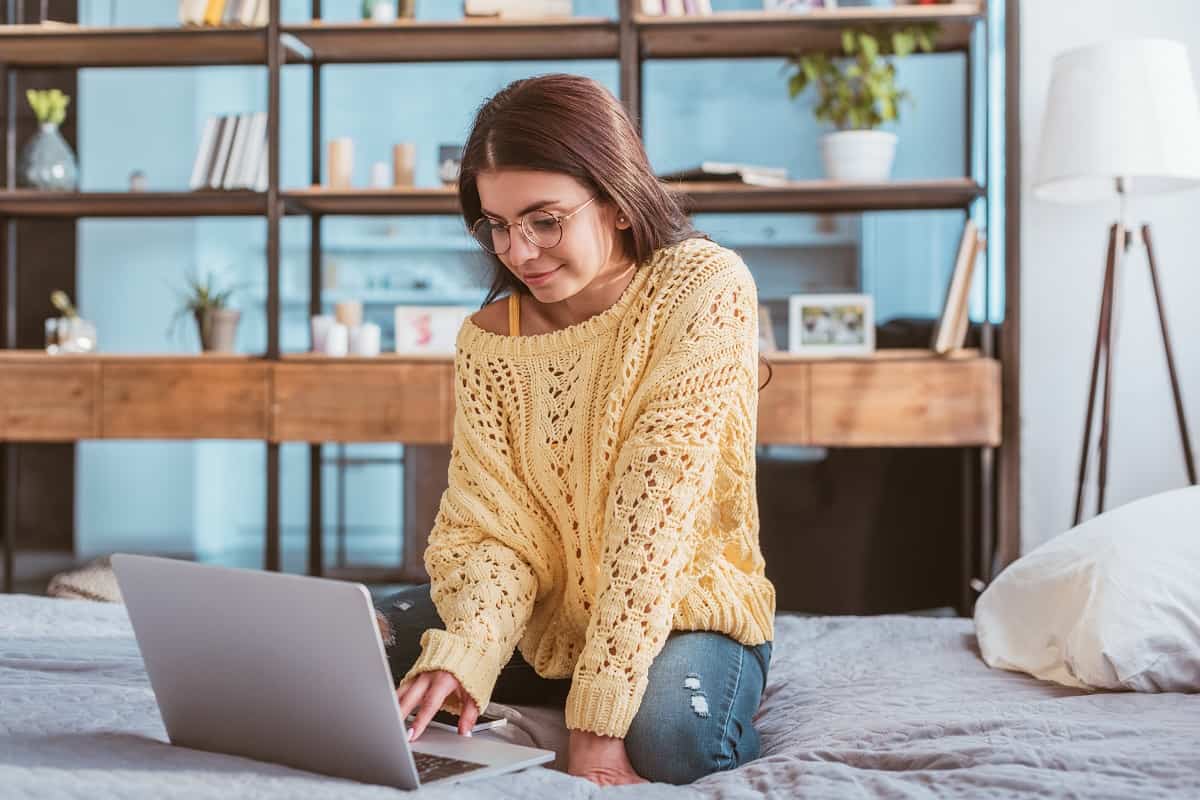 Offering a service can generate a higher income amount depending on what you can do. Start your own service business and make money online with no startup cost.
9. Become a Freelance Writer
Freelance writing essentially is writing for someone else and getting paid for it. The topics are endless and there is always an audience for something. New freelance writers won't make as much as a seasoned writer. However, this can easily replace a full-time job.
To become a freelance writer, you will need to choose a topic where you can demonstrate authority and in-depth knowledge, network with potential clients, and exercise professional writing skills.
Setting up a freelance writting portfolio is a great place to get started making money online for free. Start on a free platform like Medium or Muck Rack to get your work published for potential clients to see.
Related: How to Make $5,000 Fast
10. Become an Online Proofreader
Proofreading for publications, websites, or other businesses is a great way to make money online. If you're great at catching spelling and grammar errors, proofreading can be a fit for you. Experienced proofreaders have been known to make at least six figures.
It's not easy to become a proofreader if you do not have a natural skill for catching errors. It can take many hours to labor over a single piece, combing through for mistakes and comparing your corrections to an official guide like The Chicago Manual of Style. But over time, you can study style guides and learn to improve your proofreading speed to make even more money in a shorter amount of time.
Caitlin Pyle is a professional proofreader who has this online side hustle all figured out. She put together a free workshop to help aspiring proofreaders learn if this online job is right for them. Join the free Proofread Anywhere workshop and learn what it takes to get started.
11. Become a Virtual Marketing Coordinator
Virtual marketing coordinators put together marketing strategies for companies to implement for maximum exposure to the audience they are trying to attract. This converts into sales. The average starting salary for this service is around $45,000 per year, and it can grow based on the number of clients you service.
Marketing coordinators can specialize in social media strategies, local event planning, customer analysis, search engine optimization strategies, and much more. It's helpful to have a marketing degree or experience growing your own business before landing high-paying clients. To build your portfolio, consider working closely with a professional marketing coordinator and learning the skills as you go.
Related: How to Make Money with SEO
12. Become a Remote Photo Editor
As a photo editor, you can skip the local photography sessions and simply offer editing services to photographers, Instagram account holders, magazines, and other businesses that want to outsource this task.
It's easiest to jump into this opportunity to make money online for free when you already have photo editing skills, but it's not hard to learn them first if needed. Katie is a professional photo editor who earns more than $75,000 per year editing photos. She created The Photo Editor's Guide for those who are interested in learning the trade. She also shares an in-depth, free training video for aspiring photo editors.
13. Become a Virtual Assistant
There are many companies that seek to have a virtual assistant complete tasks for them such as checking emails, making appointments, logging expenses, answering phones, planning social media content, etc. Beginner virtual assistants charge around $20 an hour while more experienced assistants can charge up to $100 per hour.
Since there are hundreds of skills that can fall under the job title, it's relatively easy to become a virtual assistant with no experience. To get started, it's important to choose which niche you will serve and then hone in on the skills that you already have. You can later expand your service offerings to grow your clientele.
The most important part of becoming a virtual assistant is learning how to market yourself and establish relationships with ongoing clients. Learn from Fully Booked VA to see if this is right for you.
Online Business Ideas That Are Free to Start
Start a home business that is truly your passion and make money doing it. There are many ways you can start your own business and make money online without paying anything.
14. Flip Free Items Online
Similar to flipping houses, you can also buy cheap or find free items to flip online. Stroll through a flea market or garage sale and find cheap items you can fix up to turn for a profit.
The best way to make money online for free is to start by cleaning out your own closet, attic, garage, and shed. Find things that you can sell to make money and list them on Facebook Marketplace, Ebay, or other selling sites.
Books can be a lucrative item to flip. Some people report earning more than $20,000 within a single month flipping books online. You can try Zen Arbitrage for free to see if this opportunity is right for you. The system teaches you the strategies behind making great money by flipping books, and it gives you the tools to do it efficiently.
15. Start an Etsy Shop
Etsy is an online marketplace many people use to sell homemade goods and vintage items. Set up your own shop and sell things that matter to you. While there is no startup cost, there are fees after you sell each item. The cost comes out of your payment versus out of your pocket, so if you don't sell anything, you don't pay anything.
Related: Best Things to Sell on Etsy
16. Start a Consulting Business
There are many things you could be an expert in that others would benefit from learning about through you. Start your own consulting business and charge to teach others a new skill.
It's important to become an expert on the topic you wish to consult others on. That means taking time to learn the details and apply them yourself. Choose a specialty where you have experience from schooling or work in order to prove your abilities.
Related: How to Get Paid to Give Advice
Legit Startup Fees You Can Avoid Upfront
When there is a fee associated with starting a business, it can leave a bad taste in your mouth. Fees aren't necessarily scams, but if you're low on funds, you can find options that allow you to get started for free.
Here are some common fees that you can pay later when you're ready to grow your income stream.
Hosting fees. Website hosting platforms like WordPress charge for having a website with them. Instead of paying this fee, you can use a free portfolio site on Medium versus creating your own website.
Membership fees. There are many membership sites that require a paid monthly membership fee to give you exclusive access to job boards, such as FlexJobs. Consider using free job sites instead to cut the membership cost. You will need to do the legwork and research each position you wish to apply for to avoid falling for a potential scam.
Course fees. Learn a new skill by using free resources searching on the internet, watching YouTube videos, or downloading free guides. This can help eliminate the need to purchase a course. Once you know exactly what specialty you wish to pursue, and you've earned at least a small income, you can potentially invest in a course to learn more later.
Marketing fees. Instead of paying for ads, join free groups on Facebook or other social media platforms to advertise yourself and gain clients or customers there. Ask for referrals from people you've worked with before.
Related: Stay at Home Mom Jobs
Upfront Investment Can Make Your Income Grow Faster
Starting a business online can mean different things for everyone. Some choose to start because they need to make money quickly. So investing to make money daily isn't always an option at first.
While investing in an online business is a great way to grow a reliable income, if you're tight on money there are plenty of ways to still make money without paying anything. After you've started bringing in some money, you can reinvest it later into your business.
From answering calls to offering services and even starting an online shop, you can find the right way for you to make money online for free. Try out one or more of these ways listed here and watch your income grow.
Related: How to Make $50,000 in a Week