Survey Club Review: What You Should Know Before Signing Up
Try Bingo Cash, the ultimate bingo app for turning your skills into extra cash while enjoying colorful and engaging head-to-head matches. Win up to $83 per game and experience the classic bingo thrill in the comfort of your own home. Test your daubing skills and become a big winner today!
Bingo Cash™ is FREE to download and play! However, cash tournaments are not available in the following states: AZ, IA, LA, SC & WA.
Before signing up with any survey site, it's a good idea to check it out and see what it has to offer. It's also wise to ensure the sites will actually pay you for your time. I know there are many hesitations to signing up for sites like Survey Club because it almost sounds too good to be true.
The truth is there are actually several legitimate sites available where users can go to make extra money. Survey Club is one of those real sites. If you are looking to increase your monthly income with the pockets of free time you have, Survey Club might be exactly what you're looking for.
Survey Club is unique from other survey sites for various reasons. Learn all the ins and outs with this Survey Club review for you to make your own informed decision on whether or not to sign up with the company. You've got nothing to lose and so much to gain.
One of my favorite sites, Swagbucks, offers tons of ways to earn real cash online. If you're not already a member, give it a shot! Here are five things you can do to make easy money on the site:
Play games (up to $322 each)
Test apps (up to $150 each)
Submit receipts (easy cash)
Shop at your favorite stores (up to 10% back)
Answer surveys and polls (quick cash in minutes!)
Our Popular Free Guides
How to Start a Permanent Jewelry Business - If you are patient, have social skills, and love interacting with others, then a permanent jewelry business may be for you.
How to Become a Sleep Consultant - Help parents and babies, and be the difference for families worldwide who are desperate for more Zzzs in their life as a sleep consultant.
How to Become a Proofreader - There are five basic steps to working from home as a proofreader. As long as you're willing to put in the work, you can become a proofreader!
Survey Club Review Summary and Quick Facts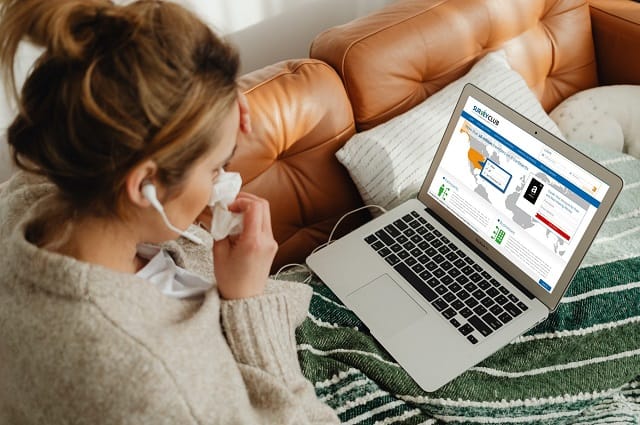 Founded in 2005, Survey Club has been a connection between companies and consumers to bring the best products and services to the public. The company helps respondents make extra money for participating in surveys online.
Survey Club Pros
Low minimum payout threshold
Available in several countries
Easy sign up process
Rewards you with actual money, not points
Survey Club Cons
Survey Club works as a middleman between you and other sites; you are often taken away from Survey Club and connected with another site to complete surveys
Qualifying questionnaires can be long
Long payout wait times
Potential to get many emails from sites connected with Survey Club
Survey Club BBB Rating
C+ (complaints from users mention participating in longer surveys, such as at home product testing, and then not getting paid for completing them when there was proof of completion).
Related: How to Become a Product Tester
What is Survey Club and How Does it Work?
Survey Club is a host for panelist participation in research based surveys. It posts surveys on the site and users decide if they want to participate in them. Once users select the survey, they are then taken to a separate site to complete the survey. Essentially, Survey Club is a recruiting platform.
The companies Survey Club works with involve market research companies. Survey Club connects those companies with panelists in order for that company to grow by inviting others (you) to their platform. Survey Club is then paid a fee from the companies for connecting engaged users to its site.
1. Sign Up for Survey Club
Use the free sign up feature to get started with Survey Club. You will be asked basic questions like your name, email address, physical address, phone number, and so on. It might sound intrusive, but this information actually helps Survey Club identify you for potential paid survey opportunities.
2. Create a Profile
Create your profile on the platform with additional information such as questions about your family, education, and income status. Once your profile is complete you can move on to exploring survey opportunities.
3. Get Started With Your First Survey
Finishing your profile means you'll then have access to a webpage where you can sign up for multiple research panels relevant to where you live. This is the part where Survey Club is the middleman and doesn't technically offer surveys itself. This webpage is the recruiting page where you can find money-making opportunities.
Sign up with the companies that interest you. Unfortunately, to be matched with higher earning surveys, you have to complete the sign up process for each company. It can be a tedious process, but if you are serious about earning more then the time you spend at the beginning connecting with all the sites can pay off in the long run.
Once you've finished with the sign ups, the next page will show you all the available surveys waiting for you to fill out. You can also filter out the surveys to be more specific to what you want to participate in such as clinical trials, taste tests, paid focus groups, etc.
When you've found the survey you want to take, you'll likely be prompted to take a pre-screening questionnaire to qualify you before you can begin the survey.
4. Earn Real Money
Unlike many other sites, Survey Club pays real cash instead of points. Earn between $0.50 and $5 per survey depending on the survey type.
Collect your money in your Survey Club rewards account and request a payout once you reach the payment threshold minimum. The threshold fluctuates between $20 and $25.
Related: How to Become a Respondent
KashKick is a great find for gig workers, offering many ways to make extra money doing what you enjoy. Try it out - it's free! Here are five easy ways to start earning money on the site:
Play games (up to $125 each)
Test apps (up to $125 each)
Buy lottery tickets (an easy $8)
Try popular brands (always changing)
Answer surveys (quick cash in minutes!)
Other Ways to Earn Money With Survey Club
Increase your earning potential with Survey Club with these other ways to earn:
Related: Lucky Day App Review
Survey Club Q&A
Take a look at what other potential Survey Club users are asking to get an even better understanding of the platform and how you can earn.
Is Survey Club Safe?
Yes, Survey Club is a safe site to use. It has been proven to pay users and has a C+ rating on the Better Business Bureau. While that might not be a very high score, it does speak to the credibility that it is a legitimate company.
Additionally, Survey Club has an anti-spam policy. Therefore, the third-party sites that you are taken to have agreed with Survey Club to not sell your personal information.
Related: iSurveyWorld Review
What are Survey Club Focus Groups?
The biggest way to make the most money on Survey Club is to participate in focus groups. Focus groups include:
Two way focus groups– Two focus groups watching one another before engaging in a discussion.
Dual moderator focus groups– Two moderators within the focus group who ensure progression of the session as well as ensuring the research topics are covered.
Dueling moderator focus groups– Two moderators who take opposing sides of an issue to entice discussions for the research.
Mini focus groups– Maximum of five survey takers in the group.
Respondent moderator focus groups– A survey taker is asked to become moderator for the group.
Teleconference focus groups– Focus group discussion takes place over the phone.
Client Participation focus groups– Client representatives participate in the group either anonymously or announced.
Online focus groups– Discussions take place over the internet.
Focus groups can last longer than one day. Some groups can pay between $50 and $200 per participant.
Related: Sites With the Best Sign Up Bonuses
What Countries is Survey Club Available In?
Survey Club is available in multiple countries. Currently, it is available to users over the age of 13 who reside in the United States, United Kingdom, Australia, or Canada. You'll need to join other international survey sites if you are outside of those countries.
Are There Any Survey Club Money Hacks to Earn More?
Simply put, don't waste your time taking surveys that won't pay very much. Notice the payout and consider how long the survey will take to complete. If the money isn't worth your time, then move on to something that will pay more.
You won't get rich with Survey Club. It's reasonable to consider that getting paid $1 for a survey is worth it in this type of atmosphere.
Related: How to Make the Most Money Taking Surveys
What Should I Do With the Survey Club Verification Email?
In order to proceed with the completion of your profile, you must confirm your email address. This will ensure you will receive access to the platform and you'll be updated through email communication regarding any changes to Survey Club.
Is There a Survey Club Referral Program?
Yes, there is a referral program. Currently, Survey Club pays $1 per referral who signs up using your unique referral code, up to five friends.
In addition, you can also become part of the affiliate program if you have your own website. You must apply for the affiliate program before you can start advertising on your website. Each affiliate is paid a commission percentage that is based on the number of sign ups received through their website.
Related: Best Places to Get Paid to Share Links
Survey Club Review in Conclusion
Taking surveys can be time consuming. However, if you find the right survey sites that pay real cash, your time may be well compensated. Let's be honest, most of us spend our free time looking at our phone anyways and don't get paid for it. We might as well get something out of it.
Survey Club is a legitimate site that safely connects survey takers to surveys through various methods. Users can choose the companies they want to partner with in addition to becoming part of focus groups. These opportunities are great ways to learn about new or evolving products and services that will soon hit the market.
If you don't mind spending a few minutes here and there answering some questions on your phone, then joining Survey Club might be perfect for you. There is no limit to how much you can earn. Take advantage of all the offers on the site and bring home some extra cash.
---