10 Best Paid Focus Groups to Join That Pay Well
We foster relationships with brands we use and trust. The testimonials on our site represent real experiences, but they don't guarantee you'll achieve similar results. When you make purchases through our links to our partners, we may earn a commission. Your support helps us continue this work. You can read our full disclosure here.
Being part of a focus group can be a fun learning experience. Getting paid for it makes it even more rewarding. I am thankful there are paid focus group opportunities that allow us to pad our wallets a bit more with extra cash while also gaining some new knowledge.
As someone who looks for opportunities to make money from home, I initially didn't have focus groups on my radar. I don't have anything against them; I simply didn't know there were so many focus group jobs out there. Additionally, I didn't realize their value to society until I really researched their benefits and noticed just how influential these groups can be.
Focus groups have a way of creating long-lasting impressions on each participant in both monetary ways and new perspectives. If you've been curious about them too, take a look at the different paid online focus groups that are available. It's encouraging to see just how much you can change the world one focus group at a time.
What is a Focus Group?
According to the University of Arizona, a focus group is defined as a group of individuals who have a common interest or characteristic that are grouped together with a moderator. This moderator provokes conversation about a certain topic among the participants. The moderator gains information about the topic at hand based on the responses from the participants.
It is a method that has been used since WWII. The type of information gained by the moderator can tell quite a bit of information about the audience and what their opinions are based on the information gathered during discussions.
Focus groups provide the opportunity for participants to learn from one another and hear differing opinions and perspectives. It can be a fun way to make some extra cash.
10 Companies That Pay You to Join Focus Groups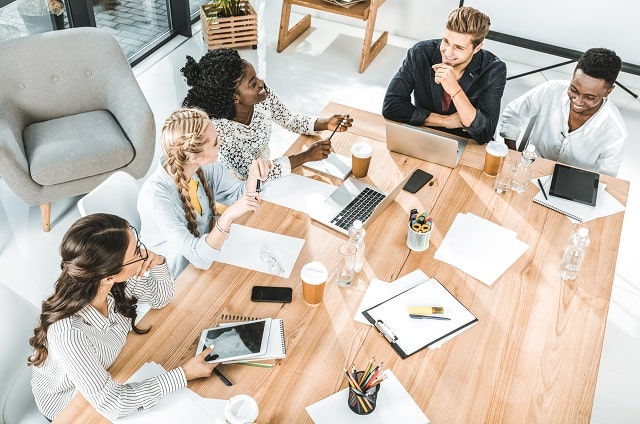 If you're wondering where you can find these paid focus groups, take a look at the companies listed here. Find your next opportunity to put money in your wallet while being part of the bigger picture.
1. Branded Surveys

Branded Surveys was previously known as Mint Vine and has been around for nearly a decade. It is a dedicated market research company. One of the ways it contributes to market research is through focus groups.
Members who claim their spot in the focus group are paid for the time they spend for the duration of the focus group. Branded Surveys pays members in points so depending on the length of time spent, the number of points you earn will vary.
Currently, there is no information on how often Branded Surveys offers focus group opportunities. However, if you sign up for a free account with this company, you can check for those opportunities as frequently as you want.
Related: Branded Surveys Review
2. Opinion Outpost

As a member of the Opinion Outpost site, you can collect points for sharing your opinions through opportunities like focus groups. These points can later be used toward rewards such as Amazon or PayPal.
The focus groups offered surround various topics, but they all have one goal in mind and that is to enhance market research. As a market research company, Opinion Outpost understands the importance of gathering the opinions of consumers. More importantly, it understands the value that comes with those opinions and pays participants well for their time.
Related: Opinion Outpost Review
3. Survey Junkie

Survey Junkie focuses on attitudinal research, which takes place in the form of focus groups. Members who participate do so in a completely voluntary manner. However, those who do volunteer must complete the task before getting paid. That means you are allowed to change your mind about participating, but you won't get paid if you don't finish.
Survey Junkie pays members in the form of points. Each focus group will be paid differently based on the length of the study. You can then redeem those points for rewards like gift cards to Walmart, Amazon, iTunes, or choose to get paid through PayPal or Bank Transfer.
Related: Survey Junkie Review
4. Survey Club

Survey Club is a recruitment platform that connects companies with consumers to complete tasks like focus groups. It lists the focus group opportunities on the platform and if you want to participate, you are then taken to the third party site to become a market research participant.
Survey Club offers focus group opportunities as a way to obtain qualitative research. That means the researcher gets to see the face-to-face reactions and responses of the respondents. These focus groups are essential in helping companies gain deeper insight into the new products they are creating before they go on the market.
Survey Club offers eight different types of focus groups. Some have lasted for more than one day. If you complete the study, you will be rewarded in cash that can be transferred into gift cards to places like Amazon.
5. Respondent.io
Respondent.io is a platform that businesses use to recruit consumers to participate in interviews, also known as focus groups. This helps businesses get a better understanding of their audience in the B2B and B2C world. Members who participate as a market research respondent are verified business professionals with actual work experience.
Respondents get paid after each interview through PayPal. Respondents are rewarded 5% of the initial incentive amount paid by the business.
Related: Respondent.io Review
6. SpringBoard America
Springboard America is a top market research platform that offers focus group opportunities. It pays participants more for the time and effort they put into each focus group. If you are a valuable participant, you'll have a better chance of being offered more focus group opportunities with Springboard America.
As a participant, you get paid in points for completing the study. Those points can be turned into gift cards to various retailers and entries into sweepstakes for larger prizes. It is free to join the platform and start earning for your opinion.
7. Ipsos i-Say
Ipsos iSay is rumored to offer paid focus groups, but it's more known for market research surveys. It is a global market research firm that thrives on feedback from users who share their opinions about products and services. You can use this site to make extra cash by sharing your opinions.
Create a free account on Ipsos iSay and fill out the profile questions accurately so that you can receive opportunities that are more relevant to you. Once you have started sharing your opinions, you will be paid with points that can be exchanged for gift cards to Amazon, Burger King, Visa, or a direct payout through PayPal.
Related: 50 International Survey Sites
8. User Interviews

User Interviews offers all at-home paid focus group opportunities. These studies are to help influence products and services that will be available on the market. To participate, you will join virtually and engage in a discussion about a topic presented to you.
User Interviews shows you exactly how much time you will spend on any study before you apply and how much you will make upon completion. Some current opportunities require 90 minutes of your time for a $100 payout. Others require 60 minutes of your time for $60.
Related: iSurveyWorld Review
9. FocusGroups.org

FocusGroups.org is all about focus group opportunities. The average payout for completing a study is between $50 and $200. There have also been some paid focus group payouts as high as $1,200. All of the studies can be completed from home.
Use the free registration form to get started applying for focus groups. There are hundreds of studies added to the platform each month. FocusGroups.org has paid out over $19 million to participants.
10. Google User Experience Research
A simple way to participate in paid focus groups is through the Google User Experience Research program. Easily sign up with Google and complete a quick questionnaire to get matched with focus groups. Receive an invitation to participate in a study and then get paid for completing it.
Google tells you what reward you can expect to get before deciding to participate in the study. These studies can be conducted in your home, from your tablet, or at a Google facility
Related: How to Get Paid to Review Products
Questions People Are Asking About Focus Groups
Gather even more information to see if becoming a market research participant is right for you with these questions people are asking.
How much do focus groups usually pay?
The pay for each company offering focus groups will vary due to unique partnerships with third party businesses that need to be connected with focus group participants. Additionally, some focus groups will take longer to complete than others, which also determines the pay.
How do you qualify for focus groups?
Each focus group will have a set of requirements that participants should meet in order to qualify for the study. It's important that participants are honest in their qualifications so that the data the businesses are trying to collect won't be skewed for market research purposes.
Related: Get Paid to Eat
What is an example of a focus group?
An example of a focus group includes a group of women of child bearing age who are not pregnant yet but plan to be. This group discusses their opinions around a forced mandate of a vaccine. Each woman can share her opinion on why she believes getting the vaccine would be beneficial or harmful to her body and what her decision means to her and her future baby.
How long do focus groups last?
Some focus groups can last for days while others may only last a couple of hours. It truly depends on what the moderator in the group is trying to extract from the participants. Additionally, it depends on the focus of the participants.
The length of the study is also dependent on the business conducting the study. Therefore, the business will have a say in how long the focus group should take.
Related: How to Make Money Online for Free
Sharing Your Opinions in a Group Setting Really Does Pay
Taking the time to share your opinion really can make a difference in your finances. With each paid focus group opportunity you can change the world with your opinions while changing the outlook in your budget.
Many of the focus groups do not require much of your time. However, you do need to be a valued contributor to continue receiving invitations and truly make the difference for the businesses that are seeking your input. The best part is that you don't have to sign up with only one of these companies listed here. Maximize your earnings and sign up with multiple.
Everyone has an opinion about something; it's what you choose to do with that opinion that will be beneficial. Share it with businesses and watch how you can influence the future. It also doesn't hurt that you will get paid for it as well.
Related: How to Get Paid to Answer Phone Calls
---
We appreciate the time you've spent reading this post and your interest is not lost on us. Your thoughts, questions, or experiences related to the topic are most welcome. Each comment adds strength to our community. We ensure every comment receives our attention, and we take the time to provide thoughtful responses. Once again, thank you for being a part of this conversation. Click here to leave a comment.