Actionable eCommerce Tips for 2021
Last Updated Feb 24, 2021
Perhaps you have an eCommerce store (or you're thinking about starting one), but it's not working out for you. What should you do?
A) Ditch it. eCommerce isn't for you. Or
B) Keep at it. Rome wasn't built in a day.
Personally, if I've invested time and money into a business, I'm not going to let it go that quickly. I would squeeze every last drop out of it to make certain I'm not ditching something that has the potential to grow into a stable source of revenue.
So before you shut down your eCommerce store (if you were even considering that option), make sure to apply these eCommerce tips to your business to see if you can make it work once and for all.
Related: How To Start An eCommerce Business From Scratch For Beginners
Tip 1: Target Keywords You Can Rank For
Unless you plan to run your eCommerce store on faith and paid ads, then you need to consider how to do SEO. One of the basics of SEO that many online marketers ignore is keyword research. You can write fantastic content that points to your eCommerce products, but completely miss the ball when it boils down to what your customers are actually searching for. That's where learning how to do keyword research comes in.
How to Find Keywords for Your eCommerce Store
Here are some eCommerce tips to help you find keywords to use in your product descriptions, landing pages, and blog posts that point customers to your products.
1. Use the Keywords You Already Rank For
One of the easiest methods to find keywords to target is to look at the ones Google already recognizes you for. For example, you could be on page four of Google for a keyword that would bring buyers to your product—if you were on page one.
Open your Google Search Console to review the keywords your pages already rank for. If you have a page that does well, then tailor that page to the search terms Google assigns to it. This could quickly move it up to page one. If you have queries show up that you've never covered in-depth, write a brand new page from scratch to target it.
2. Target Long-Tail Keywords
There are other free SEO tools you can use to find long-tail keywords. Fewer people search for these on Google, but they can actually bring more buyers to your site since there is a chance to rank your site on page one. Use tools like Ubersuggest to Google's Keyword Planner to get some long-tail keyword ideas.
3. Know When to Say "No" to a Keyword
You might find a keyword that you feel would bring so many buyers to your site; if you could rank on page one. Sadly, even the most in-depth, hyper-relevant pages can get lost if you target keywords that are too competitive. That's why it's just important to learn when to say "no" to a keyword as it is to choose the right keyword.
Keyword research sounds difficult. But it's not. It's important that you have a strategy that works. That's why I wrote my strategy and offer it for an affordable price. It's called Get Your Keywords Together. If you're serious about getting free organic traffic to your website that converts into sales again and again, then read my book!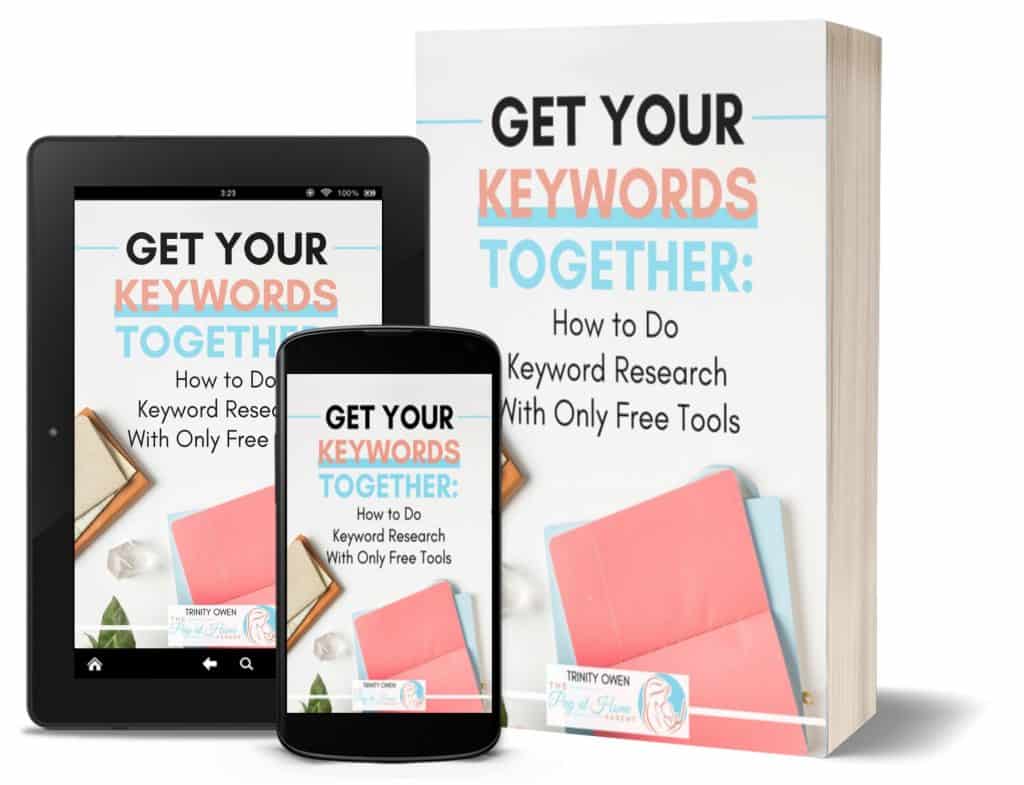 Tip 2: Make The Checkout Process Smoother for Your Customers
Picture this: you've done your research, added in the correct SEO keywords, and implemented the perfect sales pitch, but when your customers finally reach the checkout process, it seems like no one actually completes the transaction. You might be pulling your hair as to why, when you've done it all correctly, you are still not making the sale. The reality is that although your sales and marketing are perfect, your checkout process might not be.
How to Streamline The eCommerce Checkout Process
Here are some ways to make your eCommerce checkout smoother for your customers.
1. Offer Auto-Fill
When customers are about to make a purchase, they are no doubt excited to receive it as soon as possible. Slowing this process down by making them fill in tons of information can frustrate even the most excited customer. This is why it is important to offer auto-fill for convenience. Because your potential customer has added their name, address, and phone number so many times, either on your site or another, autofill can detect this and take them straight to the checkout process. This leads to more sales being completed as people remained excited to purchase your item.
Test the checkout process on your side. Do the forms auto-fill as they should? If not, research the steps that your platform uses to allow this function on your store.
2. Make Sure It Works on Mobile
If you are not making your website as well as your checkout process mobile-friendly, you are losing out on a large portion of customers. Most online traffic comes from mobile devices, so it's critical you make your website mobile-friendly. In fact, 96% of Americans are mobile users and many use their smartphones to search for things they want information on. This is important to know because Google determines which websites pop up closer to the first page based on mobile-friendliness.
3. Avoid Redirecting
During the checkout process, you might need your customer to verify a few pieces of information in order to determine the legitimacy of the sale. Although this is entirely fine, this step should never be redirected to another page. First-time customers may be put off by this and will grow concerned regarding where they are actually inputting their credit card information. If your checkout process currently does this, then it is time to speak with your web developer to make the checkout process happen directly on your website.
Tip 3: Make Your Store More Cost-Efficient
A common challenge among solo entrepreneurs who work from home is that they lack the necessary manpower to tackle every issue that arises. This, of course, leads to problems with various components of the business. Although this is a difficult challenge to tackle, it is certainly not impossible.
How to Make Your Store Efficient
Here are a few ways to run a more cost-efficient eCommerce business from home.
1. Cut Lead Time
When it comes to supplying their product, the dilemma that new businesses often face is the amount of lead time between shipments. In order to remedy this situation, you don't actually need a time machine, but you do have to go back to the moment when you were initially shopping for manufacturers. This will allow you to place yourself once more in the mindset you had when you were looking for the best and fastest deal.
In the beginning, you might have had to settle for a contract that was less than stellar, and now it leaves you with either too much or too little inventory on hand. Having an excess of inventory can present issues for your business. That's why you should go back to the negotiation table and seek ways to receive faster product production while lowering the amount of product you're required to order.
2. Get Better Shipping Deals
Regardless of the volume of orders you receive, it won't matter if you lose most of your profit to shipping costs. So, what can you do? Raising the prices you charge is problematic for various reasons. The best way to approach this issue is to first look at how you package your items. Boxes can be heavy and bulky, which can increase the postage amount for each of your deliveries. Instead, look at alternative packaging such as padded envelopes. If you absolutely need a box, you should consider purchasing custom-made boxes that can protect your item without increasing your postage due to the length and width.
3. Outsource Customer Service
If you are the only employee in your business, it can be extremely difficult to handle logistics, packaging and customer support. Outsourcing your customer support would free up your time and shed a positive light on your company that could enhance your credibility. Note that you should always conduct your due diligence in order to hire a call center company that represents your values.
Tip 4: Start a Blog to Market Your Content
ECommerce stores can carve the way on their own, but with the surge in competition, it can be hard to get your products in front of potential customers.
Why Starting a Blog Can Help Your eCommerce Store
Starting a blog can help your store in more ways than one. It's important to consider the many benefits that a blog can offer your marketing strategy.
Related: How To Start A Blog On WordPress (Step-By-Step Tutorial)
1. Keeps Your Content Fresh
Nothing turns off a potential customer quicker than to land on a site that shows no signs of updates in the last year or more. This alone is a huge reason to display your blog prominently so that site visitors can see fresh content with current dates. Keeping content fresh also helps your website's SEO. Even reviewing old posts, updating the content, and then republishing with the current date can help keep your site fresh in both the readers' eyes and Google's.
2. Provides a Platform to Explain Various Uses for Your Products
Most products speak for themselves, but that doesn't mean readers wouldn't benefit from reading in-depth reviews or tutorials on how to use a product. Writing a 200-word product description may not be enough when it comes to high-ticket items. That's why further reading is essential to convincing the customer that your product is right for them.
3. Draws New Customers Using SEO Content Marketing
Many people shop based on a problem that needs to be solved. That's why it's important to note that customers may be searching queries like "how to stay awake during a boring meeting" instead of "hand-ground coffee from Jamaica." The point is that you can use your blog to target the needs that your products fix. It helps more people find you who are ready to buy.
You can find lucrative, buyer-ready phrases that lead to your products by conducting keyword research. If you learn how to do keyword research the right way, you can bring in loads of free, organic traffic over time. This is the method that I teach in my eBook, Get Your Keywords Together. If you read my book, you will learn exactly how to find keywords that your site can actually rank for.
Tip 5: Create More Engaging Content
Online content is a great way to connect with potential customers—when it's engaging, that is.
How to Write Engaging Content for Your eCommerce Blog
But how do you refrain from producing drab or forgettable content? Here are several tips to help spice up your online presence and content creation for your eCommerce website.
1. Be Detailed
When creating your own online content for your eCommerce business, it is important to convey your passion and knowledge by producing engaging content. Engaging content is purposeful and includes a lot of detail, whether it be in your blog posts or e-books. In fact, e-books are a great way to pack a lot of detail into one piece of content. However, lots of detail does not mean jargon. Maintain good organization, clear syntax, and a consistent tone.
One good way of doing this is to use the 'inverted pyramid' model. Structure your content with critical information first and then branch down to supporting or tangential details towards the end. This will make certain that your audience reads the most important information first.
2. Create Unique Titles
Ever glossed through a novel's table of contents and felt excited to read the book, just based upon the title of its chapters? Titles are critical parts of content creation that can be used to hook readers from the beginning. However, it can be quite challenging coming up with creative and engaging titles for every product, category page, and blog post.
Before coming up with a creative title, start with a working title—a title that 'does the job' and represents the topic at hand. Then, after you have an idea of what keywords you want to put in your title, have some fun playing with it. Try your hand at some alliteration or even a pun. Use strong language, like 'hate' instead of 'dislike', or 'fabulous' instead of 'great'. In doing so, your titles are for sure to stick out on the page.
3. Develop Your Own Voice
As an eCommerce business owner and online content creator, there is something individually unique about you. There is a reason why people want to scroll through your website and read your content. It is your job to discover that 'why' and what makes you different from other content creators. In doing so, you will begin to develop your own style and personality online. Allow your readers to see you for who you really are—adding in your humor, smarts, and 'realness' wherever appropriate.
Paying close attention to content creation is critical as a small business owner who is developing an online presence. Don't be afraid to be creative and unique—but don't throw organization and professionalism out the window either. Doing so will keep your online guests interested and engaged.
Can These eCommerce Tips Save Your Online Store?
Being able to run an eCommerce business from home is the dream of many people. However, this dream comes with a variety of daunting challenges. Utilize the eCommerce tips listed above in order to avoid some of the common pitfalls of running an online store from home.