10 Best Apps Like Mistplay for Android and iPhone
After a long day of working and caring for my children, I like to unwind sometimes by playing games on my phone. It's a way for me to zone out and entertain myself. If you're like I and enjoy gaming on your phone too, then you'll especially like these apps like Mistplay.
The best thing about my wind-down gaming time is that I actually earn real money playing games. A little play time with a few cha-chings isn't such a bad way to spend my time! Sneak in some playing time after your children are in bed and enjoy the rush of winning from your phone.
If you've wondered how you can also earn while playing, I have a few hidden gems here for you. The Mistplay app is popular and there are other apps like it you may enjoy as well. Find out which ones will be the most fun and rewarding for you.
Our Most Popular Money-Making Offers
Opinion Outpost - A high-paying, trusted survey site that rewards its members in free Amazon gift cards or cash.
Branded Surveys - A legit survey site that rewards its members in cash just for sharing their opinions.
InboxDollars - Get a $5 new-member bonus for joining a site that pays you to play games, search the web, answer polls, and complete paid offers and surveys.
Instacart - Earn up to $20 per hour to shop for and deliver groceries on your own schedule using your own car (and keep 100% of your tips!).
Cash App - Get $170+ in free cash and Bitcoin, invest in Bitcoin and stocks, and send and request money for free. Use my referral code for a cash bonus:
What is Mistplay?
Mistplay started out as a game testing platform where game developers could get feedback from players about their new games. Gamers would test out the new games and then give their opinion of them to the developers. This helped the creators understand what games users were interested in and how they could improve their own games.
After a couple of years in business, it shifted to become the first loyalty platform for mobile gamers. Mistplay offers a wide variety of games for users to choose from and earn money while doing it.
If you haven't already, download the Mistplay app to start earning now.
10 Free Apps Like Mistplay
While Mistplay is a popular choice, it isn't the only platform where gamers can earn cash for playing games. Check out these apps like Mistplay and get your gaming on.
1. KashKick
KashKick is an online rewards platform that pays users for completing various small tasks, which includes playing games. Your earnings are paid directly to you through PayPal. You can request payouts at $5 or more.
Signing up for an account is free. Users rave about the fun and easy games that are offered on this site.
Related: How to Get Free PSN Codes
2. InboxDollars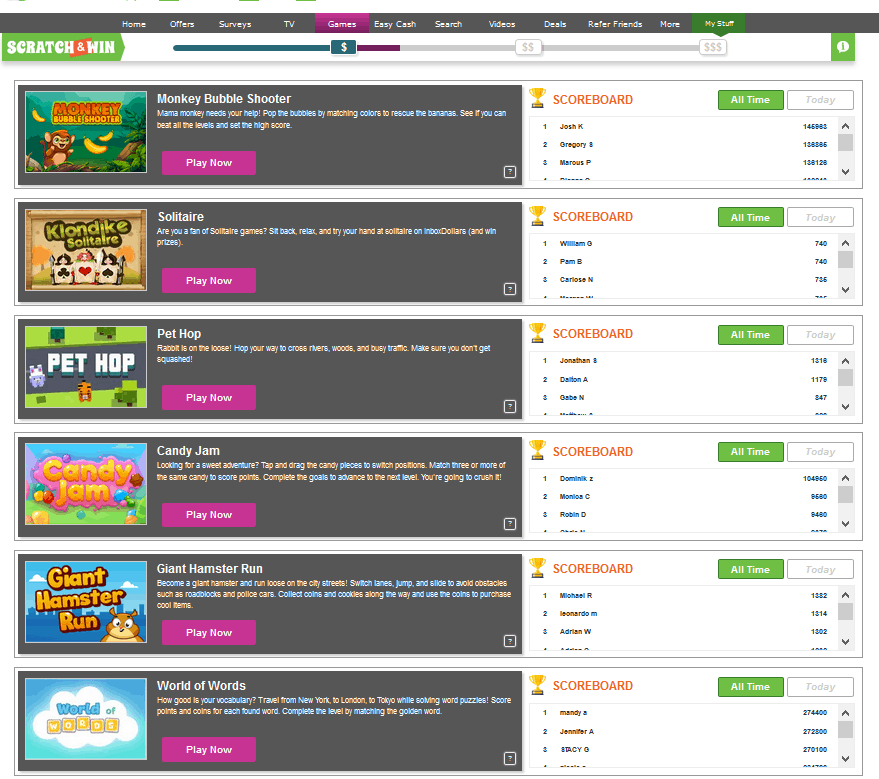 InboxDollars is an online cash rewards program that features game playing as a way to earn. Members are given the option to play games in exchange for rewards toward scratch off cards. Each scratch off winning will vary in the amount you get paid.
on sites like InboxDollars, you can expect to find games like Candy Crush, Pyramid Solitaire, and Monkey Bubble Shooter to play for free and earn cash.
Read my full review about InboxDollars here.
3. Drop App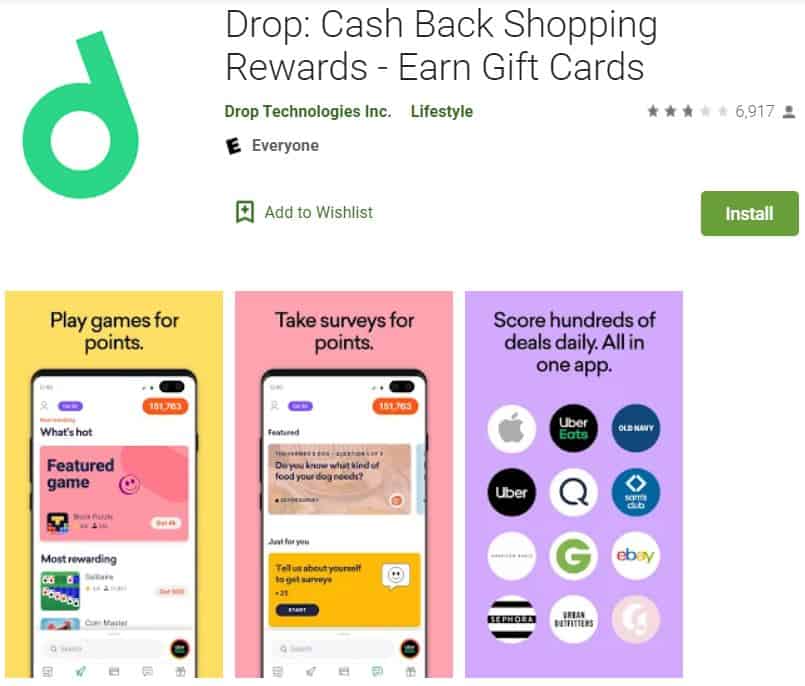 The Drop app features gaming as a way to earn cash rewards. It is one of the best apps like Mistplay for iOS and Android. All earnings are automatically applied to your account.
Games available to play and earn include Block Puzzle, Coin Master, Solitaire, and more. When you're ready, you can redeem your points for gift cards to Starbucks, GrubHub, Amazon, and more.
Related: How to Convert a Visa Gift Card to Cash
4. Lucktastic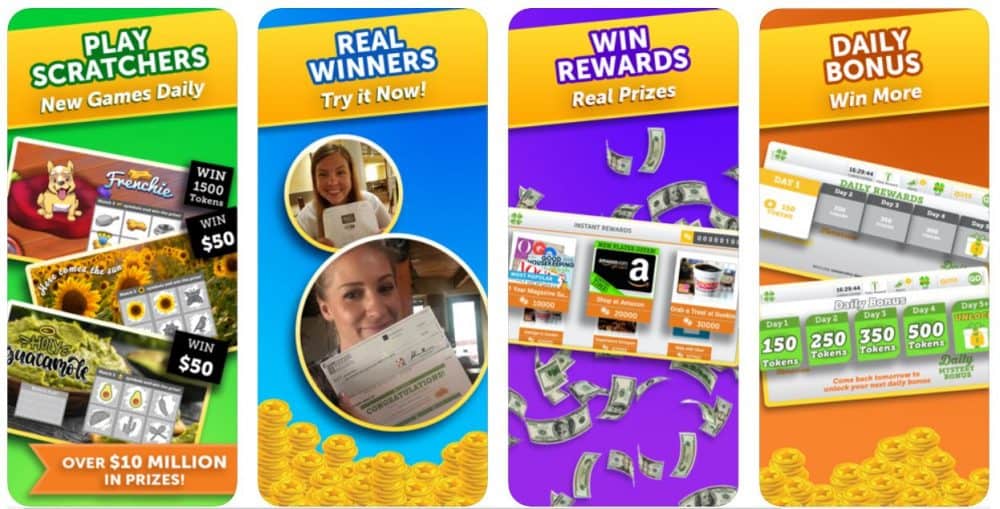 Lucktastic is a platform that rewards members for playing scratch cards. For each scratch card you play, you can earn real cash. You can also use your earnings to get entered into sweepstakes offers for larger payouts.
Members can participate in live trivia games for even more earning potential. You can use tokens you earn to cash out for gift cards to stores like Walmart, Amazon, JCPenney, and many others.
Get Lucktastic on Android here.
Download Lucktastic on iPhone here.
5. Toluna
Toluna is an influencer platform that offers rewards to play games like Mistplay. Its Match Mania game is free to use and lets you compete with other users.
The more you play, the greater your chance of winning. Stack up your earnings to cash out for gift cards to Amazon, Banana Republic, cash through PayPal, and more.
Related: How to Get Free Xbox Codes
6. Gamehag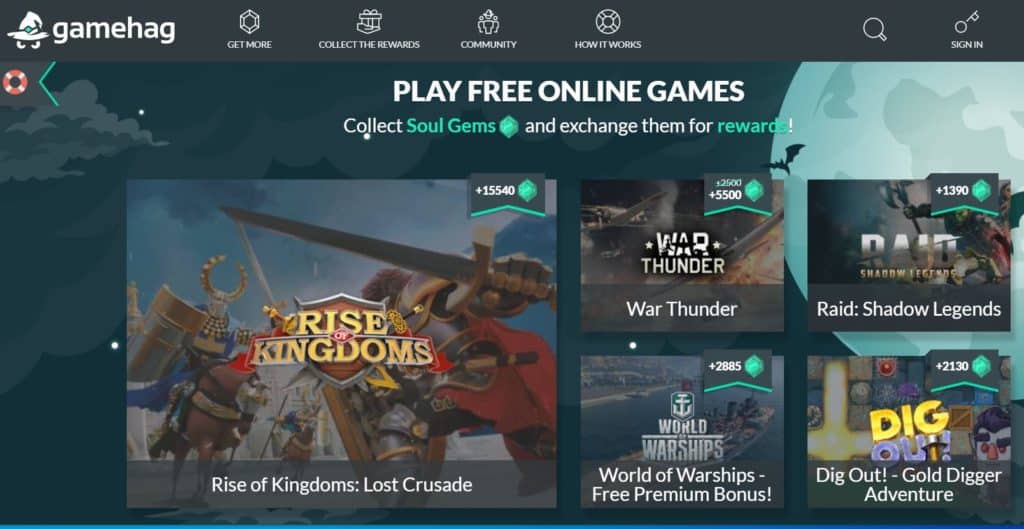 One of the top apps like Mistplay for Android and iOS includes Gamehag. There are hundreds of games that will satisfy any gamer's interests. Games like War Thunder, Rise of Kingdoms, Vikings, and so many more are available.
Just like Mistplay, sign up for a free account, play games that are interesting to you, and get paid. Rewards you can cash out for include gift cards for free Steam Codes, Amazon gift cards, prepaid Mastercards, and a wide variety of other rewards.
7. MyPoints
Apps like Mistplay include the MyPoints app. Its platform is very user-friendly, popular, and has been proven to actually pay people. Gaming is one of the options on the app that you can earn with.
MyPoints offers users games like Angry Birds, Scrabble, Bejeweled, and much more. You can cash out your earnings in the form of gift cards to Amazon, Visa, Dell Technologies, and others.
Read my full review on MyPoints here.
8. Swagbucks
Swagbucks is a trusted online rewards platform that pays users for their time in the form of SBs. You can earn SBs for a variety of things on the site, including playing games.
Games like Angry Birds, Solitaire, or Lottery-style games are available to play and earn. Each game will vary in how much you will be paid. You can cash out on the Swagbucks platform for free gift cards to your favorite store or restaurant, or request PayPal cash.
Learn more about Swagbucks from my full review.
9. The Ready Games
The Ready Games is another app like Mistplay on iOS and Android. The app promises three brand new mobile mini-games each week for you to play to win cash prizes.
The Ready Games has distributed over $140k in prize money to its users. Play games, unlock missions, participate in live events and even celebrity games, and win.
10. Zynga Poker
Zynga Poker is a free online poker gaming platform. Sign up for free and get your first $60k in poker chips so you can start playing right away. Practice your poker skills and play against other users.
Earn Zynga Poker watches and show them off to your opponents. Complete challenges and win even more in-game prizes. You can continue to earn free chips with the lucky slot machine as well.
Download Zynga Poker on Android.
Apps Like Mistplay Are Rewarding and Fun
Playing games can be a fun thing to do in your spare time. Whether you're standing in line, waiting at school pickup, or just needing some zone out time in the evenings, these apps like Mistplay can be real game-changers.
The fact that they pay you to play is enticing because then you don't have to feel guilty about spending time on your phone. I like to tell myself that I'm helping my family to keep the mom guilt at bay.
From Swagbucks to MyPoints to other apps like Mistplay, there are many options you can choose from to fulfill your gaming passions. Each platform has its own unique games.
Download multiple apps to increase the chance to try new games each day. The earning potential is limitless.
Related: Get Paid to Read Emails