13 Best Winter Side Hustles to Boost Your Income
We foster relationships with brands we use and trust. The testimonials on our site represent real experiences, but they don't guarantee you'll achieve similar results. When you make purchases through our links to our partners, we may earn a commission. Your support helps us continue this work. You can read our full disclosure here.
Winter is one of those times of the year when people find themselves holed up in their homes trying to outlast the weather. It is also an expensive time of year with all the festivities that take place in addition to running the furnace more often.
Unfortunately, the bills don't stop coming so that means you likely need to find some winter side hustles to get you through this season and survive without adding any debt to your life.
Winter doesn't have to be all doom and gloom just because it is cold and/or snowy out. It is also a season of fun and a time to make some new memories. If you are looking for the best winter side hustles so that you can have more spending money or cover your bills, you have come to the right place.
Make extra money this winter season to boost your bottom line. Winter won't last forever, so do what you can now with winter jobs to help yourself out. If you are seeking more opportunities to work during the winter, my unique list of winter job ideas will give you exactly what you need.
13 Winter Side Hustles to Start Now
Now is the best time to look into jobs to do in the winter. If you need some inspiration, use the following ideas below.
1. Knit Cozy Winter Accessories
There's just something cozy about sitting in front of the fireplace with a hot cup of coffee and a pair of knitting needles. Instead of knitting socks for yourself this year, turn your passion into a winter side hustle and sell your handmade goods. Get paid to knit or crochet mittens, scarves, slippers, and even blankets. Sell them locally or list them on a site like Etsy to bring in some extra money this winter.
2. Clear Driveways and Walkways
It's always a pain for people to have to spend extra time removing snow from their driveways when they are in a hurry to get to work or they need to run an errand. You can help them with this headache by offering your services to shovel snow or use a snowblower to clear their driveways for them. Depending on how often the snow falls, you could make a decent weekly income supporting your neighbors.
Take on multiple clients in your community to clear their driveways. Consider how much time you will spend shoveling the snow and how labor intensive it might get for you. Charge a reasonable fee for your time and efforts.
3. Winterize Vacation Rentals
Winterizing is a very important part of surviving the winter season. It can be challenging for people to do on their own. Offer winterizing services to those who have RVs or vacation homes. These pieces of property aren't necessarily occupied all of the time. Having someone come out to winterize them for the owners can be helpful.
Winterizing could include protecting pipes, sealing cracks, and ensuring heating systems are working properly. Winter can be harsh for RVs and homes; charge for your service to help others keep their valuables safe.
Related: How to Get Paid to Go on Vacation
4. Sell Baked Goods
One of the top winter business ideas that can be truly successful is selling baked goods. There are few people who don't like to have nice, warm baked goods on a chilly day. Open up a shop just for your sweet treats.
As a baked goods business, you can choose to have an actual shop or you can sell from your own home. Just ensure you have the proper license requirements whichever route you choose to go. You can also provide baked goods for events. Become a catering business as well to really transform your income during the winter.
5. Hang Outdoor Christmas Lights
Don't forget to add hanging outdoor Christmas lights to your winter side hustles list. Those Christmas lights can be difficult for some of your neighbors to hang by themselves. If you want to spread even more holiday cheer during winter, offer to hang lights for others and get paid for it.
What's even better is that you can get paid to come back and take down the lights for them. You can make double the money hanging and removing Christmas lights in the winter. Offer packages to help your new customers choose how they want their homes decorated for the holidays.
Related: Best Service Business Ideas
6. Become a Snowboard or Ski Instructor
Snowboarding and skiing are popular activities many like to engage in during winter. If you are someone who knows how to do either of these (or both), consider becoming an instructor. You could help young children who are getting started for the first time. On the other side, you can also become an instructor for adults who need help as well.
Find jobs with resorts in your area where tourists are likely to stay and use your services. You can also open your own shop and teach locals. Charge a daily rate and get paid to teach others to master the snow. You can also provide packages with weekly and monthly rates for those who want to learn on a regular basis.
7. Sell Holiday Cards on Etsy
Selling holiday cards can be a huge money maker in the winter. Many couples and families like to send out special holiday greeting cards with family photos in them. You can also specialize in making personalized cards that people can use to send with gifts they purchase for others.
Set up your own Etsy shop to sell your cards quickly. Etsy is a top online market to sell handmade items. You can sell downloadable prints that customers print out themselves or you can sell pre-printed cards.
Related: Best Things to Sell on Etsy
8. Become an Ice Rink Attendant
Ice rinks are a wintertime fun facility. Many people even travel to other states to experience some of the biggest and best ice rinks. You could be an ice rink attendant at any of the ice skating rinks around you. As an ice skating attendant, you could help others learn how to ice skate, rent out skates, and keep the rink safe.
Everyone comes to an ice rink to have fun and make memories. You could be part of their memories by helping them have a fun ice skating experience.
9. Become a Winter Photographer
Photography can be a lucrative side hustle for anyone with an eye for gorgeous backdrops and willing subjects. Grab your camera and offer package rates for families, pets, real estate, or even weddings. Spring isn't the only season gushing with the need for photography. In fact, professional images of all kinds make practical Christmas gifts or home decor.
Brush up your photography skills and start building a portfolio that impresses your target clientele. Bring snow, holiday decor, and lights into your winter side hustle and start getting paid to take pictures.
More Ways to Make Money in the Winter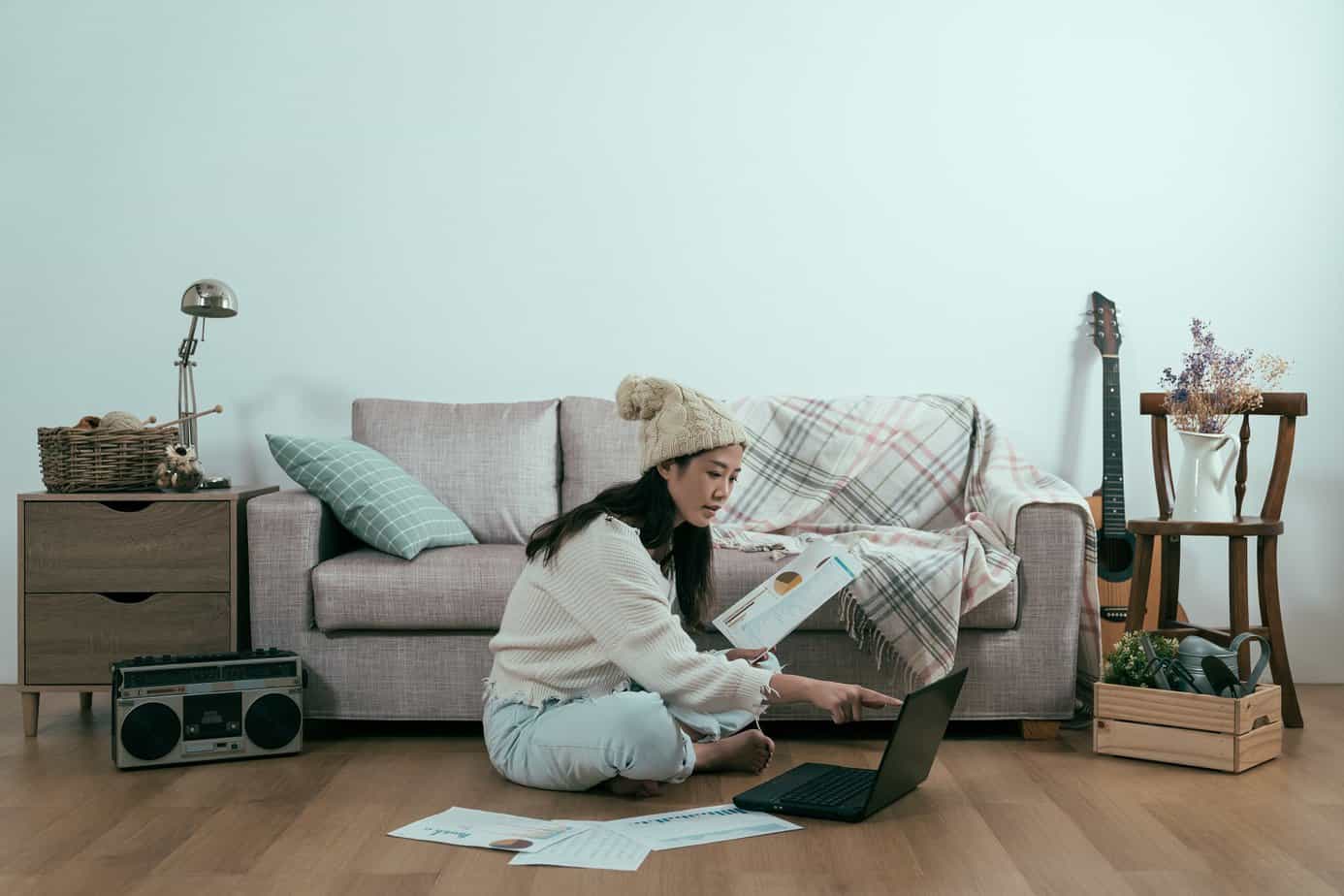 You don't have to live in a place where it snows in order to enjoy a winter side job. These additional ideas can be successful from home, in a cozy coffee shop, or on a cruise to the Bahamas.
10. Become a Proofreader
Proofreading is one of the top cozy winter job ideas you can do from the comfort of your own home during the winter. Imagine being snuggled up under a warm blanket with your favorite warm drink in hand reading for a living. As a proofreader, your job is to read content for clients such as magazines, articles, blog posts, emails, books, etc. Ensure your clients' work is error-free.
Proofreaders get paid to review content to make sure there are no grammar or spelling errors. That's it! Set your own rates and make your own schedule. If you don't know where to start in the proofreading industry, check out Caitlyn Pyle's free Proofread Anywhere webinar to learn what it takes to start a successful proofreading business.
Related: Proofread Anywhere Review
11. Start a Blog About Winter
Bloggers can make a decent living by uploading blog posts consistently. You could start your own blog site and discuss winter-related topics. If there is a specific topic you want to talk about, write about that. Otherwise, you can create content about fun places to visit in winter, memorable activities to do in the snow, and other winter-related guides.
Bloggers make money through ads on their posts. When someone reads the post, the blogger gets paid for the ad views and any ad clicks that take place. There is also a way to earn through affiliate links. When a reader clicks on an affiliate link and makes a purchase, bloggers make a commission.
12. Become a Freelance Writer
If you are wondering how to make money in the winter, don't forget to consider becoming a freelance writer. As a freelance writer, you can make money writing content for other people. This could be blog posts, articles, email content, etc. If you have a specialty topic that you like writing about, offer that for your service as a writer.
During winter months, you might find your clients will prefer you to write about winter-related topics. Become a freelance writer who controls their own income and schedule.
Related: How to Become a Freelance Journalist
13. Become a Delivery Driver
Most people become a little intrepid about driving in icy conditions. If you feel confident in your vehicle's tires and your abilities to navigate snowy roads, consider becoming a delivery driver. There are many people who would prefer to pay a driver to deliver restaurant orders or groceries to their doorstep rather than venturing out themselves. You could make this your winter side hustle and earn a base pay plus tips for your delivery services.
Instacart hires drivers across the country at a decent delivery wage. You can pick up gigs in your area and choose which shopping trips will be worth your time. The app even allows you to batch orders so that you can drive less and get paid more.
Related: How to Get Paid to Drive Cars Across the Country
Winter Side Hustles Can Transform Your Income
There are a variety of winter job ideas that can make a difference in your life. Gain new experiences and earn money during the harshest season of the year. From winterizing properties for others to selling baked goods and even becoming a blogger, you are sure to find the best winter side hustles to fit your lifestyle.
Try one or more of the options mentioned in this specially curated list. Your skills can be used to make a difference in your life and the lives of others you encounter during this special season.
Related: Side Hustles for Men
---
We appreciate the time you've spent reading this post and your interest is not lost on us. Your thoughts, questions, or experiences related to the topic are most welcome. Each comment adds strength to our community. We ensure every comment receives our attention, and we take the time to provide thoughtful responses. Once again, thank you for being a part of this conversation. Click here to leave a comment.