Solitaire Cash Review: Is It Safe and How Does It Work?
One of my new favorite game apps, Solitaire Cash, facilitates head-to-head solitaire matches for REAL money (up to $83 per win!).
Win cash for completely free or deposit $5 to multiply your winnings and cash out with Apple Pay or PayPal!
Solitaire Cash™ is FREE to download and play! However, cash tournaments are not available in: AZ, AR, IN, IA, LA, ME, MD, SC, MT & SD
I'm sure you've seen ads from one or more of the many games that claim to pay you real money for playing. It's not easy to figure out which ones are actually legitimate and which ones are simply scams.
This Solitaire Cash review will help you determine whether or not you could make extra cash from this game. If you enjoy playing any kind of solitaire game, then you will definitely benefit from this review.
Solitaire is a mesmerizing mix of strategy and luck. Does the idea of playing a game like this bring you any kind of joy or comfort? Then now is the time to think about making money playing a game you love.
Games such as solitaire come in many forms; this review will help you figure out which version is your jam, and if this Papaya Gaming app is right for you – to play and enjoy, and also to bring in some extra cash. Chances are, if you fit this bill, you are already spending your time playing some form of solitaire. Adding this game to your list of ways to make extra money could be the perfect move for you.
One of my favorite sites, Swagbucks, offers tons of ways to earn real cash online. If you're not already a member, give it a shot! Here are five things you can do to make easy money on the site:
Play games (up to $322 each)
Test apps (up to $150 each)
Submit receipts (easy cash)
Shop at your favorite stores (up to 10% back)
Answer surveys and polls (quick cash in minutes!)
Our Popular Free Guides
How to Start a Permanent Jewelry Business - If you are patient, have social skills, and love interacting with others, then a permanent jewelry business may be for you.
How to Become a Sleep Consultant - Help parents and babies, and be the difference for families worldwide who are desperate for more Zzzs in their life as a sleep consultant.
How to Become a Proofreader - There are five basic steps to working from home as a proofreader. As long as you're willing to put in the work, you can become a proofreader!
Solitaire Cash Summary and Quick Facts
The mobile game Solitaire Cash was created by Papaya Gaming and is available on the Samsung Galaxy Store for Android users and on the Apple Store for iPhone users. It is free and fast to download from the palm of your hand.
If you are already interested in this game for the opportunities it provides to make you money, then you'll be excited to find out that Solitaire Cash hosts paid cash tournaments that can help you achieve that goal. Each player who enters pays a fee, and the winner takes home the jackpot.
Solitaire Cash Review Pros
Free to play
Available for Android and iPhone users
Matches players based on skill level so it keeps the game fair
Available to play for money
Solitaire Cash Review Cons
Must pay an entry fee in order to earn money playing the game
Limited to players in the U.S., U.K., Canada, and Australia
Unavailable to play for cash in certain U.S. states
Withdrawals limited to PayPal and Apple Pay
Solitaire Cash™ is FREE to download and play! However, cash tournaments are not available in: AZ, IN, IA, LA, ME, SC, MT & WA
Related: Bingo Games That Pay Real Money
Solitaire Cash BBB Score Ratings
While Solitaire Cash doesn't have any profiles to determine legitimacy, Papaya Gaming does have references that prove the game's validity. Because Papaya Gaming is still relatively new, it hasn't yet established a Better Business Bureau rating or TrustPilot rating.
Read through the reviews of Solitaire Cash found on the Samsung Galaxy Store or Apple Store to find more information about this game and to help you decide if it is right for you. Existing users have given the app an overall rating of 4.7 out of five stars. Given the sheer number of people who have spent time playing and reviewing the game, this is a pretty stellar rating.
While some reviewers have complained about glitches in the game, their reviews are far outnumbered by the long list of five-star reviews. There are many satisfied players who have taken the time to share their experiences.
What is Solitaire Cash & How Does It Work?
Solitaire Cash puts a fun twist on the classic solitaire game we all know and love. This version includes fun animations, avatars for players to use, and competitive rounds that pit gamers against each other. Solitaire no longer needs to be a solo experience. You can play against other players for free, or pay entry fees to compete for real money.
Setup is quick and easy. Use this Solitaire Cash review to find out what steps you need to take to start making money playing solitaire.
1. Download the App
Make sure to locate the correct version of Solitaire Cash by Papaya Gaming. Install the game and open it when it has finished downloading.
You will be prompted to choose your own avatar and username. A name will be generated for you if you choose to not formulate your own. Click "Next" to proceed with the game.
2. Take the Tutorial
Since Solitaire Cash comes with its own unique variations on the classic game, I recommend that you take the tutorial before playing the full game. This will give you a leg up on winning games and having an advantage in the paid tournaments, which means a higher chance of winning money.
Related: Bingo Cash Review
3. Play the Game
Familiarize yourself with the game and boost your avatar's ranking by starting out with the free rounds. The more of these you win, the higher your avatar will rank. This strategy will boost you into higher-paying tournaments against players with similar rankings.
As with most solitaire games, you will play familiar moves placing cards in descending order. When you run out of moveable cards, draw from the deck. Continue stacking suites until you have cleared the board.
4. Submit Your Score
Once you've cleared your game board, it's time to submit your score to see if you've won. Your score will be calculated against another player with similar ranks to your avatar. If your score is higher than your opponents', the victory is yours.
If you are playing in a paid tournament, then you will win the jackpot. You can also earn a bonus if you finish the game early.
5. Make a Withdrawal
To withdraw the money you have won through Solitaire Cash, you can request a payout through either PayPal or Apple Pay, depending on the device you are using. If you don't want to cash out right away, you have the option of using Solitaire Cash as a kind of savings account to keep building up your earnings.
Related: Bubble Cash Review
Solitaire Cash Alternatives
Solitaire Cash isn't the only Solitaire-style game that pays real money. If you want to consider other Solitaire Cash alternatives, the following are great options.
Solitaire Cube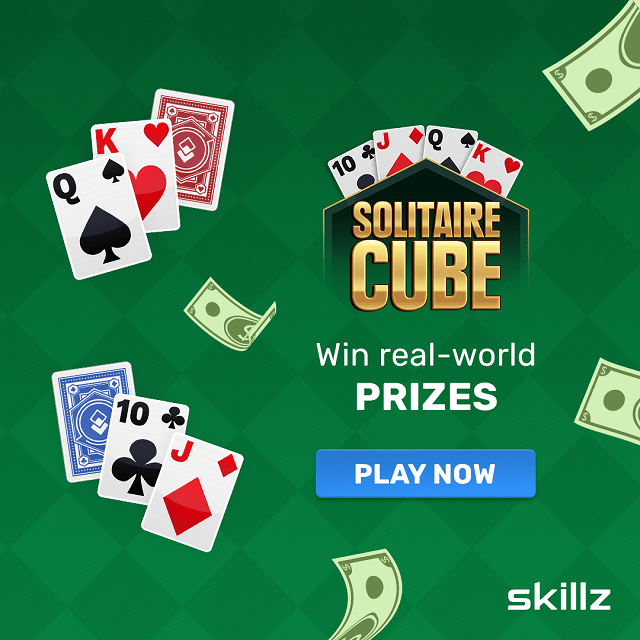 Available through Skillz Inc., Solitaire Cube is a highly sought-after game that pays players who win tournament games against their opponents. Withdraw your earnings through PayPal, Visa, MasterCard, American Express, or Apple Pay.
Enter the Skillz promo code APget5 and get FREE bonus cash with your first $5+ deposit.
Please Note! Cash tournaments are available in most of the world. Cash tournaments are not enabled in the following states: AR, CT, DE, IN, LA, ME and SD. If you don't live in a prize-enabled region, you can still play for free.
Related: Solitaire Cube Review
Mistplay
This app pays users for playing the hundreds of games available to choose from, including variations of solitaire. Download Mistplay and search for solitaire-style games. You don't have to pay to play, just earn as you play and progress in the game. Money withdrawal comes in the form of free gift cards to PayPal, Visa, Amazon, and more.
Related: Mistplay Review
InboxDollars
This rewards site pays users for completing tasks, including playing games like solitaire. Download InboxDollars and create a free account to earn a $5 welcome bonus. Head over to the games section to find solitaire, and review the requirements to earn your InboxDollars reward for playing. Cash out your money in the form of gift cards to Home Depot, Amazon, Sephora, and more.
Related: InboxDollars Review
Solitaire Cash Q&As
Check out the following commonly asked questions posed by other users. Refer back to them to gain a better understanding of what this game entails.
Is Solitaire Cash gambling?
The short answer is, yes. Solitaire Cash is technically a gambling app, which is why it isn't available to everyone. Users must be at least 17 years old to play, and the game is not available in every state. It is considered gambling when users pay a fee, or a "bet," to enter a game that they may or may not win.
When you enter Solitaire Cash tournaments, you are gambling by betting on yourself to win the jackpot. The key difference of note is the fact that fees and earnings are usually smaller than those at an actual casino or online gambling league.
Solitaire Cash™ is FREE to download and play! However, cash tournaments are not available in: AZ, IN, IA, LA, ME, SC, MT & WA
What is the catch to Solitaire Cash?
You do have to pay a fee in order to ultimately make money with Solitaire Cash. It is a small fee, but a fee nonetheless. You can play for free if you choose, but you can't win significant money in the free rounds. The only way to win big is by paying to play.
Related: Solitaire Cube Promo Code for MAX Bonus: APget5
Is Solitaire Cash safe?
Based on the reviews gamers have left on Samsung Galaxy and Apple, Solitaire Cash has a proven track record of paying players who win. Many people enjoy the game and have been paid as promised by the app description.
Is Solitaire Cash real or fake?
Solitaire Cash is a real game developed by Papaya Gaming. Although it is a newer company, Papaya Gaming is legitimate and continues to add more legit cash games to its library.
Is it worth it to play Solitaire Cash?
This is a question only you can answer. If you enjoy playing solitaire-type games, then this could be worth your time. Keep in mind that you probably won't be able to replace your full-time income by playing Solitaire Cash all day.
What you can expect to do is make money that will help with the cost of gas, groceries, and other bills. Card games that pay real money could be worth playing if it improves your life in any way.
Solitaire Cash Review: Concluding Thoughts
Solitaire has been a worldwide source of entertainment since the 18th century. Many people who have grown up playing the game have found ways to pass the time using their brains to solve the hands given to them. While it can be a game of luck, solitaire is mostly strategy.
Solitaire Cash is fun and stimulating at the same time. You often have to decide which card is best to play now, while hoping that it will be the card that will lead you to victory. Whether you are a new player or a seasoned veteran, Solitaire Cash can be a great option for you.
This Solitaire Cash review has proven that this game is a great option for users who want to play for some extra money. The game is created by a legitimate company, has several valid reviews from actual users, and has already paid out funds to many players. It is a safe app that provides both entertainment and extra cash. Play Solitaire Cash now if you are looking to make money while having fun.