8 Best Baby Sleep Consultant Training Online Certifications
New parents are willing to pay for rest and sanity, and as a sleep consultant, you could be the person who helps them finally get uninterrupted sleep.
Online sleep consultant training is great for professionals who already work with kids and for stay-at-home moms who want to make extra money. Any of the sleep training courses listed below could end up being perfect for you.
Cost, Income, and ROI of Sleep Consultant Training
How Much Does It Cost to Become a Sleep Consultant?
Based on the average cost of the top eight sleep consultant training programs, you can expect to pay approximately $3,363 to become a certified sleep consultant. The higher the price, the more hands-on support and in-depth training you will likely receive.
How Much Can You Make as a Sleep Consultant?
According to ZipRecruiter, the average annual salary for a certified sleep consultant is $65,338. This could increase to as much as $107,500 or be as low as $19,500. Sleep consultant jobs could include just a simple, one-time phone meeting or expand to two-week strategy plans. Your income will largely depend on your service offerings and pricing structure, plus the strategies you use to market your services and connect with potential clients.
How Fast Can You Earn Back Your Investment?
As with any startup, you will likely encounter a ramp-up period. Charge an average of $600 per client to allow you to pay off your course investment after just six clients – within one to six months – depending on your marketing plan.
Related: Best Stay at Home Mom Jobs
8 Legitimate Sleep Consultant Training Online Courses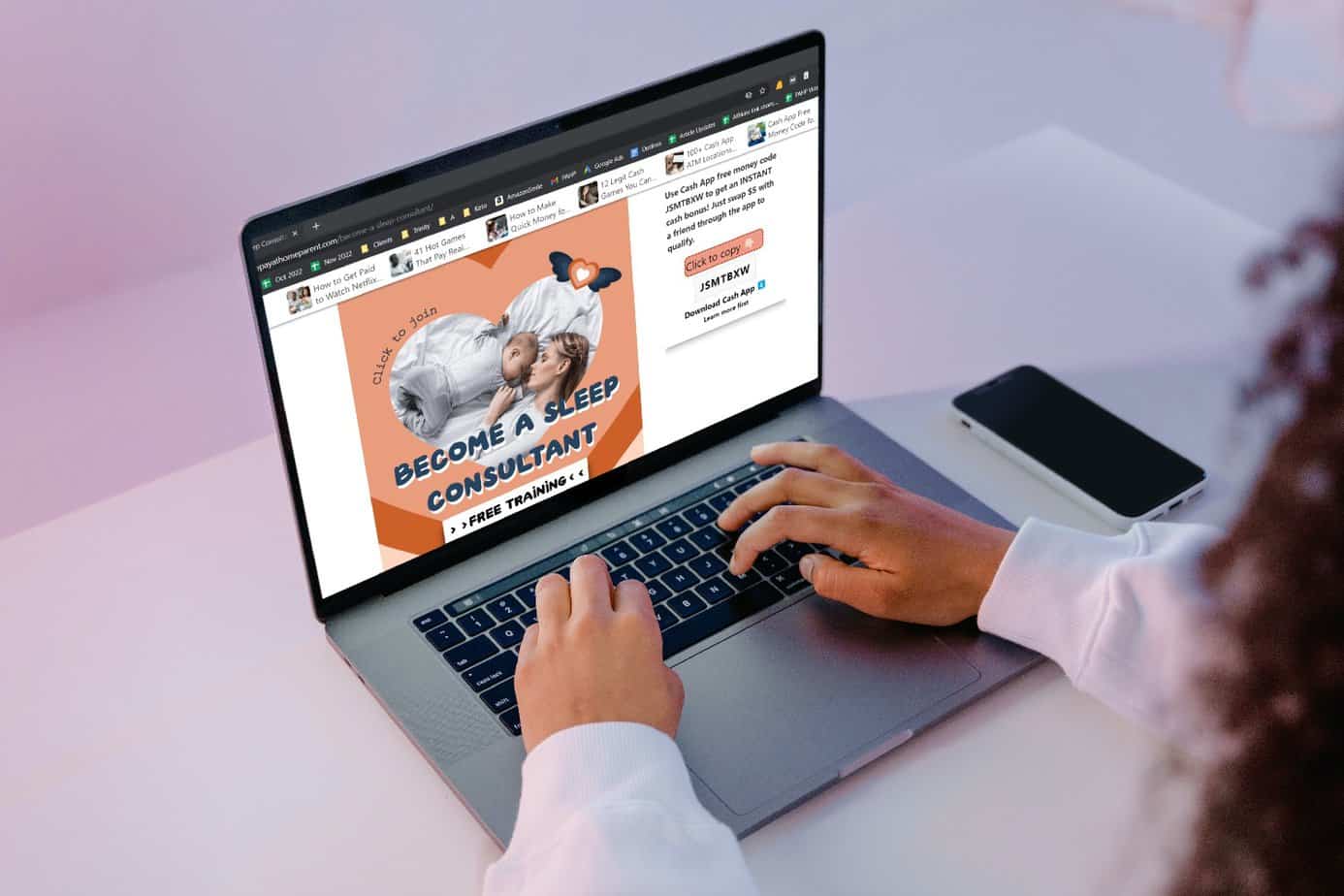 1. Center for Pediatric Sleep Management
The Center for Pediatric Sleep Management (CPSM) is a top online sleep consultant training option that focuses on getting babies to sleep in a way that works for each family's unique needs. Instead of giving sleep consultants just one sleep training method, the course teaches all methods.
Check out Center for Pediatric Sleep Management's free training to learn more about the life of a sleep consultant and what you can expect to experience in the full course.
CPSM students have access to the full online curriculum, a supportive online environment, and the course creator. CPSM Founder and certified sleep consultant Jayne Havens started her own sleep consulting business called Snooze Fest. She now helps other consultants connect with families who are in need of sleep support.
Complete the Center for Pediatric Sleep Management course in your own time. It costs $2,300 when using the coupon code PAYATHOMEPARENT250 for $250 off (with the option of setting up a payment plan). This price is significantly less than the industry average.
Your investment will also include lifetime access to the course and any updates, plus an official certification upon completion.
Read more about this course in my full review of the Center for Pediatric Sleep Management.
2. Institute of Pediatric Sleep
The Institute of Pediatric Sleep and Parenting's sleep training program is a completely comprehensive experience that focuses on the biology of babies and sleep. Learn sleep training techniques plus methods to handle sleep that is interrupted by teething, growth spurts, and other baby milestones.
When you have completed the program, you will receive a certificate to confirm your readiness to take on clients. The Institute of Pediatric Sleep and Parenting was created by Violet Giannone R.N., a member of several national associations for parenting, babies, and sleep consultants. This course is available for a one-time fee of $3,300 or a payment plan ranging from $400 to $850 per month.
3. Association of Professional Sleep Consultants
The Association of Professional Sleep Consultants organization brings together sleep consultants from all around the world. Participating sleep consultants network with one another and complete continuing education courses. A $170 membership fee will give you access to the courses at a member price, or you can take them at the higher non-member price.
Membership to the Association of Professional Sleep Consultants is available to those who have already taken approved certified sleep consulting courses or to consultants who have more than 500 hours of experience working with families.
Related: How to Become a Doula and Support Birthing Women
4. My Sweet Sleeper
My Sweet Sleeper offers both live and recorded training sessions for sleep consultant students to learn how to best serve families.
The program's science-based curriculum teaches students how to help parents identify their baby's sleep profiles and ultimately get the rest they so desperately need.
Rachel Mitchell – a mom of seven who has been a sleep consultant for more than a decade – created My Sweet Sleeper. She designed her program to allow students the flexibility to enroll in a self-paced online version of the course or sign up for the next live round to learn in real time. The self-paced course costs $3,000, which can be paid in two payment plans. Potential students must submit an application before being accepted into the live version.
5. Family Sleep Institute
Family Sleep Institute focuses on healthy sleep habits, safe sleep guidance, breastfeeding support, and more.
This course is broken up into three sections. The first four months are dedicated to completing coursework and gaining knowledge. The next step, a five-week course, shows students how to set up their businesses. The graduate program allows mentorship and guidance for your cases.
The program's 12-plus instructors are armed with specialties in sleep, development, and milestones that will assist in your studies to become a sleep consultant. Complete the program to receive a certificate and access to the FSI membership. The total investment is $4,800.
Related: How to Become a Microblader and Set Up a Home Office
6. The Cradle Coach Academy
The Cradle Coach Academy is a self-paced online course taught by sleep experts. It provides more than 200 hours of scientific-based information to help students gain the confidence they need to provide support to sleep-deprived families.
This option offers live guided support and lifetime access, plus participation in a private Facebook community. Students earn a certificate after completion. Save $500 by paying for the course in full for $3,497, or choose a payment plan option.
7. Gentle Sleep Coach
The international sleep consulting program Gentle Sleep Coach focuses on respectful, inclusive, and evidence-based information. The training and certification program is taught live by founder and bestselling author Kim West, LCSW-C, who created this baby sleep philosophy.
This program provides group support, mentorship, and continuing education. In addition, you will receive business and marketing support to help you establish your business and find clients. You will need to complete an application to get into the program.
GSC certification is awarded after the completion of this course, which can be completed in as few as four months. The total investment is $5,995 and includes a $1,000 Advanced Mentorship Program.
Related: How to Become a Surrogate Mother for Money in the U.S.
8. Infant Care Training
Infant Care Training Academy offers certification for newborn, parenting, and childcare professionals. Enroll in the Infant Sleep Trainer Certification Class to become a certified baby sleep consultant.
Learn the 10 steps to Sleep Training Mastery, baby sleep cues, safe sleep practices, and more from this program, which has been approved by the International Newborn & Nanny Care Association. In business for more than a decade, Infant Care Training provides reputable certifications that are recognized by many organizations and agencies. This course costs a total of $697.
Related: How to Become a Nanny
Become a Sleep Consultant Using a Reputable Course
If your dream is to become a sleep consultant and help struggling families, then choose an online training course that fits your budget and the philosophy you want to learn.
All of the above courses offer their own unique culture and education. Pick anything from in-person training to prerecorded lessons. Start helping families get out of the fog of sleep deprivation by starting your own sleep consulting business.
Related: How to Start a Consulting Business