10 Side Hustles for Nurses to Make Extra Money
Try Bingo Cash, the ultimate bingo app for turning your skills into extra cash while enjoying colorful and engaging head-to-head matches. Win up to $83 per game and experience the classic bingo thrill in the comfort of your own home. Test your daubing skills and become a big winner today!
Bingo Cash™ is FREE to download and play! However, cash tournaments are not available in the following states: AZ, IA, LA, SC & WA.
My sister – a full-time nurse in residential services – recently asked me if I knew about any real, work-from-home opportunities for healthcare providers like she is. Since the rest of the world is making its way back to the office after two years of remote work, I wondered if she would really be able to find a nursing side hustle now. Many people feel safest working from home, so I reasoned that the demand for this type of work is probably high, since most employees are being asked to power down their home offices.
Traditional nurses are put through the wringer in their daily work lives. From tending to patients and answering doctor requests to managing their team, often short handed, they probably feel that their earned salary often feels less than gratifying. It's understandable that nurses are wanting to take a step back from working so many hours, or just might want to find something to do to bring in additional income. Many nurses are on the hunt for reliable side hustles.
Taking on a side job can completely replace a nursing salary if you treat it like a business. But if you don't want to completely quit your nursing job, then you can opt to do these jobs in your spare time. No matter what your reason is for wanting to find a side hustle, there's a solution for you.
Decide how much time you want to dedicate to your side hustle. It's also important to take stock of the kinds of skills you possess that would make this a feasible move for you. Finally, you will need to educate yourself about the specific side hustle that would work best for you as a nurse.
One of my favorite sites, Swagbucks, offers tons of ways to earn real cash online. If you're not already a member, give it a shot! Here are five things you can do to make easy money on the site:
Play games (up to $322 each)
Test apps (up to $150 each)
Submit receipts (easy cash)
Shop at your favorite stores (up to 10% back)
Answer surveys and polls (quick cash in minutes!)
Our Popular Free Guides
How to Start a Permanent Jewelry Business - If you are patient, have social skills, and love interacting with others, then a permanent jewelry business may be for you.
How to Become a Sleep Consultant - Help parents and babies, and be the difference for families worldwide who are desperate for more Zzzs in their life as a sleep consultant.
How to Become a Proofreader - There are five basic steps to working from home as a proofreader. As long as you're willing to put in the work, you can become a proofreader!
10 Remote Side Hustles for Nurses
If you are ready to tackle a new odd job or side gig to earn extra income, the following side hustles for nurses could be perfect for you. Find the right option that will work for you and your lifestyle.
1. Become a Virtual Pediatric Sleep Consultant
A sleep consultant helps families with children develop better sleep patterns at home. New parents often struggle to get their children to sleep, and many suffer from sleep deprivation. You could be the person who makes a difference for them by showing up as their sleep consultant.
Families would be forever grateful to have you help them create sleep strategies that are safe for their babies. You can also provide them with limited recommendations about their baby's health, in addition to the sleep consulting. Offer virtual services to maximize your free time while earning a healthy income as a nurse.
Related: The Center for Pediatric Sleep Management Course Review
2. Start Proofreading Medical Material
Proofreading is one of the top ways to make money from home. While you are being paid to read over someone else's writing, you are only expected to look for spelling and grammatical mistakes. Proofreading is not editing; your duties will not include heavily changing or improving the copy.
As a nurse, you bring highly sought-after medical knowledge to the table that the average person does not have. Your proofreading expertise would be invaluable for medical journals, doctor-created blogs, or other types of medical content. Proofreaders can get paid by the hour or per project. You will have the flexibility to set your pay rate and create a schedule that works best for you.
To learn more about how to become a proofreader, join Caitlyn Pyle's free Proofread Anywhere webinar that is designed to give you specific insight into what it takes to be a successful proofreader. Once you've done that, you will be able to start proofreading as soon as you desire.
Related: Proofread Anywhere Review: What Is It and Is It Worth It?
3. Become a Freelance Writer in the Medical Industry
One of the best side businesses for nurses is freelance writing. As a freelance writer, your tasks will include writing articles, blog posts, emails, and more for your clients. If you prefer, you can choose to specialize in a particular medium. Freelance writers can get paid per hour, per project, or per word. Create a schedule that is convenient for your lifestyle and home life and set your own rates.
Find clients from the medical community and offer to be their freelance writer. You can help them structure content that is medically correct, and that will bring a deeper impact due to your unique perspective as a nurse. Your insight, knowledge, and writing skills could be exactly what your clients need from you. As a person with a nursing background, you can turn those skills into a successful freelance writing career.
Related: How to Start a Freelance Writing Portfolio
4. Become a Virtual Assistant for Medical Professionals
If you are really serious about side hustles for nurses, then becoming a virtual assistant to a medical professional could be the perfect position for you. Virtual assistants have become a hot commodity for many companies. Organizations focused on medical research, education, or advancements would be grateful to bring someone like you – with your unique medical qualifications – on board as a virtual assistant.
Start your own virtual assistant service and bring in a healthy income stream generated from your own business. You can take on as many clients as you want to build the side hustle of your dreams. Charge an hourly rate and utilize a schedule that works best for you and your family. Market your nursing skills and experience to get interested clients to hire you.
Related: Best Virtual Assistant Training Courses
5. Start a Health and Wellness Blog
Nurses have a wealth of knowledge and experience. Start a blog to share that expertise with your online readers. Many people would be intrigued to follow a blog that details what the average nurse experiences on a day-to-day basis. You can also post guides answering common questions new parents have, such as what to do if your baby has a cold, what to do if your baby won't stop crying, and more.
Bloggers can even use their websites to earn a passive income while they work or sleep. To take advantage of this perk, allow ads on your website, putting money into your pocket from paid ad views and ad clicks. The more traffic you have coming to your site, the more cash you can potentially earn.
You can also earn money through your blog by posting affiliate links. Recommend products or services to your readers, and when a viewer makes a purchase using that link or code, you will earn a commission from the sale. This is a great way for nurses to earn passive income.
KashKick is a great find for gig workers, offering many ways to make extra money doing what you enjoy. Try it out - it's free! Here are five easy ways to start earning money on the site:
Play games (up to $125 each)
Test apps (up to $125 each)
Buy lottery tickets (an easy $8)
Try popular brands (always changing)
Answer surveys (quick cash in minutes!)
6. Become a Wellness Influencer
The No. 1 way to make money in the social media world is to become an influencer. To achieve this coveted status, grow your account based around content that is geared toward promoting products or businesses with which you have a relationship. The more you post, engage, and grow, the more money you can make. Influencers are offered contracts with interested companies to make money based on the number of views or sales they achieve.
As a nurse, you could promote organizations selling products that help other nurses, such as scrubs, compression socks, water bottles, fitness trackers, and more. If you've found products that have proven to be invaluable to you in your nursing career, contact the businesses that produce them and ask about influencer opportunities. Keep in mind that some companies may require you to have a minimum follower count before they partner with you.
Related: Jobs That Pay $40 an Hour Without a Degree or Experience
7. Start a Healthy Lifestyle YouTube Channel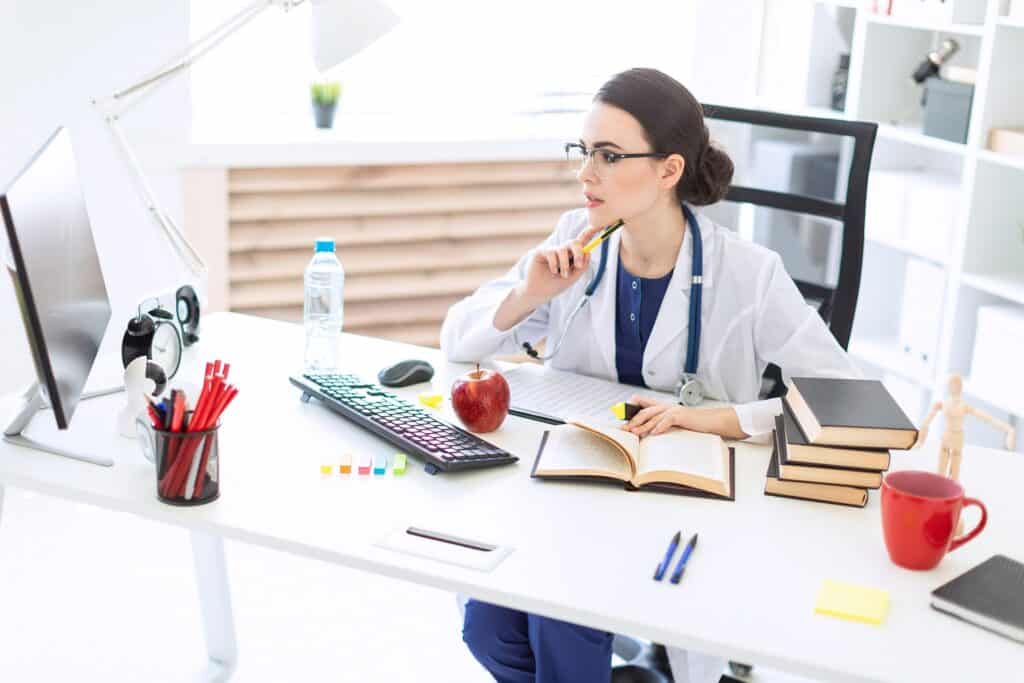 YouTube is the top platform for video content consumption. As everyone knows, the videos on this site range from the humorous – like wipeout videos – to educational content – such as information on starting an online business. As a nurse, you can start a channel with a unique perspective, in that you can provide viewers with great medical advice.
The types of content you could record and post include how to perform abdominal thrusts, how to find the best allergy relief remedies, how to spot a cold in babies, and so on. Your experience and skills could quickly elevate you to the position of an online expert, and encourage viewers to return to your channel to watch more of your educational videos.
YouTubers earn an income by monetizing their videos using ads. Every time a viewer watches an ad within your video, you will make money. You will make even more if your followers actually click on the ad. You could also include affiliate ads on your videos and make a commission from the sales that are placed through those affiliate links.
Related: How to Get Paid to Share Links on The Internet
8. Create Healthy Living Printables
Create engaging, informative printables to bring in a passive income for yourself as a nursing professional. There is a plethora of information that you can provide through printables, which are helpful sheets available for others to download.
You could design nurse-specific printables for new medical professionals to study as they prepare for exams, or create informative posters that remind customers what the various food groups are, how to create more time in their day for healthy activities, or ideas about what to do to improve mental health.
Whatever route you choose in designing printables, this option could prove to be lucrative for you as a nurse. Put in some upfront time in creating these printables and offer them for sale on your Etsy shop indefinitely. Your customers will be given instant access to their downloads as soon as they pay for your printable.
9. Create an Online Health and Wellness Course
An eCourse is a class that is sold online. Professionals in a given field create eCourses to help others learn a new skill or gain new knowledge. These courses are uploaded to host platforms, and then customers purchase the course and take it at their leisure.
As a nurse, you come with more extensive knowledge about many aspects of the medical field than the general public does. Create your own eCourse about commonly asked patient questions, such as how to become a nurse, or the best ways to recover from surgery.
Your knowledge is the limit. Think about things you see and do each day as a nurse and create content for your potential customers based on those topics. The best part about eCourses is the fact that you don't have to be present to make a sale. The host platform takes care of everything for you.
10. Become a Life Coach for Healthcare Students or Professionals
One of the best options for nurses looking for a great side hustle is to become a life coach in the health industry. Mentor others at your own convenience. Life coaches set their own rates and hours in which they meet with clients. You have the option to meet with clients virtually, so you won't need to physically travel to their homes.
As a life coach for aspiring nurses, walk these future medical professionals through the steps they will need to take to earn their certifications and gain valuable experience. Offer them advice for internship opportunities and speak to them about how best to deal with the long shifts they will face at their future jobs.
You can encourage your cleints on days in which they feel overwhelmed, because as a nurse, you know the ins and outs of what it takes to be successful in this field. Share that knowledge with others – and get paid for it.
Related: Trusted Online Jobs for Students to Make Money in School
Side Hustles for Nurses Can Be Lucrative and Fulfilling
The only limit to finding the right side hustles for you as a nurse is your imagination. There are plenty of ways to create a side income that won't affect your nursing career. From proofreading, to creating a blog, to becoming a life coach, you won't be short on opportunities to supplement or replace your job.
You don't have to choose just one of the ideas listed above. Try one or more from this list, or create your own side hustle. Nurses are a vitally important part of today's society. Grow the impact you have as a nurse by finding even more ways to help your community.
Related: How to Invest and Make Money Daily
---