40 Best Games That Pay Real Money [PayPal or Cash]
My favorite game app, Blackout Bingo, facilitates head-to-head bingo matches for REAL money (up to $165 per win!)
You can even get bonus cash if you enter the promo code APget5. Play rounds for free or deposit $5 to multiply your winnings and cash out!
Please Note! Cash tournaments are available in most of the world. Cash tournaments are not enabled in the following states: AR, CT, DE, IN, LA, ME and SD. If you don't live in a prize-enabled region, you can still play for free.
I have personally earned (and received) thousands of dollars by playing games on my phone.
I've always believed that real money gaming is for entertainment purposes only, but I was truly surprised at how fun and profitable it can be.
For example, here is a check for $251.42 (out of a total of $4,540.38) I received after playing games for real money:
Are you an avid gamer who spends much of your spare time gaming on your phone? If so, you might be missing out on an opportunity to make money fast today!
You can actually make your hobby a lucrative one and play games for real money. I know it sounds too good to be true–which is why I went on a mission to research and test games that actually will earn you some extra money.
I was just like you. I started playing games on my phone all the time. Whether it was to pass the time, "hang out" virtually with friends, or achieve a new level, I was prepared to play real money earning games before I even knew it was a real thing.
Even if you usually just play games for fun or to pass the time, it really is possible to bring in some extra cash while also enjoying your game-playing. All of the apps and websites listed below offer legitimate and real money games for those looking to earn extra cash.
Click the button ⬆️ to subscribe to my YouTube channel where I share real ways to earn money.
Our Popular Money-Making Offers
Sign up with each of the following companies to maximize your earning potential.
$10 sign-up bonus
Pays to take surveys, complete offers, shop online, and much more
100s of other paid tasks
Awards cash and gift cards
$5 sign-up bonus
Pays to play games, watch videos, answer polls, and much more
100s of other paid tasks
Awards cash and gift cards
Skillz Apps That Pay You to Play Real Money Earning Games
The following apps will pay you to play games. All you have to do is install the app or log in to its website, pick an activity, and play games for money with Skillz.
1. Blackout Bingo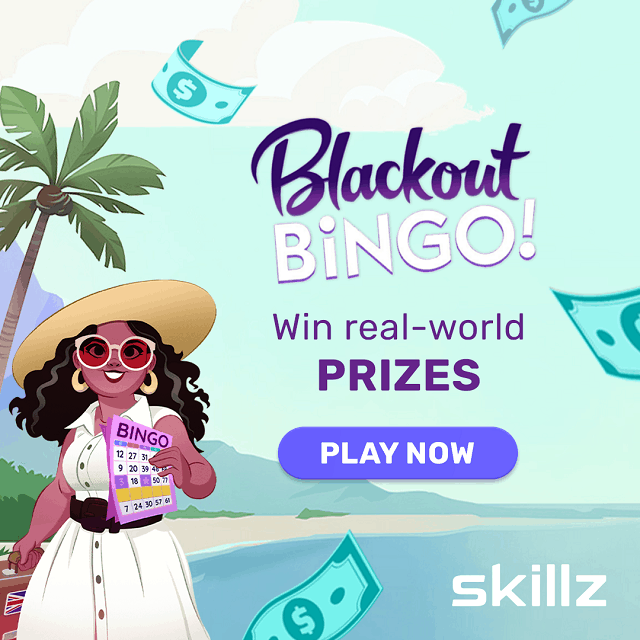 When I first started researching games that pay real money, I had no idea where to start. So naturally, I started looking into the classic game of bingo. Since its inception during the roaring 20's, bingo has come a long way. You can now enjoy it outside of the traditional bingo hall setting.
I found that Blackout Bingo is one of the best apps that pay real money to play games. This is the version of the game I settled on and personally played the most to win real money. I enjoyed it because I could play short rounds before bed, during naptime, or while watching Netflix.
Give the app a try where you can travel the world with your Avatar and climb up the ranks to win real money. The app will match you with other real players who are at the same skill level as you. Winners of the bingo competitions can collect cash and prizes like gift cards, electronics, kitchen gadgets, and even boats and cars! Get to know the game's unique features such as boosts and speed bonuses to enhance your winning potential.
Blackout Bingo is available both in the Apple Store for iPhone users and in the Galaxy Store for Android users. And you can cash out your winnings at any time via a physical check (in the US) or PayPal (internationally).
Enter the Skillz promo code APget5 and get FREE bonus cash with your first $5+ deposit.
Please Note! Cash tournaments are available in most of the world. Cash tournaments are not enabled in the following states: AR, CT, DE, IN, LA, ME and SD. If you don't live in a prize-enabled region, you can still play for free.
Related: Blackout Bingo Review
2. 21Blitz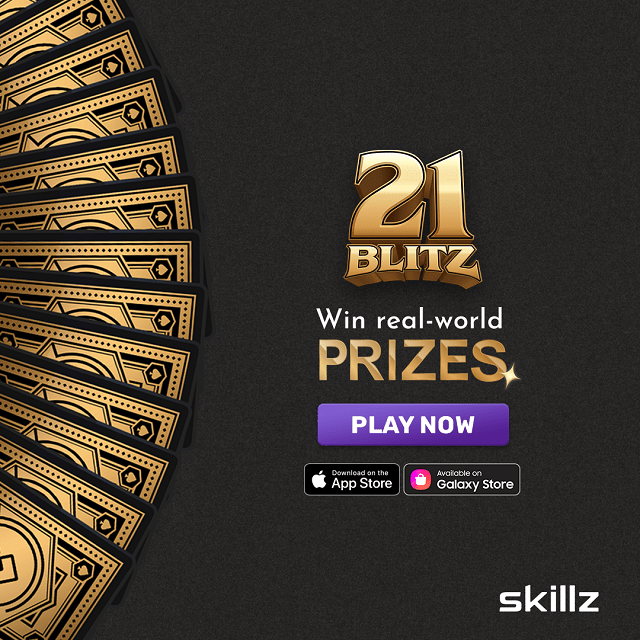 21Blitz is a game for blackjack and solitaire enthusiasts. The app offers a combination of these two games, but it puts its own twist on the classic versions to make it unique.
You can download 21Blitz and play against real people to compete for top leaderboard status. Play for free first as practice, and then go on to play to win real money when you feel ready. 21Blitz offers a fun way to use your math and card game skills to earn real money.
I enjoyed exercising my math skills while playing some real money rounds of 21Blitz on my phone. The object of the game is to clear the decks by stacking cards that add up to 21 or less (without going over). The closer you come to 21, the more points you get.
You can make money playing games like 21Blitz when you compete with others. Your real money earnings from playing blackjack can be withdrawn in the form of a physical check in the US or PayPal internationally. There is also an opportunity to earn tickets that you can exchange for big prizes like a car, TV, and electronics.
Enter the Skillz promo code APget5 and get FREE bonus cash with your first $5+ deposit.
Please Note! Cash tournaments are available in most of the world. Cash tournaments are not enabled in the following states: AR, CT, DE, IN, LA, ME and SD. If you don't live in a prize-enabled region, you can still play for free.
3. Solitaire Cube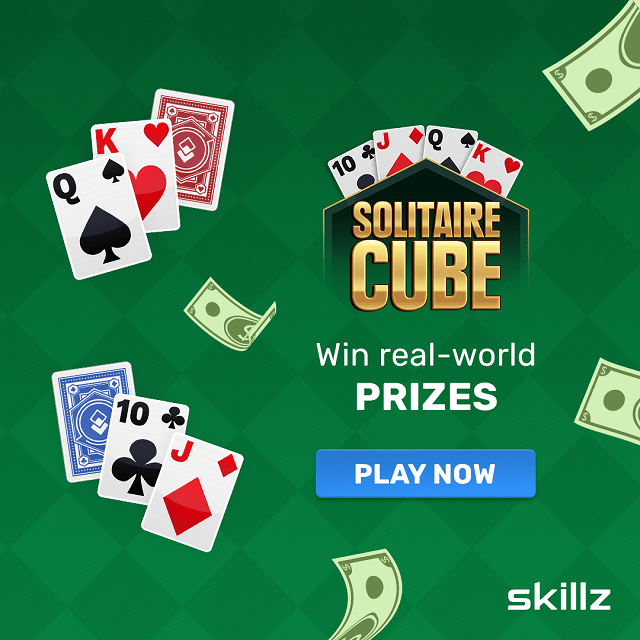 During my research, which of course included my fair share of trial and error, I found that Solitaire Cube is the ultimate solitaire gaming app. The goal is to play against a real opponent. You both are dealt the same cards, but whoever can finish the game first under the time limit wins the game.
You can either get paid to play Solitaire or play just for fun. You can also choose to compete in tournaments for even bigger earning potential. The quicker you can complete your games, the more rounds you can win.
When you're ready to redeem your winnings on Solitaire Cube, you can request a payout via paycheck in the US or PayPal internationally. This app is available on Android and Apple devices, which includes tablets.
Enter the Skillz promo code APget5 and get FREE bonus cash with your first $5+ deposit.
Please Note! Cash tournaments are available in most of the world. Cash tournaments are not enabled in the following states: AR, CT, DE, IN, LA, ME and SD. If you don't live in a prize-enabled region, you can still play for free.
Related: Solitaire Cube Review
More Popular Money-Making Offers
Earn more money in your spare time with these reputable companies.
Free PayPal cash
Paid surveys and web searches
Earn easy cash back
Get paid directly to your PayPal
PayPal, Visa, Amazon, etc.
Pays you to do NOTHING (with SJ Pulse)
Simply install the software
Participate in paid surveys & studies
Papaya Games that Pay Real Money
Papaya Gaming is a popular platform that offers real money earning games for competitive players. It allows you to wager against your own skills for the chance to win cash!
4. Bingo Cash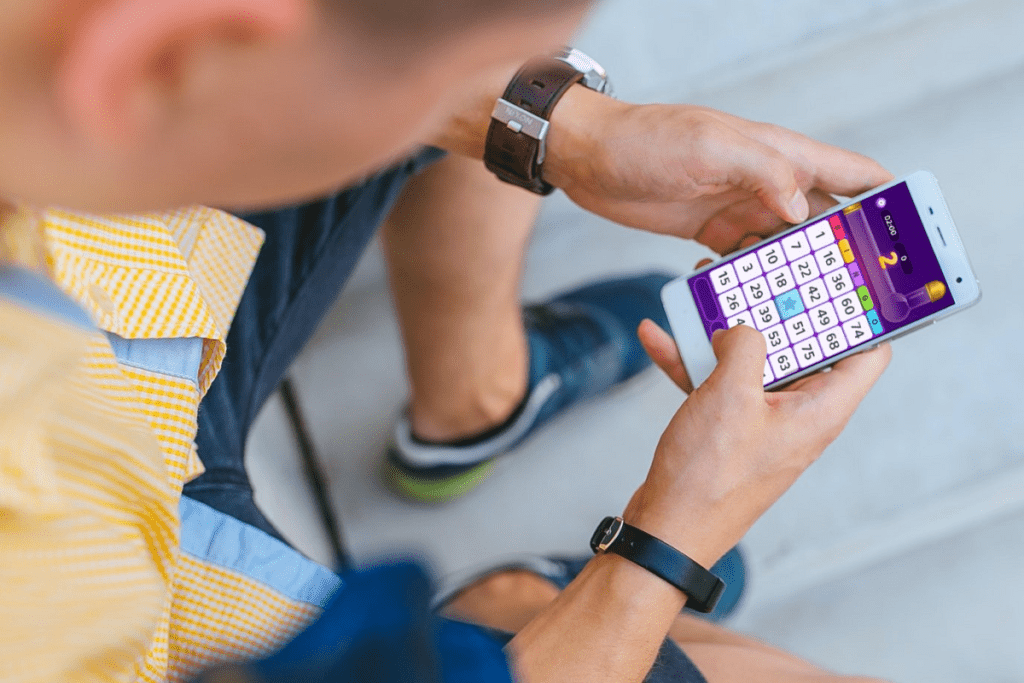 Papaya Gaming arranges bingo matches between players around the world based on skill level. That means when you download Bingo Cash and start playing for real money, you'll be matched with other players who are just getting started as well. Each player is given the same board, call numbers, and boosts during a live match. The player who daubs the fastest and uses boosts to maximize their points will win the cash.
Bingo Cash can be downloaded to an iOS device from the Apple Store, or to an Android device from the Samsung Galaxy Store. Do not bother to search for the app on Google Play, or you will be disappointed by the apps that claim to pay you to play bingo (but absolutely do not).
Any cash you earn with Bingo Cash can be securely withdrawn to a PayPal or Apple Pay account. There are also opportunities to win daily gifts and bonuses just for opening the app, as well as trophies and larger prizes for your dedicated gameplay.
Bingo Cash™ is FREE to download and play! However, cash tournaments are not available in the following states: AZ, AR, IA, LA & SC.
Related: Bingo Cash Review
5. Solitaire Cash
Solitaire Cash by Papaya Gaming takes real-money gaming to the next level. Instead of wagering against chance, you get to put your solitaire skills to the test right from your smartphone or tablet.
Papaya Gaming pairs two players who exhibit similar skill levels into a match where all cards dealt are the same. Each player completes the round just as any solitaire game is played. The player who earns the most points during the round wins the cash pot.
Playing practice rounds of Solitaire Cash is free worldwide, and most players can go on to play with real money when they feel ready. The app will equip you with the skills needed to win. Practicing low-wager rounds can help you find new ways to maximize your points.
Solitaire Cash is available from the Apple Store for iOS devices, and from the Samsung Galaxy Store for Android devices. Don't bother searching for the app on Google Play, or you will be disappointed by the apps that claim to pay you for playing solitaire (but actually don't).
With Solitaire Cash, you can withdraw your earnings securely to PayPal or Apple Pay. The app also offers daily gifts and bonuses, as well as trophies and larger prizes for dedicated players.
Solitaire Cash™ is FREE to download and play! However, cash tournaments are not available in: AZ, AR, IN, IA, LA, ME, MD, SC, MT & SD
Related: Solitaire Cash Review
6. Bubble Cash
As a new Bubble Cash player, you can practice playing rounds for free. And if you don't feel like you have the skills to beat your opponents, you'll never have to deposit cash to keep playing. For the avid real money gamer, however, you can expect to deposit real cash in order to play live rounds and have the chance to win money.
Papaya is a trustworthy platform that offers tons of games that pay real money. Instead of taking a trip to the casino, you can put your actual gaming skills to the test and win rounds of Bubble Cash, fair and square. Each time you make a wager, you'll have a 50/50 chance to win. Improve your bubble shooting skills to get paid to play games.
Bubble Cash is FREE to download and play! However, cash tournaments are not available in the following states: AZ, AR, IA, LA, MD & SC.
Related: Bubble Cash Review
Play Free Online Games to Earn Money (via Swagbucks)
Swagbucks is an app (and website) that pays you to do a lot of different easy tasks. These include playing free money earning games, watching videos, searching the web, and much more. (You can read more about the other ways to make money on Swagbucks in my full review.)
Swagbucks hosts some free online games to earn money on the site but mainly pays you to download apps and play games on your mobile device. Some popular games include:
7. Backgammon- Lord of the Board ($30)
Backgammon is a game of skill. If you enjoy playing games for real money, then install this app using your Swagbucks account to get started. To earn your 3,000 SBs (worth $30), you will need to make an in-app purchase plus reach level 30.
Related: Best Online Slots for Real Money (No Deposit)
8. Grand Mafia ($100)
Earn a whopping 10,000 SBs (worth $100) on Swagbucks for playing Grand Mafia. Grand Mafia is a game where you can build your avatar up to become a mafia boss. It comes with the money, cars, and big houses. If this is your kind of game, then add Grand Mafia to your list of games that pay real money.
Reach Mansion Level 25 within 30 days of installing the app. Once you have completed that task, your Swagbucks account will be credited with your earnings. Redeem all of your SBs for rewards like gift cards to Starbucks, Target, Amazon, and even PayPal.
9. RAID Show Legends ($50)
As a RAID Show Legends player, you can earn 5,000 SBs (worth $50) when you summon two sacred shards in the first 30 days. Your Swagbucks account will be credited with your earnings and you can redeem them for gift cards or a PayPal deposit.
RAID Show Legends is a role-playing type of game. It makes you feel like you're the one who is actually playing the game.
10. Gin Rummy ($25)
If you are a classic gin rummy fan, then sign up for an account with Swagbucks and play gin rummy for real money. You can play with friends or other players around the world. In order to earn the 2,500 SBs (worth $25) bonus, you will need to make at least one in-app purchase and reach level 45 within seven days of installing the app.
Related: Best Apps to Play Rummy for Money
11. Farmville 3 ($10)
FarmVille 3 is a fun, upbeat game about living on the farm, growing food, breeding animals, making a profit from those animals, and purchasing items you want for your dream farmland. Get 1,000 SBs (worth $10) on Swagbucks when you build an animal farm and reach Level 30 within 10 days of downloading the app for the first time.
12. Swagbucks Games (Unlimited SBs)
There are games that give you real money when you reach or cross a particular level, while there are others that just require you to spend some time playing. You can earn 10 SBs (equivalent to 10 cents) easily by playing for a few rounds.
Swagrun, Swag IQ, and Swago are other popular SB-hosted games that you can try. In addition to playing the games, you can earn a $10 bonus just by creating your profile and using the platform.
Another fun way to play real money earning games without going to the Casino is to try out the new Swagstakes. You can potentially flip your SBs into more cash by entering stakes with huge odds. The higher the buy-in, the better your odds of winning the cash prize.
Earn Real Money Playing Games (via InboxDollars)
InboxDollars pays you to do a variety of tasks like playing games. (Learn more ways to make money with InboxDollars in our review.)
The free site connects you with gaming companies that need players. You can choose from more than 30 different games that pay real money.
13. West Game ($60)
West Game is another one of those games that pay real money to InboxDollars account holders. It is a wild wild west themed game. If you are into shooting games and cowboy style avatars, then this game is perfect for you.
With West Game, you can earn $60 once you complete level 17 within the allotted timeframe.
14. Spades Royale ($25)
Spades Royale is another game that pays real money through InboxDollars. It provides entertainment and payment for playing. Play against other players for your chance to make $25. You get the $25 once you reach level 50, which has to be done within the first eight days of installing and signing up.
Spades Royale won't be the one to pay you, but InboxDollars will. Your InboxDollars account will be credited with your $25 and then you can redeem that money for gift cards or a payment to your PayPal account.
15. Board Kings ($35)
Play Board Kings through InboxDollars to earn a $35 cash reward just for playing and reaching a new level. It is an online board game that you can play with other players or friends who also have an account.
16. Mafia City: War of Underworld ($70)
Mafia City is a game for anyone who wants to live the virtual mafia life. From all the money, fancy cars, and big mansions, you can have it with Mafia City. Get a $70 reward when you download the game for the first time through InboxDollars and play.
17. ClockMaker ($15)
ClockMaker is a fun matching game. Match three of a kind to earn points and advance to the next level. InboxDollars rewards players with $15 for completing certain missions on ClockMaker.
18. Rise of Kingdoms ($75)
Rise of Kingdoms can be found on InboxDollars, and only those who join InboxDollars and download the app through the website can earn real money for playing. The game consists of wars to conquer the entire world.
You will see your earnings added to your InboxDollars account once you have reached level 18 in the game. However, you have to reach this level within 21 days of having the game installed. If you complete this, you can expect to receive $75 credited to your account.
Redeem your money from InboxDollars in the form of PayPal cash or gift cards to places like Amazon and Target.
19. InboxDollars Games (Unlimited Scratchcards)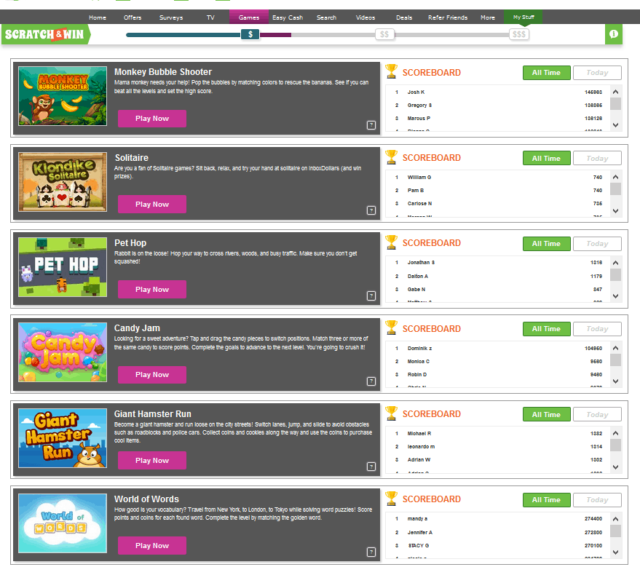 I personally enjoy playing the games hosted on InboxDollars like Candy Jam, Mahjongg Dimensions, Word Wipe, and Monkey Bubble Shooter. But keep in mind that you won't be paid a set amount of cash for playing but will instead earn scratch cards. You can then scratch those cards to win real money instantly.
It took me four minutes of playing Candy Jam to earn a scratch card. You can scratch immediately or continue to build your chance to win more money by scratching your card later.

While the highest prize available on those scratch cards is $100, it is rare to win that amount. But if you're looking to earn some extra cash while playing games for fun, this is an easy place to start. The best part is that you don't have to wager any cash to play and every scratch card wins real money!
Related: Online Word Games for Money
Get Rewarded for Playing Games With Mistplay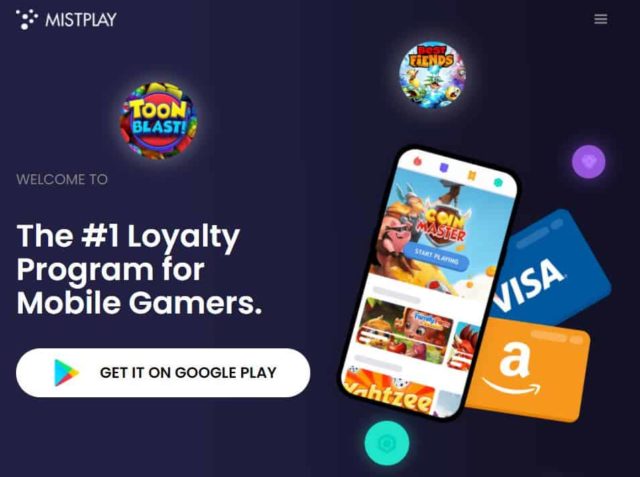 Mistplay is a "loyalty program for mobile gamers." This app is currently only available on Android devices (which I have!).
The basic gist of Mistplay is that it connects the brains behind notable games with new players. The app recommends playing certain Android games to earn real money.
As a Mistplay member, test and play all kinds of new games in return for reward points called units that can be redeemed for free gift cards, including a Visa cash card.
If you decide to join, the more time you spend on a game, the higher your opportunities to earn. On Mistplay, you can earn hundreds of points for every game you play; every 1,500 points equals a $5 gift card.
There are tons of games to choose from, but some speedy earners include:
20. EverMerge
EverMerge is an addictive game available to play on Mistplay. It is a fun virtual land that continues to expand as you merge items together and unlock new discoveries. It is a world-building puzzle game where you can complete puzzle quests to reveal new lands with a little bit of strategy.
You can get paid by Mistplay to play EverMerge by completing missions, spending time on the game, and leveling up. Each time you meet a new level, you are rewarded with XPs on Mistplay. XPs are like points that lead to units which you can redeem on the Mistplay site for Visa gift cards.
21. Coin Master
Available on Mistplay, Coin Master is a game where you get to build your very own viking village. Spin to earn money, attack and raid fellow vikings to gain even more coins, and get rewarded in XPs for all the checkpoints you make it through. Collect cards and treasure along the way, compete with friends, and have fun with Coin Master.
Earn units and cash them in on the Mistplay site for Visa cash or gift cards to places like Google Play, Uber Eats, Amazon, and more.
Learn more about the app in our Mistplay review.
More Sites Offering Free Online Games That Pay Real Money
| | |
| --- | --- |
| 📲 Best Platforms | Skillz ✔️ InboxDollars ✔️ Swagbucks ✔️ |
| 🎮 Best Games | bingo, solitaire, 21blitz |
| 💵 Payment Options | PayPal, Visa, gift cards |
| ⬆️ Payment Threshold | $1 to $10 |
Making money by playing games is a dream that few people carry out. The more sites you join, the more money you can potentially get paid to play games.
22. Kashkick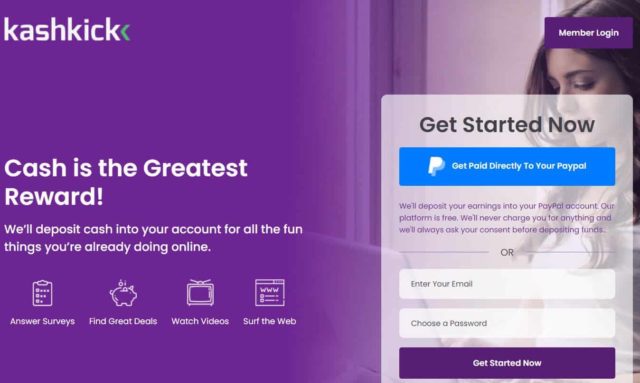 Kashkick is an online rewards platform that pays users for completing various small tasks, which includes playing games. When you join as a free member, you can start playing games like Wordscapes, Puzzles & Survival, Board Kings, Dice Kings, and a variety of others to start earning real money.
Your earnings are paid directly to you through PayPal. You can request a payout once you earn at least $5. It's free and easy to sign up for a Kashkick account. You must be at least 18 and in the US to join. Users rave about the fun and easy games that pay real money on Kashkick.
Find out if Kashkick is worth your time in my full review.
23. Solitaire Fortune (iPhone Only!)
If you're a fan of classic solitaire games and are looking for a new way to play, Solitaire Fortune by Tripledot Fortune LLC might just be the app for you. Launched in March 2022, this game is currently available for iOS devices on the App Store and offers players the chance to not only enjoy their favorite solitaire games but also compete for real cash prizes.
Solitaire Fortune is a free-to-play iPhone game app that is based on classic solitaire. The goal of the game is to move all cards to the foundations at the top. The app offers both unlimited free play as well as competitive gameplay with real cash prizes. Players can choose from a variety of different game modes and compete in daily tournaments and head-to-head matches against other players.
One of the best things about Solitaire Fortune is that it's easy to learn and fun to play. The rules are simple, so everyone can get started quickly. And with the chance to win real money prizes, there's an added level of excitement that makes playing even more enjoyable.
If you're interested in trying out Solitaire Fortune for yourself, you can download it for free from the App Store. And if you want to take the app for a test run before depositing real money, you can play unlimited practice rounds.
Related: How to Get Free PSN Codes
24. Pool Payday
Pool Payday is an interesting combination of playing pool in a Solitaire twist. You can play games live with other people or invite your family and friends to play with you.
Compete with others to win prizes and cash. Each time you score in this pool game, you win points. You can use features like a trick shot to gain even more points. Those points are converted into money.
Pool Payday is one of the top Skillz games that pay real money. Earn more points than your opponent and you can win real cash. The app is available for both Apple and Android phone users.
When you enter the Pool Payday promo code "APget5," you'll get bonus cash when you make your first cash deposit.
Enter the Skillz promo code APget5 and get FREE bonus cash with your first $5+ deposit.
Please Note! Cash tournaments are available in most of the world. Cash tournaments are not enabled in the following states: AR, CT, DE, IN, LA, ME and SD. If you don't live in a prize-enabled region, you can still play for free.
25. Dominoes Gold
Dominoes Gold is a dominoes game app that brings the classic game to life in a different way. This is another game that I enjoyed because it exercised my math skills. You can earn points every time you lay dominoes that add up to multiples of five.
Use the competitive gameplay feature to play with friends and compete for big prizes and money. When you're ready to cash out your earnings, your money will be sent to you via paycheck in the US or deposited into your international PayPal account.
Other larger prizes include free Amazon gift cards, cars, watches, and more. Download the app on an iPhone or Android to start playing to earn. Enter the Dominoes Gold promo code "APget5" before depositing cash for the first time and get bonus cash when you make a deposit.
Enter the Skillz promo code APget5 and get FREE bonus cash with your first $5+ deposit.
Please Note! Cash tournaments are available in most of the world. Cash tournaments are not enabled in the following states: AR, CT, DE, IN, LA, ME and SD. If you don't live in a prize-enabled region, you can still play for free.
Related: Get Paid to Build LEGO Sets
Other Ways to Get Paid to Play Real Money Earning Games
While the apps and sites listed above do provide a good way to earn money while playing games, a limitation with all of them is that you can only play the listed games.
What if you want to get paid to play games that you already like? Can you still make money that way?
Yes, you can! The methods below include unique ways in which you can be paid to play your chosen games or somehow incorporate your favorites without using any of the apps that pay you to play games.
26. Start a YouTube Channel or Twitch Stream
If your gaming skills are exceptional, or if you're a great entertainer (or both), consider creating a gaming YouTube channel or starting Twitch streaming. Either of these could provide the perfect option to earn money playing games.
All you need to get started is a good PC/gaming console, a camera, and an internet connection. Any other items can be purchased along the way.
You can get paid to play Fortnite, Minecraft, Warzone, or even Mario Party. As long as you bring excitement and skills to the screen, you can draw in your audience and build a following over time.
Many people have been deterred from taking this method by the myth that you cannot make money unless you grow a massive audience.
In fact, you can start earning right away, with tips that your fans can give you via YouTube's Superchat and Twitch's cheers. Alternatively, Patreon is a good option if you can build a small but loyal fanbase. It's basically like getting free money for something you already do.
Once you reach a substantial number, your earning potential will be limitless. You can bring in income from ads, brand endorsements, affiliate sales, selling your merch, and more.
Related: How to Get Paid to Play Minecraft
27. Places Bets on Sports Teams
Live Sports betting has been a popular income strategy for many years. While this is not something that I do personally, and I do not recommend frivolous betting, my husband has made some real money by placing small bets on sports games over the years. He is a die-hard sports fan and doesn't place bets without feeling confident in his knowledge of teams and players.
The eSports industry is booming, and with today's technology, you don't have to know much about the teams or individual players in order to make money watching sports and placing bids.
Check out apps like FanDuel and DraftKings to start placing bets. And don't forget that this strategy to earn money on game wins comes with a risk (like any other bet or investment).
28. Start a Gamer Review Niche Site
A niche site is an online website that can be used to discuss ideas, information, opinions, reviews, and more.
Blogs, for example, often fit into niches. In fact, the blog that you're reading right now is in the personal finance niche. Similarly, there are also blogs in the gaming niche. If you like to write and understand gaming, this could be a great opportunity for you.
A gaming niche site could include anything game-related, including reviews, information, playthroughs, strategies, tutorials, and news. This is one of the most lucrative ways to play games for real money.
All you need to start a niche site is a domain name, web hosting, WordPress, decent writing skills, and knowledge of your niche. It is much easier to start a website if you stick to a niche in which you're genuinely interested. So, if you're already a gamer, writing about your hobby will be far more enjoyable for you than writing about a random topic.
Like streaming, you don't need a huge number of readers in order to make money with a niche site. You can start earning with a smaller audience pool using methods like affiliate marketing.
29. Play Games While House or Dog Sitting
House sitting or dog sitting is a popular way to earn some side income. This involves looking after other people's property or pets while they're away.
House and dog sitting are passive, not active jobs. If you want to earn more money while you are simultaneously taking care of another person's home or pet, then bring your games along.
With this method, you can either play games for money on the apps mentioned above or utilize your time to write or create content for your channel/blog.
Use Care.com to find house or dog sitting gigs in your local area, and then make extra money by playing games as you fulfill your commitments.
Related: Use a Cash App Free Money Code for a Bonus
30. Set Up Local Gaming Tournaments
If you're already a seasoned gamer, you're probably familiar with the concept of local gaming tournaments. With these, you and your friends can compete for prizes and fame.
You can organize local gaming tournaments and invite your friends, neighbors, and other local gamers to come out and play real money earning games. This is a great way to make extra money, as well as meet new, like-minded people in your area.
The easiest business model to reference as a way of earning profits via local gaming tournaments is to charge an entry fee from the participants.
If your tournament is big enough to catch some eyeballs, then it could also be a great opportunity to attract a local sponsor.
Meetup.com and reddit.com can provide you with a great platform to meet other gamers, as well as potential participants for your tournament.
Even if you don't want to go through the hassle of organizing a tournament yourself, you can still take part in local gaming events. Gaming tournaments are usually posted on social media and on regional websites.
Related: How To Get Free Xbox Live Codes
31. Flip Gaming Gear Online
Unlike the other ideas in this blog, flipping gaming gear is not a way to earn money to play games. But it is a great side hustle if you're looking to make some quick bucks online.
Since you're probably already a gamer and might know other gamers as well, it will be pretty easy for you to flip gaming gear online.
Your knowledge and familiarity with gaming equipment can help you select high-quality inventory and turn a good profit.
You can resell gaming gear on eBay, Facebook Marketplace, Craigslist, and more, or choose to open your own online store with Shopify or any other e-commerce provider. If you go the latter route, you will need to deal with online store charges and the marketing of your store.
Related: How to Flip Money
32. Become a Game Tester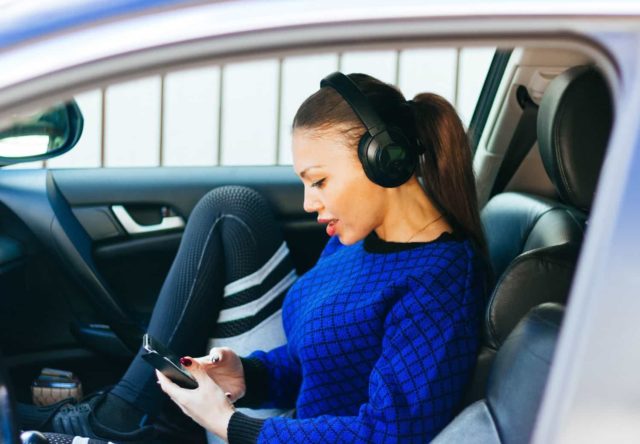 Companies like Warner Bros. Entertainment Group, Nintendo, and FutureProof hire game testers from time to time. You can search their job listings for current openings.
Testing games can often be done from home but may require contractors to provide their own gaming gear. You can read the requirements for each position before you apply.
While testing games may sound like the dream career for an avid gamer, the position can get monotonous and intense when done long term. And since you'll be doing more than just playing for fun, you may find yourself repeating levels over and over to pick apart potential problems with the games like glitches and inconsistencies.
Related: How to Become a Product Tester
33. Become a Gaming Influencer
Gamers buy new gaming gear based on referrals and reviews. There are always choices to make, and gaming influencers can help sway followers depending on personal preference and experience.
You can become a social media influencer and build an online community where you can share deals and compare the latest gaming tech. When you partner with different brands, you can earn a commission for the products you recommend and sell–without ever dealing with inventory.
34. Level Up and Sell Your Gamer Accounts
For many people, starting from level one can be a pain. That's why there's a market for buying and selling game accounts. Runescape and Golf Clash are just two of many games that people like to buy accounts for. If you enjoy spending time leveling up in games, you can potentially sell the accounts later.
Related: Prizegrab review: Can You Really Win Cash?
35. Start a Gamer Forum
Gamers love to search for shortcuts and cheats for the games they play. They also enjoy chatting with fellow gamers just for fun. Consider starting an online forum for gamers.
Start by focusing your forum on one game. As the forum becomes popular, you can add additional games that are similar to the original.
36. Design Gamer T-Shirts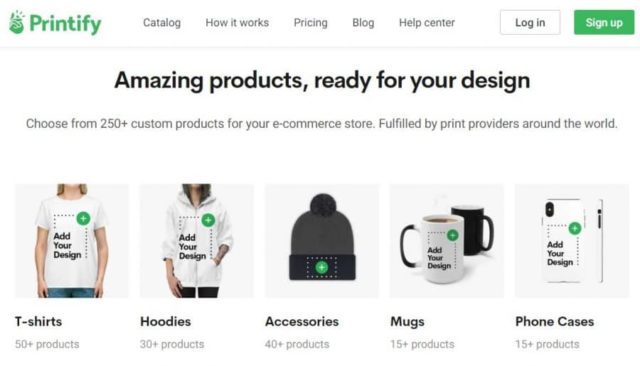 Gamers love to show off their interests with short quotes or graphics on t-shirts. You can make money writing slogans that relate to gamers, design t-shirts using the slogans, and sell them on a platform like Printify.
Share your designs with fellow gamers and get your friends to share them on social media. Over time, one great t-shirt design could earn you a hefty passive income.
37. Trade Game Currency
Some gamers make money trading currency within the game they play and then sell it online for real money. A game like Runescape, for example, has its own economy. When the supply of a rare item goes down, the price goes up and vice versa.
If you like the idea of investing in items using game currency, selling them later for a profit, and then cashing in your game money for real money, then this could be the gig for you.
Related: How to Make Money in the Metaverse
38. Design Digital Products for Gamers
Digital products like ebooks and online courses can be lucrative items. You only have to create them once and then you can sell them over and over.
As an avid gamer, you could create an in-depth guide or video tutorial and sell it to your fellow gamers. If your digital product is good, sales will increase over time by word-of-mouth recommendations.
Related: How to Setup an Etsy Shop
39. Become a Freelance Gaming Photographer
Digital and print publications use professional photographs all the time. Many companies buy photos from paid stock photography sites like Shutterstock. You can become a contributor and add your photos to make money as a gamer. Every time someone downloads your photo, you earn a commission.
Related: More App Like Mistplay
40. White Label Your Own Line of Gaming Gear
Gaming is a billion-dollar industry that won't be going away any time soon. You can get in on the wealth and sell your own line of gaming gear to earn $5,000 per month or more.
Since choosing the right gear to sell requires hands-on testing, you'll need to play plenty of games during this venture.
Start with items you're most familiar with like headsets, keyboards, or comfortable gaming chairs. You can grow your business and add new items to an online storefront.
To while label and sell gaming gear, set up a store on Shopify or get started selling on Amazon FBA.
Can You Get Rich Playing Real Money Earning Games?
Regardless of which method you use, you probably won't become a millionaire playing real money earning games–at least not any time soon.
Although the top one percent of gamers make millions every year, remember that there is a reason they're at the top.
All of the methods mentioned above can bring in extra part-time income every day, but if you are hoping to turn gaming into a full-time career or become a millionaire, you will need plenty of skill, a lot of hard work, patience, perseverance, and more than a little bit of luck.
Now it's time to try your hand at using any of these apps that pay to play games. You might be surprised by how much fun you'll have with them.
Related: Where to Work as a 15 Year Old