3 Possible Reasons a Random Person Sent Me Money on Cash App
One of my favorite sites, Swagbucks, offers tons of ways to earn real cash online. If you're not already a member, give it a shot! Here are five things you can do to make easy money on the site:
Play games (up to $110 each)
Test apps (up to $150 each)
Submit receipts (easy cash)
Shop at your favorite stores (up to 10% back)
Answer surveys and polls (quick cash in minutes!)
As many as 1 in 10 U.S. adults are affected by online scams each year. Scammers have become a part of the internet that people have to look out for and understand how to spot potential threats. These scams are out to get money from unsuspecting people, and if you're not careful, it could really hurt you financially.
These scammers have evolved over time so it is important to know the signs. This isn't saying that everyone is out to get you. But you can never be too careful, especially if you run into a situation that has you asking, "A random person sent me money on Cash App; what should I do?"
There are a few reasons why someone you don't know might send you money through Cash App. Take a look at the reasons why in this list and how to spot red flags. When it comes to your finances, never hesitate to question things that don't feel right. If it sounds too good to be true, more than likely it is.
Our Popular Money-Making Offers
Sign up with each of the following companies to maximize your earning potential.
$10 sign-up bonus
Pays to take surveys, complete offers, shop online, and much more
100s of other paid tasks
Awards cash and gift cards
$5 sign-up bonus
Pays to play games, watch videos, answer polls, and much more
100s of other paid tasks
Awards cash and gift cards
What is Cash App?
Cash App has become one of the top money management apps available to manage your money flow. You can use it to do simple things like send money to friends and family or accept money from them. The app also allows you to track your spending, invest in Bitcoin, receive direct deposits, earn cash back Boosts, and much more.
The purpose of Cash App is to keep more money in your account with limited fees and easy access to your funds when you want them. Design your own Cash Card as well and use it to draw funds from your balance just like any other debit card.
Cash App makes spending and receiving money quick and easy. If you haven't already set up your account, you can do so using Cash App free money code JSMTBXW for a free bonus.
Get $200+ in FREE Bonuses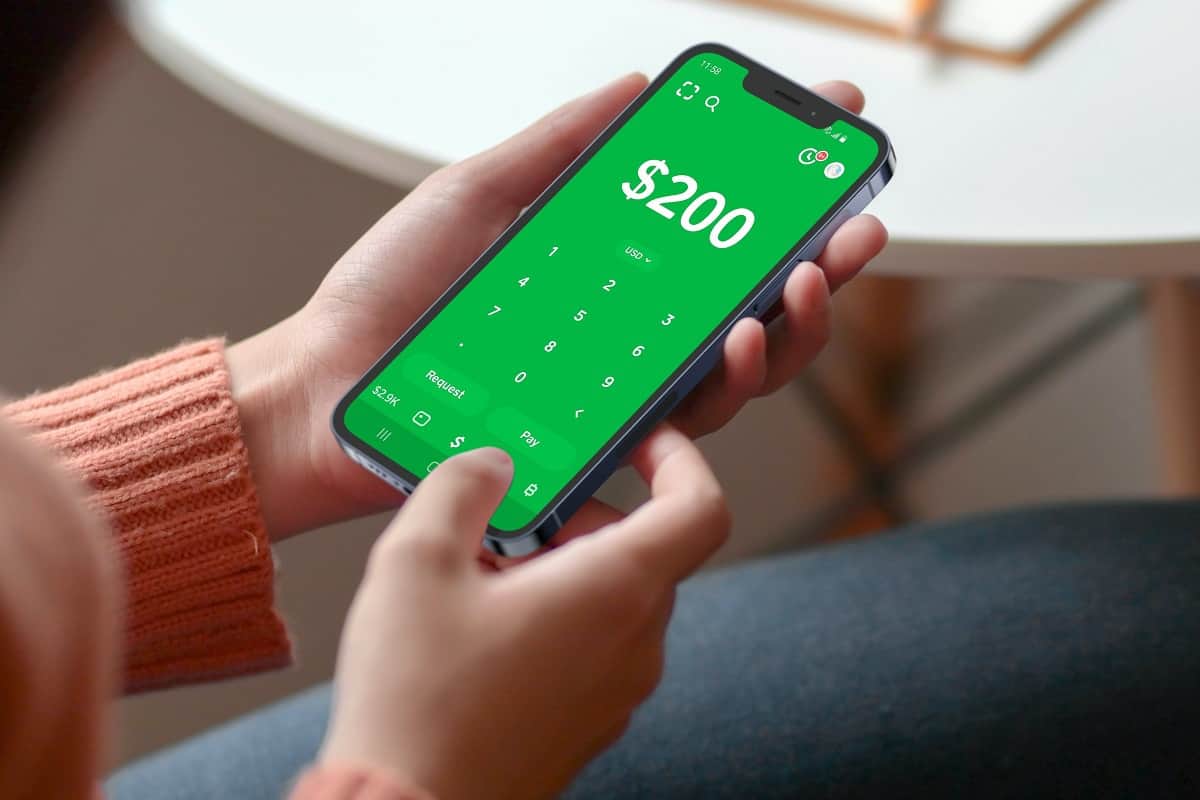 Swap $5 with a friend*
Invite friends to join**
Set up a direct deposit***
*Ask a friend to swap $5 with you through Cash App to activate the $5 sign up bonus.
**Get up to $30 for every friend who joins using your referral code.
***Deposits must equal $300+ within a 30 day period to activate the $100 and $50 cash Boosts.
Click the button ⬆️ to subscribe to my YouTube channel where I share real ways to earn money.
3 Potential Reasons A Random Person Sent Money on Cash App
If you're wondering why a random person wants to send you money on Cash App, then you're in the right place. Take a look at the possible reasons why someone might randomly send you money on Cash App.
1. Possible Scam
Unfortunately, it is not unusual for a scam to occur on any platform. Cash App scammers are finding new ways to target people and make them victims of these scams. There are a couple of ways a random person sending you money on Cash App could be a scam.
The Refund Scam
One scam includes sending you money and then contacting you to say it was an accident. They will then want you to send the money back to some other account. They may ask for additional funds when you send the money back or they may receive information about your account by you sending the money back. Once you've sent the money, they may be able to convince Cash App support that their initial payment was a mistake and then get a refund of that amount as well (so you end up paying them back twice).
The Fake Prize Scam
Another random payment scam with Cash App involves a scammer telling others they've "won" some kind of reward, so they send the "winner" a partial payment. Then, they ask the "winner" to send them back a payment for processing/admin fees in order to receive the remainder of the winning funds. The end of this story includes losing out on money when the scammer runs off before ever paying out the bulk of the fake prize.
The Fake Payment Scam
Lastly, if someone tells you they sent you money, you might be wondering "Someone sent me money on Cash App but I don't see it." This is yet another attempt to scam you. It could be they are claiming to have sent you money for a product or service, but never actually did in hopes you'll still give them the product in good faith. This also goes for them demanding that you send the money back even though it was never sent to you, thus scamming you into giving them free money.
Related: Legit Ways to Get Free Money on Cash App
2. Accidental Payment
It's true that accidents happen. After all, the people behind all Cash App accounts are real. No one is perfect so it is possible that you received an accidental payment. Maybe your $Cashtag$ name is similar to someone they were trying to send funds to and they typed it in by mistake.
However, it is best that you don't touch the money in your account. Don't attempt to send the money back to them because they are a random stranger to you. The person who made the accidental payment may still be able to reverse the original payment.
If you receive communication from Cash App that it is safe to return the funds, make sure to use the "refund payment" option. Do not send a separate payment back to the sender.
3. Random Act of Kindness
When a random person wants to send me money on Cash App, I try to think the best of them. It really could be a random act of kindness–especially if the amount is low like a $5 or $10 payment. And truthfully, I have received a couple of payments from people who just want to say "thank you."
As much as it would be nice to think that there is kindness in the world that shows itself in the form of free payments randomly to your Cash App account, the reality is that this is just not likely. For your financial protection, it is best to assume that this was an accident and wait to see what happens before spending the money.
Related: How to Borrow Money from Cash App
What To Do if a Random Person Sent Money on Cash App?
If a random person sent you money on Cash App, there are a few things you can do to figure out what is going on. Keep in mind that you always want to err on the side of caution, so don't go spending the money until you determine where it came from.
Ask Friends and Family
Before jumping to the conclusion that the money was sent by a random person, consider asking your friends and family who have a Cash App account if they sent it to you. Sometimes the $Cashtag$ name can get changed and you don't recognize it as being from someone you know.
Other times, you may just not associate the $Cashtag$ name with the actual person's name so it could be confusing. Ask around first to clear up any confusion.
Ask Cash App for Help
The best and fastest way to get help from Cash App is through the app on your phone. You can navigate to the Cash App support page, select "Something Else" from the options, and filter out why you are contacting support. This will help get a faster response to you if Cash App already knows what you need help with.
You can also choose to call the support team at 1 (800) 969-1940. There is an additional option to mail Cash App as well.
Wait and See
The random person who sent money on Cash App can request to have the transaction reversed on their end within a certain timeframe. That's why it is best to not spend the money right away. If you do and they request the transaction reversal, Cash App will withdraw the funds and your account could be left with a negative balance.
Related: Where Can I Load My Cash App Card?
Is It Ever Okay to Accept Money From Strangers on Cash App?
There are some reasons why it would be okay to accept money from strangers on Cash App. If you are hosting a fundraiser of any sort and ask for people to send money to your Cash App account, you will likely get several responses from people you don't know. If possible, ask them to put a memo in the transaction to confirm they are sending you money in response to your fundraiser.
Churches also can receive money from random people for tithing and offerings. Using Cash App for tithes and providing the church's $Cashtag$ username to the public can increase the likelihood of that account receiving funds from random people.
In truth, there should always be a reason for money being sent to your Cash App. If you can't find the reason why someone would be sending you money, it is likely not safe to spend the money without contacting Cash App first to ask. Be patient and leave the money alone until you can resolve the issue.
Related: Does The Cash App $100 to $800 Blessing Loom Work?
Cash App Is Safe to Use If You Take Precautions
Unfortunately, Cash App is not exempt from the scammers of this world. Scammers are everywhere and they are evolving constantly. This means you should take those precautions to keep yourself and your money safe.
While Cash App is a safe app to use and offers so many benefits to users, you can't always trust that a random person sending you money on the app is legitimate. Question those transactions, do your due diligence when looking into payment transactions, and contact Cash App if you are ever concerned.
Download Cash App for a better money management experience plus options to keep more of what you earn. Cash App is designed with users in mind. Download it now to start experiencing all it has to offer.
Related: How to Flip Money on Cash App
---