How to Start an E-commerce Business From Scratch for Beginners
Last Updated Jun 07, 2021
Starting an e-commerce business from scratch is easy. Ensuring that your business succeeds—not so much.
For starters, many e-commerce businesses fail because their creators don't take the right steps in their business. Additionally, it takes an investment of time and money to make it work. So if you have neither time nor money to start an e-commerce business, then maybe it's not right for you. If you're willing to invest, then keep reading to learn how to start an e-commerce business the right way!
Our Most Popular Money-Making Offers
Opinion Outpost - A high-paying, trusted survey site that rewards its members in free Amazon gift cards or cash.
InboxDollars - Get a $5 new-member bonus for joining a site that pays you to take surveys, play games, search the web, answer polls, and complete paid offers.
Instacart - Earn up to $20 per hour to shop for and deliver groceries on your own schedule using your own car (and keep 100% of your tips!).
Nielsen Computer and Mobile Panel - Join Nielsen's trusted program to passively earn cash and win rewards just for using your internet as you already do.
Proofread Anywhere - Learn how to make money correcting English grammar and spelling mistakes from the comfort of your home.
Three Things to Know Before You Start an E-Commerce Business
Over the past few years, innovations in technology have made opening a business online that much more affordable. Aspiring entrepreneurs are flocking to the internet hoping to get their companies off the ground. However, simply having the opportunity to open a store does not mean you are more likely to succeed. Here are three things you need to know before you open your own e-commerce store.
1. The Importance of Choosing a Niche
If you're passionate about opening up your own business but are not sure what to sell, you're not alone. One of the most challenging aspects of being an entrepreneur is choosing a product or service. After all, this choice is going to cost you money and time. So, how do you choose the right one? First, you need to identify your interests and what you're actually good at. This means choosing a field where your skills can actually help solve a problem.
Then research your competition. If a handful of popular companies dominate the entire market on a specific product, then it might not be financially wise to compete. Try to validate your business idea with potential customers. Lastly, determine the profitability of your niche. Will this allow you to stay in business, and can you grow it over time?
We'll talk more about choosing the right niche below.
2. Getting Your Products Seen
The quality of the products you deliver won't matter if nobody can see them. The most important thing you can begin to start researching are niche keywords. These are the words typed in by customers on search engines that then present them with the best possible search results. Your mission is to be one of those top results. Once you've been ranked, you can then begin to use traditional marketing tactics. You can use different strategies to drive more engagement. These include sales, promotions, and other forms of incentives to get people through your virtual store doors.
Since keyword research is necessary to the very foundation of starting an online business, I've written out a step-by-step strategy for beginner and intermediate marketers to follow. You can find these strategies in my eBook, Get Your Keywords Together. I only use free SEO tools, a series of crucial steps, and some critical thinking skills (which I teach) to find keywords that rank on page one of Google.
Get a copy of my eBook to help you start your business right. It will help you both choose a niche that isn't dominated by overly dominated by competition, and find lucrative keywords even in the toughest niches.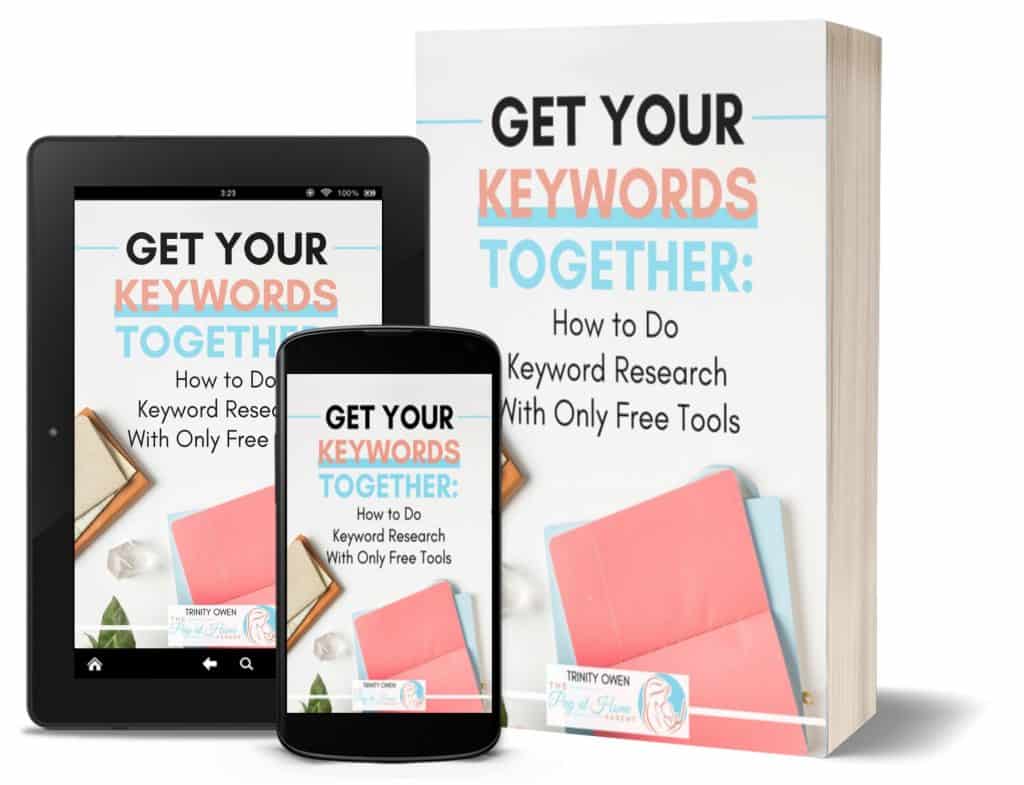 3. You Can't Neglect Your Website
Much like a brick and mortar business, your store's webpage needs to be maintained constantly. Old information and dull-looking web designs can make customers not only bored but, in the end, not trust your company. A common area that business owners tend to neglect is actually where they interact with their customers the most–the store blog. Old information, with nothing being introduced, can make it seem that you don't care about your product and, if you don't care, why should they?
Creating your own e-commerce business can be both an exciting journey as well as a challenging nightmare. However, by utilizing the tips above you can begin to avoid some of the common pitfalls e-commerce business owners tend to find themselves in.
How to Start a Successful E-commerce Business in 10 Steps
Now that you understand that creating an e-commerce business requires research (niche, competition, keywords, etc.), marketing, and upkeep, you should have a better idea if this is the right home business idea for you.
So, if you're ready to start your business selling products online, then let's get started.
For a limited time, you can
join this free training
that teaches beginners how to start a drop shipping business that actually makes money. Drop shipping can lead to lower profits, but it will save you time and money in the long run because you won't be the one handling the physical product.
1. Make a Business Plan
You can't launch a successful business without a plan. So your very first step is to make a complete business plan. It's not as difficult as it sounds. Sit down with a pen and paper and map out your business plan from start to finish.
2. Select a Niche
Choose a niche for your e-commerce website that you're passionate about in some way. In order to be successful online, you'll need to get up close and personal with the products you sell and their applications. From writing tutorials to in-depth product reviews, you're going to tire of your niche quickly if it doesn't interest you. So choose wisely and get to know your niche and the target audience that enjoys the things you'll sell. That way you can build lasting relationships with returning customers.
See Also: How To Choose A Niche: The 5 Mistakes You Need To Avoid
3. Research Your Competitions
Selling online requires more than simply listing a product on a website and watching the sales pour in. To start an e-commerce business from scratch, you'll need to know who you're up against. Who are the top players in your niche, selling the same (or similar products)? Those are the businesses that you'll want to know inside and out. Once you understand how your competition gets traffic to their website and makes sales, you can mirror their strategies. There's no need to reinvent the wheel when it's already been done for many years!
4. Choose an E-commerce Platform and Create a Website
There are many e-commerce platforms that will work for your business, but choosing the right one from the start could save you hassle and money in the long run. The good thing is that you can always switch platforms (or hosts) when you outgrow them—the bad thing is that it can be costly to do so. Instead of blindly guessing which e-commerce platforms are best, consider choosing one of these based on your budget and plans.
Zoey
Zoey is an e-commerce platform built for online store owners who want a DIY solution. Instead of hiring a web developer to create your store for a high price, you can create your own beautiful store using one of their premade, sleek e-commerce templates. Zoey is not the cheapest option, so you'll want to be ready to invest a minimum of $299 per month into your store if you choose them. You can start with a free trial to see if it's right for you.
Related: Zoey Review: The B2B And B2C Platform For Growing E-Commerce Websites
Shopify
Shopify is a popular e-commerce platform for startups. They too have a repertoire of beautiful themes that you can customize to fit your brand. They currently offer free training on how to start a successful dropshipping business.
Related: How To Start A Shopify Store: A Step-By-Step Tutorial (With Pictures)
WordPress
WordPress is an extremely popular platform for bloggers and service business owners, but they also offer tools to list and sell products on your site. It's not nearly as e-commerce focused as Zoey or Shopify, but you can't beat the price. The platform itself is free, and you can often find a free theme that meets your standards as well. You will need to self-host your website for a low monthly cost of $3.95 using a company like Siteground.
See Also: How To Create A Business Website on WordPress
5. Source Your Products
You'll need to choose whether you plan to dropship or stock your products.
Dropshipping allows you to skip the hassle of purchasing, labeling, storing, and packing your products for shipment. When you select this option, you virtually partner with a manufacturer and have them ship the product directly to your customers.
Locally stocking your products is the other option, and it has its benefits if you can swallow the hands-on labor and upfront purchase orders. When you stock your own products, you have the opportunity to rebrand items and make them your own. You may be selling yet another pair of sunglasses, but when you put your awesome label on it, you've just set your self apart from your competition. You can also stock and sell products by other popular brands while you build your own brand awareness.
Check out Shopify's free drop shipping training to see if it's the right step for you.
6. Build Your Brand
Whether you drop ship or private label your items with your own branding, it's still good to build brand awareness around your business. That way when you do decide to test the waters of branding your own product, you have your foot in the door. Private labeling products with your own brand typically brings in the highest profit margin. And when you're dealing with an e-commerce business, you'll want to snag the highest profit margins you can in order to cover your overhead costs and earn a decent paycheck.
You can build brand awareness by creating a logo that stands out, having a uniform, beautiful web design, and becoming well-known among your target market. When you list products to sell, don't stop at a brief product description, but set your brand apart and create helpful tutorials, product reviews, and videos so that your name stands out in your niche.
7. Build a Social Media Following
If your target market hangs out on Facebook, then you should too. If they're loving Pinterest, then you better get comfy there. It's important to build a following wherever you expect to find your potential customers. That way when it's time to introduce a new product, you have many excited followers waiting to hear from you. Keep them up-to-date on practical news, reviews, and information related to your niche, and they'll be loving you on social media.
8. List and Sell Your Products
Now it's time to visit your newly created e-commerce website and list your products. As soon as you publish your first product on your website, you're ready to make sales! Make sure to use your social media channels to boost visits to your brand new store and encourage people to share with friends. A brand new e-commerce business takes time to start earning a decent income, so stick with it, and keep listing those products!
9. Advertise Your Business
As you probably know, hoards of customers won't flood to your store and buy your product out of nowhere. Before you've built a customer base, you're going to need to promote your business in the right places. Depending on your niche, you can advertise on Facebook, Pinterest, Google, or other places to get your products in front of potential customers.
See Also: How To Promote Your Business Using 10 Easy Online And Local Methods
10. Learn to Better Your Business
Even when your store is created and products are listed, it's never really complete. You have to be willing to review the stats and trends and replicate the strategies that work. You can always make your business better by using the past to dictate the future of your e-commerce business. So don't give up and leave your store to run itself. Keep up with the competition and current trends in your market and use them to make your business better every day.
E-commerce Awaits—Are You Ready to Start an Online Store?
Now you know how to start an e-commerce business, but the question is, "Are you ready?" Only you can decide when it's time to jump in and get started. So start your business plan, choose an e-commerce platform, and start listing your products and making sales. You won't know just how successful you can be in your new business until you dive in and give it your all.