12 Breaking Ways to Get Paid to Read the News
One of my favorite sites, KashKick, offers tons of ways to earn real cash online. If you're not already a member, give it a shot! Here are five things you can do to make easy money on the site:
Play games (up to $125 each)
Test apps (up to $125 each)
Buy lottery tickets (an easy $8)
Try popular brands (always changing)
Answer surveys (quick cash in minutes!)
Without the news, people wouldn't be able to keep up with current events in their hometowns let alone around the world. Not all news is about politics or reporting bad things that happen. It is also about celebrating new events and discoveries that bring joy to others.
If you would like to keep up with current events while making the most of your time, then consider the many ways to get paid to read the news.
The news doesn't have to be directed toward big new companies only. Consider reading news about theme parks like Disney World or Universal Studios. You can also read the news for local companies that have announcements they want to make.
Whatever you are interested in, it is highly likely there is a way to get paid to read the news on the subject. Keep an open mind on the variety of ways to make money with the news. You may be surprised to learn that you have many options.
Our Popular Money-Making Offers
Sign up with each of the following companies to maximize your earning potential.
$10 sign-up bonus
Pays to take surveys, complete offers, shop online, and much more
100s of other paid tasks
Awards cash and gift cards
$5 sign-up bonus
Pays to play games, watch videos, answer polls, and much more
100s of other paid tasks
Awards cash and gift cards
12 Ways to Get Paid to Read the News
Some of these ideas on how to get paid to read the news may seem obvious while others might be new to you.
1. Become a Freelance Writer
Freelance writers get paid to write for clients. You can get paid to write blog posts, articles, ebooks, video script content, and much more. Tie all of this into becoming a freelance writer for new sources and you can get paid to read the news.
You can take on clients who want to be known for providing quality news for whatever audience they serve. There are also opportunities to write for big news companies and get paid for it. Read about current news topics and then write about them in a comprehensive, cohesive manner for your clients so their audience can stay in the know.
2. Become an Editor
Editors get paid for editing content. You can become an editor who edits news publications before they are printed for all to see. Become an editor who reviews and edits news information.
Before the content is published on a teleprompter for a news broadcaster to read live or before a news article is published on a website, your eyes as an editor can ensure the news is delivered accurately.
Editors can get paid to read the news as an employee or start their own editing business. You get to decide the best way for your lifestyle to edit for your clients.
Related: How to Get Paid to Read
3. Become a Virtual Assistant
Being a virtual assistant means keeping up with the news that goes on for the clients you serve. That could mean keeping up with laws that could directly impact your client or just keeping up with news about new changes within the company. Virtual assistants get paid to read the news sent to them through emails which they then communicate to the right parties.
As a virtual assistant, you get to set your own hourly rate and determine the hours you want to work. You can even work from anywhere in the world so long as you complete the tasks you are assigned. Check out Fully Booked VA to understand how you can book your calendar full of virtual assistant clients.
Related: Best Virtual Assistant Courses
4. Start a Bookkeeping Business
Bookkeepers have an important role to play in any business. Not only do they keep track of the expenses and income of a business, but they also have to stay on top of any monetary reporting changes in the law. In order to know what changes take effect and when, you will need to read the news.
Depending on where the client you serve is located, you will have to read up on that state's specific bookkeeping laws such as filing taxes for that company. You will need to know every tax season if a new deduction has been added or if there are new income laws that directly impact your client's business. Stay current so that you can lead your clients to financial success.
5. Become a News Broadcaster
News broadcasters get paid to read the news directly from a teleprompter. This kind of job is typically known as becoming an anchor for a news company. You would be the face of the news channel reporting the news to viewers as it comes in.
As a news broadcaster, your job is to ensure you are helping society gain as much knowledge and information as possible so that the public can make informed decisions. On top of reporting tragedies and major events, a news broadcaster becomes a voice for the city they are reporting for by keeping up-to-date on local happenings.
Related: How to Become a Freelance Journalist
More Ways to Get Paid to Read the News Online
There are even more ways you can get paid to read the news online in addition to the previous jobs mentioned. Consider looking into the following ideas to really boost your income.
6. InboxDollars
Get paid to keep up with the news on InboxDollars. InboxDollars is an online member rewards platform that rewards members for completing tasks. Make money with the news by watching news videos on the platform. For every video you watch, you make money that is then deposited into your InboxDollars account.
Redeem your money from InboxDollars by requesting a payout in the form of a gift card. You can choose gift cards from Amazon, Target, and more.
7. Swagbucks
Swagbucks is a popular online rewards site that has been around since 2008 paying members for the time they spend completing tasks. Get paid for keeping current with the news when you watch news videos on Swagbucks.
The Swagbucks platform rewards you in the form of points (also known as SBs). Collect enough SBs to redeem for monetary prizes like gift cards to Nike, Starbucks, or a direct deposit to PayPal. Watch the news on the Swagbucks platform and get paid for it.
8. Create a News YouTube Channel
Start your own YouTube channel that is dedicated to relaying the news to your audience. You get to choose the type of news you want to deliver on your channel. To be successful on YouTube, you will need to read the news often to ensure you are staying on top of new information.
Read the news and report the key points to your viewers. Go in-depth about the specifics of your news topics if you can. When you set up your YouTube channel, you can incorporate ads into your videos. Use the ad views and ad clicks from your viewers to make a passive income on your channel.
9. Start a News Blog
Use your own blog site as a source of information for your audience. Create your blog to be a hub for news. Get paid to read the news when you read up on current events and then report them to your readers through your own blog posts.
Blogs can earn money with ads and affiliate links. Add these in to make your news blog an income source for you. Get paid per view and per click whenever someone clicks on the ad. You can also make a commission for purchases made using your special affiliate link or code.
Related: How to Get Paid to Share Links
More Popular Money-Making Offers
Earn more money in your spare time with these reputable companies.
Free PayPal cash
Paid surveys and web searches
Earn easy cash back
Get paid directly to your PayPal
PayPal, Visa, Amazon, etc.
Pays you to do NOTHING (with SJ Pulse)
Simply install the software
Participate in paid surveys & studies
Get Paid While Reading the News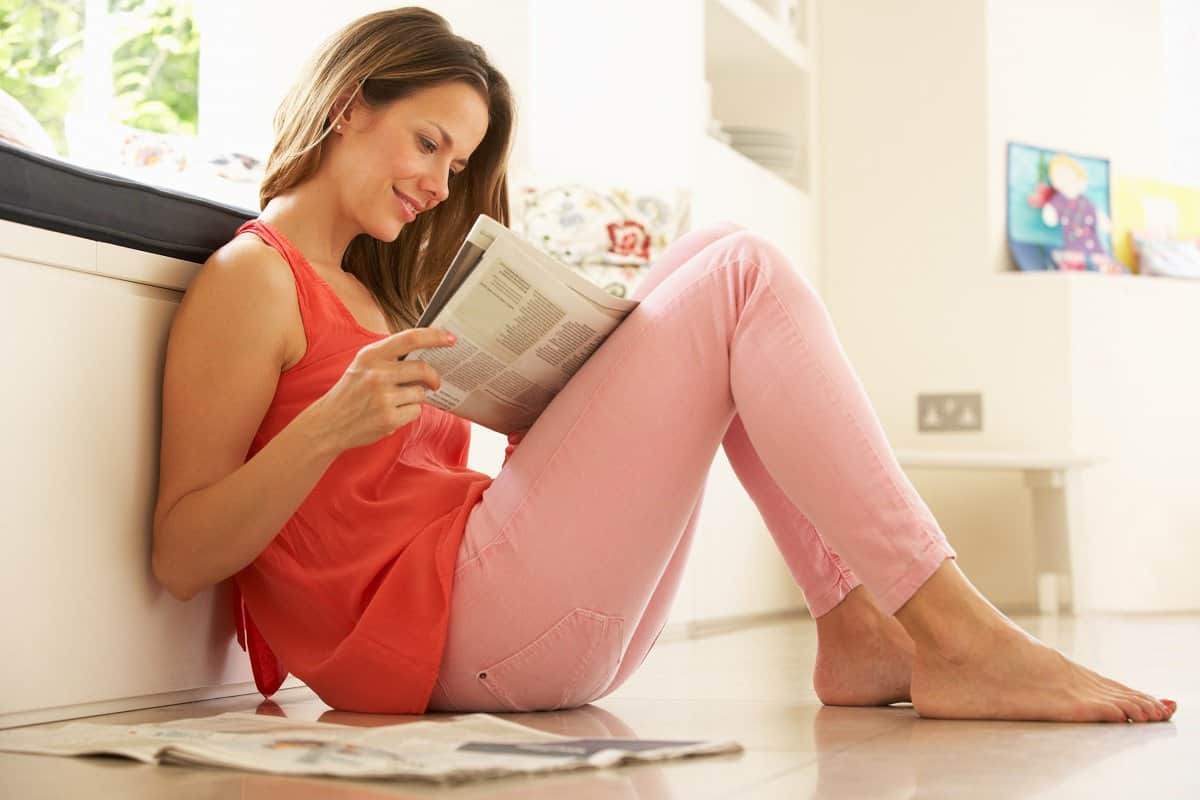 If you are already maxed out in your available time during the day or week, consider ways you can get paid while you are watching the news instead. These ideas could give you the satisfaction of making money while keeping up with new information at the same time.
10. Become a Nanny or Babysitter
Become a nanny or a babysitter to make money taking care of other people's children. This usually involves playing with children, watching a movie, and making sure they eat their meals. If you are a babysitter for a family who wants to have a date night, you may also be responsible for putting the kids to bed.
While you wait for the parents to come home and after the children have gone to bed, read up on the news from your phone or turn on the TV to catch up with current events. You will still be collecting money for the time you are at the home catching up on current events.
11. Offer Pet Sitting Services
Pet sitters have one of the easiest and most fun jobs. Simply get paid to take care of other people's pets when they are out of town on vacation or business. You would need to check in on the animals, feed them, and spend some time comforting them in their owner's absence.
While you are there spending time with your new fur friend, read the news on your phone or switch on the TV. Keep the animal comfortable all while staying in the loop on what is happening in the world. Get paid for taking care of the animal and reading the news at the same time.
Related: How to Become a Pet Groomer
12. Become a House Sitter
As a house sitter, you make money keeping someone else's home safe while they are away. Come check on the house, bring in any packages, hang out for awhile, and make money. It really is an easy job to do and you can make a part- to full-time income from it depending on how many clients you want to take on.
Once you are in the home, relax and read the news. There isn't much you have to do aside from making sure the home is safe and secure, watering plants, and making sure the house looks alive and lived in. Once you have checked it all out, then you can relax and get paid to read the news.
Reading the News Can Be Informative and Lucrative
If keeping in the know about the news is something you like to do, then this list is specifically made for you. Stay up to date and make money at the same time. There isn't a better way to make an extra $500 a month or more if you are doing something you love.
Consider all of the ideas listed here. Pick one or more options to get paid to read the news. From blogging to YouTube videos or even getting a job with a news station, find the option that best fits your lifestyle.
Related: How to Get Paid to Read Emails
---