10 Free Bingo Games That Pay Real Money [Top Bingo Apps]
Try Bingo Cash, the ultimate bingo app for turning your skills into extra cash while enjoying colorful and engaging head-to-head matches. Win up to $83 per game and experience the classic bingo thrill in the comfort of your own home. Test your daubing skills and become a big winner today!
Bingo Cash™ is FREE to download and play! However, cash tournaments are not available in the following states: AZ, IA, LA, SC & WA.
I will be the first to admit how fun it is to pass the time unwinding after a long day and disconnecting from the world while playing bingo games that pay real money. I used to believe that gaming in general was a waste of time until I learned that you can actually play bingo for cash.
I know this concept sounds too good to be true. But before you click away, let me assure you that many legitimate bingo apps and websites really do pay players for this opportunity. If you are already a bingo-lover, then you should try playing a free bingo game that pays real money.
The classic game of bingo originated from an Italian lottery in the 1500s and later made its way around the world. Although it's a game of chance, it sometimes does play out in your favor. The following great apps will allow you to play online bingo for money while making a little extra cash on the side.
One of my favorite sites, Swagbucks, offers tons of ways to earn real cash online. If you're not already a member, give it a shot! Here are five things you can do to make easy money on the site:
Play games (up to $322 each)
Test apps (up to $150 each)
Submit receipts (easy cash)
Shop at your favorite stores (up to 10% back)
Answer surveys and polls (quick cash in minutes!)
Our Popular Free Guides
How to Start a Permanent Jewelry Business - If you are patient, have social skills, and love interacting with others, then a permanent jewelry business may be for you.
How to Become a Sleep Consultant - Help parents and babies, and be the difference for families worldwide who are desperate for more Zzzs in their life as a sleep consultant.
How to Become a Proofreader - There are five basic steps to working from home as a proofreader. As long as you're willing to put in the work, you can become a proofreader!
10 Apps That Pay You to Play Bingo Online
Don't just stick to mobile apps focusing on the classic game of bingo. Try out offerings like Blackout Bingo and Bingo Cash that offer their own unique spins on the game, making them the best bingo games that pay real money.
1. Bingo Cash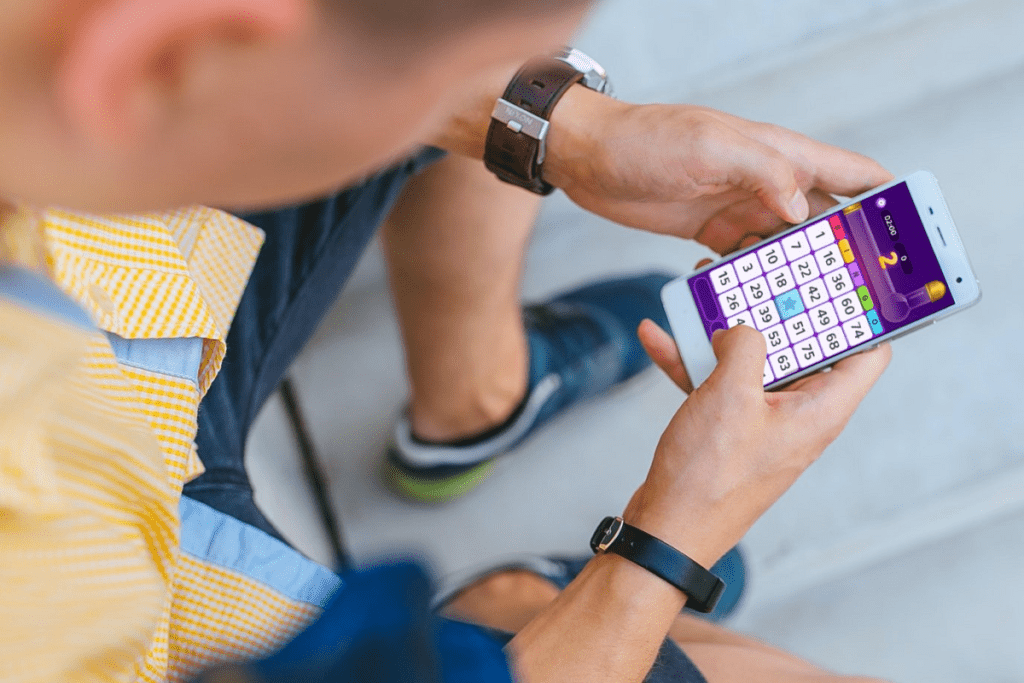 Bingo Cash by Papaya Gaming is great for competitive gamers who want to turn a game of luck into a game of skill. This well-loved social activity can now be played right from the palm of your hand.
Papaya Gaming arranges bingo matches between players around the world based on their skill levels, so when you download Bingo Cash and start playing for real money, you'll be matched with other players who are also just getting started. During the live matches, each player is given the same board, call numbers, and boosts. Whoever daubs the fastest and uses boosts to maximize their points will win the cash.
You can practice playing Bingo Cash for free, but winning real money will require a cash wager, just like with any local game of bingo. The difference is, each match is held between two players, rather than with an entire group. Plus, you hold the power to improve your skills and outwit your opponents in order to come out ahead.
Bingo Cash is available for iOS and Android devices. Search for it on the Samsung Galaxy Store and not on Google Play, or you will be disappointed by the apps that claim to pay you to play bingo, but actually don't.
Any cash you earn with Bingo Cash can be securely withdrawn to a PayPal or Apple Pay account. You can also win daily gifts and bonuses just for opening the bingo app, as well as trophies and larger prizes for your dedicated gameplay.
Bingo Cash™ is FREE to download and play! However, cash tournaments are not available in the following states: AZ, IA, LA, SC & WA.
Related: Bingo Cash Review
2. Blackout Bingo
Click the button ⬆️ to subscribe to my YouTube channel and get all of my Blackout Bingo secrets, tips, and strategies!
Download Blackout Bingo onto an Apple or Android device and start getting paid to win rounds of bingo. What makes Blackout Bingo unique is that you are doing more than just playing bingo; you are actually playing as an avatar who is exploring the world at the same time.
I recently won my first ever $75 bingo match! This achievement won't happen overnight, but once you work up to a high level of play, there's a lot of potential to win real money on Blackout Bingo.
Don't jump into the unknown right away. Practice with virtual currency for as long as you want. Even the practice rounds award tickets that can be redeemed for prizes like gift cards, electronics, and kitchen gadgets.
Enter the Blackout Bingo promo code "APget5" to receive a bonus when you make your first cash deposits.
Enter the Skillz promo code APget5 and get FREE bonus cash with your first $5+ deposit.
Log in to Blackout Bingo to play whenever you want, earn special boosts, make fast daubs, and enter the bingo tournaments, where you can win prizes or cash. Cash payouts can be made via PayPal withdrawals, to your original payment method, or with a physical check.
Please Note! Cash tournaments are available in most of the world. Cash tournaments are not enabled in the following states: AR, CT, DE, IN, LA, ME and SD. If you don't live in a prize-enabled region, you can still play for free.
Related: Blackout Bingo Review
3. Bingo Pop
Bingo Pop is exclusively available to players who have an account with InboxDollars. This bingo game features unique offerings like multiplayer jackpots, blitz speed, and power-ups. It is available to download on the Apple Store or Google Play Store, but must be accessed through the InboxDollars site in order to play for cash.
Reach level 50 within the first 10 days of installing the game to be eligible for a $5 cashback bonus from InboxDollars. In addition, you must allow the app to track your activity and gaming progress in order to earn money.
Related: InboxDollars Review
KashKick is a great find for gig workers, offering many ways to make extra money doing what you enjoy. Try it out - it's free! Here are five easy ways to start earning money on the site:
Play games (up to $125 each)
Test apps (up to $125 each)
Buy lottery tickets (an easy $8)
Try popular brands (always changing)
Answer surveys (quick cash in minutes!)
4. Bingo Bash
Get paid to play bingo online with Bingo Bash, a game exclusively offered to Android users with an InboxDollars account. This Monopoly-themed bingo game rewards players with cash. Receive a $20 cashback reward from InboxDollars after you complete level 30.
Related: Get Paid to Play Puzzle Games
5. Bingo Blitz
Bingo Blitz is available to those who have a Swagbucks account. Go on an adventure while making real money with this fun bingo game. To earn 4,500 SBs (worth $45), you must install the app through the Swagbucks page and reach level 70 within seven days of installing the game.
Related: Swagbucks Review
6. myVEGAS Bingo
What could be better than playing bingo for real money while virtually hanging out in Sin City? Check out the myVEGAS Bingo game on Swagbucks to play for free and win real money as you daub your way on the Vegas Strip.
You will earn 1,500 SBs (worth $15) once you unlock the Mirage Casino and reach level 20.
Related: Get Paid to Play Solitaire
7. Bingo Party
Play bingo in a high-energy environment with Bingo Party, where you can earn units from Mistplay for the time spent playing with friends or millions of other users around the world. Join one of the hundreds of bingo rooms, participate in tournaments, and complete daily tasks to increase your earnings.
Locate the Bingo Party app on Mistplay and download the game. To play, you must open the Mistplay app and access the game through your account so that Mistplay can reward you for playing. Earn units while playing that you can cash out for rewards like Visa cash cards or gift cards to Amazon, Google Play, and more.
Related: Mistplay Review
8. Bingo Journey
Bingo Journey offers casino-style bingo play that pays gamers with real money. Play against others in real time, collect daily bonuses and free power-ups, and complete quests to earn even more units for your Mistplay account. Download Bingo Journey through Mistplay and start your voyage with this uniquely styled bingo game.
Related: Best Android Games That Pay Real Money
9. Bingo Blaze
Get paid to play bingo online by entering challenges, joining tournaments, and playing in a variety of bingo rooms, all from the Bingo Blaze game on Mistplay. Apps like Mistplay reward gamers for the time they spend playing games like this bingo offering that pays real money. Play your favorite game while earning units on Mistplay that you can redeem for free gift cards to some of your favorite retailers.
Related: Apps to Play Card Games for Money
10. Bingo Clash
Competitive gaming platform AviaGames allows its members to compete in live rounds for real cash (similar to Skillz, which offers games like Blackout Bingo).
Players join to play head-to-head in rounds of bingo via Bingo Clash.
The platform prides itself in offering a unique, fair algorithm that matches players based on their skill levels. Gamers compete in real bingo money games using their skills, rather than relying on luck or chance.
Bingo Clash is available to both Android and iOS users. Play an unlimited number of games for free and then start competing for real cash when you feel ready.
Enter the AviaGames promo code eM4YpKb and get a FREE bonus with your first deposit. Plus, get your own $3,000 Cash Mine!
Related: Bingo Clash Review
How Can You Make Money Playing Bingo Online?
Playing bingo in person, with the hope of making real money, is fun, but can be time consuming. Thanks to mobile companies that have developed online bingo games, you can still engage in the fun, plus make money in your own time, right from your phone.
Get paid to play bingo on several apps like Bingo Cash and Blackout Bingo, which have both been proven to pay their users. These apps pay gamers in a few different ways. For example, you might see ads pop up at some point during the game. The app gets paid for ad views and ad clicks, generating an income for the app developer. In return, that business rewards players with a portion of the money.
Other bingo games like Blackout Bingo have a required cash deposit feature where you pay into a pot that is awarded to the winner or is divided up amongst the players.
Related: Legit Cash Games
Double the Fun With Bingo for Cash
Avid players have enjoyed bingo and its many variants for hundreds of years, but now you can get in on the fun thanks to games like Bingo Clash and Blackout Bingo that let you play right from the palm of your hand.
Not only is bingo enjoyable, but it also actually pays real money to play games. The game's original creators would be floored to find out what kind of impact this game has had on the world, even centuries later.
Double the fun with bingo for cash and continue the tradition of playing bingo games that pay real money. This is a game of hope, fun, and cash. Download one or more of the apps listed above and get started playing bingo online.
Whether you want to go on an adventure around the world, visit the Las Vegas Strip, or experience Monopoly in a new way, there are several options here to play bingo for real money in unique ways with these legit paying apps. Take your pick – or try them all! There is no limit to how much you can earn. What could be better than earning money during your down time?
Related: Online Word Games That Pay Real Money