How to Get Paid to Live in a House (10 Simple Ways)
We foster relationships with brands we use and trust. The testimonials on our site represent real experiences, but they don't guarantee you'll achieve similar results. When you make purchases through our links to our partners, we may earn a commission. Your support helps us continue this work. You can read our full disclosure here.
It's not often thought about, but you can actually get paid to live in a house. Whether it be your own or someone else's house, there are several things to consider if you are wanting to bring in an extra income.
If you are intrigued by how living in a house could bring some monetary benefits your way, you'll be happy to know that I did the research for you.
We are all tied up with how to make a living so that we can afford our homes and nice living spaces. Turning the mindset over to how a living space can actually generate an income might not be a popular thought. Aside from renting out your home to someone else, there is very little discussion about how you can get paid to live in your own house.
Additionally, there are ways you can get paid to live in someone else's house. Put your home (or someone else's) to good use and make more money each month with the following ideas.
Get Paid to Live in Your House
You're already paying money each month to live in your own house. Aside from the equity building up in your home, make your house work for you as well with these ideas.
1. Buy a Duplex
Duplex living is one of the smartest ways to get paid to live in your house. A duplex home is typically one house on a lot that is divided down the middle with two separate living spaces. The two living spaces share a wall that runs down the whole house.
Consider purchasing a duplex and live on one side while renting out the other. This will bring in even more income. Duplexes are a great real estate investment. You can charge rent to the tenant on the other side that helps you live comfortably on your side.
Not only will you save money by living in a duplex, but you'll also have your own space plus an extra income source.
Related: How to Get Paid to Watch Commercials
2. Get Roommates
If you have a home that has an extra bedroom or two, consider advertising for roommates to come live with you. This means you get to charge roommates rent for the rooms they will be living in while you are also living in the house.
Set up rules and guidelines for living arrangements, shared spaces, and guests who are invited over. This will ensure a happy living environment between you and your roommate(s).
It is also important to run a background check on a person you don't know who wants to come live with you. Your safety is important, so make sure you do your research on the person before letting them in.
Related: How to Move Out at 18
3. Rent Office Space
If your home has an extra room, basement, or garage that can be converted into an office, consider renting out that office space. These days, many businesses offer remote or mobile working opportunities. Some workers still need a place to go to conduct their business away from their home or while traveling to their next job location.
List your office space available for rent by the hour or by the day. Include a calendar with sign-up spaces so that people interested know when they would be able to take advantage of the office. Consider sprucing up the place a bit. Include some extra paper, pens, water bottles, and other little ways to make them feel more comfortable.
4. Offer Storage Space Inside Your Home
There are times when I notice that I have extra space in my garage or shed. This is a great opportunity to advertise this extra space to someone who might be looking for storage.
Storage unit facilities can often be expensive or too big for someone's needs. In that case, a person may be willing to store their item(s) in a shed or garage for the time being to save money and space. Offer your extra space for storage on the Neighbor.com website. Charge a monthly rent and get paid to live in your house.
Related: How to Get Paid to Sleep
Get Paid While Living in Someone's House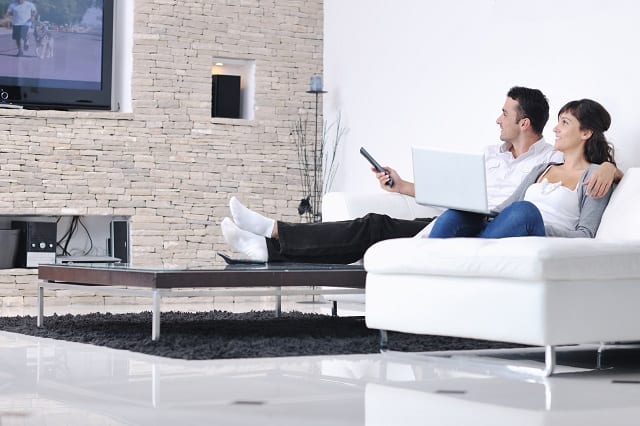 Take a look at how you can find places that pay you to live there.
5. Become a House Sitter
Any time of year is a great time to become a house sitter. Whether it be for a vacation, business trip, or something more permanent, house sitters are helpful to many families. It gives them the peace of mind that their home is safe while they are away.
Offer house-sitting services in your area and get paid to live in someone else's home. This would mean that you are in charge of ensuring the home is safe, picking up the mail or bringing in any packages, and making sure the home is in good condition by the time the owner returns.
There is not much that needs to be done while being a house sitter. It is an easy way for you to make money sitting in someone's home. You could even get paid to watch sports while at a client's home.
6. Start a Pet Sitting Business
Families and individuals often can't take their fur friends on trips with them for a variety of reasons. Oftentimes, those pet owners may look into boarding their animal somewhere, but having a pet sitter come into their homes instead might be more appealing.
Pets are most comfortable in their own environment. Allowing them to stay in their comfort area while someone comes in to care for them is ideal.
Consider starting a pet sitting business. Then you can get paid to live in someone else's home while caring for their fur friends. Feed the pet, take them for a walk (if applicable), play with them, and make sure they are content for the duration of their owner's absence.
7. Become a Full-Time Nanny
Families are constantly trying to keep up with the house, kids' schedules, appointments, activities, and other taxing activities. I hear often how much of a benefit it would be for those families to have someone living in their home to help with the kids.
Parents find themselves working late hours and feeling rushed to get the kids onto the next part of their day. If they had a full-time nanny living with them, it would take heavy pressure off their shoulders.
Consider becoming a full-time nanny and get paid to live in someone else's home by caring for their children. While caring for children might not be the easiest job in the world, there are many rewards. Help them grow up and learn from you along the way.
Additionally, you wouldn't have to worry about rent and utilities. The family would provide that for you if you live with them.
Related: How to Start an In-Home Daycare
8. Become a Live-In Property Manager
Some property owners don't live in the area where they purchased a rental home. That means they need someone else to manage the property in their absence. This is a great opportunity for you to become their property manager. It is especially beneficial if the property they purchased is a duplex or townhouse style.
You could live in one part of the property while the tenants live in the other(s). If there are any issues that arise, you would be first on the scene to make assessments and handle any problems.
Property managers get paid for managing properties. You could enter into an agreement to live on the property in exchange for free housing. On the contrary, you can request a wage that is equal to the rent amount. Either way, you would have the unique opportunity to live in someone else's home and get paid for it.
Related: How to Get Paid to Watch The Office
More Ways to Get Paid to Live in a House
In case you need more ideas, here are a couple more ways you can get paid to live in a house.
9. Launch a Lifestyle Blog
Start your own blog and get paid to live in a house. There are many ways someone can get paid for living in their own home. You can dedicate your blog to home décor, DIY home improvement, and many other ideas.
On your blog, integrate ads so that you can get paid for the views you have on your site. Additionally, you can add affiliate links for the furniture or the products you use to update your home. Those links can inspire readers to use the items you purchased. This will then generate a passive income for you if they purchase through your links.
Related: Free Blog Plan
10. Start a Home Improvement YouTube Channel
Create your own YouTube channel and bring your subscribers along as you update, remodel, and decorate your home. You can decorate your home for holidays or for the change of seasons and get paid to live in your home. Consider upgrading one area of your home at a time and show your viewers how they can do it too.
Allow ads to be displayed in your videos so that you can make money with your channel. You can even have a channel that is dedicated to just your life and what it's like living in your home. There are no limits to the ideas you can share about living in your home.
Related: Get Paid to Test Clothes
There Is No Limit of Ways to Get Paid to Live in a House
Houses are notorious for generating future income with their ability to increase in value. However, that's not the only way that your house can earn money for you now. Incorporate more ways for your house to work for you.
If you don't yet own your own home, you can still make money just by living in a house. That house will be owned by someone else, but you would be doing the work inside or around the house to earn your keep.
There are many ways to get paid to live in a house. Find the way that works best for you and make more money now.
Related: Get Paid to Read in Your Spare Time
---
We appreciate the time you've spent reading this post and your interest is not lost on us. Your thoughts, questions, or experiences related to the topic are most welcome. Each comment adds strength to our community. We ensure every comment receives our attention, and we take the time to provide thoughtful responses. Once again, thank you for being a part of this conversation. Click here to leave a comment.