9 Speedy Ways to Get Paid to Get Your CDL
One of my favorite sites, KashKick, offers tons of ways to earn real cash online. If you're not already a member, give it a shot! Here are five things you can do to make easy money on the site:
Play games (up to $125 each)
Test apps (up to $125 each)
Buy lottery tickets (an easy $8)
Try popular brands (always changing)
Answer surveys (quick cash in minutes!)
To increase your value as an employee for many companies, acquiring your CDL (commercial driver's license) can give you a boost in income. There are many transportation companies that want to hire workers who have a CDL. A CDL gives you more value because you can drive large, heavy, or placarded hazardous material vehicles. If you want to get your CDL, make sure you understand that you can actually get paid to get your CDL.
A CDL is a valuable thing to have so it only makes sense that companies are leveraging the opportunity to pay employees to get this license. In addition, you can come up with other ways to make money while getting your license.
If you are considering your options on what is the best next career move for you, obtaining a CDL could be the right step for you. Don't let the thought of additional schooling hold you back. A CDL can be obtained in a few short weeks. Take advantage of the ways you can get paid to get your CDL.
Our Popular Money-Making Offers
Sign up with each of the following companies to maximize your earning potential.
$10 sign-up bonus
Pays to take surveys, complete offers, shop online, and much more
100s of other paid tasks
Awards cash and gift cards
$5 sign-up bonus
Pays to play games, watch videos, answer polls, and much more
100s of other paid tasks
Awards cash and gift cards
9 Ways to Get Paid to Get Your CDL
The following ideas are ways to get paid by other companies to get your CDL. Incorporate one or all of these ideas depending on your lifestyle.
1. Ask Your Employer
Inquire with your employer if there are any open positions for CDL drivers in your company. If there are, ask about the opportunity to get paid to go to school for your CDL. This could look like your employer signing you up and paying for the course on your behalf. This could also look like you enrolling yourself into the course and submitting a tuition reimbursement request.
Many companies want to help their employees grow and succeed. This brings even more value to them as a business. Don't be afraid to ask for what you want. If you want a CDL, get the right information about how you can get paid to get your CDL.
2. Request a Raise
You have probably learned by now that most companies won't just offer you more money. They want to keep as much money in their pockets as possible. That being said, if you have a CDL already and you know how much value this can bring to your company, then request a raise.
You can also do this as an employee who is still taking a course. The CDL course isn't very long so you will want to make sure your raise will take effect immediately following your completion of the course. Don't do "free" work; ask for a raise before you begin performing CDL duties.
Related: How to Get Paid to Drive Cars Across the Country
3. Find Paid CDL Companies
There are several opportunities to get paid to get your CDL by applying with trucking companies like USA Truck, Roehl Transport, Knight Transportation, and Swift Transportation. Even if you don't have experience, companies like these will pay for you to learn this skill and become a member of their team. Look for companies with great benefits like a competitive salary, health insurance, 401k matching, and sign-on bonuses.
4. Use the OnMyWay App
If you haven't heard of the best app that pays you to drive, you are missing out. Try the OnMyWay app to get paid to get your CDL. One of the requirements to obtain your license is to have a certain number of hours behind the wheel of a large vehicle. Now, you can use this app to get paid while you drive.
OnMyWay pays you $0.05 per mile that you drive. The necessary catch is that you can't text or use distracting apps while you drive. Google Maps and Apple Maps can still work. This app pays you to keep from being distracted while behind the wheel. Simply sign up for an account, confirm your driver's license information, and take your phone with you while you practice for your CDL. The app is automatically triggered as soon as you reach 10mph.
Related: Best Delivery Drivers Apps to Make the Most Money
More Popular Money-Making Offers
Earn more money in your spare time with these reputable companies.
Free PayPal cash
Paid surveys and web searches
Earn easy cash back
Get paid directly to your PayPal
PayPal, Visa, Amazon, etc.
Pays you to do NOTHING (with SJ Pulse)
Simply install the software
Participate in paid surveys & studies
More Ways to Get Paid to Get Your CDL Online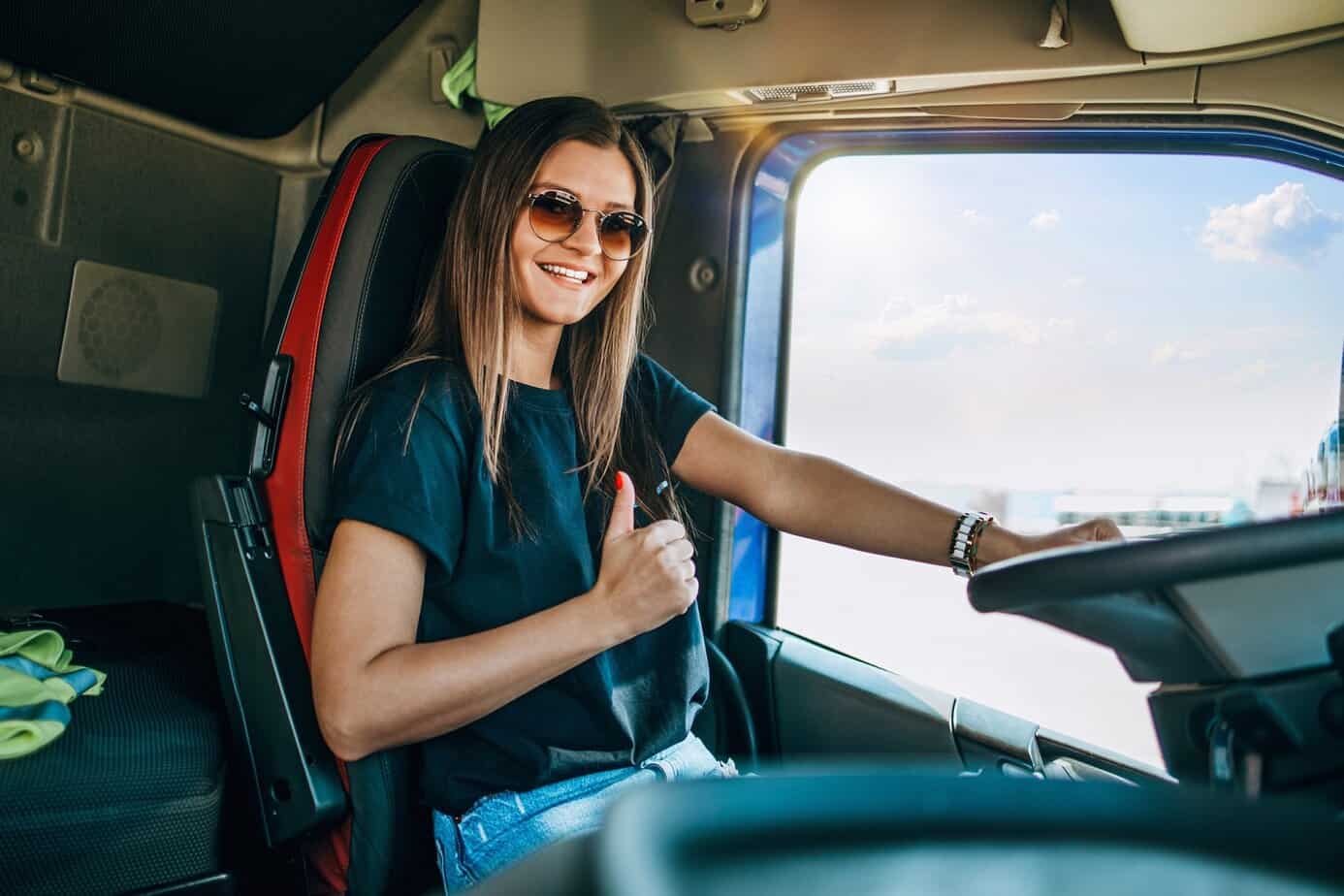 If you want to know even more ways you can get paid to get your CDL, consider the following online options. You can make a passive stream of money using the following ideas.
5. Start a CDL YouTube Channel
Start your own YouTube channel about your journey to obtaining your CDL. Take your viewers on adventures with you to show them the vehicle you will be practicing with, share some tips you have learned along the way, and encourage them to get their license as well. You never know who might need to hear your encouragement before they decide to get their CDL as well.
Go on to share tips and job opportunities, and get paid to teach others how to become better truck drivers as you build your own experience. Your channel doesn't have to end after you receive your CDL.
With a YouTube channel, you can incorporate ads into your videos. This means you can get paid for each view on your videos and when a viewer clicks on the ads. In addition, you can include affiliate links on your videos and get paid a commission each time someone makes a purchase using your special link.
6. Create a CDL Niche Site
Starting a niche site could give you a good place to document your journey to getting your CDL. Start from the first day and write an article about each hurdle you jump. You can even go as far as teaching others what you've learned to help them get a jump start in their own journey to get this license.
Using your niche site, you can make money when you incorporate ads and affiliate links into your posts. Get paid for ad views and ad clicks while also making a commission for purchases made through your affiliate links. Recommend comfortable clothing to wear while driving, water bottles, headsets, music, and anything else you could use in your bigger vehicle. Link to them so others can try out the products as well.
Related: Best Side Hustles for Men
7. Create an eBook About Your CDL Journey
eBooks are a great resource for many because they are portable and generally inexpensive to purchase. You could take CDL courses and report on the ones you would recommend. There is also the opportunity to document your journey week-to-week in eBooks, creating multiple eBooks throughout your time. This could be more entertainment-style writing or you can make it purely informative.
The beauty is that you get to choose how you want to write your CDL journey. Sell your eBooks to readers and get paid to get your CDL. There is no better way to make money than by sharing your knowledge and experience with others.
8. Start a TikTok to Document While You Learn
TikTok videos are all the buzz and it is a popular platform to share videos. You could create your own TikTok account and make videos about silly mistakes you make while getting your CDL or take a dance break between practice sessions. Whatever you choose to do while also being safe, you can make money from TikTok while getting your CDL.
TikTok accounts make money through the TikTok Creator Fund. Your account has to have at least 10,000 followers and 100,000 video views in the last 30 days to apply. Keep making those videos to increase your chances of being approved for the Creator Fund and get paid to get your CDL.
Related: How to Make Money on TikTok by Watching Videos
9. Become an Influencer
Influencers make money by influencing the decisions of people on social media accounts. This could be for hair products, active wear attire, makeup, water bottles, etc. Basically, you can be an influencer for nearly anything. You could become an influencer for companies that need CDL drivers and get referral bonuses for each person who signs up.
Influencers typically join platforms like Instagram or Facebook to showcase all the products or services they are promoting. Post often and give detailed descriptions about why you feel those products are worth it. You can post pictures and videos of yourself in your CDL course to show viewers how much fun you are having, share some stats you've learned about CDL drivers, and encourage them to also take a course to get their license.
Related: Short Certificate Programs that Pay Well
Your CDL Can Pay You in More Ways Than One
You don't have to limit yourself to just driving large vehicles to make money with a CDL. As you can see, there are several options you can choose from to get paid to get a CDL. It's all about finding the right ways that work for you and your lifestyle.
From blogging to getting paid through your employer and even becoming an influencer, getting your CDL doesn't have to be boring. Make a drastic difference in your income now and implement one or more of the ways listed here.
---