12 Delicious Ways to Get Paid to Eat (Online or In Person)
We foster relationships with brands we use and trust. The testimonials on our site represent real experiences, but they don't guarantee you'll achieve similar results. When you make purchases through our links to our partners, we may earn a commission. Your support helps us continue this work. You can read our full disclosure here.
One of my favorite things to do is eat. (There, I said it.)
If you're a parent, you can understand why this is one of my favorite things to do, preferably without small hands reaching up to take from my plate. As a parent, you need all the nourishment you can get since you're running around after kids who have unlimited energy.
When I do get the opportunity to eat really good food, I love to share that experience with others. It's not fair to keep all that goodness to myself. That's why there are opportunities to get paid to eat. This not only helps out your pocket, but it helps companies get more exposure as well.
My tiny humans can help with this also because there are companies with kids' food products that are willing to pay, too. Take a look at this list to find your next opportunity to get paid to eat online or in person.
13 Tasty Ways to Get Paid to Eat
These sites will actually pay you for experiencing food. Some of them will even show you how to get paid to eat at restaurants.
1. Swagbucks
If you haven't heard of Swagbucks before, it is a fairly popular site that allows members to earn money for completing tasks. It has paid out over $600 million to members and has been around for over a decade. It's a well-known, trusted site.
You can create a free account with the company and get paid to eat at thousands of participating dining locations. Simply link your debit card to your Swagbucks account and use that card when purchasing your meals. This is known as the Swagbucks Local program and you can instantly get a 500 SBs bonus when you use this feature for the first time.
Members get paid in Swagbucks (SBs). Collect enough SBs to cash in for gift cards to Target, Visa, Amazon, or direct deposit the funds to your PayPal account.
Related: Swagbucks Review
2. Rakuten
Rakuten is a cashback rewards site that allows members to earn cash back on their food purchases. Those opportunities include eating at restaurants. Members can earn up to 5% cash back for dining at over 10,000 locations such as Darden Restaurants, Domino's, LongHorn Steakhouse, and many more.
Get paid to eat with Rakuten simply by linking your debit or credit card to the Rakuten Rewards app. Any time you use your linked card, Rakuten gets to work by finding the best dining cash back opportunities. You can also receive a $30 bonus for creating your free Rakuten account.
Related: Rakuten Review
3. Ibotta
Most of the eating I do is something my husband or I have cooked at home. Because of this fact, I need to go grocery shopping often and apps like Ibotta pay me back for some of my food. Ibotta has been giving cash back to members since 2011.
It's a simple way to get paid to eat. Before you go grocery shopping, check out the app for current deals and cashback opportunities. Add them to your redemption list and go shopping. Finally, get paid to upload a picture of your receipt on the Ibotta app and get cash back for your food purchases.
Related: Ibotta Review
4. Dosh
Dosh automatically gives you cashback on the purchases you make when you use the card you linked on the app. When you eat out at your favorite restaurants, use the linked card for automatic cash back into your account.
Collect up to $25 in your account and cash out through a transfer to your bank, PayPal, or Venmo. Dosh has been giving cash back to members since 2016 and has over 10,000 opportunities for cash back that include places like Pizza Hut, Dunkin' Donuts, and more.
Related: Cash App vs Venmo
5. MyPoints
MyPoints is a popular site that gives people the chance to pad their wallets with extra cash just for completing tasks. Some of those tasks include taking surveys about dining experiences.
Each completed dining survey means you earn points that accumulated in your account. You can then redeem those points for rewards like gift cards to Amazon or Visa. MyPoints offers a free $10 bonus when you sign up for a new account.
Related: MyPoints Review
More Ways to Get Paid to Eat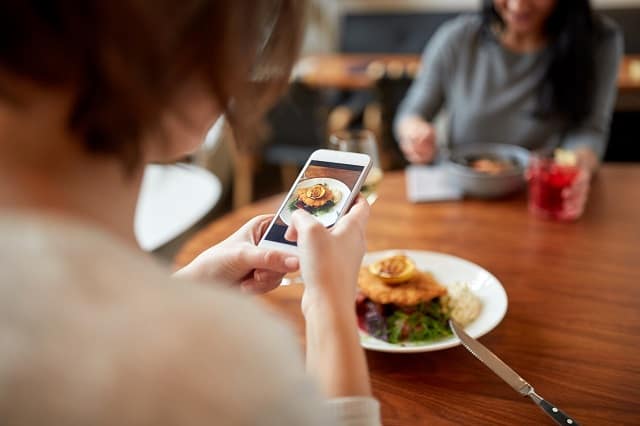 If you are searching for more ways to get paid to eat online, here are five additional ways you can meet your goal.
6. Play Food Games on Mistplay
Get paid to eat virtual food while playing games on Mistplay. It is a rewards app for mobile gamers and pays members to experience new games.
On Mistplay, you can find games like My Cafe, Cooking City, and Idle Foodie Empire Tycoon. All of these games have food-related tasks you can complete with your avatar.
Mistplay rewards players with XPs that can later be cashed in for payment. You can request gift cards to Amazon, Visa, Google Play, and more. The more time you play, the more XPs you earn, which leads to more money in your virtual wallet.g
7. Start a Food Blog
Consider starting a blog that is dedicated to food. This could be a blog that reviews restaurants or a blog that shares recipes you try. You can also dedicate your blog to baby food items to help parents out there make the best food decisions for their babies.
Blogs are a great way to make money from home. With a food blog focused on restaurants, you could partner with local restaurants to get paid to eat at them in return for a review. Additionally, you can get paid to post ads on your blog and get paid for the traffic you bring. There are several ways to incorporate sponsored posts into your blogs as well.
Related: 100 Food Blog Name Ideas for Under $9
8. Create a Food YouTube Channel
YouTube is a great way to get paid to eat on camera. Many YouTubers make a full-time income with their own channel by attracting the right people.
Set up your channel that is dedicated to food reviews, recipes, or restaurant experiences. Once you've posted some videos and generated traffic, you can then implement money making strategies such as paid sponsorships, ads, and more.
Related: Get Paid to Sleep
9. Write an eBook
Writing an ebook takes some time in the beginning, but then it has the potential to generate a passive income. Write your ebook about food recommendations, a guide to restaurants in major cities, or create your own recipe book.
Publish your ebook online on sites like Amazon, Etsy, or on your own website. There is no limit to how much money you can make with your food ebook.
Related: How to Get Paid to Hunt Deer
10. Become a Food Photographer
If you love experimenting with new recipes or trying new restaurants and capturing the process with your camera, then consider getting paid to take pictures. There are thousands of food content creators that purchase images of food rather than taking their own pictures. You can join stock photo sites like Shutterstock or Foap to upload your pictures and get paid each time someone purchases a license to use your images.
Related: Get Paid to Edit Photos
11. Join an Affiliate Program
Becoming an affiliate marketer and joining food programs can be a quick way to get paid to eat. Sites like ShareASale, FlexOffers, and CJ.com have many opportunities for affiliate programs related to food. Simply sign up for an account and choose the right food affiliate program that you want to advertise.
Related: How to Start a Home Bakery
12. Become a Babysitter
Get paid to eat with kids while you babysit. No matter what time of the day you are babysitting, the kids are always going to need to eat. Typically, parents will buy you dinner or lunch along with the children you are babysitting. Therefore, you can get paid to eat your meals with the children in your care. You could also get paid to watch sports at night when relaxing on the couch after the children are in bed.
Related: How to Get Paid to Quit Smoking
Food and Money are Essential to Living
We all need food and money in order to survive. So, it's only fair to combine the two and get paid for doing something we already do every day. Anyone who is willing to put in the effort to make money with food deserves all the rewards that follow.
From signing up for free sites to creating an ebook or even becoming a babysitter, there are so many ways to get paid to eat. The best part is that you don't have to choose only one way to do so. Compound your earnings by using several of these options.
Food and money are essential to living, which means this is a great opportunity for you to maximize life. Take advantage and change your life one meal at a time.
Related: Get Paid to Drink Beer
---
We appreciate the time you've spent reading this post and your interest is not lost on us. Your thoughts, questions, or experiences related to the topic are most welcome. Each comment adds strength to our community. We ensure every comment receives our attention, and we take the time to provide thoughtful responses. Once again, thank you for being a part of this conversation. Click here to leave a comment.