How to Become a Beer Taster and Get Paid to Drink
Try Bingo Cash, the ultimate bingo app for turning your skills into extra cash while enjoying colorful and engaging head-to-head matches. Win up to $83 per game and experience the classic bingo thrill in the comfort of your own home. Test your daubing skills and become a big winner today!
Bingo Cash™ is FREE to download and play! However, cash tournaments are not available in the following states: AZ, IA, LA, SC & WA.
A nice weekend out typically includes trying a new restaurant or brewery in the area. My husband likes to try new beers that are on tap and sometimes that leads him to finding a new favorite. Beer can be a simple joy in his day, but they aren't cheap. Thankfully, there are ways to get paid to drink beer instead of spending so much.
When you try a new beer, there is much more that goes into it than just the consumption. There is the smell, the flavor, the aftertaste, and the pairing with a meal. Avid beer drinkers might even find this is a hobby for them.
Beer tasting is becoming a hobby for many. It's no wonder people are looking for ways to get paid to taste beer. If you like beer and want to find beer drinking jobs, you've come to the right place.
One of my favorite sites, Swagbucks, offers tons of ways to earn real cash online. If you're not already a member, give it a shot! Here are five things you can do to make easy money on the site:
Play games (up to $322 each)
Test apps (up to $150 each)
Submit receipts (easy cash)
Shop at your favorite stores (up to 10% back)
Answer surveys and polls (quick cash in minutes!)
Our Popular Free Guides
How to Start a Permanent Jewelry Business - If you are patient, have social skills, and love interacting with others, then a permanent jewelry business may be for you.
How to Become a Sleep Consultant - Help parents and babies, and be the difference for families worldwide who are desperate for more Zzzs in their life as a sleep consultant.
How to Become a Proofreader - There are five basic steps to working from home as a proofreader. As long as you're willing to put in the work, you can become a proofreader!
10 Ways to Get Paid to Drink Beer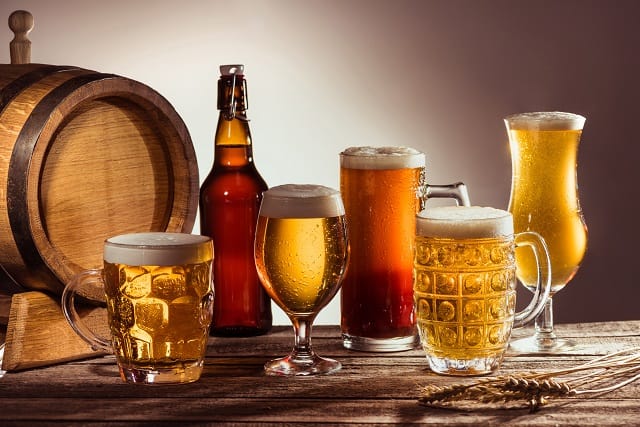 There isn't just one way to make money tasting beer. Consider these easy ways to make money fast and try them out for yourself.
1. Get Cash Back on Your Beer
Cashback opportunities are legit free money hacks that give you a certain percentage of your purchase price back in your wallet. If you buy a specific item that is on the cashback opportunity list, you automatically get money back in your wallet. Both of the following companies offer a $20 sign-up bonus to new members! You can also check out other ways to make $20.
Ibotta offers cash back for beer anywhere from $0.10 up to $6.00 back on purchases like Budweiser, Sierra Nevada, Guinness, and more.
Rakuten is a cashback online platform that gives money back on beer items. Offers include 2.5% up to 7.5% cash back on beer products like subscription memberships, beer-making kits, and other beer-related products.
Related: Ibotta vs Rakuten: Can You Use Both Cash Back Apps?
2. Get a Beer Tasting Job
There are companies that will pay members to review products, such as beer. There is no guarantee that a beer taster job will be available. However, you can still sign up with these companies to watch for beer tasting opportunities.
Pinecone Research is an exclusive site that pays members to test and review products for cash. You'll have to apply to see if there is an opening.
Opinion Outpost is another product testing company that pays its members to review different products like drinks and food. There are a variety of opportunities that come and go.
Related: How to Make Money Tasting Wine
3. Become a Beer Reviewer
Blogging is used as an informational platform even if that information is based on experience and opinions. Bloggers choose to put whatever they want on their site and that could mean publishing posts about beer.
Start a blog about beer and you can write reviews of beer brands, get paid to promote affiliate products, and get paid for sponsored posts by distilleries. Essentially, you'd get paid to drink beer. You can also review other beer items and not just the drink themselves.
Related: Best Side Hustles for Guys
4. Become a Freelance Writer
You don't have to have your own website in order to write about beer. Consider becoming a freelance writer and get paid to taste beer and write reviews.
Freelance writers write for other sites, publications, and businesses. Your review can be exactly what they need to attract their audience to new beer brands and drive sales.
5. Become a Beer Influencer on Instagram
Being an influencer on Instagram is similar to blogging, but without the website. Build a following on Instagram, connect with your audience, and share pictures of you visiting new distilleries, trying new brands of beer, or host a live review of some new beer products.
Instagram doesn't allow you to link out to affiliates in your feed posts. However, you can still get paid to drink beer by getting brand sponsorships.
Additionally, Instagram offers a "swipe up" feature on stories for accounts with large followings. Therefore, you could link to the products in your stories and you can earn a commission from people who buy from your link.
Related: Get Paid to Drink Coffee
6. Publish Unique Beer Recipes
There are thousands of food websites with recipes for just about anything you can think of. But how many of those recipes are dedicated solely to beer recipes? The answer: not many. Get paid to taste beer with new recipes you create.
Now's your chance to get into a niche of creating beers and sharing your own special recipes. Monetize your site with ads and affiliates to make money tasting beer. Learn how to start a business website for this exact purpose.
7. White Label Your Own Brand of Beer
White labeling means you put your own label on a brand of beer and sell it for a profit. Create an ecommerce store or negotiate some shelf space with local stores where you can sell your own brand of beer.
Here is how you can start creating your own beer label and get the ultimate beer taster job. Taste the beer that is created for you and make decisions on how to sell your unique flavor.
8. Start a YouTube Channel for Beer Lovers
Create a YouTube Channel and promote the brands you try out. Get in front of the camera with your reviews and tasting sessions to share your first reactions to the multiple flavors.
Bring in some friends and make it a tasting session on camera so that your viewers can hear from different points of view. You can monetize your channel with ads, affiliate links, or paid sponsorships.
Related: Weekend Jobs to Earn Money in Your Spare Time
9. Design Beer T-Shirts
Everyone likes a good graphic t-shirt. Design your own custom beer t-shirt with witty, catchy beer sayings and sell them for a profit. If you'd rather not get into the design side, then sell shirts created by others for a commission. Get paid to drink beer while you promote other beer brands or products like t-shirts with funny beer sayings.
Related: Get Paid to Write and Upload Slogans
10. Become a Beer Photographer
Visuals are a great tool for selling and promoting. People want to see what they are buying which is why so many photographers get paid to take pictures. Becoming a beer photographer for beer companies, brands, and bloggers is a great way to get paid for beer. These companies can pay for stock images or hire you as their personal photographer for their imaging needs.
Related: How to Get Paid to Hunt
KashKick is a great find for gig workers, offering many ways to make extra money doing what you enjoy. Try it out - it's free! Here are five easy ways to start earning money on the site:
Play games (up to $125 each)
Test apps (up to $125 each)
Buy lottery tickets (an easy $8)
Try popular brands (always changing)
Answer surveys (quick cash in minutes!)
5 Beer Affiliate Programs You Can Join for Free
When you advertise a product for another company and get people to buy from your recommendation, you can receive a commission for that sale. This is affiliate marketing.
Tips to Make The Most Money by Testing Beer
Beer drinking jobs sound like a great way to make money. However, there are some tips to consider before getting into the business.
Try Before You Recommend (and Be Honest)
Just because you can make a commission on something doesn't mean you shouldn't try out the product first to have the experience. It is important that your reviews and recommendations come from first-hand experience otherwise you can lose loyal fans.
If they trust you to buy something you recommend and it ends up being terrible, your reputation as a beer taster can be tainted. Like anything else you buy, you almost always read the reviews first to see if it's worth it. The same goes for being honest in your promotion of beer brands and products.
Write In-Depth Reviews
Write about every part of the beer experience down to the customer service, if applicable. Your viewers will already be interested in the product so make sure they know exactly what to expect when they make a purchase. Your review will keep people coming back to you and purchasing through you because they find value in your reviews.
Related: How to Become a Clothing Product Tester
Compare and Contrast Brands
Give full details about the brands that you try and compare them to each other. Show your audience the differences each brand has to offer and what they may have in common.
Keep an Open Mind
Don't be afraid to try something new. There are many beer brands popping up. Trying them could mean finding the next big hit. Additionally, your audience will appreciate learning about new brands and flavors.
Related: Real Ways to Money Online for Free
Get Your Beer Paid for and More
Get paid to taste beer, promote other beer products, and create a steady income for yourself. While beer tasting won't be enough to make a full time-income at first, there are plenty of options here to make a passive income or create a small business for yourself to get paid to drink beer.
From beer photography to writing reviews and even affiliate marketing, there is no shortage of ways you can become a beer taster and get paid for your experience.
The most rewarding thing in life is creating a job that you love and getting paid to do it. Tasting beer and trying other beer products can be a dream job for many. Tap into the beer industry for a chance at making a living with beer.
Related: How to Make Money Watching Sports Games
---