DollarSprout Rewards Review: What I Love (and Don't)
One of my favorite sites, KashKick, offers tons of ways to earn real cash online. If you're not already a member, give it a shot! Here are five things you can do to make easy money on the site:
Play games (up to $125 each)
Test apps (up to $125 each)
Buy lottery tickets (an easy $8)
Try popular brands (always changing)
Answer surveys (quick cash in minutes!)
I am a huge fan of legitimate rewards apps, sites, and browser extensions because of how much money they've helped me earn over the years. So naturally, when I heard that my friends and former clients over at DollarSprout created a brand-new rewards browser extension for laptop/desktop shoppers, I was elated!
Even though DollarSprout Rewards is fresh off the press, I can still vouch for the honesty and trustworthiness of the brand. I've personally been paid thousands of dollars from DollarSprout over the years, and I still receive monthly paychecks. If you are looking for a legitimate way to earn cash back on your online purchases, DollarSprout Rewards is reliable and pays on time.
I get it. There are many companies out there that sell you on the phrase "make money anywhere." While those sites might hook you into thinking you can finally live a life of freedom and financial success, many of those sites are actually scams. Thankfully, I can come into this review of DollarSprout Rewards with a history of personal experience and trust.
Our Popular Money-Making Offers
Sign up with each of the following companies to maximize your earning potential.
$10 sign-up bonus
Pays to take surveys, complete offers, shop online, and much more
100s of other paid tasks
Awards cash and gift cards
$5 sign-up bonus
Pays to play games, watch videos, answer polls, and much more
100s of other paid tasks
Awards cash and gift cards
DollarSprout Rewards Summary and Quick Facts
DollarSprout Rewards is a browser extension designed specifically to give members actual cash back. The site partners with more than 15,000 stores like Walmart, Macy's, and BJ's (and even some name brands) to get you the most bang for your buck. For every eligible purchase you make using the extension on your browser, you can get money back. It's the best way to shop online and earn cash rewards at the same time.
DollarSprout started as a resource to learn how to make more money by sharing blog posts about jobs, side hustles, and more. Now, it has grown to offer its own rewards program to help its audience make even more.
DollarSprout Rewards Pros
Low payout threshold amount of $5
Free to install
Available for both Google and Apple-based browsers
Automatic monthly cash out
Over 15,000 online retailers to choose from
Easy to install on your computer
Takes seconds to activate and begin earning
Stackable with your credit card rewards
DollarSprout Rewards Cons
Can only cash out through PayPal
Can take up to five days to see your rewards
Not available for in-store purchases
There is currently no app available to use
Related: Drop App Review: Is It Safe and Worth It?
DollarSprout Rewards Scam Score Ratings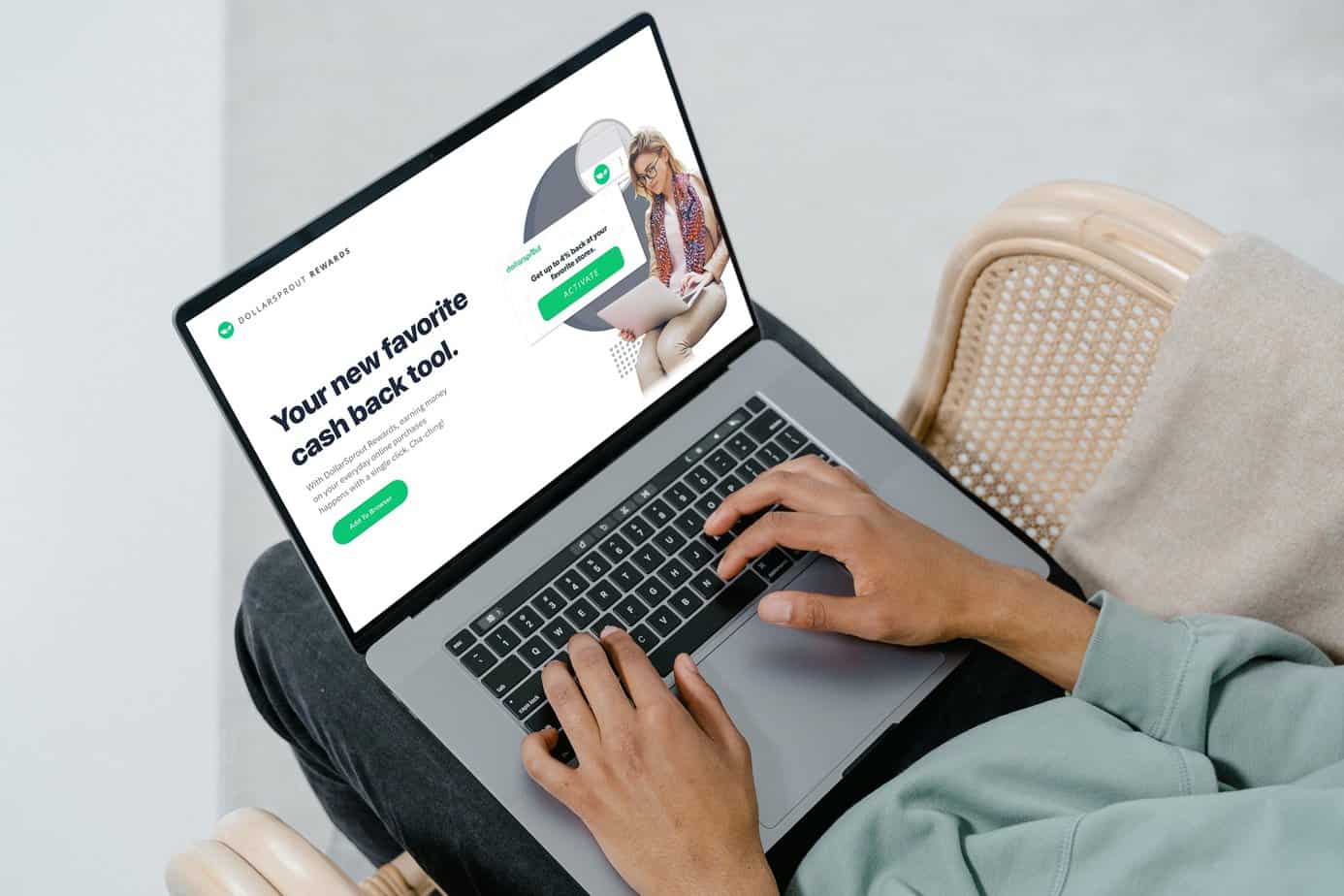 While I have personal experience with DollarSprout, I realize that I'm only one person. So, I like to include any background research I can by sharing information from public review sites.
DollarSprout Rewards currently does not have a profile with the Better Business Bureau or Trustpilot. However, it does have ratings on websites that check if sites are scams.
According to Scam Adviser, DollarSprout is "likely trustworthy" because:
The site receives an exceptional amount of traffic
The SSL certificate is valid
The website has been around for a few years (since 2015)
Related: Ibotta Review: Is It The Best Cash Back App?
What is DollarSprout Rewards & How Does It Work?
DollarSprout is a website that wants to help members fight back against inflation by giving them cashback on their everyday purchases. It also wants to make getting cashback as easy as possible. Because of this fact, the extension for your browser is the only way to activate your rewards.
1. Download the Extension
This rewards program is one of the easiest programs to get started with. It is a one-click download to get started. All you need to do is download the extension for your computer. Use the Chrome or Safari extension depending on your device. You can use the DollarSprout Rewards link or search for it in your extensions library.
2. Connect Your PayPal Account
After your extension has been installed on your browser, you will be prompted to connect your PayPal account to it. You can choose to skip this step if you want, but it really doesn't take long to do. Plus, if you want to get your payouts, you're going to need to have this step completed. Take a few seconds to connect your DollarSprout Rewards account to your PayPal.
Related: Cash App Rewards: Is the $750 Cash App Real or Fake?
3. Start Shopping Online
There is nothing more you need to do other than to go shopping online to start earning money back. The extension works for you to find coupons, promo codes, and deals on the sites you shop with. Once you are ready to check out, DollarSprout runs a quick check to see if your items qualify for any coupons. You will also activate a cashback bonus for your shopping.
4. Get Rewarded
Complete online transactions as you normally would and get paid to shop. You can watch your earnings grow in your DollarSprout account. Each month, your earnings will be sent directly to the PayPal account you set up. You don't have to worry about requesting withdrawals and waiting to see your money in a few weeks. Enjoy watching your hard-earned money come back to you automatically.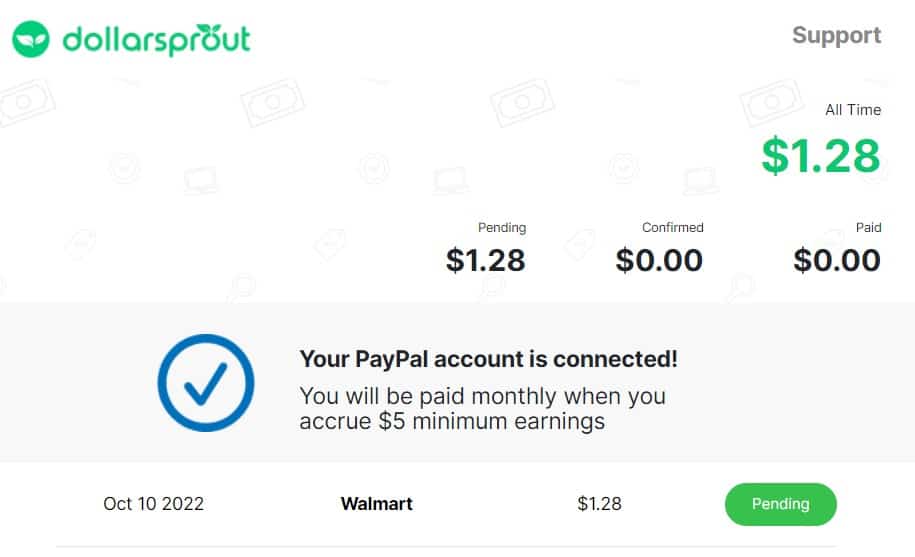 Related: Rakuten Review: How Much Money Can It Save You?
DollarSprout Rewards Alternatives
DollarSprout Rewards is a great option for cashback opportunities. If you are looking for more opportunities for cashback, consider the following alternatives.
Related: Cash App Boosts to Earn Free Bitcoin, Stocks, and Cash
More Popular Money-Making Offers
Earn more money in your spare time with these reputable companies.
Free PayPal cash
Paid surveys and web searches
Earn easy cash back
Get paid directly to your PayPal
PayPal, Visa, Amazon, etc.
Pays you to do NOTHING (with SJ Pulse)
Simply install the software
Participate in paid surveys & studies
DollarSprout Rewards Q&As
It is a smart move to make sure you have all of the pieces of the DollarSprout Rewards program puzzle before you decide if it is a program that is worth it for you. Take a look at common questions other consumers are asking to solidify that this program is legit and trustworthy.
Can I trust DollarSprout Rewards?
Yes, you can trust DollarSprout Rewards. For starters, the site does not collect your data to sell off to other third-party sites just to make a dollar off of your personal information. It is simply a connection point for you to find deals, save money, and make back some of the money you spent.
It's hard to trust that any site is just looking out for your best interest. With DollarSprout Rewards, that is exactly what it is doing. It is a legit company and trustworthy.
Can you make good money using DollarSprout Rewards?
This answer will vary depending on each user and based on the retailers. If you don't normally shop with a retailer that offers more return, then you might not make as much as someone else who does shop there. Additionally, if you only shop online sporadically, your earnings won't be as high as someone else who uses DollarSprout Rewards often.
The short answer is yes, you can make a difference in your income by using DollarSprout Rewards. The exact amount will vary from person to person.
Related: How to Make $300 Fast When You Need it Now
Is DollarSprout Rewards a scam?
No, DollarSprout Rewards is not a scam; it is a legitimate company. During this DollarSprout Rewards review, you have seen that the site itself has years under its belt, its scam ratings are low based on SSL certificates, and its age of domain is acceptable. It has been assessed by other scam-related sites and is deemed a trusted site.
How does DollarSprout Rewards make money?
DollarSprouts Rewards makes money through affiliates. Essentially, the companies it partners with for members to shop through gives it a commission whenever a sale comes through using the DollarSprout Rewards extension. With this commission, DollarSprout chooses to give part of it back to its members, which is how you are able to make back some of your cash.
In addition, DollarSprout has its own blog site that generates a steady income as well. The blog also includes affiliate links. If a reader views the links and makes a purchase, a commission is earned. Lastly, DollarSprout has its own YouTube channel where information about how to make more money is shared along with other tips about finances. DollarSprouts uses affiliate links and ads on its channel to generate passive income.
DollarSprout Rewards Review: Concluding Thoughts
Since I already have personal experience with DollarSprout, I am 100% certain that DollarSprout Rewards is a trustworthy, legitimate browser extension. If you are looking for another way to bring in (or bring back) some of your money, DollarSprout is a great option. While you won't make a full-time income just by using this browser extension, it is still nice to have a few extra dollars each month to help with bills and groceries.
Based on the information covered in this DollarSprout Rewards review, you are highly likely to enjoy this site as I have. It has passed the scam tests, has quite a few pros and very minimal cons, and it is easy to get paid your rewards. It is also easy to download and get started earning. There really is nothing more you could ask for in a cashback app, site, or browser extension.
If you are still hesitant about using DollarSprout Rewards, give it a try and see for yourself. You have nothing to lose and so much to gain. If you find that it isn't for you after giving it a try, simply uninstall the extension. There is no harm or great loss of your time to find out for yourself. DollarSprout Rewards is one of the easiest sites to earn money.
Related: Ibotta vs Rakuten: Can You Use Both Cash Back Apps?
---