Complete Disney Movie List
Are you a die-hard Disney movie fan? If so, review and download our complete Disney movies list. Disney released a whopping 400 movies in the last 81 years! Save this list of all the Disney movies so that you can scratch each one off of your checklist.
Snow White and the Seven Dwarfs, the beloved first Disney film, debuted on December 21, 1937. Since then, Disney released an average of five new family movies per year for a grand total of just over 400 movies. This does not include Disney channel TV shows.
This post may contain affiliate links. Please see my full disclosure policy for details.
Disney Movies List
A little perplexed about what movies you may have missed? Check out our complete Disney Movies Checklist with every single film released. Unless you've seen them all, this list of Disney movies will add a ton of ideas to your "must see" checklist instantly!
While many films on this Disney movies list are popular and loved to this day, there are still many that have fallen through the cracks. Let's revive these movies and start watching them again from start to finish!
Free Movies to Watch Online Instantly
If you've read any of my blog posts before, you'll know that I am a huge fan of the word free. That's because I am frugal and enjoy anything from free Disney movies to free stuff from Walmart!
For 30 days you can access thousands of movies online for FREE. If you don't like the selection or don't care to upgrade to a paid plan, no problem! Just cancel your trial anytime in the next 30 days and don't pay anything. Sign up here to start watching for free!
Let's face it, you probably found this blog post by searching Google for something like free Disney movies, right? If you sign up to try Amazon Prime, at least you can stream free movies online and binge watch them right now from a trusted, legal source!
On Amazon Prime, you can also rent and stream Disney movies online or purchase cheap Disney movies in Blue-ray or CD format with free 2-day shipping.
Let's not waste any more time. Just below you will find the massive Disney movie lists as promised! If you subscribe to my email list (I hate spam so there will be none of that – promise), then I will send you my 6 page PDF printable of ALL Disney movies on one gigantic list! You can print it or save it your computer for later use!
List of Official Disney Princess Movies
You may be surprised to learn that there are only 11 official Disney Princess Movies. Though there are many royal families and princesses in Disney movies over the years, only 11 elite princesses were chosen to be part of the official Princess list.
Snow White and the Seven Dwarfs (1937)
Cinderella (1950)
Aurora in Sleeping Beauty (1959)
Ariel in The Little Mermaid (1989)
Belle in Beauty and the Beast (1991)
Jasmine in Aladdin (1992)
Pocahontas (1995)
Mulan (1998)
Tiana in The Princess and the Frog (2009)
Rapunzel in Tangled (2010)
Merida in Brave (2012)
List of Disney Animated Movies
Here is my Disney animated movies list since these films are very popular among Disney fans. Continue reading for the extended lists!
Beauty and the Beast has been my personal favorite Disney animated movie of all time. But make sure to check out the entire list of animated Disney films below!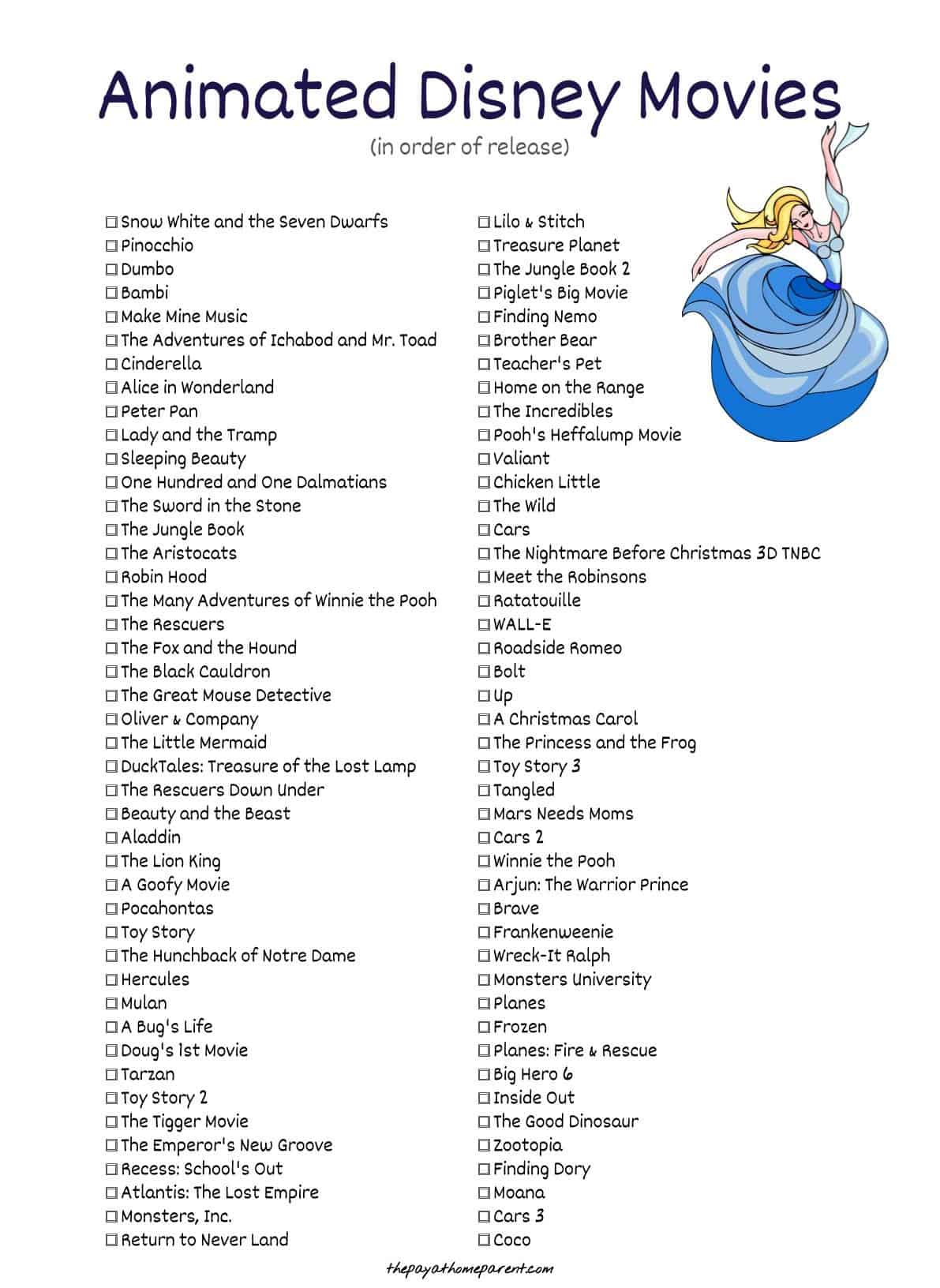 Related post: 4 Fun Family Dinner Ideas That Cost Less Than $10
Please bookmark this page, share our Disney Movies Checklist to Facebook, Twitter or Instagram, Pin them to Pinterest or download and print them so that you can be sure to check each film off your "watch list"!
I only hope that we never lose sight of one thing — that it was all started by a mouse. – Walt Disney
All Disney Movies List
Disney Movies Checklist 1930s, 1940s, 1950s, 1960s
The 1930s, 40s, 50s and 60s brought some of the most popular Disney Classics from Walt Disney Studios. Pinocchio, Dumbo, Bambi, Cinderella, Alice in Wonderland, Peter Pan, Sleeping Beauty, Mary Poppins and The Jungle Book are only a few that continue to entertain children today!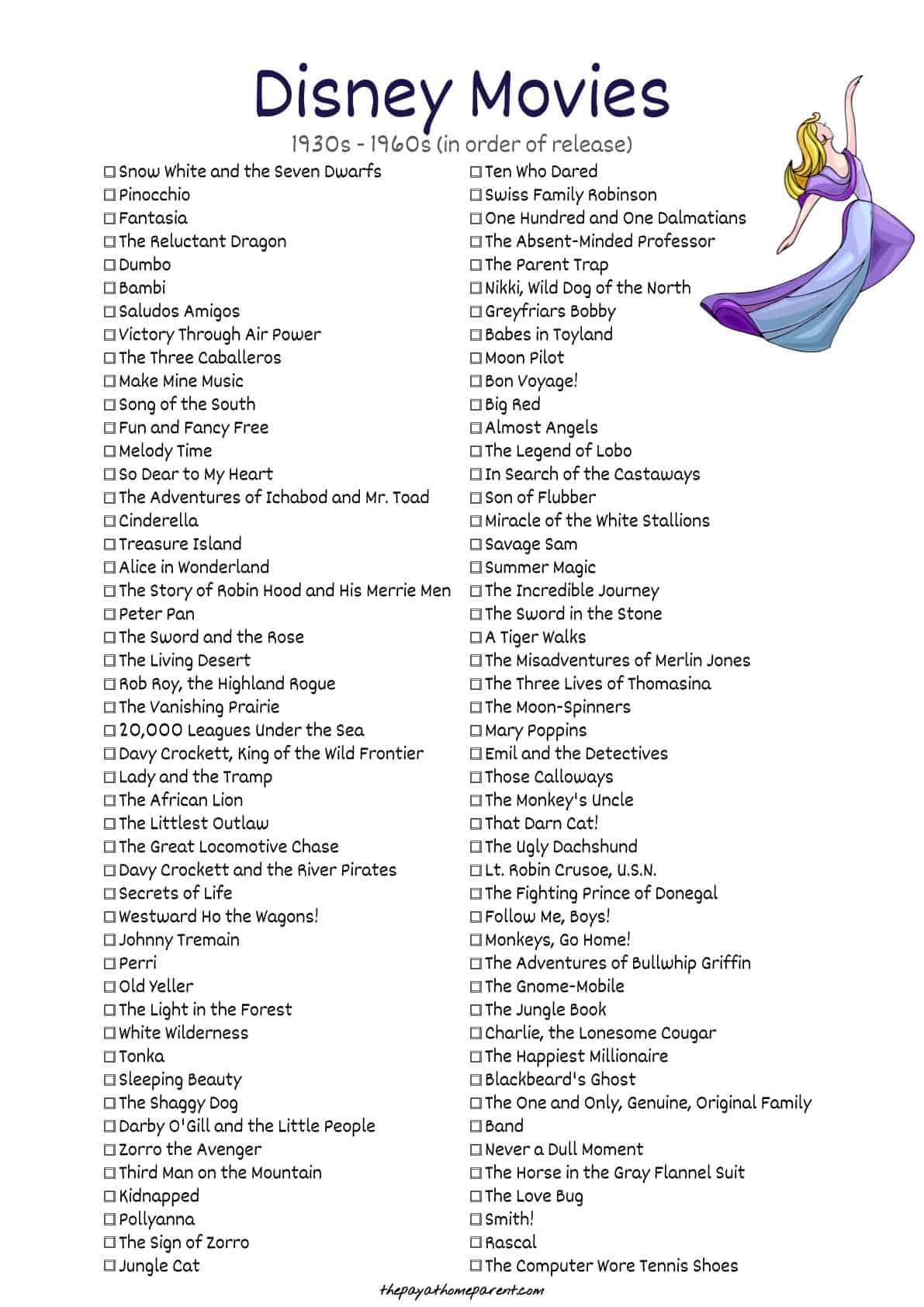 Disney Movies List 1970s & 1980s
The 1970s and 1980s are well known for the release of The Aristocats, Robin Hood, The Apple Dumpling Gang, The Rescuers, Return to Oz, Oliver & Company and The Little Mermaid. Although don't overlook the others on this extended Disney Movies Checklist, because you won't want to miss any of these Disney Classics!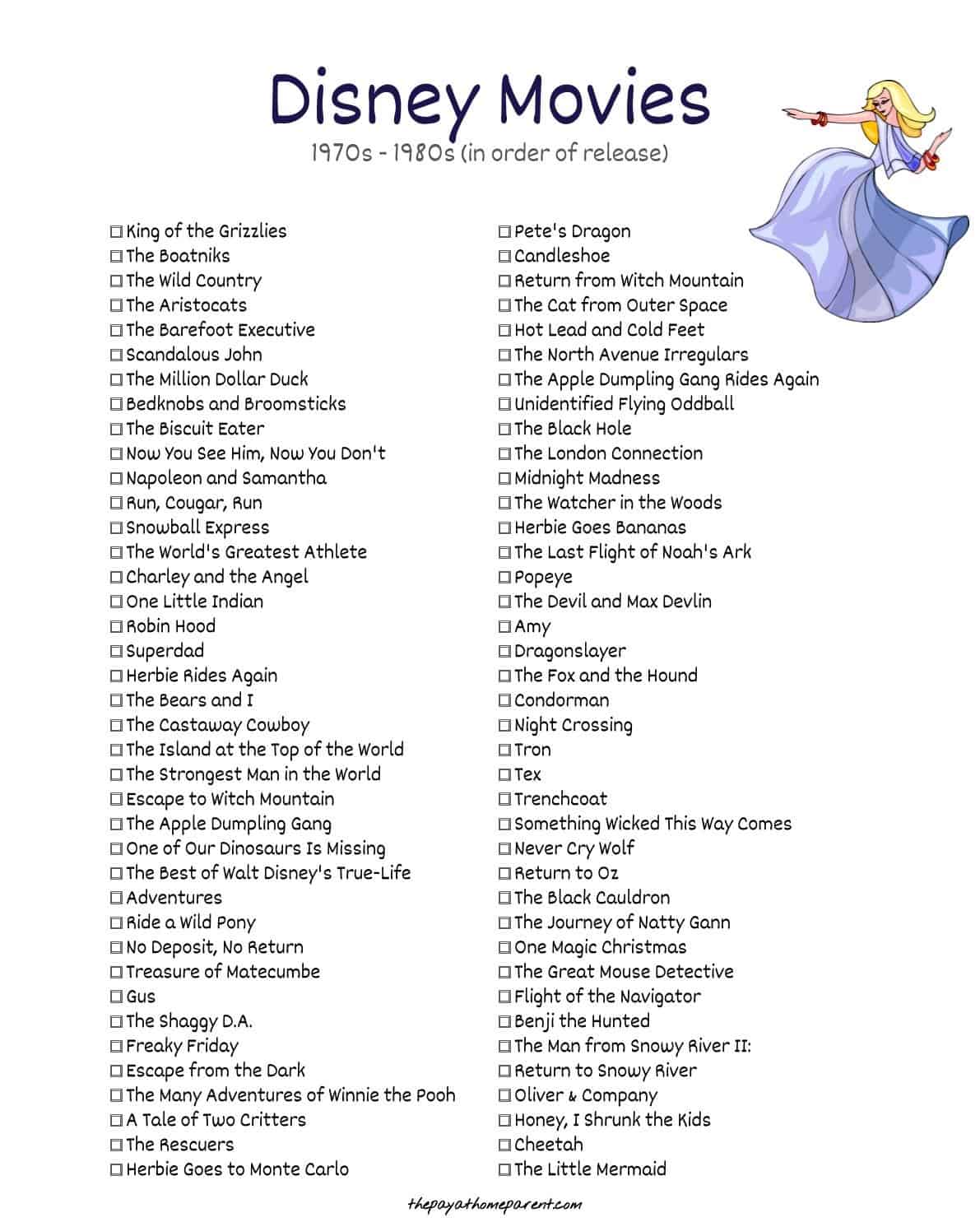 Disney Movies Checklist 1990s
The 1990s were packed with Walt Disney goodies! This is when we saw the release of Beauty and the Beast, Aladdin, The Lion King, Pocahontas, Toy Story, 101 Dalmatians, Mulan, A Bug's Life, Tarzan, Toy Story 2 and so many more Classic family films!
Disney Movies Checklist 2000s
Now we're getting to the time period where nearly all of these movies will sound familiar! But a few that we love include The Emperor's New Groove, Monsters, Inc., Finding Nemo, The Incredibles, National Treasure, The Chronicles of Narnia: The Lion, the Witch and the Wardrobe, Pirates of the Caribbean: Dead Man's Chest, Meet the Robinsons, Ratatouille, WALL-E and Up. Try adding at least these to your Disney movies list, but there are many more on the full list to consider!
Disney Movies Watch List 2010 – 2017
Last but certainly not least, there's probably not one movie on this list that you have not at least heard of! Toy Story 3, Tangled, Brave, Wreck-It Ralph, Frozen, Maleficent, Big Hero 6, Inside Out, Zootopia, Finding Dory, Moana and Beauty and the Beast were some of our favorites!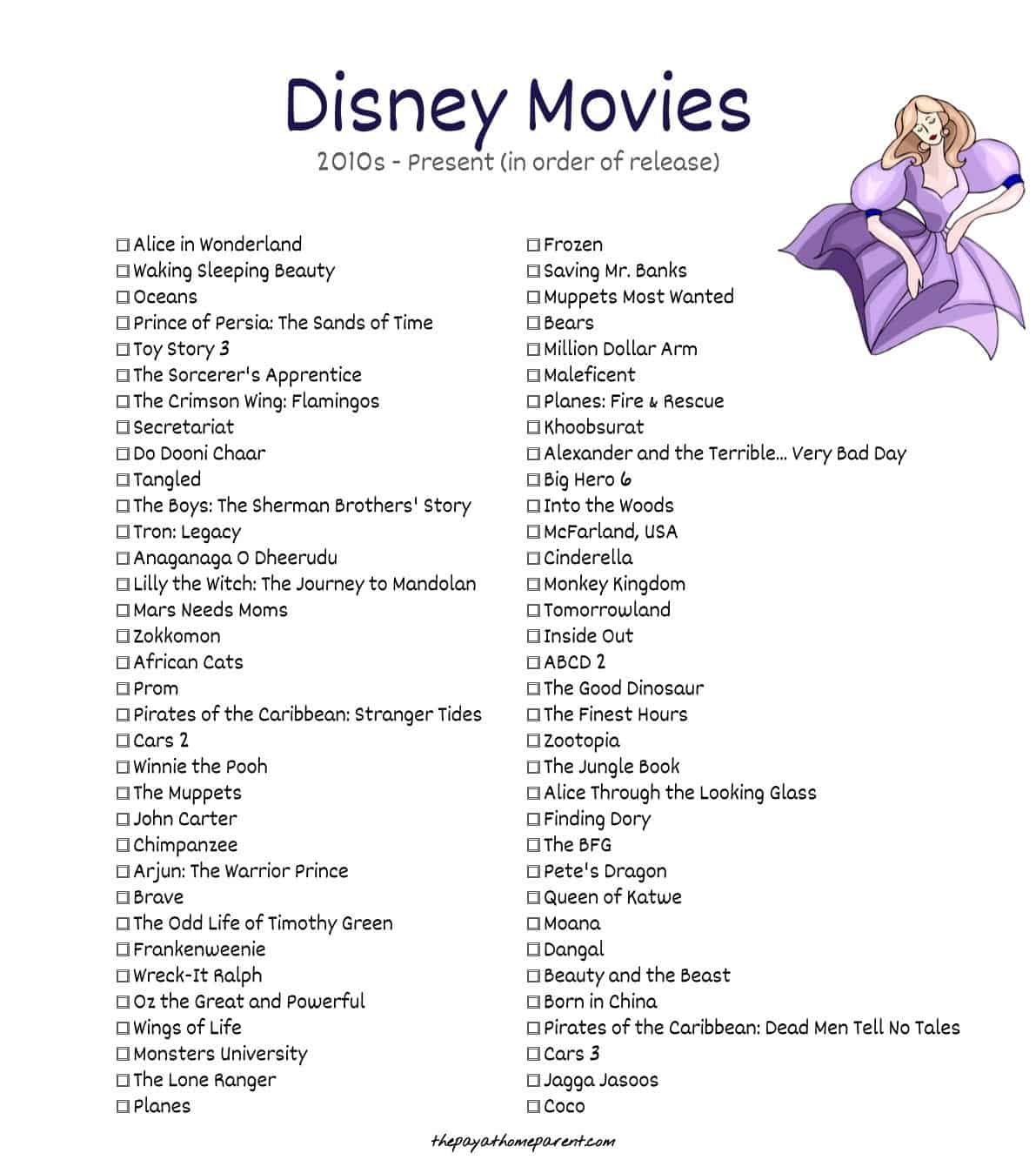 Discounted Disneyland Family Vacation
While we're on the topic of Disney – have you been thinking about planning a trip to Disneyland soon? If so, you can find DISCOUNTED vacation packages here. Use my promo code: PAYATHOME for an extra $10 off of already discounted prices!
Read how I get free vacations for my family and apply this method to your trip to Disneyland for an even better price!
How Many Disney Movies Have You Seen?
There are far too many lovable, popular films on the Disney movies list to give an honorable mention to each one, but at least these full Disney movie lists should help you find a few old movies that you've been missing! Don't forget to sign up for my newsletter and get the printable PDF version so that you can print them for a later date!
I would love to hear how many Disney movies YOU have seen over the years. Let me know in the comments below!
Pin This Disney Movie Checklist For Later!