How to Borrow Money From Cash App When Your Budget Is Tight
Try Bingo Cash, the ultimate bingo app for turning your skills into extra cash while enjoying colorful and engaging head-to-head matches. Win up to $83 per game and experience the classic bingo thrill in the comfort of your own home. Test your daubing skills and become a big winner today!
Bingo Cash™ is FREE to download and play! However, cash tournaments are not available in the following states: AZ, IA, LA, SC & WA.
No matter the time of year, it always seems like life knows when I am trying to save money. Whether it's a flat tire, an unexpected medical expense, or some other unforeseen situation, money seems to get tight at the most inopportune times. During those tight times, it's natural to want to look for ways to soften the blow, such as looking to borrow money from Cash App.
Borrowing money isn't a bad thing, but it can cost more in the long run if you aren't careful. When there are no other options to help financially, borrowing is a popular solution. If you are approved for a Cash App loan, it can be an immediate relief to any situation.
If money is tight for you and you need to know how to borrow more money from Cash App, I have broken down the options here to help you. The Cash App Borrow feature could provide temporary relief in your financial situation.
One of my favorite sites, Swagbucks, offers tons of ways to earn real cash online. If you're not already a member, give it a shot! Here are five things you can do to make easy money on the site:
Play games (up to $322 each)
Test apps (up to $150 each)
Submit receipts (easy cash)
Shop at your favorite stores (up to 10% back)
Answer surveys and polls (quick cash in minutes!)
Our Popular Free Guides
How to Start a Permanent Jewelry Business - If you are patient, have social skills, and love interacting with others, then a permanent jewelry business may be for you.
How to Become a Sleep Consultant - Help parents and babies, and be the difference for families worldwide who are desperate for more Zzzs in their life as a sleep consultant.
How to Become a Proofreader - There are five basic steps to working from home as a proofreader. As long as you're willing to put in the work, you can become a proofreader!
What is Cash App Borrow and How Does it Work?
Cash App is a money management app that has become increasingly popular and is used as a PayPal alternative. It allows users to transfer money to others and receive money back for free. There are also features that allow users to invest their money, participate in cash back opportunities, and receive direct deposits. Now, there is an additional feature where Cash App users can borrow money.
Cash App Borrow Feature
The Cash App borrow feature is not available to everyone. I don't have the borrow feature on Cash App because I don't currently direct deposit a paycheck to the app. However, doing so may unlock the feature if it's missing for you, too.
You can request to borrow as little as $20 or as much as $200. The more you deposit into your Cash App account each month, the higher your loan amount can be.
How to Check to See if You're Eligible to Receive a Loan
To see if you have access to the feature, check your Cash App balance. Click on your balance and you'll be taken to your banking screen. Search that screen for the "Borrow Up To…" button.
If you don't see the borrow button, then you don't have access to a Cash App loan just yet. If you do see it, then you can click "Unlock." You will be prompted to accept the loan amount that is offered to you.
Related: How to Enter a Referral Code on Cash App
Read The Terms and Conditions Before You Accept
Make sure to read the terms of the Cash App loan before accepting it. If you can get by without the money, or find a loan through another source, you may save money.
But knowing you have this access to funds in a pinch might be exactly what you need. Only you know your situation and whether it's worth it to borrow money on Cash App.
Related: Greenlight Card Review
Paying Back Your Cash App Loan
There is a 5% fee applied to your Cash App loan. For example, if you borrow the $200 maximum, you will end up paying back $210. The loan has to be paid back within four weeks.
If you don't pay it back by the due date, there is an additional 1.25% penalty per week that goes unpaid. There is a one week grace period following the due date before the penalty is assessed.
Get FREE Cash Bonuses with a Cash App Account
Copy the referral code:



Open Cash App settings
Swap $5 with a bestie*
Invite friends to join**
Set up a direct deposit***
*Ask a friend or family member to swap $5 with you through Cash App to activate the $5 sign up bonus.
**Get up to $15 for every friend who joins using your referral code.
***Deposits must equal $300+ within a 30 day period to activate the $100 cash Boost.
Related: How to Get Free Money on Cash App
Cash App Borrow Q&A
If you are still considering how to borrow money with Cash App, then it is a great option to use when all other options aren't available. Make sure you have a full picture of what it means to borrow money with Cash App by reviewing common questions other users are asking.
Can I borrow more than once from Cash App?
You cannot borrow more money from Cash App if you haven't paid back the current loan. The first thing you will need to do is fulfill your first agreement with Cash App. Since the borrow feature is only for certain account holders, it is up to Cash App to determine if you would be eligible to borrow from the platform again.
What happens if I don't repay the loan?
Cash App generously offers a grace period following the due date. After that, an additional interest rate is assessed. Interest will continue to accrue at 1.25% weekly for any unpaid loans with Cash App. This fee will continue to be added to your loan until it is paid in full.
Related: Cash App Free Money Code
Does a Cash App loan affect my credit score?
According to the Cash App legal page, if you accept the loan amount, an inquiry could appear on your credit report.
Why can't I borrow money from Cash App?
This feature is not currently rolled out to be accessible for all Cash App account holders. Currently, it seems that users with direct deposits going into their Cash App account are the ones who are allowed to borrow. You might also be disqualified from borrowing if your Cash App account balance is negative or if you are using the app as an unverified user.
Related: Best Apps Like Cash App
Best Cash App Borrow Alternatives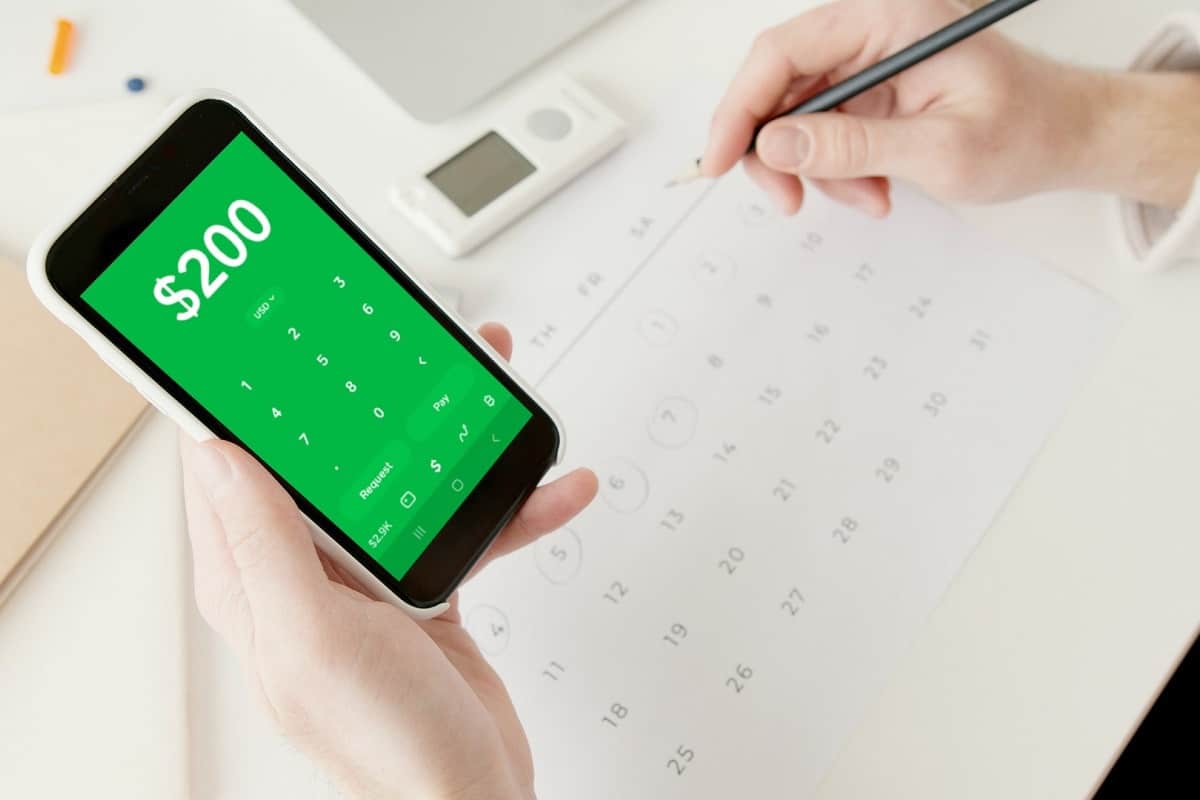 Before you borrow, take a look at some Cash App Borrow alternatives to potentially save you money in the long term. After all, saving money is the goal.
1. Borrowing From Friends and Family through Cash App
Family and friends are in your life because they care about you and want to make sure you are happy. Much of that is through emotional support like listening when you have a bad day. They are also there to encourage you when you need a pick-me-up. That being said, you can reach out to them when you need financial support as well.
Consider asking your friends and family to help you in a financially stressful time by borrowing from them through Cash App. Whatever amount you need help with, family and friends may be willing to help put money toward it if they can't loan you the full amount.
Make a deal with them that you will pay them back. Typically, borrowing from family and friends doesn't come with an interest rate so you can pay back exactly what you borrowed.
Related: Is the Cash App Blessing Loom Legit?
2. Sell Your Unused Items
Rummage through the items in your home you no longer use and sell them for a profit. These could be clothing items for any age, kids and baby items, or furniture pieces you can live without. Sell the items on Facebook Marketplace, host a garage sale, or sell them on eBay.
You can quickly make a few hundred dollars just by selling things you no longer need or use. This money doesn't need to be paid back to anyone so you would be saving money going this route instead of borrowing.
Related: Cash App Taxes
3. Complete Offers Online
There are several online sites that can help you make some extra money to assist with the financial stressors you may face. Use trusted sites like InboxDollars, a platform that allows members to complete online tasks for money. It is a trusted site that pays actual money for your time.
Earn enough to cash out for gift cards to popular places like Amazon, Target, and PayPal. Get a $5 bonus when you create a new account.
Related: Cash App Surveys
KashKick is a great find for gig workers, offering many ways to make extra money doing what you enjoy. Try it out - it's free! Here are five easy ways to start earning money on the site:
Play games (up to $125 each)
Test apps (up to $125 each)
Buy lottery tickets (an easy $8)
Try popular brands (always changing)
Answer surveys (quick cash in minutes!)
4. Start Your Own Business
Starting your own business can be easier than you think. When you're strapped for cash, consider offering services like house sitting, dog walking, or babysitting. You can make quick cash doing these for neighbors or other friends and family.
You can also consider joining Fiverr and offering virtual services like freelance writing, proofreading, or virtual assistant tasks. Get paid a portion at the start of your job and then the remainder when the tasks are completed. This can be an easy way to bridge the financial gap you might be experiencing.
5. Ask Your Employer
Some employers offer financial relief benefits such as reimbursements or even an advance on your paycheck. Check with your employer to see if you can take advantage of any of its financial relief benefits.
Use Cash App free money code NMXPRV7 to get an INSTANT cash bonus! Just swap $5 with a friend through the app to qualify.
Related: Is Cash App for Minors?
Learning How to Borrow With Cash App Can Be Helpful
While Cash App is only allowing users to borrow up to $200, this $200 could be life changing for someone who is in a pinch. However, consider that it is only a short-term fix because it does eventually need to be paid back in full plus interest.
Consider borrowing money with Cash App if you need the money quickly and have run out of other financing options. A potential hit to your credit inquiry plus additional interest added to the loan might be a steep price for some to have to pay in order to get a Cash App loan.
If you are in a bind, Cash App is a safe and legitimate app to turn to for your financial solutions. Remember that any financial challenges that might come your way won't last forever and there will be better days ahead.
Related: Cash App ATM Locations
---