11 ‌Card‌ ‌Games‌ ‌for‌ ‌Money‌ to‌ ‌Play‌ ‌on‌ ‌Your‌ ‌Phone‌
One of my new favorite game apps, Solitaire Cash, facilitates head-to-head solitaire matches for REAL money (up to $83 per win!).
Win cash for completely free or deposit $5 to multiply your winnings and cash out with Apple Pay or PayPal!
Solitaire Cash™ is FREE to download and play! However, cash tournaments are not available in: AZ, AR, IN, IA, LA, ME, MD, SC, MT & SD
Life is stressful. Our days are full of tough decisions to make and long work hours to put in just to make ends meet. It can all be very overwhelming. Playing online card games for money can take some of the stress off and help alleviate our mental loads.
Playing card games on your phone can give you a sense of peace and overall disconnection from life's noise. The only thing on which you need to focus is the game sitting in the palm of your hand. While winning a card game might not seem like a big deal, many players feel a true sense of accomplishment when they come out ahead.
Arriving home after hours of work and fitting in a quick win in a card game can make a positive difference in the way you end your day. The fact that you can get paid to play is just the cherry on top.
Below, we will take a look at the best card games to earn money and fill your days – and nights – with some relaxation and more money in your pocket. This could be the answer to your hopes of earning a stress-free income.
One of my favorite sites, Swagbucks, offers tons of ways to earn real cash online. If you're not already a member, give it a shot! Here are five things you can do to make easy money on the site:
Play games (up to $322 each)
Test apps (up to $150 each)
Submit receipts (easy cash)
Shop at your favorite stores (up to 10% back)
Answer surveys and polls (quick cash in minutes!)
Our Popular Free Guides
How to Start a Permanent Jewelry Business - If you are patient, have social skills, and love interacting with others, then a permanent jewelry business may be for you.
How to Become a Sleep Consultant - Help parents and babies, and be the difference for families worldwide who are desperate for more Zzzs in their life as a sleep consultant.
How to Become a Proofreader - There are five basic steps to working from home as a proofreader. As long as you're willing to put in the work, you can become a proofreader!
11 Apps That Pay You to Play Card Games for Money
All of the below apps offer legit ways to download card games to play online for money. Choose one or more to start relaxing while putting money back into your wallet.
1. Solitaire Cash
Earn extra cash playing Solitaire Cash on your Android or Apple phone. Play cards for real money while on lunch break at work or lounging on the couch at home in the evening. Each round takes only a few minutes to complete, and you can use your quick-thinking skills to score the most points and win the cash pot.
While it offers the added bonus of competing with real players to win real money, Solitaire Cash still showcases the classic game we all know and love. The difference is that two players are matched based on their skill levels. Both receive the same exact deck of cards to use throughout the round of solitaire. Whoever completes the game the fastest wins. This is a fun and rewarding way to play cards for real money in your spare time.
The trusted company Papaya Gaming facilitates these real-money rounds of solitaire. Its smart algorithm keeps the matches fair and fun. You can cash out your winnings to use in any way you like.
Solitaire Cash™ is FREE to download and play! However, cash tournaments are not available in: AZ, IN, IA, LA, ME, SC, MT & WA
Related: Solitaire Cash Review
2. Solitaire Cube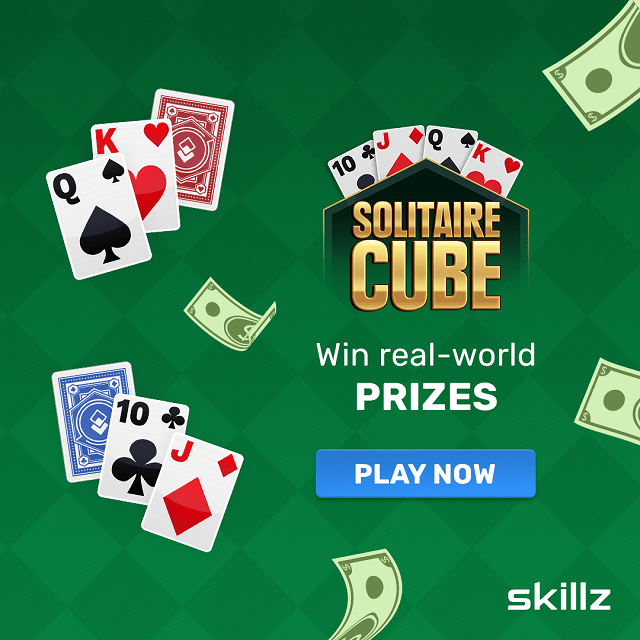 Solitaire Cube can be played on your Android or Apple phone or tablet. This classic, klondike-style solitaire game comes with a twist. Compete for a position on the leaderboard, play head-to-head against other players, and win cash. Players receive the same decks, and whoever earns the most points wins.
Solitaire Cube offers a relaxing and rewarding way to play solitaire for money. All cash withdrawals can be done safely via a physical check in your mailbox (in the United States) or PayPal account (international).
Use the Solitaire Cube promo code "APget5" with your first deposit to receive bonus cash to use in tournaments.
Enter the Skillz promo code APget5 and get FREE bonus cash with your first $5+ deposit.
Please Note! Cash tournaments are available in most of the world. Cash tournaments are not enabled in the following states: AR, CT, DE, IN, LA, ME and SD. If you don't live in a prize-enabled region, you can still play for free.
Related: Solitaire Cube Review
3. World Series of Poker
The World Series of Poker company facilitates online poker games. Join Swagbucks before opening an account with World Series of Poker to receive extra free cash to play more hands of poker.
Swagbucks is a free member rewards platform that pays its members to complete a variety of tasks, including downloading new card games for money – like the World Series of Poker. This is a great incentive to continue the activities you already enjoy!
Once you join World Series of Poker through the Swagbucks membership area, choose the poker table at which you want to play, whether you're a beginner or pro. You must make a minimum $10 deposit in order to receive the cashback incentive of 2,000 Swagbucks, or SBs (worth $20).
In addition to earning $20 in SBs for playing poker, you can also receive a $10 bonus if you're new to Swagbucks. Join for free and start earning SBs, which you can later cash out via PayPal, Mastercard or American Express cash cards, or a gift card to your favorite retailer.
Related: Swagbucks Review
4. KashKick Card Games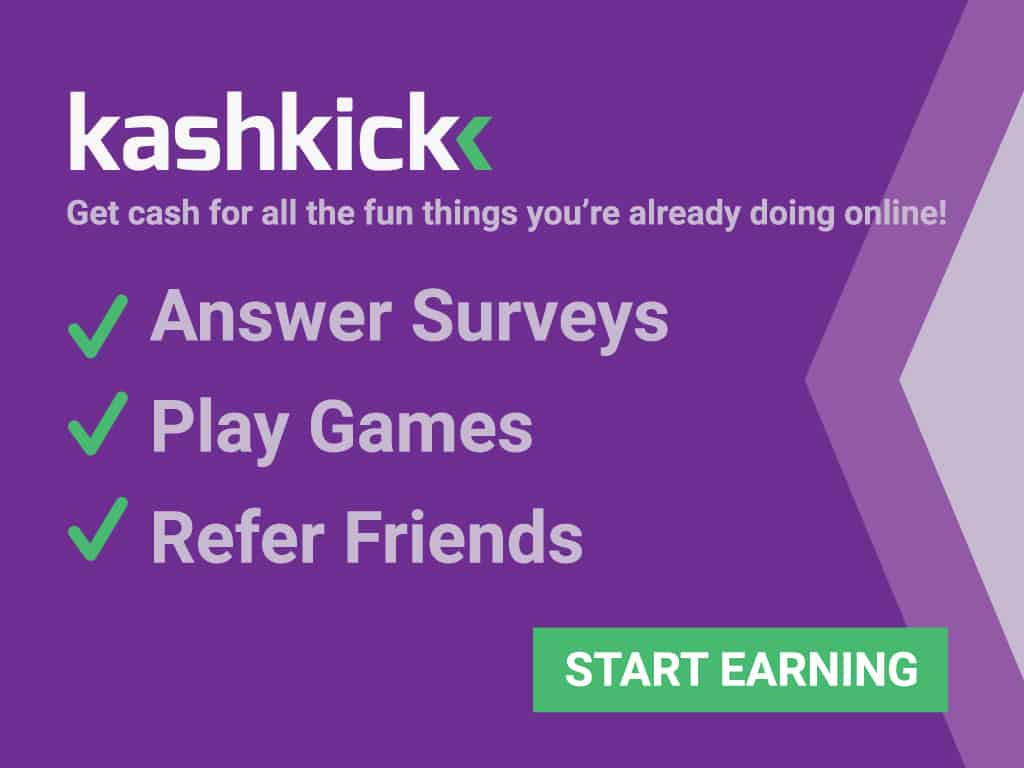 The online platform Kashkick offers a unique way for card game enthusiasts to earn money by playing popular titles such as Solitaire Grand Harvest, Solitaire Smash, and World Series of Poker. Unlike other similar sites, KashKick rewards members with cash payments instead of points or credits.
Users can sign up at no cost and participate in various gaming activities, each with its own earning potential. Although KashKick does not have a dedicated mobile app, it remains accessible via a phone's web browser, making it a convenient option for card game lovers seeking extra cash.
This platform does have certain limitations, such as its restriction to users within the U.S., and requirement of a $10 minimum payout threshold before earnings can be withdrawn. Payouts occur biweekly, meaning users have to wait up to two weeks before receiving their money. Despite these constraints, Kashkick maintains a Trustpilot rating of 3.8 out of five stars, although some users have reported account deletion issues without prior notice.
KashKick is a legitimate rewards site, and allows users to earn additional spending money by playing card games during their free time. It's important to note that the income generated through Kashkick is not intended to replace full-time employment.
Companies partner with KashKick to engage users with their games, fostering a mutually beneficial arrangement. If you are a card game enthusiast with a reliable internet connection and a few minutes to spare, Kashkick will be an appealing way to earn some extra money while enjoying your favorite games.
5. Blackjack 21
Download the Mistplay app to gain access to a variety of card games for money, including the Blackjack 21 game. This offering's speed reward rating is average, meaning you can make money faster the more you play.
Collect card sets for even more earning potential, play the classic strategy, or try the Double Luck or Golden Bet table features. Mistplay rewards players with units that can be cashed out for rewards like Visa credit and free gift cards.
Download a game onto your device to start earning with Mistplay. You will need to open the app each time you want to play blackjack for money in order to get paid for your game time.
Related: Mistplay Review
6. Ultimate Cribbage
Play Ultimate Cribbage on Mistplay and earn more units with each level you beat. Watch the classic card game come to life in your hands as you virtually play the game. Cribbage is a classic British card game that has brought joy to families for decades.
Collect even more units by playing with family members and friends. Count your points manually to really feel like you're in the game, or use the automatic scorekeeper. With apps like Mistplay, it's up to you if you want to compete in challenges as well as combat other players.
KashKick is a great find for gig workers, offering many ways to make extra money doing what you enjoy. Try it out - it's free! Here are five easy ways to start earning money on the site:
Play games (up to $125 each)
Test apps (up to $125 each)
Buy lottery tickets (an easy $8)
Try popular brands (always changing)
Answer surveys (quick cash in minutes!)
Related: Best Android Game Apps That Pay Real Money
7. Solitaire Grand Harvest
Build a farm as you complete this tri-peaks version of solitaire on Mistplay. Clear the board, harvest your crops, and collect rewards along the way. There's no better way to play solitaire than by creating a comfortable virtual space in which to flourish as a gamer and a farmer.
Collecting gems in Solitaire Grand Harvest will help you increase your overall earning potential in Mistplay. You will earn even more points if you harvest your crops throughout the day.
Related: Cash Game Apps for Real Money
8. Spades Royale
Spades Royale is a challenging and fun card game, and you will earn a cash reward if you download the app through Swagbucks. You will receive 2,000 SBs (worth $20) when you reach Level 50 within 14 days of downloading the app.
Cash out your SBs for rewards like gift cards to Amazon, Target, Starbucks, Visa, and PayPal.
9. Solitaire Cruise
Solitaire Cruise is one of the No. 1 best card games to earn money. It is incentivized through InboxDollars, meaning those who download it through their InboxDollars account and reach certain checkpoints can earn real cash.
Use Solitaire Cruise to travel to different virtual worlds, completing solitaire deals. Earn up to $30 cash back through InboxDollars once you have completed World 15. To get started, sign up for a free account on InboxDollars and bag a free $5 bonus.
Redeem the cash in your InboxDollars account for any reward of your choice.
Enter the Skillz promo code APget5 and get FREE bonus cash with your first $5+ deposit.
Related: InboxDollars Review
10. Gin Rummy Stars
Gin Rummy Stars is a real money card game app that is available to anyone with a free InboxDollars account. Earn $15 cash back as soon as you've completed Level 45.
There's no better way to earn a few dollars than by playing a card game for fun. If you already enjoy the classic game, consider playing rummy for money to help get ahead in your finances.
Anyone with an Android or Apple device is eligible to play this game. Join InboxDollars for free to get started. Cash out your earnings for rewards like gift cards to Amazon or a PayPal deposit.
Related: Legit iPhone Games That Pay Real Money
11. Spades Cash
Spades Cash is a single-player card game for real money. The points you earn each round are compared with other players', and the winner will take home cash or other real-world prizes.
Playing Spades for real money adds a new level of competition to the classic game we all know and love. Spades Cash facilitates head-to-head matches in which two real players (you and another person at your current skill level) play against three computer players. Both human gamers are dealt the same hands, and it's up to you to earn the most points by the end of each game. The player with the most points wins the wager.
Enter the available tournaments to gain access to even more opportunities to win. Cash out your earnings through trusted partners like PayPal, MasterCard, Visa, Apple Pay, and American Express.
Related: Free Slots to Win Real Money (No Deposit Required)
How Can You Make Money Playing Cards Online?
Contrary to the belief that playing games for money is a scam, many legitimate apps will let you do just that. These apps use a variety of methods to pay their members.
The first way you will get paid is through your ad views and ad clicks. The companies that create the ads that are displayed in the games actually pay the app for the views from players like you, plus any time someone clicks on those ads. The app pays its players a portion of the commission it earns from the ad companies. This entices players to keep coming back, continuing that flow of revenue from ad clicks and views.
Another method in which you are able to get paid to play cards online is through cash deposits. Some apps require a "buy-in" to play. This is typically found in games that host competitions amongst the players. Whoever wins the game wins the cash pot that was created by all of the deposits, or "buy-ins."
Related: Play Bingo for Real Money
Card Games Can Make a Difference Mentally and Financially
I love knowing I can play any of these card games for money, because they all offer that mental break that I need at the end of the day. This is a great option available to anyone who can't take on another job, allowing them to earn some extra cash to pay off their bills or add to a savings account.
These games won't make you rich, but they certainly have the potential to make a difference in your bottom line each month. Depending on how often you play cards for money, you could be cashing out your earnings much more frequently than you ever thought possible.
Thanks to the number of available games listed above, there is truly a card game for everyone. If you don't like solitaire, you can choose a game like blackjack or poker. If you enjoyed any of these classic games as a kid, now you can continue playing something that makes you happy while collecting some extra cash along the way.
Don't just choose one app to download to play cards for money. Try a few of them and keep your gaming strategy versatile. You can't win if you don't play; choose fun and make money, too.
Related: Bubble Cash review