10‌ ‌Card‌ ‌Games‌ ‌for‌ ‌Money‌ to‌ ‌Play‌ ‌on‌ ‌Your‌ ‌Phone‌
One of my new favorite game apps, Solitaire Cash, facilitates head-to-head solitaire matches for REAL money (up to $83 per win!).
Win cash for completely free or deposit $5 to multiply your winnings and cash out with Apple Pay or PayPal!
Solitaire Cash™ is FREE to download and play! However, cash tournaments are not available in: AZ, AR, IN, IA, LA, ME, MD, SC, MT & SD
Life can be full of stress. With tough decisions to make and long work hours just to make ends meet, the day-to-day responsibilities can be overwhelming. That is where online card games for money come into play.
Playing card games on your phone can bring a sense of peace and overall disconnection from all of the noise in life. All you have to focus on is completing the task of the game right in the palm of your hand. While winning a card game might not seem like a big deal, many card game players actually feel a sense of accomplishment after beating a game.
From a long day of work to a quick win in a card game, it can really make a positive difference in the way you end your day. The fact that you can get paid to play card games is an added bonus.
Take a look at the best card games to earn money and start your days (or evenings) with some relaxation and more money in your bank account. You might be surprised to find the answers you have been looking for when considering how to incorporate relaxation with making money.
10 Apps That Pay You to Play Card Games for Money
Get to know the legit apps that you can download to play cards online for money. You don't have to stick with downloading just one app.
1. World Series of Poker
The World Series of Poker is a company that facilitates online poker games. When you join Swagbucks before opening an account with World Series of Poker, you can get extra free cash to play more hands of poker.
Swagbucks is a free member rewards platform that pays members for completing tasks. Those tasks include downloading new card games for money like the World Series of Poker. It's a way to incentivize the activities you already plan on doing!
Once you join World Series of Poker through the Swagbucks membership area, you get to choose the poker table you want to play at whether you're a beginner or pro. You must make a minimum $10 deposit to the poker table in order to receive the cashback incentive of 2,000 Swagbucks called SBs (worth $20).
In addition to the $20 in SBs for playing poker, you can also get a $10 bonus if you're new to Swagbucks. Join for free and start earning SBs which you can cash out via PayPal, Mastercard or Amex cash cards, or a gift card to your favorite store.
Related: Swagbucks Review
2. Solitaire Cube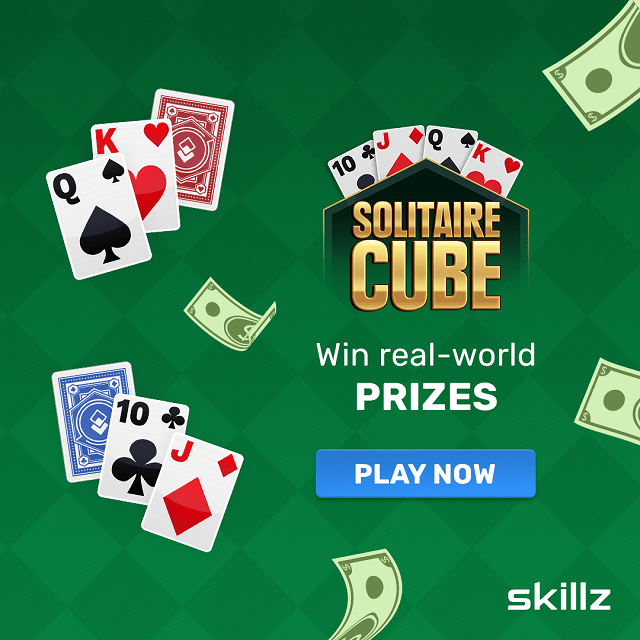 Solitaire Cube can be played on your phone or tablet from an Android or Apple device. It is a klondike-style solitaire game with a twist. Compete in tournaments, play head to head, and win cash. The opponent who earns the most points while playing the same deck wins.
Using Solitaire Cube can be a relaxing and rewarding way to play solitaire for money. All cash withdrawals can be done safely through Apple Pay, MasterCard, Visa, American Express, or PayPal.
Make sure to enter the Solitaire Cube promo code "APget5" with your first deposit to get bonus cash to use in tournaments.
Enter the Skillz promo code APget5 and get FREE bonus cash with your first $5+ deposit.
Please Note! Cash tournaments are available in most of the world. Cash tournaments are not enabled in the following states: AR, CT, DE, IN, LA, ME and SD. If you don't live in a prize-enabled region, you can still play for free.
Related: Solitaire Cube Review
Our Popular Money-Making Offers
Sign up with each of the following companies to maximize your earning potential.
$10 sign-up bonus
Pays to take surveys, complete offers, shop online, and much more
100s of other paid tasks
Awards cash and gift cards
$5 sign-up bonus
Pays to play games, watch videos, answer polls, and much more
100s of other paid tasks
Awards cash and gift cards
3. Blackjack 21
Download the Mistplay app to get access to all sorts of card games for money. Try out the Blackjack 21 game, for instance. The speed reward rating for Blackjack 21 is average, which means you can earn money faster the more you play this game.
Collect card sets for even more earning potential, play the classic strategy, or try the Double Luck or Golden Bet table features. Mistplay rewards you in units for playing. Earn enough units to cash out for rewards like Visa credit and free gift cards.
In order to earn with Mistplay, you have to download a game to your device. Each time you want to play blackjack for money, you have to open the game through the Mistplay app in order for you to get paid for playing the game.
Related: Mistplay Review
4. Ultimate Cribbage
Play Ultimate Cribbage on Mistplay and earn more units with each level you beat. Watch the classic card game come to life in your hands as you play the game virtually. Cribbage is a classic British card game that has been bringing joy to families for decades.
Collect even more units by playing with family and friends. Really feel like you're in the game by counting your points manually or using the automatic scorekeeper in the game. With apps like Mistplay, it's up to you if you want to compete in challenges as well to combat against other players.
5. Solitaire Grand Harvest
Build a farm as you complete this tri-peaks version of solitaire on Mistplay. Clear the board, harvest your crops, and collect rewards along the way. What better way to play solitaire than by creating a comfortable virtual space for you to flourish as a gamer and farmer.
You can collect gems as well in Solitaire Grand Harvest, which helps you increase your earning potential in Mistplay overall. If you harvest your crops throughout the day, you get even more points.
Related: Cash Game Apps for Real Money
6. Spades Royale
Spades Royale is a challenging and fun card game to play, and you can get a cash reward when downloading the app through Swagbucks. You will need to reach Level 50 within 14 days of downloading the app to get 2,000 SBs (worth $20).
Cash out your SBs for rewards like gift cards to Amazon, Target, Starbucks, Visa, and PayPal.
7. Solitaire Cruise
Solitaire Cruise is one of the best card games to earn money. It is incentivized through InboxDollars, meaning those who download it through their InboxDollars account and reach certain checkpoints can get real cash.
With Solitaire Cruise, you get to travel virtually to different worlds completing solitaire deals. You can earn up to $30 cash back through InboxDollars once you have completed World 15. To get started, sign up for a free account on InboxDollars and get a free $5 bonus.
Cash is deposited to your InboxDollars account that you can later redeem for the rewards of your choice.
Enter the Skillz promo code APget5 and get FREE bonus cash with your first $5+ deposit.
Related: InboxDollars Review
8. Gin Rummy Stars
Gin Rummy Stars is a real money card game app that is available to those who have a free InboxDollars account. Once you've completed Level 45, you can earn $15 cash back.
What better way to earn a few dollars than by playing a card game for fun? If you enjoy the classic game, playing rummy for money just might help you get ahead in your finances.
If you have an Android or Apple device, you are eligible to play this game. Join InboxDollars for free to get started. Cash out your earnings for rewards like gift cards to Amazon or a deposit to PayPal.
Related: Legit iPhone Games That Pay Real Money
9. 21 Blitz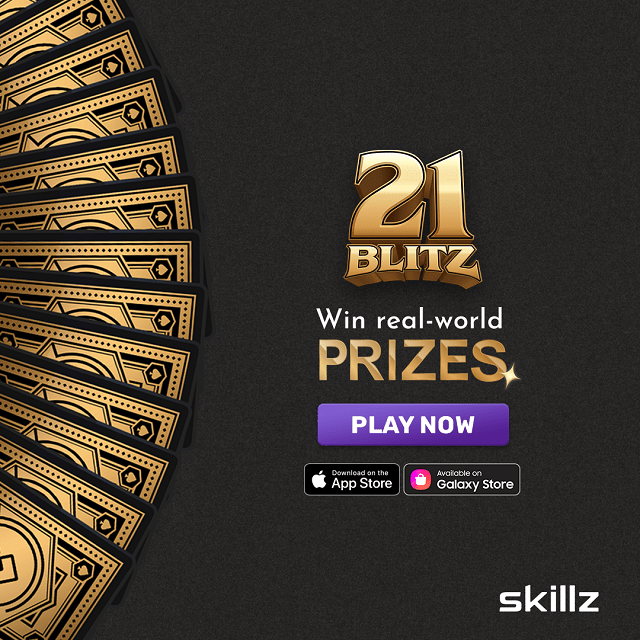 21Blitz is an app available for Apple and Android users that combines blackjack and solitaire for a twist on the classic games you already know and love. You can play for free or participate in the deposit feature to play cards against opponents for money.
Race against the clock to complete the deck before your opponent. Anyone who wins can cash out their earnings on 21 Blitz through secure withdrawals. You can request the withdrawals to come through MasterCard, Visa, American Express, Apple Pay, or PayPal.
Enter the Skillz promo code APget5 and get FREE bonus cash with your first $5+ deposit.
Please Note! Cash tournaments are available in most of the world. Cash tournaments are not enabled in the following states: AR, CT, DE, IN, LA, ME and SD. If you don't live in a prize-enabled region, you can still play for free.
Related: Best Android Game Apps That Pay Real Money
10. Spades Cash
Spades Cash is a single-player card game for real money. The points you earn each round get compared to other players, and the one with the most points wins money or real-world prizes.
Playing Spades for real money adds a new level of competition to the classic game. Spades Cash facilitates head-to-head matches where two real players (you and another person at your current skill level) play against three computer players. The two of you are dealt the same hands, and it's up to you to earn the most points at the end of each game. The player with the most points wins the wager.
There are tournaments you can enter for even more opportunities to win. Cash out your winnings through trusted partners like PayPal, MasterCard, Visa, Apple Pay, and American Express.
Enter the Skillz promo code APget5 and get FREE bonus cash with your first $5+ deposit.
Related: Free Slots to Win Real Money (No Deposit Required)
How Can You Make Money Playing Cards Online?
Contrary to the belief that playing games for money is a scam, there are actually several legitimate apps that let you do just this. If you are wondering how it's done, there are a couple of ways the apps are able to pay you.
The first way you get paid is through your ad views and ad clicks. This means that the ads that are displayed in the games actually pay the app for the views from players like you, and any time someone clicks on those ads. The ad company pays a commission to the app and the app turns around and pays its players a portion of those earnings. This entices players to keep coming back, which then continues that flow of revenue from ad clicks and views.
The second way you are able to get paid to play cards online is through cash deposits. Some apps do require a "buy-in" to play the games. This is typically found in games that host competitions among players. Whoever wins the game wins the cash pot created by all the deposits or "buy-ins."
Related: Play Bingo for Real Money
Card Games Can Make a Difference Mentally and Financially
Truthfully, I love knowing I can play any one of these card games for money because it really is that mental break that I need at the end of the day. I know for many others who can't take on another job, this would be a great option to earn some extra cash to pay off bills or just put away in a savings account.
While these games won't make you rich, they certainly have the potential to make a difference to your bottom line each month. Depending on how often you play cards for money, you could be cashing out your earnings much more frequently than you thought possible.
The best part about all these games is that there is a card game for everyone. If you don't like solitaire, you can choose a game like blackjack or poker. If you used to like playing any of these classic games as a kid, now you can continue playing something that makes you happy while collecting some extra cash along the way.
Don't just choose one app to download to play cards for money. Try a few of them out and keep your gaming strategy versatile. You can't win if you don't play; choose fun and make money, too.
Related: How to Get Free $500 Gift Cards