Bubble Cash Review: Is It Free and How Does It Work?
One of my new favorite game apps, Bingo Cash, facilitates head-to-head bingo matches for REAL money (up to $83 per win!).
Win cash for completely free or deposit $5 to multiply your winnings and cash out with Apple Pay or PayPal!
Bingo Cash™ is FREE to download and play! However, cash tournaments are not available in the following states: AZ, AR, IA, LA, SC.
Playing bubble shooting games was a rare treat when I was a kid. But with recent developments in technology, winning extra cash by popping on-screen bubbles can be done right from the palm of your hand!
Stress-free games can perfectly blend relaxation and entertainment to help improve your mood. As an avid mobile gamer, you know how carefree these types of games can be. The icing on the cake is that you can actually make money playing games like Bubble Cash.
Bubble Cash is based on an arcade-style shooting game that has appeared in different variations over the years. The concept is to match floating bubble groups in colors to make them disappear from the board before the bubbles touch the line or time runs out. If you find entertainment in games like Bubble Cash, then you will certainly find joy in playing them to win money.
The first thing you want to consider as a mobile gamer is if the opportunity to make money through these games is legit. There is nothing worse than being scammed out of your money and/or time that you can't get back. I am reviewing Bubble Cash in order to help you explore if this game is a legitimate opportunity for you to make money while relaxing and enjoying yourself.
Our Popular Money-Making Offers
Sign up with each of the following companies to maximize your earning potential.
$10 sign-up bonus
Pays to take surveys, complete offers, shop online, and much more
100s of other paid tasks
Awards cash and gift cards
$5 sign-up bonus
Pays to play games, watch videos, answer polls, and much more
100s of other paid tasks
Awards cash and gift cards
Bubble Cash Summary and Quick Facts
Recent developments by a company named Papaya Gaming have turned Bubble Cash into a potential money-making machine. Papaya has been around since 2016 with the mission to bring fun to mobile gamers and the opportunity to put cash back into their wallets. While Papaya Gaming is still young in the industry, it is turning heads with the number of satisfied reviews it has received so far.
You have two options to play Bubble Cash: there is the free version and the paid version. In order to make significant money with the game, you do have to pay an entry fee into cash tournaments. The fees aren't typically very high, but it is recommended that you take a closer look before entering.
Bubble Cash Review Pros
Can play for free
Keeps paid tournaments fair by matching players based on skill level
Can win actual money
Available for both Android and iPhone users
Compatible to withdraw through PayPal
Bubble Cash Review Cons
Must wager real money if you want to enter cash competitions
Limited to US, UK, Canada, and Australia only
Not available to play for cash in certain states in the US
Bubble Cash is FREE to download and play! However, cash tournaments are not available in the following states: AZ, AR, IA, LA, MD & SC.
Bubble Player Reviews and Ratings
You can find a plethora of positive reviews about Bubble Cash on the Samsung Galaxy Store and on the Apple Store. On Apple, it ranks 4.6 out of 5 stars in the app reviews with over 76 thousand reviews submitted. This is a favorable rating and shows the game is worth trying out. Some reviews mention there have been glitches while other reviews mention getting paid a decent amount of money for playing the game.
Related: Games That Pay Real Money
What is Bubble Cash & How Does It Work?
Bubble Cash is a soothing game designed to exercise your brain with the task of clearing the bubble board by matching three or more bubbles in color. Race against time to clear the board before forfeiting the game. When you clear the board, you get to move on to the next level.
1. Download the Bubble Cash App
Download the Bubble Cash game app to your Android or iPhone. Once you have installed the game, you will be prompted to open the game to get started. When you have the game opened for the first time, you will be asked to select an avatar for your game and a username. If you don't want to create a username, one is automatically generated for you using a series of letters and numbers.
2. Review Quick Facts
The quick facts is the tutorial of the game that you should participate in before you get started. This is your chance to get a quick overview of the game, learn about any power ups you can earn, and understand how to level up your avatar faster.
Bubble Cash matches players with one another by submitting scores against each other. The more you play, the more likely you are to advance your avatar. This gives you an advantage to play even more games and enter into bigger cash prize tournaments.
3. Start Playing
You can start out playing the free rounds on Bubble Cash first to get a feel for what the game is like. Use this time to practice, practice, practice. The more you practice, the better your chances are of winning the cash tournaments.
4. Compare Your Score
After each game, match your score against your opponent. This process of matching up scores is to see who scored the highest. If you score higher than your opponent, this helps level up your avatar so that you can earn even more later on. The same process is used when competing in cash tournaments to determine who wins the jackpot.
5. Withdraw Funds
You can safely and securely withdraw your funds through PayPal, Visa, MasterCard, American Express, or Apple Pay. There isn't a rule that says you have to withdraw each time you win. You can turn your Bubble Cash game into a sort of savings account and just let the money sit there and watch it change game after game.
Related: Legit Cash Games
Bubble Cash Alternatives
There are a few Bubble Cash alternatives if you are looking for other ways to earn in a bubble shooter type of game. The following list includes ideas of where you can find more games like Bubble Cash.
Skillz Inc.
On Skillz Inc., you can find Bubble Shooter Tournaments and download it to play for money. Skillz Inc. is a well-known gaming app that houses dozens of games. It is a trusted site many mobile gamers use to find their next mobile gaming fun. Withdraw your earnings in the form of PayPal internationally or a physical check within the US.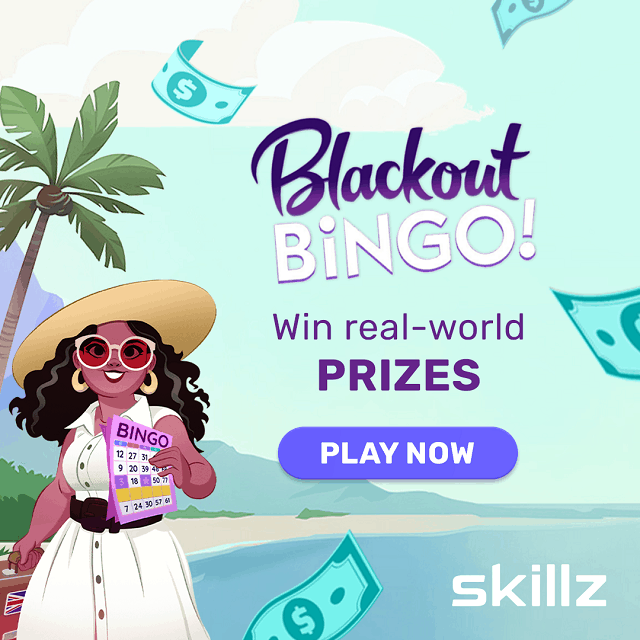 My favorite Skillz game is Blackout Bingo. It's just as colorful and quick-moving as Bubble Cash only it focuses on daubing numbers rather than shooting colors.
Enter the Skillz promo code APget5 and get FREE bonus cash with your first $5+ deposit.
Please Note! Cash tournaments are available in most of the world. Cash tournaments are not enabled in the following states: AR, CT, DE, IN, LA, ME and SD. If you don't live in a prize-enabled region, you can still play for free.
Related: Bingo Games That Pay Real Money
InboxDollars
InboxDollars is a user rewards site known for compensating participants for completing tasks. You can find a variety of tasks to complete like playing games for money.
Create a free account with InboxDollars and search the game section for bubble shooter-style games. Read the fine print on the game to understand how many levels you need to complete before you get paid.
Cash out your earnings in the form of PayPal or gift cards to Amazon, Home Depot, and more. You will also receive a $5 welcome bonus when you create a new InboxDollars account.
Mistplay
Mistplay is a popular mobile gaming app that has an extensive library of games to choose from. The app incentivizes avid gamers to download and play new and exciting games just for fun.
Download the free Mistplay app and search for bubble shooter games. The library is updated often so you may find a game you like now or later on. Earn units for playing games on your phone and turn those into cash rewards like Visa and PayPal or gift cards to Google Play, Uber Eats, and more.
Related: Apps Like Mistplay
Bubble Cash Q&As
This Bubble Cash review is all about giving you the most important information about the game so that you can make an informed decision about playing it. This includes answering common questions other potential players have been asking.
How long does Bubble Cash take to cash out?
This will vary based on when you request your withdrawal. However, you can typically expect your withdrawal to cash out within 3-14 days of your request. If you don't see your money by the 14th day, it is recommended that you reach out to the support page on the game app itself or reach out to Papaya Gaming directly.
Is Bubble Cash a free game?
Yes, Bubble Cash is a free game. You never have to spend a dime in the game if you are content playing the free version. However, if you want to play Bubble Cash in hopes of scoring some extra money, then you are going to need to wager real money.
Scroll to find the right paid tournament game you want to play. Each tournament will tell you what the jackpot is and how much the entry fee will be for you to join. Make a decision based on how much you want to pay or how much you want to win.
Related: iOS Games for Real Money
Is Bubble Cash safe?
Upon researching the game for my Bubble Cash review, I've determined that Bubble Cash is safe as long as you approach it as a form of entertainment. Any form of lottery, raffle, or casino gaming habit can easily lead to debt. So always be sure to budget an amount of money that you can potentially lose while always striving to use your sharp-shooting skills to come out ahead.
There are plenty of reviews from real players that substantiate that Bubble Cash does pay out as promised, aside from some in-game glitches players have experienced. Glitches are common among many technology products, and companies like Papaya Gaming take pride in correcting errors that players report.
Is Bubble Cash legit?
Yes, Bubble Cash is legit. It is made and hosted by a legitimate company (Papaya Gaming). It is not a scam site or app. The game has received high ratings, which adds to its legitimacy.
Is it worth it to play Bubble Cash?
The answer to this will depend on what you are looking for in a game. If you are hoping to replace your full-time income with Bubble Cash, then this likely won't be worth it for you to play. However, if you are looking to make some extra money in the comfort of your own home playing a game that is fun to you, then this will be worth it to play.
The only things that can determine if a game is worth playing are your goals and lifestyle. What is worth it for you might not be worth it to others and vice versa.
Related: Android Games That Pay Real Money
Bubble Cash in Review: Is It Safe to Play?
Winning some extra cash through gaming has never been easier than it is today. If you're a fan of the classic game Bubble Cash, you'll be thrilled to learn that it's now possible to make real money playing this game!
As a mobile app, Bubble Cash allows users to earn cash rewards from the palm of your hand while having fun. It's one of the most popular bubble shooting games available and is enjoyed all over the world. As with any other game, Bubble Cash requires players to match floating bubble groups in colors before they reach the line or time runs out. The aim is simple: clear as many bubbles as possible within the given time limit, and a cash prize is awarded to the top player.
One of the best things about Bubble Cash is its high level of accessibility compared to other gaming apps. Players can take part in contests regardless of their skill level or budget. Plus, with multiple tournaments taking place on a daily basis, there are always plenty of chances for gamers to make some extra money from this easy-to-play game.
What's more, Bubble Cash boasts an attractive design and user interface that adds value for gamers who want a visually stimulating experience. The app also offers several levels of difficulty so players can challenge themselves and increase their earning potential at different stages. It also provides helpful tutorials for those who are new to the game which will help them understand how it works and what strategies they need to employ in order to maximize their winnings from it.
So if you're looking for an exciting challenge that comes with superb rewards in return then look no further than Bubble Cash. With plenty of tournaments running daily, you'll have plenty of opportunities to flex your gaming skills and potentially make some serious cash along the way.
Related: How to Get Free Xbox Live Codes