Blackout Bingo Review by Expert Player [+Secret Strategies!]
My favorite game app, Blackout Bingo, facilitates head-to-head bingo matches for REAL money (up to $165 per win!)
You can even get bonus cash if you enter the promo code APget5. Play rounds for free or deposit $5 to multiply your winnings and cash out!
Please Note! Cash tournaments are available in most of the world. Cash tournaments are not enabled in the following states: AR, CT, DE, IN, LA, ME and SD. If you don't live in a prize-enabled region, you can still play for free.
I've been playing Blackout Bingo for many months now, and I think it's an important app to review. It pays in real cash, and it's run by the trusted Skillz platform which facilitates fair and friendly gaming tournaments.
You won't read a more researched and in-depth review of Blackout Bingo anywhere on the web. It's just not there! (I've looked.) So, stick with me if you really want to learn everything there is to know about this popular Skillz app. I'll tell you how it works and provide expert strategies that can potentially help you accelerate your winnings.
Enter the Skillz promo code APget5 and get FREE bonus cash with your first $5+ deposit.
As someone who plays bingo on my phone for real money, I want to first preface that you won't likely get rich overnight playing Blackout Bingo. These games are designed for entertainment and some financial satisfaction. It could take some players longer than others to reach top-level earnings.
Depending on how much time you invest into learning and playing the game, you could possibly make more money than others. It's all about how dedicated you are, knowing how to play the game, and being patient.
With all the confusion out there about apps that pay you to play games, I decided to compile my own review of Blackout Bingo to help you learn what to expect from the app. I have been paid by Blackout Bingo and can vouch that it is legitimate and that it does really pay.
Our Popular Money-Making Offers
Sign up with each of the following companies to maximize your earning potential.
$10 sign-up bonus
Pays to take surveys, complete offers, shop online, and much more
100s of other paid tasks
Awards cash and gift cards
$5 sign-up bonus
Pays to play games, watch videos, answer polls, and much more
100s of other paid tasks
Awards cash and gift cards
Blackout Bingo Review Summary and Quick Facts
Blackout Bingo is an app available for download with any Android or Apple device. It is an easy game designed for classic bingo fun with a modern twist. Get paid to play bingo with real money or choose to practice with the free version.
Blackout Bingo Pros
Helpful online support
Real-world prizes and cash
Fun to play and sharpens bingo skills
Easy to download and begin
Free to get started
Available worldwide (except where cash games are prohibited)
Has an amazing promo code program to get free bonus cash
Enter the Skillz promo code APget5 and get FREE bonus cash with your first $5+ deposit.
Blackout Bingo Cons
Some glitches have been reported that reset players' progress on levels
Can be charged a fee for inactivity
There is a $1.50 fee to withdraw funds of $9.99 or less (but $10+ withdrawals are free!)
You can lose real money
Must be at least 18 years old to play
Real money rounds are not available where local laws prohibit it
Please Note! Cash tournaments are available in most of the world. Cash tournaments are not enabled in the following states: AR, CT, DE, IN, LA, ME and SD. If you don't live in a prize-enabled region, you can still play for free.
Blackout Bingo BBB Rating
Click the button ⬆️ to subscribe to my YouTube channel and get all of my Blackout Bingo secrets, tips, and strategies!
Blackout Bingo is owned by Skillz Inc. Skillz has an A+ rating on its business profile on the Better Business Bureau's website. However, the company only has 2.15 stars out of 5 for customer review ratings.
Common complaints as seen on the reviews include accounts being closed for unknown reasons, attempts to redeem winnings being denied, and some trouble with gaming glitches.
I have personally had two games glitch out and close unexpectedly. Because of that, I lost the round and my wager. However, there was an easily accessible link to request a refund on those rounds. The responsive team had that money refunded to me within the hour both times!
Related: Get Paid to Play Solitaire
What is Blackout Bingo and How Does It Work?
Blackout Bingo is an app that is downloadable to any Google or Apple device. As a player, you have a unique opportunity to play for real-world prizes and cash. This game is available to play for free or you can pay real money for even more chances to win.
When you play the game and enter tournaments, you have a chance at winning cash and real-world prizes. It's as simple as it sounds; win the prize and you get the prize. You can cash out your money rewards through secure options. Blackout Bingo is a fun way to travel the world through the eyes of your avatar in the game while winning along the way.
Related: Solitaire Cube Review
1. Download the App
Scan the QR code on the official Blackout Bingo website to quickly download the app on your Google or Apple device. I don't advise searching in the Apple Store or the Google Play Store for the app because there are so many look-alike apps that don't pay real money.
There are a variety of knock-off Blackout Bingo games available to download. To ensure you are getting the right one that pays you to play, visit the official Blackout Bingo website and scan the QR code. The Skillz website is the official site for the Blackout Bingo app.
Related: Best Apps Like Mistplay
2. Create Your Account
Sign up for your own player's account on Blackout Bingo so that you can track your progress in the game. You can conveniently do this by signing in with your Google or Apple account. Before you can proceed, you must confirm that you are at least 18 years old.
Once the download is complete, you will be prompted to pick a username and select your avatar. You can choose from the default avatar on the app or select an image from your own files. If you pick a username that you no longer want to use, you can change it at a later date.
3. Enter Blackout Bingo Promo Code
Enter the Skillz promo code APget5 and get FREE bonus cash with your first $5+ deposit.
Before you make your first cash deposit into Blackout Bingo you can enter a Skillz promo code to get free bonus cash. You cannot turn around and withdraw that cash, but you can use it to play real money rounds of bingo. Each dollar you win is added to your balance as real cash and can then be withdrawn.
Using the Blackout Bingo promo code APget5 with your first deposit can give you the chance to play some extra games for free. The more rounds you win, the more rounds you can continue to play using that free money.
Upon signing up, each player is assigned a Blackout Bingo referral code. Your code will be your username. You can share it with others who want to start playing, and each time someone uses your code, you both get more bonus cash.
Related: Best Android Game Apps That Pay Real Money
4. Make Your First Deposit
To start playing cash rounds, you'll need to make a cash deposit of at least $5. As long as you've entered a promo code like "APget5" and you're depositing cash for the first time, any amount you deposit will give you bonus cash.
5. Start Playing
Blackout Bingo will want to first assess your skills. You will be prompted to play a practice game with an opponent with a guarantee of winning at least two in-game tokens. After the game, see how you did against your first opponent.
Continue playing and practicing your skills throughout the game. Duel against other real players, join weekly tournaments, and play games for real money. You can increase the fun by inviting your own friends to play on the app against you or others.
Related: Get Paid to Share Links
6. Redeem Your Prizes
Depending on the prize you win, there are different ways to redeem it. If you win cash prizes, you can securely redeem your money through PayPal, Apple Pay, Visa, American Express, and MasterCard–it depends on the method you used to add your funds. If those other options are unavailable to you, Skillz will send you a physical check in the mail.
For larger, real-world prizes that cannot be redeemed through those previously mentioned methods, Skillz will make arrangements to get you your prize.
Related: How to Get Free Gift Cards
7. Increase Your Blackout Bingo Earnings
The best way to increase your earnings with Blackout Bingo is by researching strategies on YouTube, practicing, and playing as often as your time and budget allows. Enhance your skills, compete, and get paid for each round of bingo you win.
You can also increase your earnings by joining in on the weekly tournaments. This is where the larger prizes are won. Compete with other players for the big payouts.
More Popular Money-Making Offers
Earn more money in your spare time with these reputable companies.
Free PayPal cash
Paid surveys and web searches
Earn easy cash back
Get paid directly to your PayPal
PayPal, Visa, Amazon, etc.
Pays you to do NOTHING (with SJ Pulse)
Simply install the software
Participate in paid surveys & studies
Related: Play Skillz Games for Money
How to Come Out Ahead With Blackout Bingo
Before you dive into playing for real money, it's important to understand what fuels the game. Blackout Bingo is unlike any traditional game of bingo. Instead of leaving each round up to chance, the game serves each player the same scenario. That means the players receive the same cards and call numbers. Each player has the opportunity to outsmart the other using different Boosts earned throughout the game. Things like daub speed and strategy come into play rather than pure chance.
But the real question is, how many games do you have to win in order to come out ahead in the end with extra money (versus a loss)? It all depends on which paid matches you play.
$1 Blackout Bingo Rounds
For example, if you play it safe and start with the $1 matches, two players wager $.60 each and play head-to-head. The winner takes $1, and the app takes $.20. That means the winner actually increases his account balance by $.40 with each round he wins ($.60 initial wager of his own money + $.40 prize).
If you were to play Blackout Bingo for one hour, and played about 25 1 ½ to 2-minute rounds back to back, you would have to win every single round in order to earn $10 in that hour of playtime.
Even with great skills and accuracy, you should expect to lose some games, especially as a beginner. So it's important to consider your personal rate of loss (how many games you win on average versus how many you lose). This average may not be a prediction of your future success, though, because as you level up your account you will compete against more experienced players.
$10 Blackout Bingo Rounds
So let's consider the same scenario but only play $10 rounds for an hour. Each of the two players wagers $6 and plays head-to-head. The winner of each round wins $10 and the app keeps $2. For each game won, the player's actual balance would increase by $4 ($6 initial wager of his own money + $4 prize).
If you played 25 1 ½ to 2-minute games in an hour and won every game, you would earn $100. But of course, you would need to take into account the total number of games you lost.
When playing 25 $10 rounds for one hour, you would need to win 15 of those rounds, just to break even. That means you need to win every three out of five games on average in order to avoid losing money in Blackout Bingo.
While it's not impossible to make money in Blackout Bingo, it can be difficult in the beginning to get to the point where you're actually bringing home a significant amount of money. Even the best players lose games. It's important to get ahead of your opponents by learning strategies you can use to increase your points in each round.
Blackout Bingo Strategies, Hacks, and Cheats
You'll find lots of Blackout Bingo videos on YouTube, but very few pro players describe their strategies. Truthfully, they don't want to share their secrets on how to win because it creates more competition for them.
I've spent time playing Blackout Bingo, analyzing YouTube videos, and scouring the internet to find the strategies that can help you win. There is no other guide out there that gives you an in-depth perspective on how to one-up your opponent.
Disclaimer: Even the best bingo players lose games–even if they don't share their losses publicly. You should never go into this game thinking you will win every time. Even though Blackout Bingo serves each player the same card, the same numbers, and the same Boosts, there are still variables to outcomes based on your strategy.
But what strategies can you use to help you win more games? These are the ones I use, and they certainly help me win some extra cash.
Strategy 1: Know Your Boosts (and When to Use Them)
There are four main Boosts that you will see in the paid rounds of Blackout Bingo: bonus ball, free square, bonus time, and score multiplier. You may occasionally see the freeze Boost in some games.
You can only hold up to three Boosts at a time during a round, so knowing when to use a Boost and when to hold it is important. I never allow my Boost meter to remain full at any given point in a game because doing so would mean losing the chance to earn an additional Boost.
Free Square
The free square can be used at any point throughout the game. When you activate this Boost, you can daub any number on the card. Saving your free squares until later in the game can help you work toward more bingos which earn you more points.
The daub you make using the free square Boost does not earn you points, and you want to select the space wisely since that number may be called later in the game. While you can't predict which numbers will and will not be called, it's helpful to hold onto this Boost for as long as possible and use it toward the end of the game to complete more lines.
Bonus Ball
The bonus ball can be used at any point throughout the game as well, but there is little benefit to holding this Boost for long. When selected, the bonus ball pauses the game for eight seconds and gives you the choice of four numbers. Each of those numbers is still open on the gameboard which makes strategy (and memory) an important part of your choice.
Right before you activate a bonus ball, try to memorize three or four numbers on the board that could bring you the closest to an additional bingo (a sequence of five daubs in a row). I like to memorize my corner numbers since they are a part of more bingos than any other space on the board.
Bonus Time
The bonus time Boost should be activated immediately. It is a simple but powerful power-up that can extend a round and give you more time to earn points. Once it's activated, the bonus time Boost adds 10 seconds to the timer. Each game lasts just 90 seconds, making those additional 10 seconds a crucial benefit.
Score Multiplier
The X2 score multiplier Boost is a powerful tool that can take a score from 20,000 to 40,000 in just 10 seconds. The Boost multiplies each point earned during the 10-second window by two.
I like to use the score multiplier Boost during the last 10 seconds of a game because you can double the points you earn for hitting the bingo button. The more bingos you get in a row, the more points you earn.
Freeze
The freeze Boost freezes the timer for 10 seconds. This can be a helpful Boost to use when a game is going quickly and you need time to regroup and check some called numbers to make sure you daubed each one correctly.
This Boost isn't usually seen in the normal head-to-head matches between two players. Activate the Boost at any time during the game, especially when you feel like you're falling behind on the numbers called.
Strategy 2: Know When to Hit BINGO!
When I first started playing Blackout Bingo, I naturally assumed that the quicker you make a bingo, the more points you would earn. Oh boy, was I wrong! In this game, you actually earn more points for saving your bingos until the end of the game.
Instead of hitting bingo sporadically throughout the game as you fill each sequence of five daubs, you earn bonus points for getting multiple bingos in a row. Hitting bingo at the end while a score multiplier Boost is activated doubles your points earned during that 10-second window. It truly compounds your final score and leads to a better chance of winning.
Strategy 3: Watch the Replays
Most paid rounds are recorded. As long as the players each have a good internet connection, Blackout Bingo can record the game for players to rewatch. While you may be tempted to jump into the next game right away, slow down and take some time to watch the replays.
I've learned so much by watching how others play. I can see exactly why they beat me, and how I can improve my own strategy and gameplay in the future. Some of my best strategies have come from watching replays of how others play the game.
Strategy 4: Understand the Algorithm
Blackout Bingo has its own algorithm which helps match two players with the same skills. The algorithm seems to base its choice of matches on a player's most recent games. That means if you are dominating multiple games in a row, the game will start to match you with players who have more experience.
I like to gauge when this happens and start picking up games in lower-wage matches for a while. That way if I lose, I only lose $.60 or $3 depending on which match I choose to play.
While I don't have the algorithm all figured out, I have noticed that it gets increasingly harder to maintain winning streaks for long periods of time. I don't think the game intends to slow down your progress, but naturally, its goal is to match you with a player with a similar amount of experience in order to give those players who are behind you in progress a fair chance to win.
Strategy 5: Learn Which Spaces Can Earn You The Most Bingos
Every daub on the board is not the same. There are certain spaces on the board that can be a part of more than one possible bingo. For example, each corner space can be part of four possible bingo sequences. That's why it's important to fill the corner spaces using bonus ball and free square Boosts. In the following image, notice that there are four different bingos that B5 can be associated with.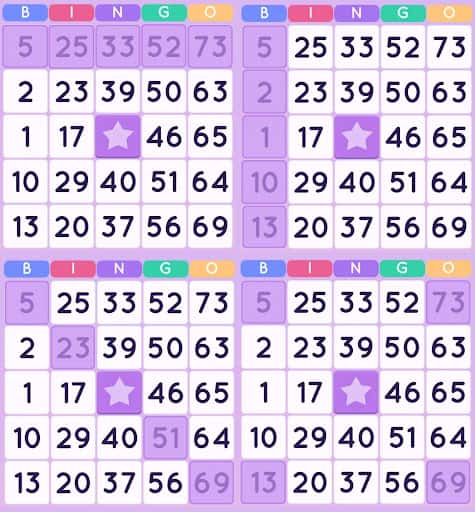 Here is a breakdown of how many bingos each space can play a part in:
Take a second to memorize which spaces on the board can make the most bingos. The outside four corners and the inside diagonals can really increase your score. When the game is coming to an end and I have a free square or bonus ball, I like to check those spaces to see how many bingos I can get by filling them in.
Strategy 6: Know Exactly What Actions Earn You Points
It can be tempting to dive into real money bingo matches thinking "I know how to play bingo, let's do this!" But the truth is, almost everyone else knows how to play bingo, too. The way to win more games than you lose on Blackout Bingo is to learn the points system inside and out.
I couldn't find documentation on Blackout Bingo's site explaining how the points are calculated after each round, so I analyzed dozens of games to determine how the scoring system actually works. There are six different ways to earn points in each round, and understanding how those points are earned is crucial to outwitting your opponent and winning competitions.
How the Points are Categorized and Calculated:
Correct daubs – for every accurate daub you place on the board, you earn 100 points. A typical game would end somewhere between 15 and 25 daubs for a total of 1,500 to 2,500 points in this category.
Speed bonus – each quick daub is labeled as "perfect," "fast," or "nice." A perfect daub gives you between 50 to 75 bonus points based on how quickly you act. A fast daub awards 25 to 49 bonus points, and a nice or normal daub gives you between 0 and 24 bonus points. All of these bonuses are calculated into the speed bonus total and do not include the default 100 points you get for simply making a correct daub (remember, those are a straight 100 points each).
Bingos – each bingo earns you 1,000 points, and you can get up to 12 bingos in one game without blacking out the board. A blackout will award even more points, leaving this category blank.
Bingo bonus – earn bonus points for completing multiple bingos in a row. The best way to do this is to play the game as you would play any normal bingo match but wait until the final seconds of the game to hit "bingo." Each bingo you add to the total adds progressively more points to your score.
Blackout bonus – earn 9,100 points (instead of the bingo bonus) when you daub all 25 numbers on a single board.
Boost bonus – the points in this category are earned during the 10 seconds that the X2 score multiplier Boost is activated. It doubles every point you earn during this 10-second window. Activating the Boost within 10 seconds of hitting "bingo" at the end of a round will lead to the most possible points.
Time bonus – earn 100 points per second left on the clock after you've blacked out the board.
Penalty – lose 25 points for each incorrect daub, and 100 points for hitting the bingo button when no bingos are found on the board. Additionally, you'll lose any progress made on the Boost meter.
How the Points are Weighted
The majority of points in a single bingo match are earned by getting multiple bingos and using a score multiplier Boost to double your points during the final 10 seconds of the game. Here's a screenshot of a typical score after a round of Blackout Bingo:
I also created a graph that shows you where it's most important to focus your efforts based on how many points it awards:
While many players focus on speed (Speed Bonus) and accuracy (Correct Daubs) alone, you can clearly see that those are only a small piece of the puzzle. Sometimes when you're in a close match you will find that being quicker than your opponent helps you win, but ultimately it boils down to your strategy: when you use a score multiplier Boost (Boost Bonus), how many bingos you complete (Bingos), and when you hit the bingo button (Bingos Bonus).
On the other hand, daubing quickly and accurately does help fill your Boost meter at a quicker rate. For example, a "perfect" daub will fill the meter more than a "fast" daub, and an inaccurate daub will empty the meter. So being a fast and accurate player is still a crucial part of the game since Boosts can help you win.
Related: Mistplay Review
Blackout Bingo Q&A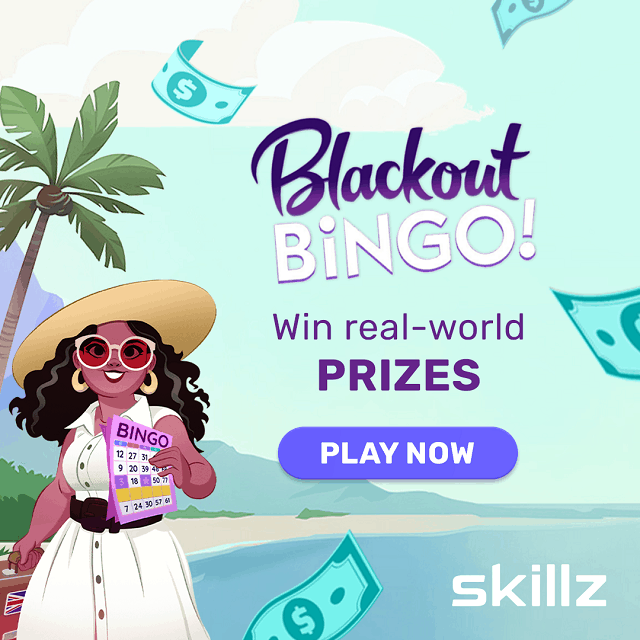 When I did some research into the questions that real people are asking about Blackout Bingo, I couldn't find great answers. So I did what any other person might logically do–I played a few rounds blindly (and lost money doing so).
While I don't enjoy losing, I used my experience as a way to compile the information that no one else was freely giving away (and I got pretty darn good at the game at the same time). Read through these questions and answers before you dive in and lose money as I first did.
How do you win Blackout Bingo every time?
Beat the clock, watch for opportunities to daub, and spot the bonus balls to increase your chances of winning each time.
If a square on your card is called, your fast reaction to tapping the square means more points and Boosts. It might take some practice, but you have to be quick to clear your card and win.
But truthfully, you won't win every game, especially if you're just getting started. Make sure to play the practice rounds and start with low wagers until you feel confident to move up the ladder.
Related: Cash Game Apps
Is Blackout Bingo legit?
Blackout Bingo is a legit app that has been proven to pay users. There are some negative reviews from users about the game having some glitches and users not being able to continue on in their progress because of that, though.
If the app closes unexpectedly during a game causing you to lose, you can easily report the crash and get a refund of your wager. I've done this a handful of times and each time the help staff refunds my balance with no questions asked.
Skillz Inc. is a legitimate company and Blackout Bingo is facilitated by the company. It has an actual business rating from the BBB and ratings on the app stores to further prove that it is legit.
Should you invest in Blackout Bingo for real money?
Investing real cash into a game like Blackout Bingo in order to make money is a personal choice for each player to make on their own. Playing the free version still allows you the opportunity to win money and real-world prizes, but the rate that you can earn is extremely limited.
There are some advantages to paying to play, such as increasing your Boosts or entering into tournaments that cost real money to play but have larger payouts. It's important to consider the benefits before deciding if you want to spend real money on the app.
What is the golden ball in Blackout Bingo?
The golden ball is a special powerup called the bonus ball Boost that you can earn for daubing quickly during Blackout Bingo matches. As soon as you tap the golden ball, the game timer pauses and you are given 10 seconds to choose from four numbers that are still free on the board.
While you can freely select any one of those numbers, the goal is to choose one that will give you an extra bingo. If you can't remember which number will give you a bingo, try to memorize the corner numbers toward the beginning of the round. Filling in all four corners can lead to more bingos at the end of the game (diagonal, up/down, right/left, and all four corners each equal one bingo).
How do I get the boost bonus in Blackout Bingo?
Each final score breakdown shows a line labeled "Boost Bonus." That score is determined by the points you earn during the 10-second window where the x2 score multiplier power-up is activated. The more points you earn during those crucial 10 seconds, the higher your "Boost Bonus" will be.
How do I withdraw money from Blackout Bingo?
To withdraw your money from the app, select the three lines at the top right of the screen to open the menu options. Then select "Account" and then "Withdraw." From there, simply type in the dollar amount you wish to withdraw and follow the prompts to request your money.
What is bonus cash in Blackout Bingo?
Bonus cash allows you to play real, head-to-head bingo matches just like with real cash. The only difference is that you cannot withdraw bonus cash. You must first play rounds with the bonus money, and then any amount that you win gets added to your balance for withdrawal.
Are there any Blackout Bingo promo codes for existing players?
Existing players cannot use a promo code to get bonus cash. However, Blackout Bingo runs occasional promotions which automatically tack extra bonus cash onto your deposits.
What's the trick to Blackout Bingo?
There is no single trick to winning more in Blackout Bingo. Instead, there are multiple things you can do to one-up your opponents. The most important things to learn are how the points system works, how to use the Boosts at the right times, and how to improve your accuracy and speed while playing.
What are Z used for in Blackout Bingo?
Z are a virtual currency used to play practice matches in Blackout Bingo. They also allow players who have spent their budgeted cash to continue to enjoy the game for endless hours. Practice rounds can help you improve your skills before you join the paid matches.
Can you really win money on the Blackout Bingo app?
Yes, it's possible to win money in just a few minutes of gameplay. It's also possible to lose money just as quickly. Realistically, you cannot expect to win every game you play, but with enough practice and strategy, you can possibly learn to win more games than you lose and come out with some extra cash.
What are the rules for Blackout Bingo?
There are very few rules for Blackout Bingo. The goal is simply to earn more points than your opponent. The player with the most points at the end of each round wins.
To earn points, you'll need to daub quickly and accurately, get bingos, and use Boosts to one-up your opponent.
What are the different Blackout Bingo patterns?
There are a total of 13 possible bingo patterns per board. When you blackout your board (daub all 25 numbers), the points breakdown shows 14 bingos as a special bonus (perhaps it's counting the blacked-out board as the 14th bingo?!). The following graphic shows each possible bingo you can complete on a single board.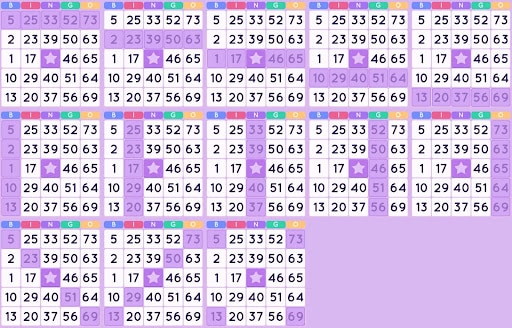 Related: Get Paid to Play Puzzle Games
Blackout Bingo Review: Is It Legit?
As a mom, I like to pass the time playing games on my phone. It's an added bonus when that gaming app actually pays me for my time. The Blackout Bingo app can do exactly that and users have reported that they win money from the app.
For those wondering "is Blackout Bingo legit," it is a legit app that does have some hiccups every once in a while. That's not to say it is untrustworthy, but keep a realistic expectation that not all technology-based products are error free.
Blackout Bingo might not be the app that makes everyone rich overnight. However, it does offer some very large and cool prizes to some lucky winners.
The great thing about Blackout Bingo is that you get to determine for yourself if it is worth your time to play. If you decide you don't like it, then you don't have to continue playing. But, you truly won't know until you try. Give the app a shot and come up with your own unique Blackout Bingo review.
Enter the Skillz promo code APget5 and get FREE bonus cash with your first $5+ deposit.
Related: Best Card Games for Money