How to Become an Illustrator and Get Paid to Draw
We foster relationships with brands we use and trust. The testimonials on our site represent real experiences, but they don't guarantee you'll achieve similar results. When you make purchases through our links to our partners, we may earn a commission. Your support helps us continue this work. You can read our full disclosure here.
We all take in a huge amount of content every single day, whether we realize it or not. Billions of people – including you and I – view advertisements, books, billboards, magazines and blogs on a daily basis, whether passively or actively. Every single one of those contain illustrations.
If you can recall the last illustration you saw, the illustrator did the job well. An illustrator's work enhances content and gives the readers a visual that connects them to the words they've read.
If it's ever been your dream to transport readers into an imaginary space using your artistic skills, then read on to learn more about becoming an illustrator.
This could be a great job for you, even if you've never taken a single illustration class. You can be self taught! All you'll need is hard work, dedication, and practice to get paid to draw in your personal style of choice.
What is an Illustrator?
An illustrator creates images using physical implementations such as pencils, pens, markers, and crayons. Some also use a variety of digital programs.
Illustrators follow the guidelines given to them to create images that are relevant to the storylines within the given project. An illustrator is an artist in his or her own right.
Does an Illustrator Require a License?
Although illustrators do not need to have licenses in order to accept jobs, some employers may require a degree that is related to illustration. But it's more important to have illustrating experience versus going back to school to earn a degree. You can still learn how to become an illustrator without a degree or professional training of any kind.
Related: Short Certificate Programs That Pay Well
Other Illustrator Requirements and Qualifications
Illustrators must be detail-oriented team players who are receptive to feedback. Although they sometimes work alone, most illustrators work closely with others. Expect to be partnered with authors or other types of clients to create the drawings for their publications.
It's important that as an illustrator, you are able to work with your client's concept and follow their vision of how they want the illustration to look. You will also need to be a good communicator, keep your client in the loop, and ask for regular feedback. Illustrators must have patience and interpersonal skills.
Illustrator Salary or Pay Expectations
According to ZipRecruiter, the national average annual salary for an illustrator is $57,297. This number can be as high as $131,500 or as low as $21,500. Your salary will vary depending on your experience and the location in which you work. If your services are digital, you could broaden your reach to clients in various parts of the world, potentially charging more for your work.
Another strategy that can multiply your earnings and even create a passive income stream is to sell digital copies and licenses of your illustrations. You could sell a single image over and over online to a wide variety of customers.
The Legal Side of Illustrating
Illustration doesn't just involve creating, selling, and moving on. There is a legal side of the process that you'll need to consider.
Copyright and trademark laws often come into play in this field, especially if you are creating illustrations for a company or other entity that will use your work in its branded marketing efforts. Obtain the proper legal releases so you are properly compensated and so your clients understand their obligations to you as the artist.
Utilize the appropriate contracts and agreements between yourself and your clients or employers. Set expectations correctly and understand the terms of any agreement into which you enter, so you can avoid misunderstandings or conflicts down the road.
Figure out if any additional royalty payments will be required for the sale of your illustrations, or if you'll be asking for profit share after you've reached a certain number of sales. It will benefit you to do your research ahead of time, especially if the client or employer has specific expectations.
No matter what type of illustration project you are working on, it is important to understand and comply with all applicable laws. Amira Irfan, a business lawyer with more than 10 years of experience, said, "It's best to use legal templates created by a lawyer or hire a lawyer to create custom legal pages or contracts for your business."
How to Become an Illustrator Without a Degree and Get Paid to Draw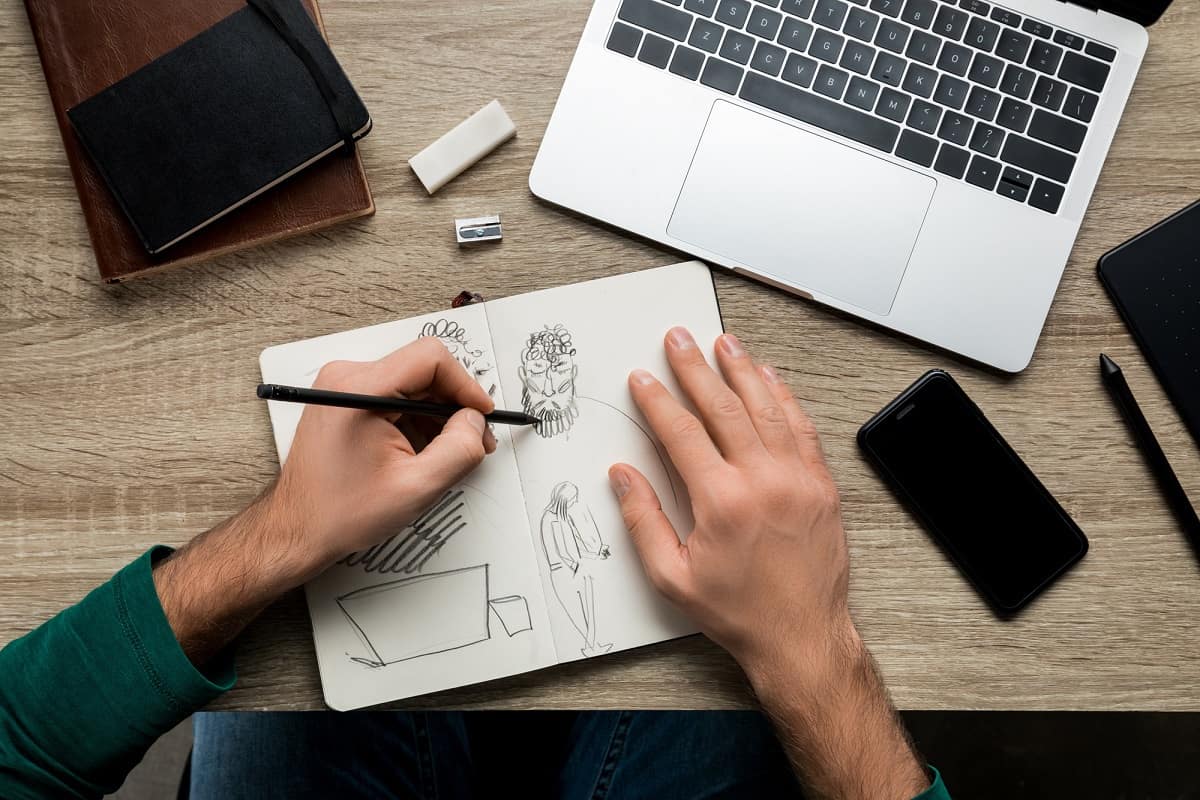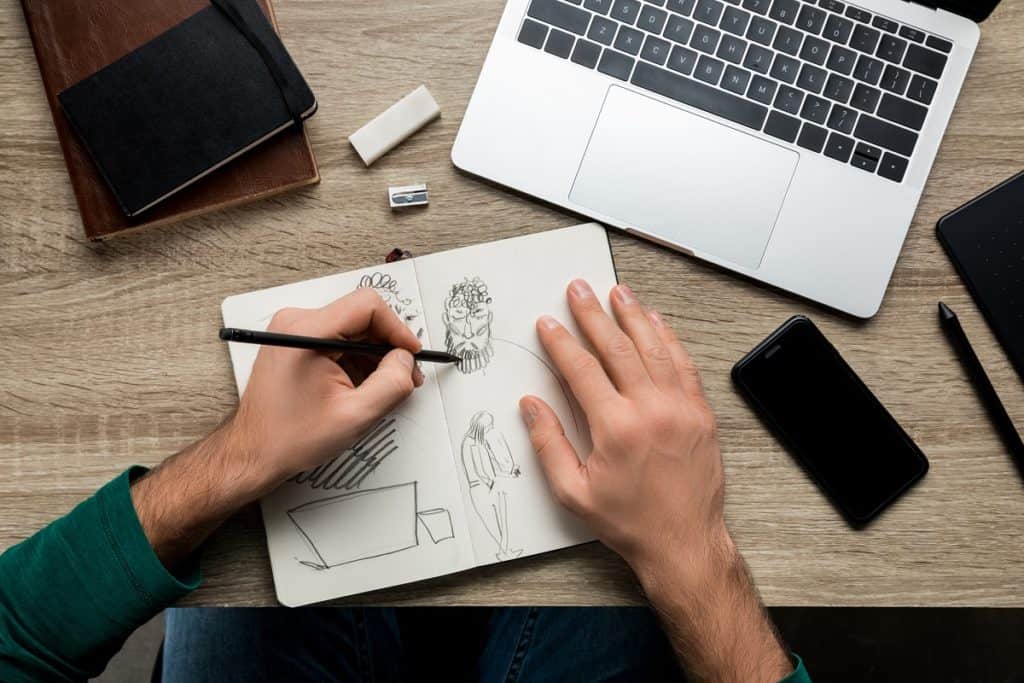 Once you've made the decision to pursue a career in illustration, get started with the following steps, which are designed to get the wheels moving in your new career. Remember that it will ultimately be up to you to put in the work to make your dreams a reality.
1. Consider the Type of Illustrator You Want to Be
Before taking the steps to become an illustrator, think about the types of things you enjoy drawing, what sorts of images catch your attention, what your artistic style is, and what type of audience would enjoy your illustrations. Once you hone in on your artistic bent, you can then move on to working toward a career in that specific style of illustrations.
This brainstorming step will help you nail down which niche is best for you. Most illustrators' social media pages don't highlight children's book styles, adult comics, and random illustrations for wall art, and neither will yours. While you will need to have some flexibility within your illustrating prowess, it's important to be able to narrow down your target audience or clientele.
Choose your style based on your passions. Don't force yourself to create pieces you don't enjoy. Be true to yourself while allowing yourself to create work you're proud of and that demonstrates your own unique style.
Related: How to Start a Permanent Jewelry Business
2. Take a Course on Illustrations
If you already have artistic talent, but struggle to know how to further your work, take Mary Angela's Illustrator Extraordinaire course, which will teach you how to bring illustrations to life and become a successful digital illustrator.
From simple pencil sketches to actual greeting cards, book covers, posters, and everything in between, make your visions come alive through this course. While it's already been established that you don't need a degree to become an illustrator, you do need to know how to convert your illustrations into a digital medium. Mary Angela's course provides easy-to-follow videos and instructions on how to turn your doodles into real digital art.
To make the most of your creative career, download her Creative Bundle eBook, which is chock full of information and action steps to help you develop a productive mindset around your business. As someone with a creative brain just like yours, Mary Angela knows exactly what it will take for you to make the most of your illustration career.
Related: Best Photo Editing Courses
3. Practice and Build a Portfolio of Art
The most important step in this career move is to practice as much as you can to perfect your skills and reinvent your style. Practice makes perfect, but it also makes for innovation and evolution. If you have been able to nail down your style, then continuing to practice will make you even more efficient and will help you push aside any artistic boundaries.
Your practice in improving your designs will give you a plethora of illustrations to add to your portfolio. As in any other field, you won't get job offers in illustrating if you haven't already proven your skill set. Keep your portfolio up-to-date and full of your absolute best artwork.
Related: Get Paid to Color
4. Collect Testimonials
Positive testimonials are proof that past clients were happy with your services, and will help you land more illustration opportunities. Collect reviews from clients for each project that you complete. Your word and your work may speak for themselves to a certain extent, but testimonials from previous clients will go a long way toward convincing new customers to take a chance on you.
Feature these testimonials on your portfolio website and social media channels to help new clients find you and view your past work.
5. Advertise Your Services
Marketing your talents requires more than simply showcasing your work on a website, portfolio, or social media. It requires an active strategy on your part to maintain a fresh presence in a busy and social world.
The more others can see your talent, the better your chances are of finding constant work. Advertise your services to friends and family members and ask them to give your information to anyone they know who could use your talent. Join online networking groups, create a social media business page, or attend in-person networking opportunities to connect with authors and other industry professionals.
Related: How to Become a Makeup Artist Who Actually Makes Money
Other Ways to Make Money With Illustrations
The sky's the limit for you if your dream is to be paid to draw. There are many additional ways for you to start your own creative business and make money with illustrations.
Illustrate Your Own Products
Create catchy illustrations for your own products like eBooks, subscription boxes, novelty candles, and gift items. Turn any hobbies you might have into a business and be your own illustrator. Set up a store on a platform like Shopify to allow customers to purchase your illustrations from you directly.
Offer Freelance Services
You don't have to be someone else's employee to be an illustrator. Start your own illustration business and offer freelance services. Find job boards or connect with potential clients through online forums and develop relationships with people in the field so your customers will return to you for future work.
Specialize in Blogs
Create your own blog or help existing bloggers elevate their posts with your illustrations. It's good practice for bloggers to incorporate images within their text, and your illustrations could help them increase their online traffic.
Marketing Materials
Offer illustration services for marketing materials. Your creativity could be what it takes for a customer to want to buy a product that's being sold. Your work can appear in brochures, billboards, magazine and newspaper ads, and more.
Children's Book Authors
Market your illustration services to a variety of clients, such as multiple children's book authors. Your illustrations could quickly become well known in the industry, increasing the demand for your skills.
Related: How to Start a Home Bakery and Sell Delicious Treats
Questions New Illustrators Are Asking
It's normal to be hesitant about starting a new career. Ease your worry with these answers to commonly asked questions posed by other new illustrators.
How long does it take to become an illustrator?
This timeline varies for each individual artist. Earning a college degree can take some students four years and others 10 years, and starting an illustration career is no different. There is no "one size fits all" approach when it comes to learning something new. Depending on your skills and the network within which you work, you could become an illustrator in just a few short weeks or in several years.
Are illustrators in demand?
According to the Bureau of Labor Statistics, illustrator jobs are projected to increase 14% by 2030, which is faster than the average for all other occupations. This proves that illustrators are in demand and will continue to be.
Is it hard to find a job as an illustrator?
You will need to put in the work to find clients and grow your network. Build up your portfolio and consistently network in order to make yourself visible to potential employers and clients.
Boost your success by searching for job postings and freelance work opportunities online. Your motivation, stellar portfolio, and strong connections might be all it takes to put you on the road to success in the illustration world.
What illustrations sell best?
The most commonly requested illustrations include florals, nature, and culture. You will also encounter a high demand for holiday images toward the end of the year. Thanks to the popularity of children's books, images geared toward kids also sell well. But if comics and adult graphics are your thing, you will certainly find a market for your work.
Related: Best Free Funnel Builders to Sell Products and Services Online
Who Should Become an Illustrator?
If you are dedicated, artistic, and willing to explore your creativity, then becoming an illustrator could be the perfect move for you. You don't need a degree, and you can set your own rates if you decide to start your own business. Follow your dreams and earn a comfortable income at the same time.
As an illustrator, you can make a difference in the world through your creativity. Whether you're creating promotional material selling life-changing products or creating fun and memorable illustrations for a children's book, enrich others' lives through your work. Dust off your artistic skills and be the illustrator you've always dreamed of becoming.
Related: Best Online Jobs for Introverts (to Escape Social Anxiety)
---
We appreciate the time you've spent reading this post and your interest is not lost on us. Your thoughts, questions, or experiences related to the topic are most welcome. Each comment adds strength to our community. We ensure every comment receives our attention, and we take the time to provide thoughtful responses. Once again, thank you for being a part of this conversation. Click here to leave a comment.