How to Become an Actor With No Professional Experience
One of my favorite sites, KashKick, offers tons of ways to earn real cash online. If you're not already a member, give it a shot! Here are five things you can do to make easy money on the site:
Play games (up to $125 each)
Test apps (up to $125 each)
Buy lottery tickets (an easy $8)
Try popular brands (always changing)
Answer surveys (quick cash in minutes!)
Many of us see famous celebrities and dream about the life they live because of their acting skills. Some people long to become an actor just to become rich and famous. But others desire to become an actor because they truly have a passion for it. If you fall in the second category, this guide will show you how to become an actor with no experience.
We all have to start somewhere no matter what we do in life. Many situations you come across will be ones where you have no experience and need to learn along the way. This is true of acting as well. If you really have the dream to be an actor, you'll have to work hard to make it a career.
An actor has to fight to be different from the rest. You need to look at all the uniqueness you bring to the table and show it off proudly. Becoming an actor is like a marathon, not a sprint. It's not a quick career to get started in, and you need endurance for it. However, once you get some momentum behind you, you can really go far.
Our Popular Money-Making Offers
Sign up with each of the following companies to maximize your earning potential.
$10 sign-up bonus
Pays to take surveys, complete offers, shop online, and much more
100s of other paid tasks
Awards cash and gift cards
$5 sign-up bonus
Pays to play games, watch videos, answer polls, and much more
100s of other paid tasks
Awards cash and gift cards
Related: How to Get Paid to Read Aloud
What is an Actor?
An actor is someone who is dedicated to performing in things like movies, shows, commercials, and even live shows. This person enjoys portraying a variety of characters and is able to commit to a character's role even if the character's personality and traits aren't that of the actor personally.
An actor is someone who is open-minded, creative, and willing to work with a team of people to make the end result of the production a success.
Does an Actor Require a License?
An actor does not require a license. However, there is a certain level of knowledge and education that are preferred when jumping into the profession. You can pursue a degree in drama or performing arts to fulfill this preference. While it is not required to have a degree, it is beneficial for many reasons.
Other Actor Requirements and Qualifications
Actors should be confident, convincing, and patient. You should be confident enough in yourself that you can play any role assigned. Having patience will help you build your career and wait for your next project between productions.
An actor should also be highly imaginative. You should be able to envision what the writer or director wants from you in your role. You should be energetic, ready to put all your effort into your character, and willing to redo shots as many times as needed to get them right.
Actor Salary or Pay Expectations
In the beginning, someone who is pursuing an acting career won't make very much money. An actor who is taking on some consistent gigs makes a little over $32,000 per year on average in the United States, according to ZipRecruiter. There are reports of actors making as high as $7,333 per month and as low as $917 per month. Your salary will vary depending on your experience, where you live, and how many consistent gigs you are landing.
Related: How to Become a Filmmaker
How to Become an Actor With No Experience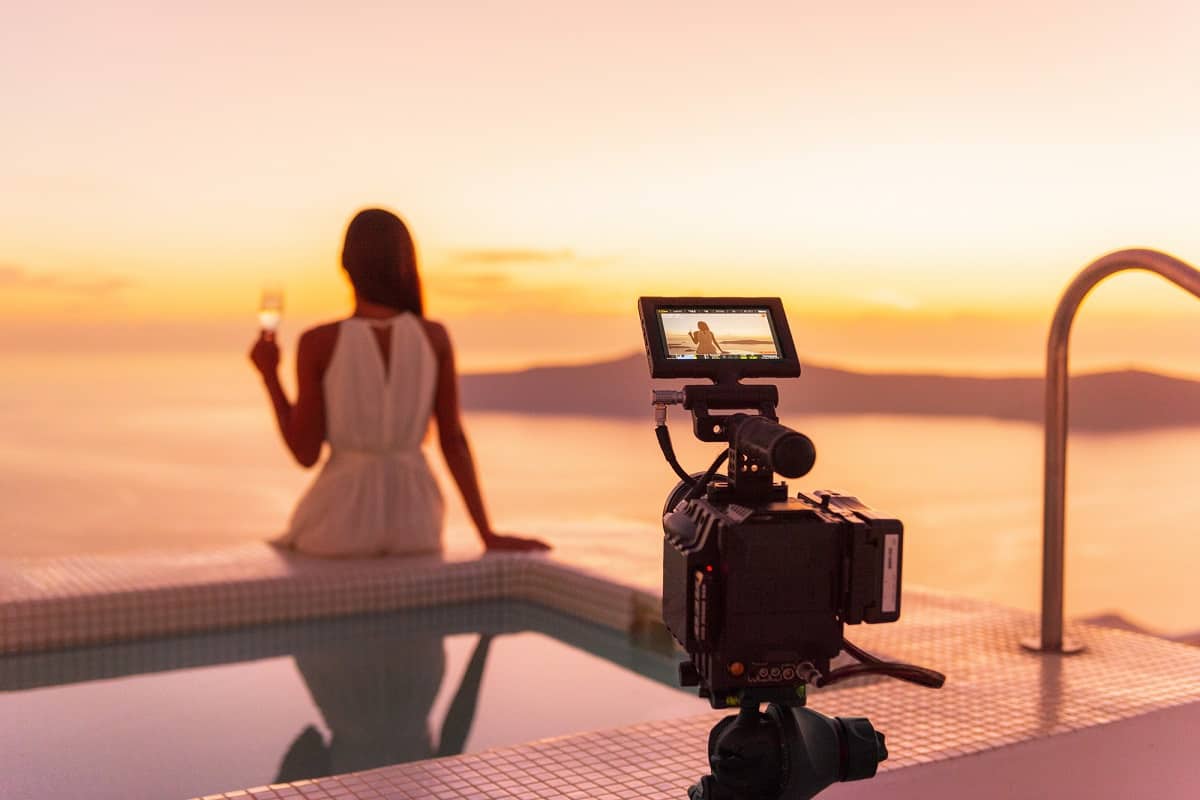 Considering all the technology we have access to today, there is no shortage of opportunities to get you in front of people quickly to show them your skills. Use this guide to achieve your goal of becoming an actor in a way that helps you accomplish your dream.
1. Consider the Type of Acting You Want to Do
Each actor has a niche or category they are known for such as comedy, drama, horror, romance, etc. When you think of actors like Will Ferrell or Kevin Hart, you know them for their comedy roles. If you think of actors like George Clooney and Brad Pitt, they are known for being versatile in many types of movies. Think about what you want to be known for and start from there.
If you are unsure of where your skills with acting stand, ask friends and family what your strengths are. It's a good idea to get different perspectives from others.
Related: How to Become a Voice Actor
2. Become a Student
Take time to learn about acting. You don't need a degree in performing arts, but there are other ways you can become a student and learn from those who are successful. Consider an alternative to drama school such as on Masterclass.com where you can take a course by Samuel L. Jackson.
Samuel L. Jackson is famous for his many hit movies like Pulp Fiction and The Avengers. But his life didn't start out this way. He was a kid who stuttered very badly, which made him quit talking for nearly a year. Now he is one of the most successful actors, and his story makes Mr. Jackson is a stunning example to learn from.
Take his course on Masterclass where you will learn how to master auditions, analyze scripts, and create memorable characters, which leads to powerful performances.
Related: How to Get Paid to Go to School
3. Join a Local Theater
Local theaters are a great resource for learning how to become an actor with no experience. Simply join, attend events, and take notes from other actors. Join in on some improv classes to really expand your skills.
The important part about this step is that you have to let yourself be open and not hesitate because you're afraid of what others will think. Really let yourself explore new roles and create art through acting.
Related: How to Get Paid to Attend Events
More Popular Money-Making Offers
Earn more money in your spare time with these reputable companies.
Free PayPal cash
Paid surveys and web searches
Earn easy cash back
Get paid directly to your PayPal
PayPal, Visa, Amazon, etc.
Pays you to do NOTHING (with SJ Pulse)
Simply install the software
Participate in paid surveys & studies
4. Build Your Resume
Those hiring for roles are going to want to know what kind of experience you have before hiring you. This means you're going to have to build your resume with free or heavily discounted acting services to people in your area.
Consider creating your own YouTube channel that is dedicated to your acting. This means you can create a series of short shows and show off the diversity of your acting skills. Upload videos on your channel and drum up some attention.
Additionally, you can go on other YouTube channels as a guest. Build connections with others so that when you are performing for their channel, their audience will be able to see the kind of skills you have. You never know who could be watching and when it could lead to your big break.
5. Hire an Agent
Having an agent is a great resource. If you're in a position where you can hire an agent, then allow them to do all the footwork for you to land gigs. Make sure you research agents thoroughly before hiring them so that you know they are legit and won't just scam you out of money.
6. Build Up Your Social Media Profiles
Don't be afraid to ask for what you want. In your social media accounts, go ahead and say that you are an actor. Get the conversation going about what you do so that you are getting in front of an audience sooner than later. You never know who knows who and who might share your information.
In your profiles, link any online videos of your performances so that people can start seeing your talent. Connect with other aspiring actors as well and build connections.
Related: How to Become a Social Media Influencer
Questions New Actors Are Asking
It's a good idea to understand this new career in-depth before you jump into it. Take a look at the most common questions other actors are asking to help you make an informed decision.
What actors started acting with no experience?
There are many famous actors who started with no experience. Some of those people who learned how to become an actor with no experience include:
Ashton Kutcher
Danny Trejo
Mel Gibson
Natalie Portman
Channing Tatum
Johnny Depp
There are many others who started with no experience and have turned into very successful actors. It might take a while to get there, but don't give up if this is really what you want to do.
Is it hard to get into acting?
It can be hard to get into acting. However, sometimes it's not about what you know- it's who you know. You could have all the acting degrees in the world, and you might have fewer opportunities than someone with no degree who has connections on the inside. Make those connections now to make it easier for yourself later when you're ready to start taking on roles.
What is the average age actors start their profession?
The average age for acting is in the teenage years. However, you're never too old to pursue your dreams. While many actors start out as children, that doesn't mean you're too old to start acting if you're well into adulthood.
One single movie has roles played by different people of various age groups. This should indicate to you that actors of all ages are needed in the industry.
Related: Best Jobs That Hire 15-Year-Olds
How much does it cost to hire an acting agent?
Acting agents usually ask for a percentage of your earnings as their fee. This percentage can be between 10 and 15%. If you are earning $200,000 per year for acting, then your agent will make between $20,000 and $30,000.
Is acting a bad career?
This answer is completely up to you to decide. You're the only one who can determine what is a bad career for you. If acting is a passion of yours and you are committed to putting in the time and energy to become an actor with no experience, then it may end up being worth it to you.
As you can see, there are plenty of successful actors in the world who clearly show that it can be a good career. You just have to decide what you're willing to do to make it in acting.
Related: Best Home Based Business Ideas for Moms
Who Should Become an Actor With No Experience?
Anyone can do anything they put their mind to. If you have the skills, drive, and dedication to pursue a dream, then you should become an actor. If you enjoy being the entertainment or comic relief among friends and family, then you may have the drive to pursue acting.
No matter what kind of career you choose, there is always risk and reward. Acting is the same. You have to determine how much risk you are willing to take on to see the reward. As mentioned before, becoming an actor doesn't happen fast. It takes patience to see it through. There will be days of self-doubt, but those are the days when you have to push even harder.
Take a chance on yourself and implement what you've learned in this guide to become an actor with no experience. You only have one life to live; you get to choose how you want to live it.
Related: Best Side Hustles for Dads